Best Pound Cake
A couple of tricks like using cream, cake flour, and alternating the wet and dry ingredients make this the Best Pound Cake Recipe you'll ever taste! Dense and moist, with a fine crumb, it's an amazing staple for your dessert repertoire.
The pound cake got its name from the simple proportions used to make the batter. British in origin, the first recipes called for a pound each of butter, sugar, eggs, and flour. I'm not sure what my ingredients weigh, but I guarantee this Whipping Cream Pound Cake is scrumptious!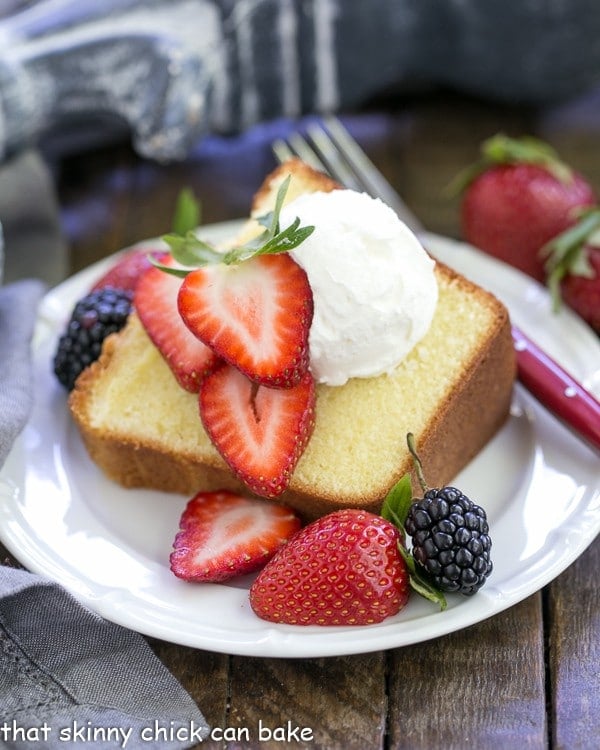 Why You Must Make
I made my first pound cake for Junior High Home-Ec after browsing my mother's cookbooks and spotting an easy recipe. Even though I forgot the vanilla, my teacher admired the wonderful taste and texture. And I learned that I could bake! Years later I found this easy pound cake recipe in Gourmet magazine. I promise that it's the BEST!
It's Elvis' favorite pound cake! So it's a tried and true recipe that's been around for decades.
A vanilla pound cake is a perfect way to showcase fresh seasonal berries, ice cream, whipped cream, and more!
It's dense, buttery, and delicious. Just look at the perfect, dense crumb.
Reader Endorsement:
From Jacqueline on Pinterest: Awesome! This cake is the BOOM BAM BOOM! I have branded myself as a baker with this recipe.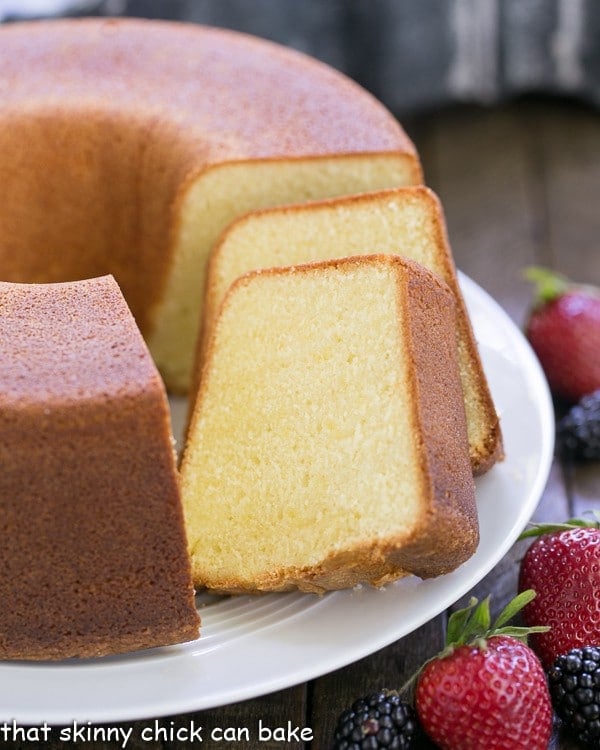 Ingredient Notes:
Kitchen staples: Sugar, Butter, Vanilla Extract, Salt – Check your supply
Eggs (you'll need 7!) – Have them at Room temperature for the best incorporation into the batter
Cake Flour – find this in the baking aisle in a box. PRO-Tip: You can make your own cake flour by substituting 2 tablespoons of each cup of flour with 2 tablespoons of corn starch. This decreases the amount of gluten in the flour making it more suitable for tender cakes.
Heavy Cream – One of the unique ingredients in this pound cake. It should have 36% butterfat content.
Elvis Presley's Best Pound Cake Recipe
When Epicurious became my primary recipe resource about 2 decades ago, I discovered Elvis' Favorite Pound Cake. Cream and cake flour gives it a marvelous crumb.
With all the fabulous seasonal berries, it is a wonderful spring and summer dessert. Try it with a sauce made of frozen raspberries in the winter or with a dusting of powdered sugar and a scoop of vanilla ice cream. Make sure to bake up this cake for your next gathering but take note that it's delicious any time of year. You won't be disappointed. Plus, it's got Elvis' endorsement!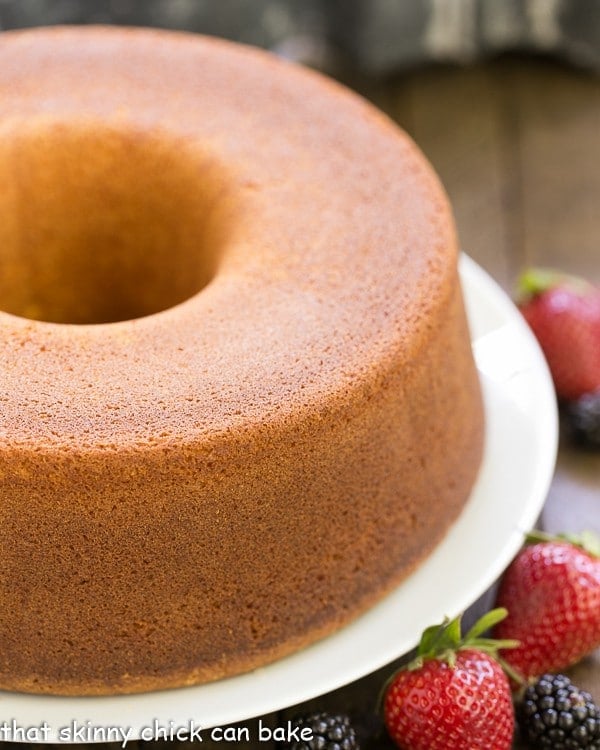 Expert Tips
As with most cakes, there are a few universal tips, like having your eggs and butter at room temperature. But some other pointers are a little different for making a perfect pound cake.
Mixing the Batter
PRO-Tip: Start with room temperature ingredients. You can set the eggs, butter and cream out on the counter about an hour before mixing. On occasion, I will hurry along the process by putting my eggs into a bowl of warm water.
Using room temperature ingredients will help increase the volume of the batter.
PRO-Tip: Use the paddle attachment to beat the butter and sugar. This will ensure a velvety batter without incorporating a lot of air. This assists in giving the pound cake the dense crumb for which it's known.
Like with a cheesecake, you only want to beat the eggs until they're just incorporated. Do not over mix.
Use cake flour for a finer, more delicate crumb. Sifting three times lightens it up even more.
PRO-Tip: Also do not over-mix the flour once it is added. Over-mixing will activate the gluten, making for a tougher cake. As long as you're using the paddle attachment and do not max out the speed, you will be OK.
Baking the Cake
Grease and flour your tube pan or use a non-stick flour and oil spray like Baker's Joy.
PRO-Tip: Do not use a 2-piece angel food cake pan as the batter will spill out of the bottom as it bakes.
PRO-Tip: This recipe calls for starting the cake in a cold oven. I'm not a chemist, but this may be because it will delay the leaveners from forming carbon dioxide. CO2 is responsible for making air bubbles and therefore creating a lighter, airy cake. This step is unique to some pound cake recipes.
Most pound cakes take an hour or more in the oven. Be patient. Insert a toothpick into the center of the cake. It should come out clean or with a few moist crumbs when the cake is done.
Let the pound cake cool in the pan on a wire rack for 10-15 minutes before gently shaking it from side to side, then flipping it out onto the cooling rack to finish cooling.
Storing Your Cake
Keep your pound cake covered at room temperature for up to 3-4 days.
To store any longer than 4 days, cover with plastic wrap, then heavy-duty (or regular) foil, and freeze.
Frequently Asked Questions
What is the best pan for pound cake?
You'll need a tube pan, which looks like a tire from above. The opening in the middle helps the cake to bake evenly instead of having the outside fully baked and the middle raw. But do not use a two-piece angel food cake pan, which has a removable bottom. When the batter is poured in and placed in the oven, there will be leakage out of the seams where the two components meet. This will make a mess in your oven.

Scroll down to see a link to the nonstick tube pan I use. Note that you can also use a Bundt pan to bake this cake or divide the batter between loaf pans, decreasing the baking time.
Why Is Pound Cake Called Pound Cake?
The culinary term Pound Cake came from the original measurements which called for a pound each of butter, sugar, eggs, and flour.
Can you freeze pound cake?
Pound cake freezes very well. Just wrap your cake so that it's airtight and freeze up to 3 months. I wrap first with plastic wrap, then aluminum foil. This gives a double dose of protection from freezer burn. Make sure to mark the date on the outside of the packaging so you can use it while it's at its prime.
You May Also Like
Stay in touch through social media @ Instagram, Facebook, and Pinterest. Don't forget to tag me when you try one of my recipes! And if you love the results, please give it a 5-star rating in the recipe card. Note: As an Amazon Associate, I earn from qualifying purchases. Visit my Amazon Store for my favorite products.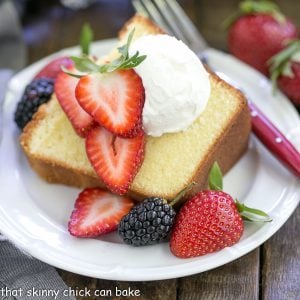 The Recipe:
Best Pound Cake Recipe
Prep Time 25 minutes
Cook Time 1 hour 15 minutes
Total Time 1 hour 40 minutes
Yield 12 servings
Elvis' favorite pound cake recipe. Adapted from Gourmet Magazine.
Ingredients
2 sticks (1 cup) butter, at room temperature, plus more for greasing the pan
3 cups sugar
7 eggs, at room temperature
2 teaspoons vanilla
½ teaspoon salt
3 cups cake flour, sifted twice
1 cup heavy cream
Instructions
Butter and flour (or use a flour and oil cooking spray like Baker's Joy) a 10-inch tube or Bundt pan (do not use a 2-piece angel food cake pan).
Cream butter and sugar, using a paddle attachment if using a stand mixer. Beat on medium-high for 5 minutes.
Scrape down the sides of the bowl. Add eggs, one at a time, beating well after each addition. Beat in vanilla, then mix in the salt.
With the mixer on low, mix in half the flour, then all the cream, and then the rest of the flour. Scrape down the bowl, and beat on medium-high for 5 more minutes. The batter will be satiny.
Pour the batter into your prepared pan. Drop the pan onto the counter once or twice to remove air bubbles. Place in the lower third of a cold oven.
Set oven to 350º and bake for 60-75 minutes or until a toothpick inserted in the center comes out clean or with just a couple of crumbs.
Cool on a wire rack for 30 minutes. Remove from the pan onto a serving plate or cooling rack and cool completely.
Notes
I have also baked half a batch using 3½ eggs (estimating the volume of a half of a large egg), and baked in a loaf pan for 45 minutes.
Recommended Products
As an Amazon Associate and member of other affiliate programs, I earn from qualifying purchases.
Nutrition Information:
Yield:
12
Serving Size:
1 slice
Amount Per Serving:
Calories: 564
Total Fat: 26g
Saturated Fat: 15g
Trans Fat: 1g
Unsaturated Fat: 8g
Cholesterol: 171mg
Sodium: 257mg
Carbohydrates: 78g
Fiber: 1g
Sugar: 51g
Protein: 7g
Note: This post may contain affiliate links; view
my Disclosure Policy
for details. I earn a small percentage from any purchase you make by clicking on these links at no extra cost to you.