Easy Rhubarb Crisp
The perfect balance of sweetness from the sugar and tart from the rhubarb makes this Easy Rhubarb Crisp an irresistible spring dessert!
When I spotted the first fresh rhubarb of the season at the farmers' market, I knew I'd make one of the simplest Rhubarb Desserts. This crisp featuring seasonal rhubarb took me back to the Iowa kitchen where my mom cooked up delicious treats from our backyard rhubarb patch.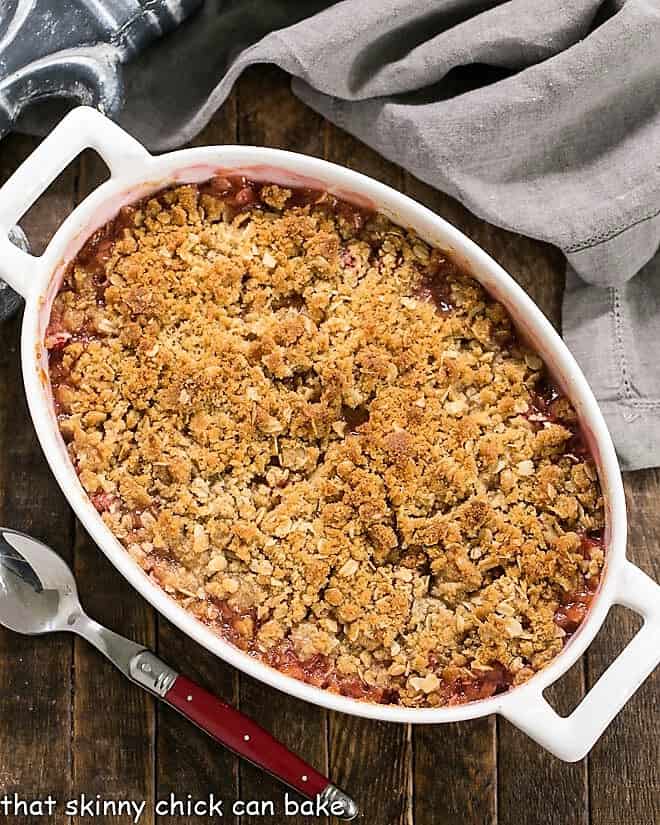 Why You Must Make
We always had a good harvest of rhubarb in our backyard when I was growing up. Rhubarb pies and sauce were some of my mom's specialties, but I don't remember her making a rhubarb crisp.
Crisps, crumbles, and cobblers are my go-to summer desserts as they're super simple. It's no fun rolling out a pie crust on a sweltering day….or any other day, as a matter of fact!
These alternative fruit desserts are much easier than messing with a double-crust pie!
If you love rhubarb desserts, you must make this Rhubarb Crumble with Oats while you can still get your hands on some fresh rhubarb.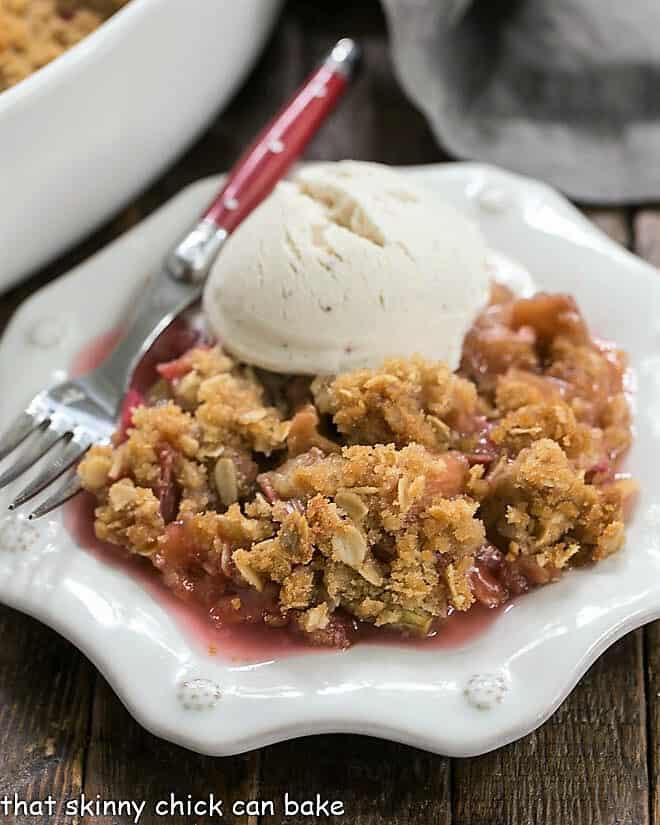 Recipe Tips
This rhubarb dessert is a simple, classic recipe, but I have a few tips to make the process go smoothly.
PRO-Tip: If your rhubarb has woody or fibrous stems, peel off the tough layer with a vegetable peeler.
Wash your rhubarb, then cut it into 1-1 1/2 inch chunks so it cooks evenly. You can do this the day before to streamline the process on baking day. Just refrigerate cut rhubarb in a covered container.
I like to use my hands to make the crumbly crisp topping, but you can also use your food processor. If you use a food processor, make sure to mix in the oatmeal by hand to keep its integrity.
PRO-Tip: Watch for your filling to start bubbling before you pull it out of the oven. Cornstarch needs to come to a boil to thicken, so if your topping is brown, but the juices aren't bubbling, feel free to over the crisp with foil and bake another 5-10 minutes.
If you like more cinnamon flavor in your rhubarb crisp, feel free to up the amount to 1/2 teaspoon.
If you'd like a blueberry rhubarb crisp, strawberry rhubarb crisp, or a raspberry rhubarb crisp try these measurements of fruit: 5 cups of blueberries and 2 cups of rhubarb, 3 cups of sliced strawberries and 3 cups of rhubarb, or 1 quart of raspberries and 3 cups of rhubarb.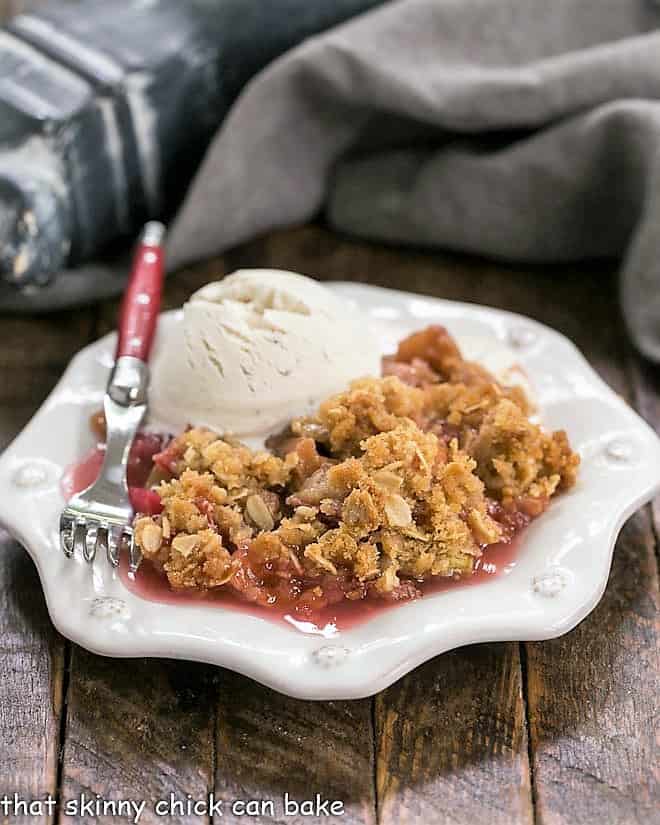 Frequently Asked Questions
When Is Rhubarb in Season?
Though you can usually find frozen rhubarb throughout the year, fresh rhubarb's season is April through June. A rule of thumb is to pick your rhubarb crop before the 4th of July to ensure the plant will store up enough energy to survive the winter. Note that rhubarb should be about 10 inches tall before cutting.
What Does Rhubarb Taste Like?
Raw rhubarb is extremely tart and sour, though it does mellow a bit when cooked. But it's always combined with plenty of sugar, making it palatable in recipes.
Can Frozen Rhubarb Be Used for Baking?
Yes, you can use frozen rhubarb when it's off-season or hard to locate in your area. There is conflicting information on exactly how to use frozen rhubarb in your recipes. Some resources say to defrost it first and drain some of the excess liquid off and others advise to use it frozen. It often depends on the recipe.
For this crisp, pies, cobblers, etc., you do not want too much juice as it can make the crust and toppings soggy. Plus you'll want the cornstarch in the recipe to thicken up the exuded juice. You may need extra cornstarch or thickener if you use defrosted rhubarb without removing the excess juice. I'd recommend thawing your rhubarb and draining off 2/3 to 3/4 of the juice. Place the frozen rhubarb in a sieve over a bowl and let it defrost. Note that I have only made this recipe with fresh rhubarb.
If you're cooking your rhubarb for stewed rhubarb or a rhubarb sauce, using frozen rhubarb will work fine. For other baked goods, like muffins and cake, the jury is still out. I wouldn't hesitate using frozen, undefrosted rhubarb in these recipes, though other sources worry about too much liquid forming as it bakes. Since rhubarb gets very soft after it's frozen, I find it difficult to combine the thawed rhubarb with the thick batter. Whatever form of rhubarb you decide to use, your results will be delicious!
Do Rhubarb Pies and Crisps Need to Be Refrigerated?
This rhubarb crisp will be fine sitting out at room temperature for about 24 hours. After that, the crisp topping can start to get soggy, and if it's really hot and humid, there is even the risk of mold developing after a number of days. Play it safe and park your crisp in the refrigerator the day after you bake it.
To serve, gently warm a serving in the microwave and then top it with a scoop of vanilla ice cream. The warmed rhubarb crisp will taste like you're eating it hot out of the oven. And who doesn't love their ice cream getting a bit melty?!

You May Also Like
Stay in touch through social media @ Instagram, Facebook, and Pinterest. Don't forget to tag me when you try one of my recipes! And if you love the results, please give it a 5-star rating in the recipe card. Note: As an Amazon Associate, I earn from qualifying purchases. Visit my Amazon Store for my favorite products.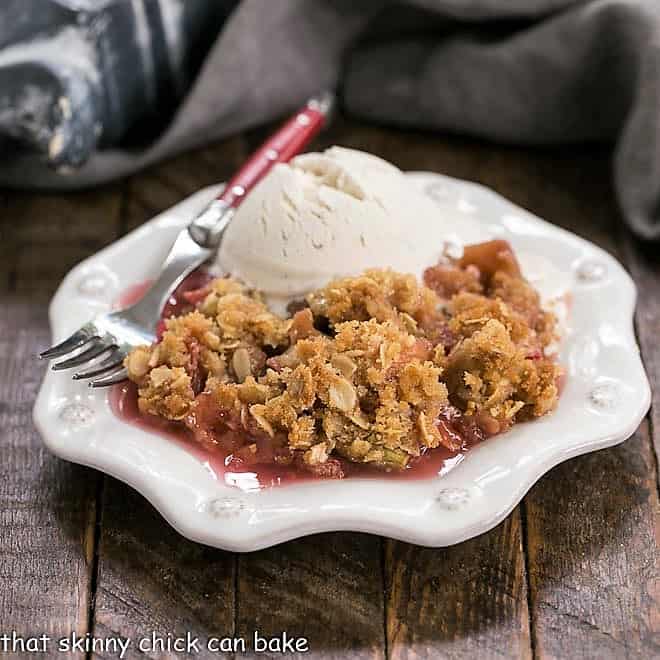 The Recipe:
Easy Rhubarb Crisp Recipe
Prep Time 20 minutes
Cook Time 50 minutes
Total Time 1 hour 10 minutes
Yield 8 servings
A simple rhubarb dessert with an oatmeal crumble topping!
Ingredients
6 tablespoons cold butter, cut into small cubes, plus more to grease baking dish
2½-3 pounds fresh rhubarb, trimmed and cut into 1-inch pieces (about 5-6 cups of rhubarb)
1 cup sugar
3 tablespoons cornstarch
1 teaspoon lemon zest
¾ cup brown sugar
½ cup flour
¼ teaspoon cinnamon
½ cup old fashioned rolled oats
Instructions
Preheat oven to 375 degrees. Grease a 2-2 ½ quart baking dish with butter and set aside.
In a large bowl, toss the rhubarb with the sugar, cornstarch, and lemon zest. Set aside.
In a medium bowl, combine the butter, brown sugar, flour, and cinnamon. Pinch and squeeze the butter pieces with your fingers until the butter is the size of small peas.
Add the oats and mix to combine. The mixture should be crumbly and will clump together when squeezed.
Evenly place the rhubarb in the baking dish, then crumble the topping over the rhubarb. Bake until the topping is golden and the filling is bubbling, about 45-50 minutes.
Serve slightly warm or at room temperature with a scoop of vanilla ice cream.
Notes
You can make the crumble using your food processor. Mix in the oats by hand.
Recipe adapted from the New York Times.
Nutrition Information:
Yield:
8
Serving Size:
1
Amount Per Serving:
Calories: 333
Total Fat: 9g
Saturated Fat: 6g
Trans Fat: 0g
Unsaturated Fat: 3g
Cholesterol: 23mg
Sodium: 81mg
Carbohydrates: 62g
Fiber: 4g
Sugar: 44g
Protein: 3g
Note: This post may contain affiliate links; view
my Disclosure Policy
for details. I earn a small percentage from any purchase you make by clicking on these links at no extra cost to you.