Strawberry Shortcake with White Chocolate Whipped Cream
I have served these gorgeous shortcakes on numerous occasions. When strawberries are in season, this recipe for a Classic Strawberry Shortcake with White Chocolate Whipped Cream will wow your company. Or just treat your family to a delectable dessert!
This is truly the Best Strawberry Shortcake Recipe in my repertoire. The gourmet whipped cream pushes it over the top!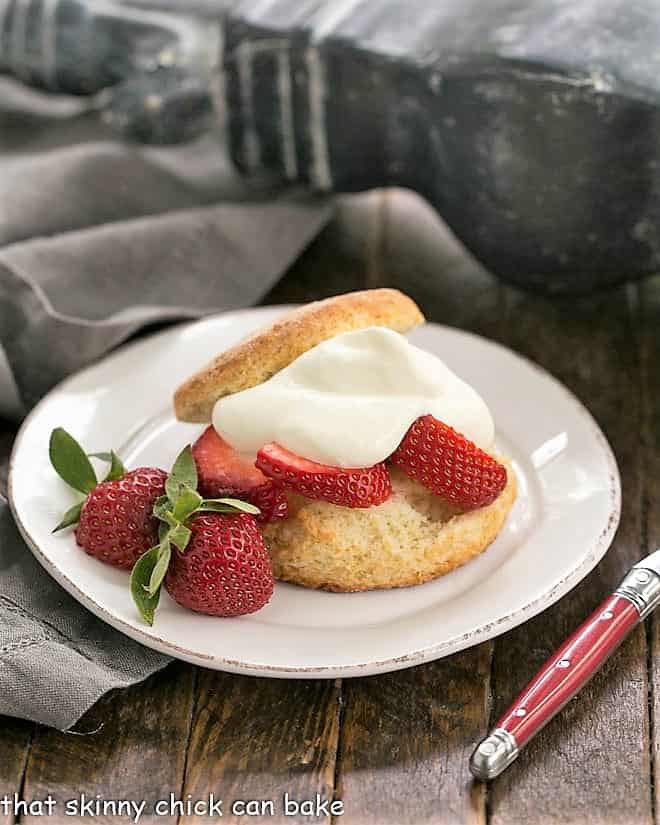 Why You Must Make
The flaky, buttery homemade shortcake base is far superior to the packaged sponge cake versions you can find in the supermarket.
The white chocolate whipped cream is to die for. Sweetened whipped cream is fantastic, but white chocolate pushes it over the top!
The macerated strawberries have a drizzle of orange liqueur for a touch of elegance and to push them over the top!
Ingredient Notes
Here is what you need to make strawberry shortcake:
Kitchen Staples – Flour, Baking Soda, Sugar
Baking Powder – Check the expiration date! (if you have some in your pantry, it may have expired. It doesn't stay potent for much more than a year!)
Shortening – Contributes to tenderness
Butter – The key to flakiness and the buttery flavor.
Buttermilk (see PRO-Tip below on how to make your own buttermilk at home) – The acid in the buttermilk loosens the gluten strands making more tender biscuits.
Fresh Strawberries – seasonal is best, or look for red, fragrant berries
Heavy Cream – Must have 36% cream to whip properly
White Chocolate Bars (affiliate link)- The quality of bars is better than white chocolate chips, but the latter can be used in a pinch.
Grand Marnier – alcohol enhances the flavor of any recipe, just like salt does. If you'd prefer to omit this, plain sweetened strawberries are delicious, too
Classic Strawberry Shortcakes with a Twist
I decided to bake up some sweet, flaky, buttermilk shortcakes with Grand Marnier spiked strawberries for our Easter dessert. This time of year, I always gravitate towards berry recipes, like this exquisite Strawberry Dream Dessert. My family was also thrilled with these Strawberry Shortcakes made with an olive oil cake, too!
For this shortcake, instead of spoonfuls of ordinary whipped cream, dollops of white chocolate mousse contribute a heavenly, indulgent topping. This shortcake was a dreamy spring dessert.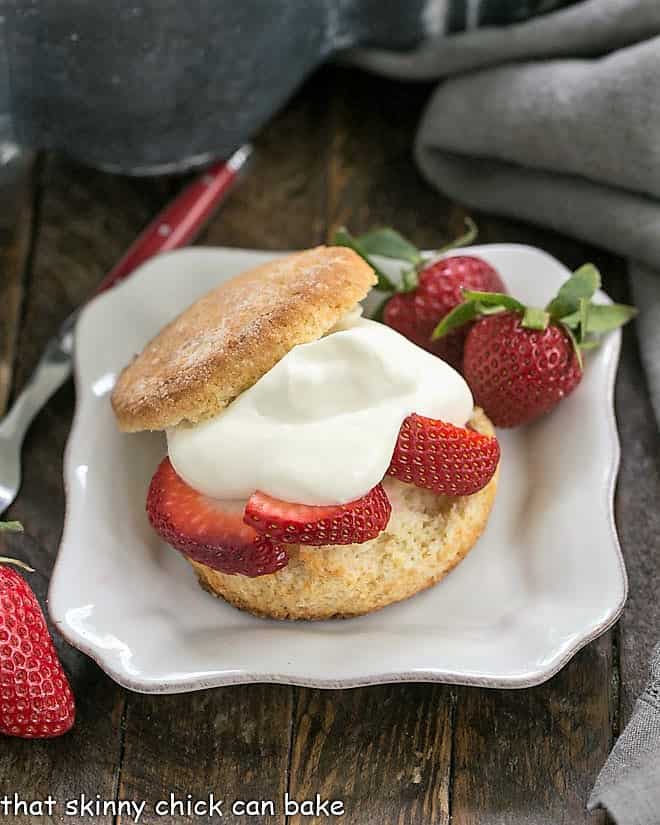 Expert Tips
The main tip for making flaky shortcakes or biscuits is to not overwork the dough. The goal is to have tiny cold bits of butter throughout, which in turn will melt and steam in the oven, making little pockets of air.
I'm sure you've heard raves about old-fashioned buttermilk biscuits. Well, these are buttermilk shortcakes. As with biscuits, buttermilk works its magic in making tender biscuits.
If you don't want to buy a quart of buttermilk, it's easy to make a substitute at home. PRO-Tip: To make buttermilk, add a tablespoon of lemon juice or neutral-flavored vinegar, like white or cider, to a 1-cup Pyrex measuring cup. Fill the cup to the 1 cup mark with milk. Let sit for about 5 minutes to allow the mixture to thicken or curdle slightly. Stir and use what you need for the recipe.
There is both butter and shortening in this strawberry shortcake recipe. The butter provides flavor and some of the necessary fat needed, but the shortening helps ensure flakiness.
Using a technique I picked up via Cook's Illustrated, I used my fingers to flatten pieces of cold butter in the biscuit dough. The flat pieces of butter assist in making more layers in each biscuit.
PRO-Tip: For the most tender, flaky shortcakes, do not overwork the dough.
Then after rolling out the dough on a flour-dusted Silpat, I folded it over twice, like a letter, then rolled it again. Sort of a modified lamination, as when making puff pastry or croissant dough, which helps build layers in the finished baked goods.
PRO-Tip: Using a round biscuit cutter, press straight down to cut without twisting. The twisting process will inhibit the biscuit's ability to rise properly.
Like with puff pastry, the dough bakes up best when cold, so don't overwork the dough which will warm the butter pieces. You may want to pop your baking sheet with the cut biscuits in the freezer for a few minutes before popping them in the oven.
The whipped mousse topping is simply made by melting white chocolate with some heavy cream, then allowing this ganache to cool and folding it into stiffly whipped cream.
Orange liqueur added to sliced berries gives them a touch of elegance. Perfect for a holiday dessert. As we enter fresh berry season in the northern hemisphere, I hope you will try this out-of-the-ordinary strawberry shortcake for any special occasion.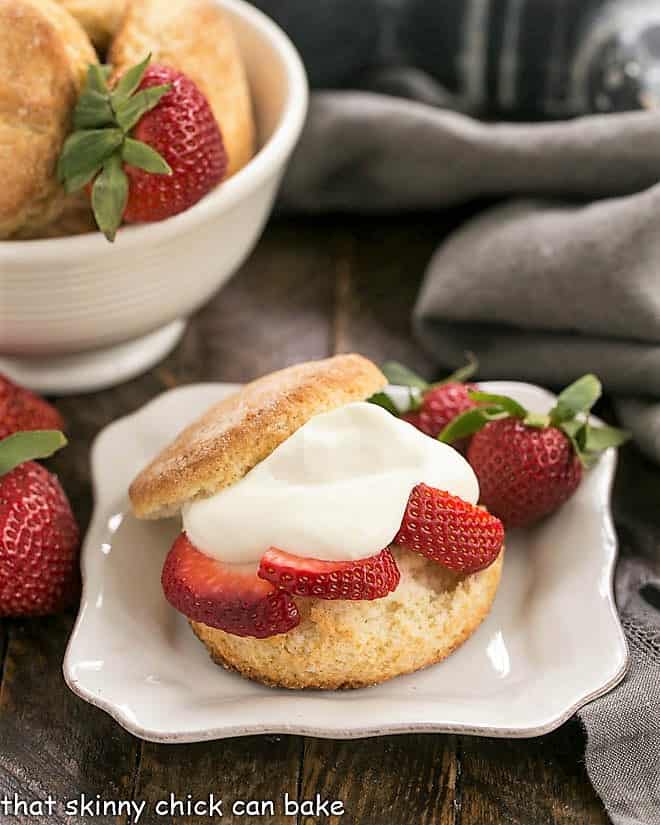 Frequently Asked Questions
What is Shortcake?
Shortcake is a rich, tender biscuit made with baking soda or baking powder. The term can also refer to a cake according to the Food Lover's Companion. American shortcake is a large biscuit that is split in half and layered with fruit and whipped cream. There are also savory shortcakes topped with meat in a creamy sauce.
What are Macerated Strawberries?
Macerating the technique of soaking fruit in a liquid so that the fruit absorbs the flavor of the liquid. The liquid is typically an alcoholic beverage like brandy, or in this case, Grand Marnier, an orange liqueur.
Why Do You Add Grand Marnier to the Strawberries?
Besides adding a touch of orange flavoring to the berries, alcohol is also a flavor enhancer, so it will make them even more delicious!
How Do You Store Strawberry Shortcake?
Keep all the components separated. The biscuits should be stored in an airtight container for up to 3 days. The macerated strawberries will keep for a day or two. It's easy to slice and sugar some more berries if you run out. The whipped cream will keep for about 3 days as well as the chocolate helps stabilize the cream. If needed, just whisk the leftovers before serving if it has separated a bit.
How Do You Make White Chocolate Whipped Cream?
The whipped mousse topping is simply made by melting white chocolate with some heavy cream, then allowing this ganache to cool and folding it into stiffly whipped cream.
You May Also Like: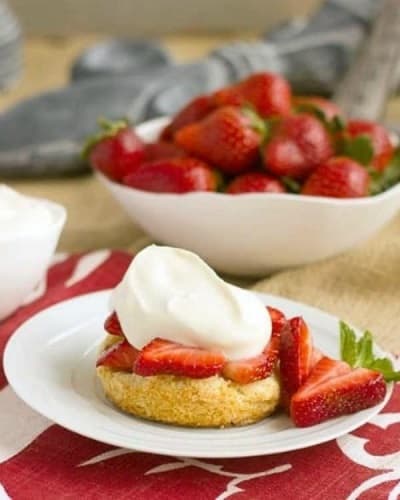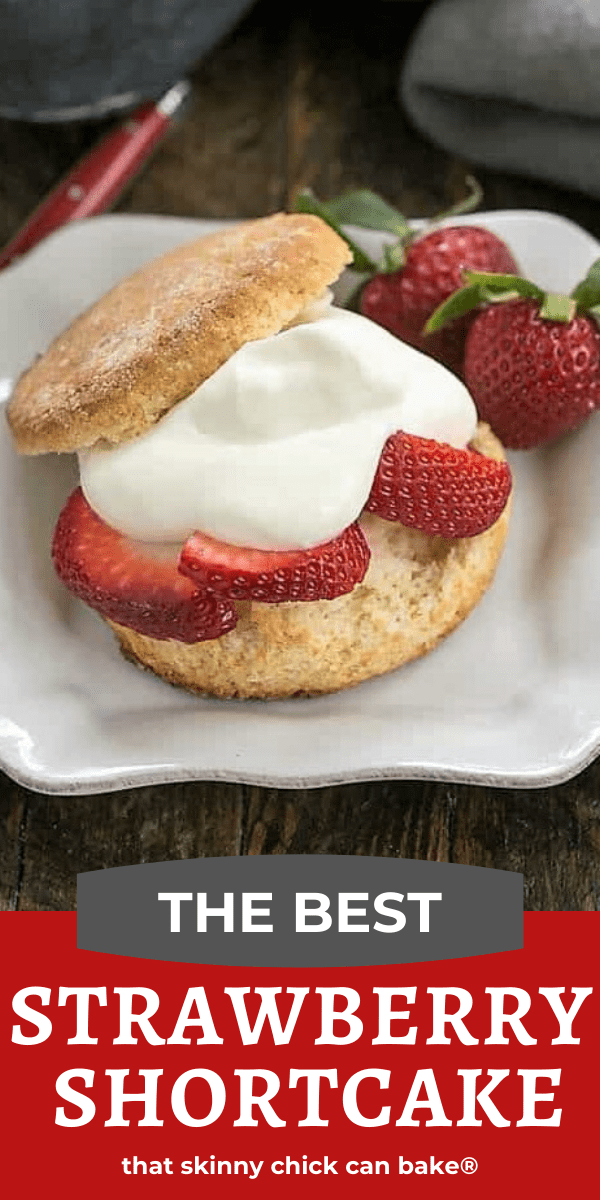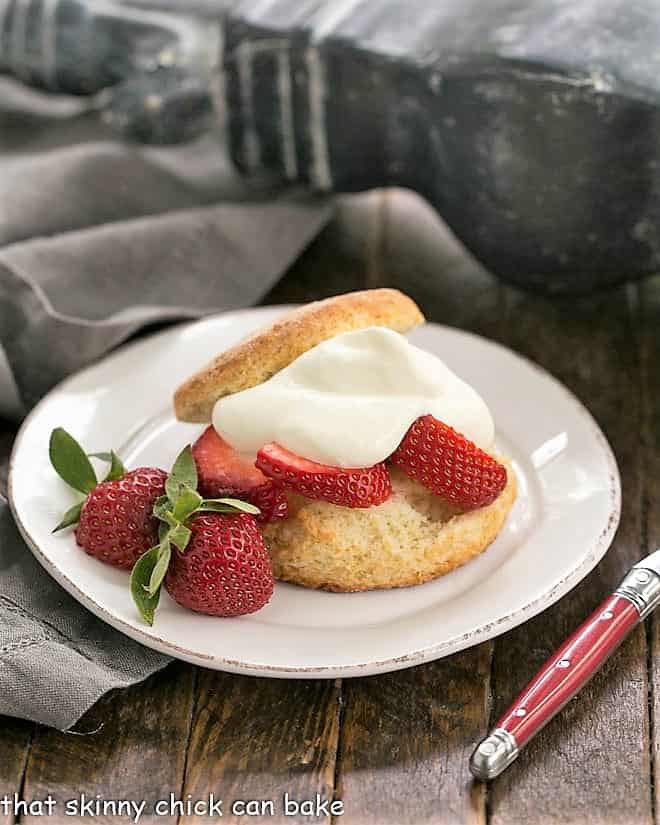 The Recipe:
Strawberry Shortcake Recipe with White Chocolate Whipped Cream
Prep Time 30 minutes
Cook Time 15 minutes
Total Time 45 minutes
Yield 8 servings
An exquisite strawberry shortcake recipe topped with white chocolate whipped cream
Ingredients
For biscuits/shortcakes:
2 ½ cups flour plus more for rolling dough
1 tablespoon baking powder
½ teaspoon baking soda
½ teaspoon salt
½ cup sugar
2 tablespoons shortening
½ cup cold butter
1 ¼ cup cold buttermilk
For mousse:
8 ounces good quality chocolate, I used Guittard
1 ⅔ cups heavy cream
For strawberry topping:
3-4 cups of strawberries, sliced
¼ cup sugar
1 tablespoon Grand Marnier, optional
Instructions
Preheat oven to 450º. Line the baking sheet with parchment paper.
In a bowl, whisk together dry ingredients. Cut in shortening in with pastry blender till resembles corn meal. Cut butter into 8 pieces and, one at a time, rub them into the flour with your fingers till they are flattened into thin sheets.
Put the bowl in the freezer for 15 minutes.
Add all the buttermilk except the last two tablespoons. Carefully toss with a spatula till well moistened. If the dough is too dry, add the remaining buttermilk. Lightly flour a Silpat or your countertop and roll the dough out to approximately 11 x 16. Fold the dough into thirds, then roll to about an inch thick.
Cut into biscuits using a round biscuit or cookie cutter. Dip the cutter into flour if it sticks to the dough. Gather scraps to make the last couple of biscuits. Bake for about 15 minutes or till lightly browned.
Make mousse while biscuits are cooking: Melt white chocolate with ⅔ cup cream in a microwave, stopping and stirring at short intervals till chocolate is melted, and ganache is smooth. Set aside to cool to room temperature.
Beat the remaining 1 cup of cream to stiff peaks. Fold about ⅓ of the cream into cooled (should be thickened, but not firm) chocolate. Then fold in the rest of the cream. Chill for 2 hours before serving.
For berries: slice strawberries and sweeten them with sugar. Mix in Grand Marnier. Chill till ready to serve.
To serve, break shortcakes in half, top bottom with a large dollop of mousse followed by spoonfuls of berries. Top with the rest of the shortcake.
Notes
Biscuit Recipe adapted from Cook's Illustrated and Mousse Recipe adapted from Bon Appetit.
Recommended Products
As an Amazon Associate and member of other affiliate programs, I earn from qualifying purchases.
Nutrition Information:
Yield:
8
Serving Size:
1 shortcake
Amount Per Serving:
Calories: 893
Total Fat: 50g
Saturated Fat: 28g
Trans Fat: 1g
Unsaturated Fat: 18g
Cholesterol: 96mg
Sodium: 714mg
Carbohydrates: 104g
Fiber: 8g
Sugar: 49g
Protein: 12g
Note: This post may contain affiliate links; view
my Disclosure Policy
for details. I earn a small percentage from any purchase you make by clicking on these links at no extra cost to you.