Classic Rhubarb Pie
This Classic Rhubarb Pie with a Lattice Crust is a spectacular taste of summer that's been popular for generations! With a double crust and no custard, it's just plain delicious!
Childhood memories come pouring back with each tasty bite of this homemade Rhubarb Pie Recipe. I grew up with a big rhubarb patch in our backyard. We'd be thrilled when my mom would surprise us with a pie. The simple filling highlights the true flavors of this fabulous spring vegetable!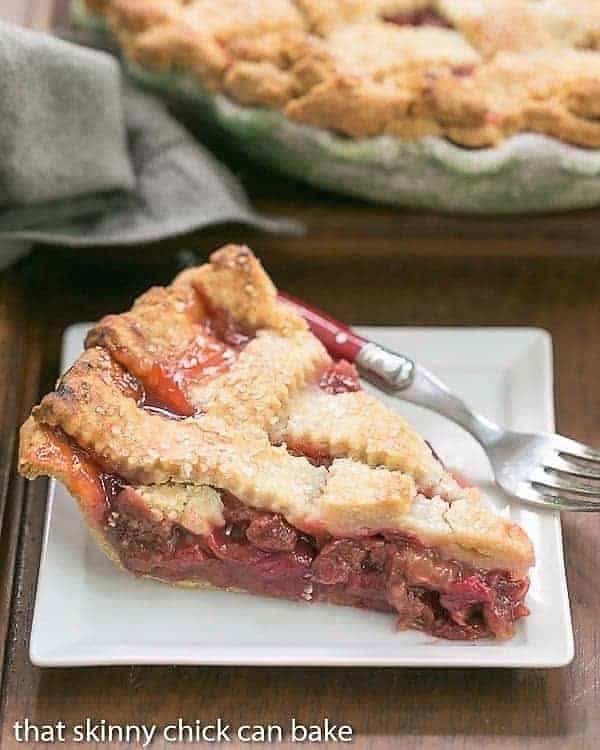 Why You Must Make
If you're lucky enough to have access to fresh rhubarb, this recipe for rhubarb pie is a perfect way to showcase this tart vegetable that's treated like a fruit.
It's truly a taste of summer!
There is nothing that can compare to the delightful balance of sweet and tart as well as a rhubarb pie!
Reader Endorsement:
From Patti via Pinterest: It came out perfect! It was hard to wait for it to set but necessary. I used the tip on egg washing the bottom crust and loved how it came out! This recipe is a keeper.
More Rhubarb Inspiration
One of my favorite memories was when my mom would bake up a classic rhubarb pie. Flavored with just sugar and a touch of butter, it was pure rhubarb ecstasy! No custard to muddy up the sheer gloriousness of this summer fruit!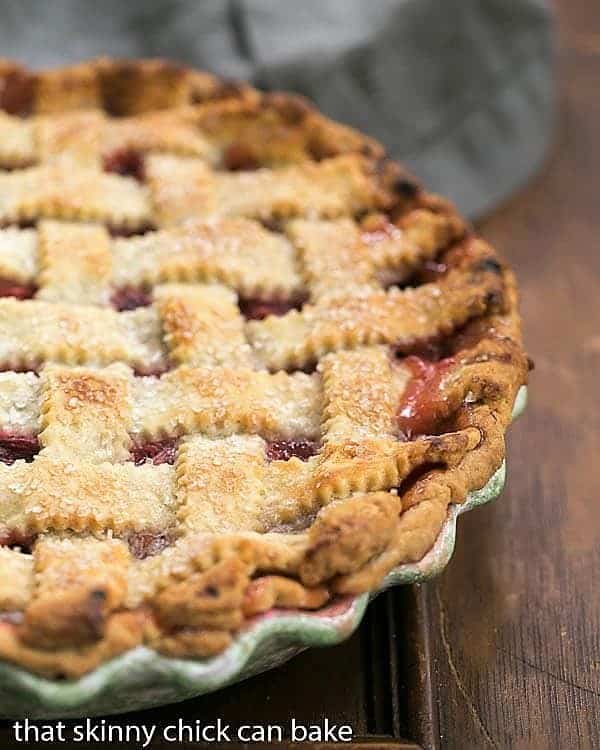 How to Make a Lattice Topping
If I'm using a good pastry recipe, a lattice crust is a fun twist for the top crust. Built-in air vents and a gorgeous presentation. I brush the lattice with some heavy cream and sprinkle it with coarse sugar for a beautiful finish for this classic rhubarb pie.
Start by laying a strip of crust down the center, then a second strip perpendicular, crossing in the center.
Continue to add strips in each direction, folding up and down those strips in their path allowing for an attractive lattice pie crust.
One of my dear friends commented with her first bite, "This is definitely not Pillsbury." Though store-bought crust is wonderful in a pinch, there is nothing better than a buttery, flaky homemade pie crust.
I've referenced Simply Recipes' post on How to Make a Lattice Crust in the past as Elise's photos demonstrate the technique much better than I could explain.
Expert Tips
PRO-Tip: If you're worried about a soggy crust, here's a quick trick. Whip together an egg and 1 teaspoon of water to make an egg wash. Brush over the bottom crust before adding the filling. It will add a barrier as it cooks.
PRO-Tip: Leftover egg wash can be painted on the lattice crust to assist with browning. Plus, you can sprinkle with coarse sugar to give the top some sparkle since the wash makes the lattice sticky.
Place a rimmed baking sheet in the oven as it preheats. Place the pie on the baking sheet to catch any juices that bubble out of the pie.
The hot baking sheet will also help set the bottom crust by providing direct heat.
If you're not sure if your pie is done, look for pink juices to be bubbling from the openings in the lattice.
Cool the pie for at least 3 hours before slicing. This will allow the filling and juices to set up.
Frozen rhubarb can be used, just defrost first.
PRO-Tip: To make a Strawberry Rhubarb Pie, just decrease the rhubarb to 3 cups and add 2 cups of strawberries, cut in half or thick slices.
You can add 1/4 teaspoon of cinnamon to the rhubarb mixture if that appeals to you!
Also, you can top the pie with a solid crust instead of making a lattice. Just cut a few vents for steam to escape.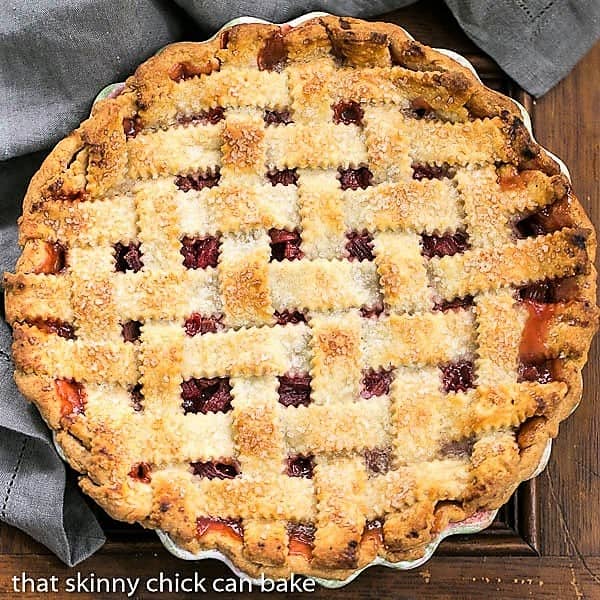 Frequently Asked Questions
What is Rhubarb? A Fruit or a Vegetable?
Rhubarb is officially classified as a vegetable as it is the stem of the rhubarb plant. Like celery stalks, stems are vegetables. As a vegetable, rhubarb is far from sweet so more sugar is needed than in the average pie or you'd be puckering with every bite.

But we treat these rhubarb stems, which range from green to red in color, as a fruit as it's used in recipes for pies, tarts, cakes, muffins, and even ice cream toppings. And please note that only the stems are edible as the rest of the plant is poisonous. They contain oxalic acid and other toxic substances. I got a lot of grief when I posted my rhubarb muffins with some of the stems and leaves in the background. Mind you, I wasn't suggesting you eat them raw or cooked!
What Does Rhubarb Taste Like?
Rhubarb cooked by itself is very tart, like a sour green apple. But balancing the tartness with the perfect amount of sugar makes rhubarb a favorite ingredient for spring and summer desserts.
Do You Need to Peel Rhubarb?
It's not necessary, but if you feel your stalks are stringy or tough as you cut them, you can take a knife or vegetable peeler to remove some of the skin and strings. Preparing rhubarb for pie mainly consists of washing it and chopping it.
How Should I Store an Old-Fashioned Rhubarb Pie?
Rhubarb and other fruit-only pies are fine to store at room temperature for up to 2 days. Longer than that, place your pie in the refrigerator for up to 3 more days. You may want to gently warm up a slice in the microwave to get the chill off before eating.

If your rhubarb pie filling contains custard, it must be refrigerated to avoid bacteria from growing due to the perishable nature of a custard. This pie can also be frozen for up to 3 months. Defrost overnight in the refrigerator.
Any Tips for Harvesting Rhubarb?
Yes. Only pull (don't cut) a few stalks from each plant. Removing all stalks will leave the plant without the ability to get energy from the sun to prepare for next year's crop. And make sure to remove the toxic leaves before slicing the rhubarb.
You May Also Like:
Stay in touch through social media @ Instagram, Facebook, and Pinterest. Don't forget to tag me when you try one of my recipes! And if you love the results, please give it a 5-star rating in the recipe card. Note: As an Amazon Associate, I earn from qualifying purchases. Visit my Amazon Store for my favorite products.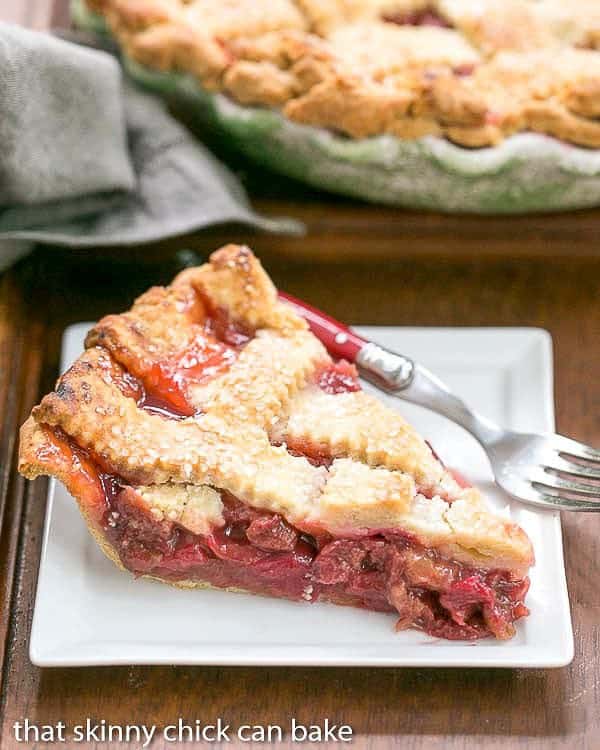 The Recipe:
Classic Rhubarb Pie Recipe
Prep Time 1 hour
Cook Time 1 hour
Total Time 2 hours
Yield 8 servings
A classic rhubarb pie from my childhood topped with a beautiful, woven lattice crust.
Ingredients
6-8 tablespoons flour
2 cups sugar
1 tablespoon butter, cut into pieces
4 cups chopped rhubarb
1 double crust pie crust recipe* (or store bought)
Instructions
Preheat the oven to 450º.
Mix together the flour and sugar in a large bowl. Add rhubarb and toss to combine.
Roll out your bottom crust and place in a pie plate. Add the rhubarb to the pie plate and dot with butter. Roll out the top crust and either cut strips to weave or top with the whole sheet of dough.
Trim edges and crimp the two crusts together. Cut some air vents in the top of the crust if you're not making a lattice top.
Place pie on a baking sheet and bake for 10 minutes.
Reduce heat to 350º and bake for 30-50 more minutes OR until the filling is bubbling in the middle. Cover edges with foil if the crust is browning too quickly during the baking.
Recommended Products
As an Amazon Associate and member of other affiliate programs, I earn from qualifying purchases.
Nutrition Information:
Yield:
8
Serving Size:
1 slice
Amount Per Serving:
Calories: 345
Total Fat: 7g
Saturated Fat: 3g
Trans Fat: 0g
Unsaturated Fat: 4g
Cholesterol: 4mg
Sodium: 104mg
Carbohydrates: 70g
Fiber: 2g
Sugar: 51g
Protein: 3g
Note: This post may contain affiliate links; view
my Disclosure Policy
for details. I earn a small percentage from any purchase you make by clicking on these links at no extra cost to you.