Freeze and Bake Blueberry Pie
This Freeze and Bake Blueberry Pie can be baked immediately or check out my best tips for how to freeze now, then bake later!
Who wouldn't love a freshly baked Blueberry Pie in the middle of winter? Now you can have a homemade pie made with fresh summer berries any time of year!
Freeze and Bake Blueberry Pie
Come about January, I begin to long for the juicy fresh peaches and berries of summer. Not to mention a freshly made fruit pie! Did you know you can make and freeze a two-crust pie, then just defrost and bake it up whenever you'd like?? Bill's aunt used to do this years ago. She was a pie maker extraordinaire. Why shouldn't you enjoy a freshly baked blueberry or peach pie in the middle of the winter??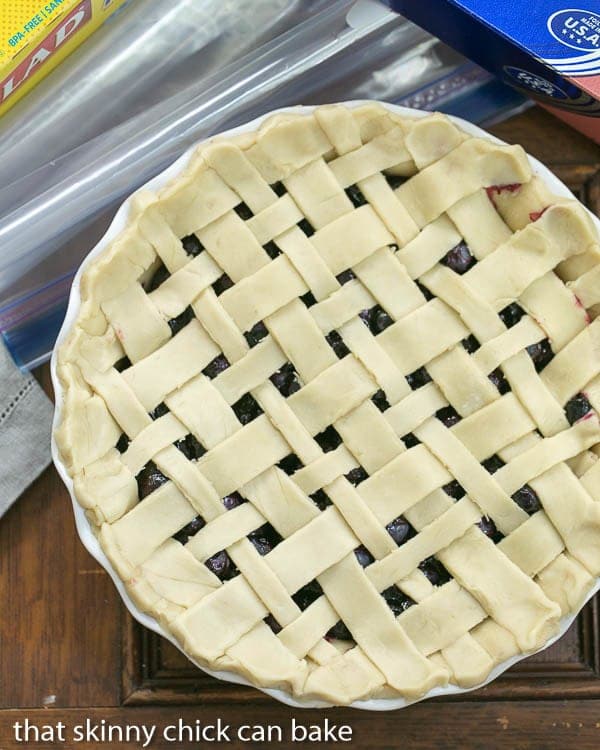 Tips for Freezing a Fruit Pie
It's quite simple. Put together your pie as usual, following your favorite recipe. This works for any baked fruit pie, except those with meringue toppings.
Pop your unbaked pie in the freezer, uncovered, for an hour or two until the crust is firm enough not to become misshapen when you wrap it.
Then wrap it well with a layer of plastic wrap followed by a layer of foil to help prevent freezer burn. If you happen to have a stash of two-gallon ziplock freezer bags, those work great, too, as the outer layer.

Fast forward to mid-winter when an arctic chill has you wearing long johns and Uggs in the house (not that I'd ever do this!). Remove the pie from the freezer and discard the wrappings.
Place it on the counter while you preheat the oven. Then bake up as your recipe directs, but use your eyes and nose to ensure that it's completely baked.

PRO-Tip: You will probably need to extend the baking time by 20 minutes or more to ensure the filling is thick and bubbly.
Voila! A summer treat in the middle of winter. Note that this works for double crust fruit pies. I've never frozen a cream or custard pie, but maybe that could be done, too!
PRO-Tip: The way I figure out if a dessert can be frozen is to look for it in the frozen foods section of your grocery store!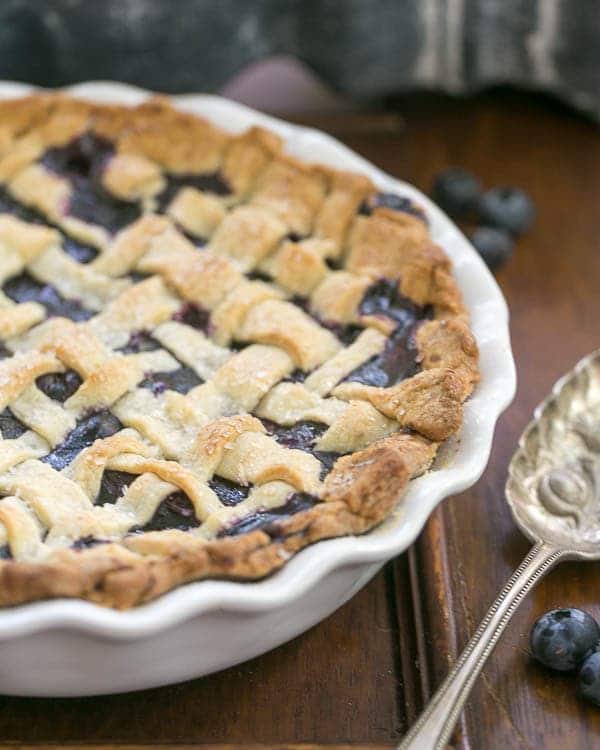 Summer Dessert Recipes
Here are a few more recipes for your summer entertaining menus!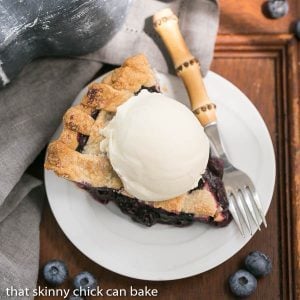 The Recipe:
Freeze and Bake Blueberry Pie
Prep Time 45 minutes
Cook Time 50 minutes
Additional Time 1 hour
Total Time 2 hours 35 minutes
Yield 8 servings
A no-fail blueberry pie filling plus a how to freeze a pie to bake later.
Ingredients
Pie crust dough for a double crust, homemade or store-bought
2 pints blueberries (4+ cups), rinsed
3/4 cup sugar
3 tablespoons cornstarch
3 tablespoons water
1 teaspoon grated lemon zest
1/2 teaspoon cinnamon
2 tablespoons butter
Cream, optional
Coarse sugar, optional
Instructions
Make your favorite double pie crust recipe. Wrap the dough, and chill as directed in 2 disks.
To make the filling, combine 1 cup of the blueberries with the sugar in a saucepan. Bring to a simmer, stirring occasionally, till sugar is melted, about 5 minutes.
Combine the cornstarch and water in a small bowl and whisk the blueberry and sugar mixture into it. Return the mixture to the pan and cook, stirring constantly, over low heat, until it boils, thickens and becomes clear.
Pour into a large bowl and mix in the lemon zest, cinnamon, and butter. Mix in the rest of the blueberries. Cool.
Roll out the bottom crust and place it in the bottom of pie plate. Trim the edges, then add the blueberry filling.
Roll out top crust into a rectangle and into 8-10 strips to make the lattice topping. You can get fancy and weave the strips or just place half in one direction and top diagonally with the other half. Seal and crimp the edges as desired.
Place pie, uncovered, in the freezer for 1-2 hours until the crust is firm enough to wrap. First, wrap well in plastic wrap, followed by heavy-duty foil. If you have 2-gallon zip lock bags, slide the pie into one and remove the air.
On the day you plan to bake the pie, take it out of the freezer and remove the wrappings. Set the pie on the counter while you preheat the oven.
Preheat to 400º. Brush the crust with cream and sprinkle with coarse sugar, if desired.
Place the pie on a rimmed baking sheet to catch any drips and immediately reduce the temperature to 375º.
Bake for one hour and 10 minutes or longer, until the crust is golden and the filling is bubbling.
Cool the pie on a rack.
Notes
A freshly made pie will take about 40-50 minutes to bake. If you have frozen the pie, the baking time could be quite a bit longer. You'll need to watch for the filling in the middle to bubble.
Cover the edges with foil if they brown too fast.
Recommended Products
As an Amazon Associate and member of other affiliate programs, I earn from qualifying purchases.
Nutrition Information:
Yield:
8
Serving Size:
1 slice
Amount Per Serving:
Calories: 294
Total Fat: 12g
Saturated Fat: 5g
Trans Fat: 0g
Unsaturated Fat: 5g
Cholesterol: 12mg
Sodium: 142mg
Carbohydrates: 48g
Fiber: 2g
Sugar: 27g
Protein: 2g
Don't Forget to Pin!

Note: This post may contain affiliate links; view
my Disclosure Policy
for details. I earn a small percentage from any purchase you make by clicking on these links at no extra cost to you.