Strawberry Filled Meringue Roulade
This Strawberry Filled Meringue Roulade starts with a dreamy, melt in your mouth meringue rolled around whipped cream and berries. An incredibly light and luscious dessert!
If you're looking for a light, luscious dessert to impress, this Angel Food Cake Roll fits the bill!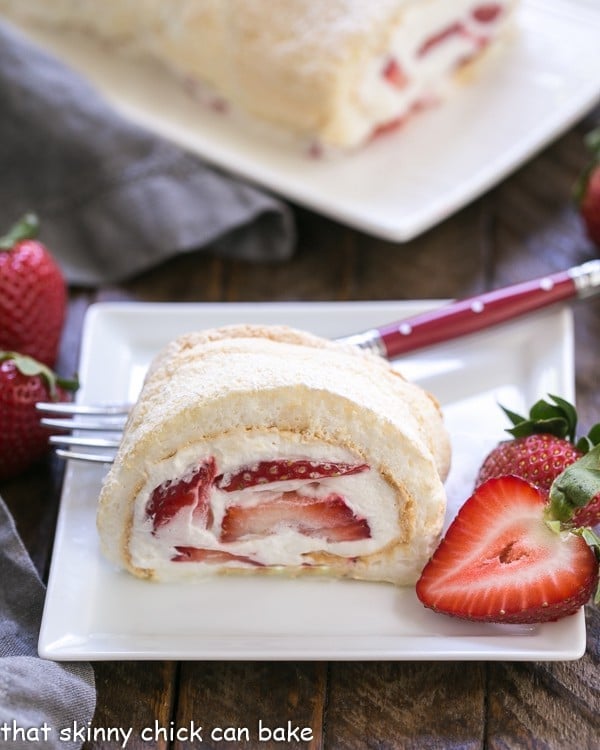 Strawberry Filled Meringue Roulade
I had never heard of this dessert until Ann, a friend, and fellow blogger, posted about her version of this Strawberry Meringue Roulade, created for her husband's birthday. With ripe summer berries near the peak of their season, I had already made a Strawberry Cheesecake Lush, but it was the perfect time to treat my family to another special dessert.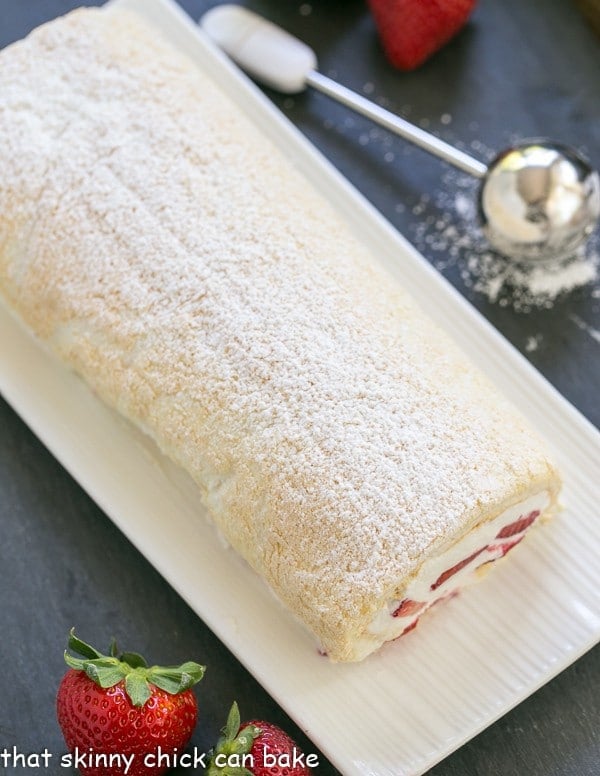 How to Make a Meringue Roulade
It took more than one attempt to get this meringue roulade just right. Looking through various recipes, the baking times, temperatures, covering for the pan, etc. were all over the place. For this final version, I used Ann's baking instructions which produced a less weepy meringue.
Parchment worked better than non-stick foil to line the baking pan, and I liked a touch of booze and vanilla in the whipped cream for a flavor boost. I cut my berries very thinly and didn't overlap them at all. I also cut a slice from both ends before moving the roulade to a platter for a prettier presentation.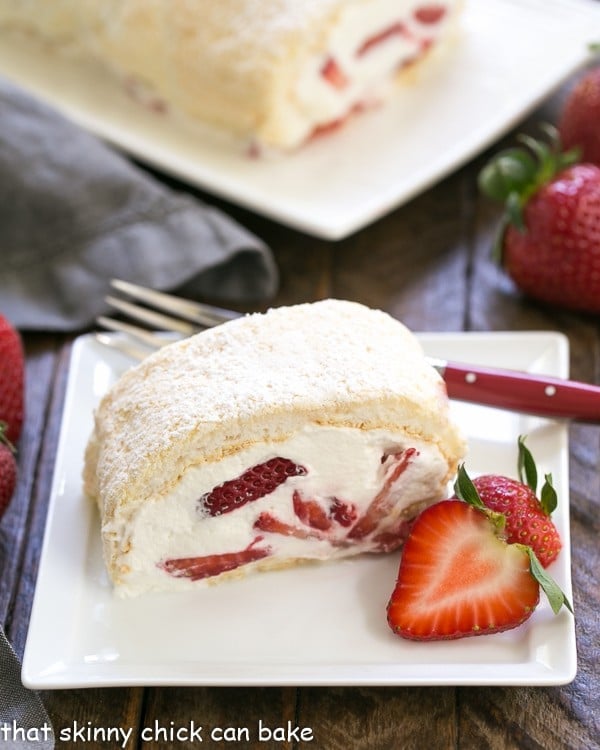 A Few Tips for Making a Perfect Meringue
As with most meringue desserts, it's important to follow some general rules for the best results. My family raved about both attempts, so don't worry if yours isn't picture perfect the first time. The meringue gets a little sticky and it's not particularly easy to transfer to the serving dish. You can just slice and plate it.
PRO-Tip: As with all meringues, let egg whites sit out at room temperature for at least 30 minutes. They will beat better when they're not icy cold.
Use superfine sugar to mix into the egg whites as it will dissolve easier. I just whiz regular sugar in my mini food processor.
Add sugar slowly, giving it time to dissolve into the batter.
PRO-Tip: Make sure your beater and bowl are scrupulously clean. Any grease will prevent the whites from whipping properly. The meringue should be fluffy, white and glossy. Any yolk in the whites will also hinder the process.
Dust the finished roulade with powdered sugar to camouflage any imperfections.
Use two long spatulas to transfer the roulade to your serving platter.
Pro-Tip: Older, though not necessarily expired, eggs have more of an eggy or sulfuric flavor. In this delicate dessert, that is not optimal so use the freshest eggs available to you.
More Strawberry Desserts You'll Love: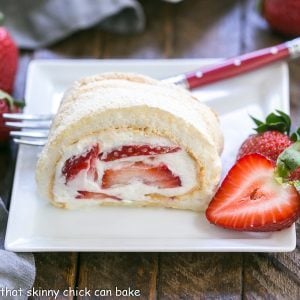 The Recipe:
Strawberry Filled Meringue Roulade
Prep Time 30 minutes
Cook Time 16 minutes
Total Time 46 minutes
Yield 10 servings
This Strawberry Filled Meringue Roulade starts with a dreamy, melt in your mouth meringue rolled around whipped cream and berries. An incredibly light and luscious dessert!
Ingredients
For meringue:
4 egg whites, at room temperature
1 cup superfine sugar
1 teaspoon vanilla
For filling:
1 cup heavy cream
1/4 cup powdered sugar
1 tablespoon Grand Marnier, optional
1 teaspoon vanilla
8 ounces fresh strawberries, hulled and sliced thin
Powdered sugar, to garnish
Instructions
Line a 10 x 15 rimmed baking sheet with parchment. Preheat oven to 400 degrees.
Beat egg whites on medium speed until soft peaks form. Increase the speed to medium-high and slowly add the sugar until it's dissolved about 2-3 minutes. Then mix in vanilla.
Cover a 10 X 15 cookie sheet with parchment. Spread the meringue evenly in the pan and smooth with an offset spatula.
Bake for 8 minutes, then reduce oven temperature to 325 and bake for another 8 minutes.
Carefully flip the meringue onto a tea towel and remove the parchment paper. Let cool 15-20 minutes. Carefully reflip the meringue so the browned top side is up (still on the tea towel).
Whip cream with powdered sugar, Grand Mariner (if using), and vanilla until soft peaks form. Spread over cooled meringue leaving a 1½ inch border on the long side nearest you.
Top with one layer of strawberries, then using the tea towel to assist, start rolling the meringue from the long side closest to you to the long side away from you.
Carefully transfer to a platter, trimming off ends first, if desired. Chill for at least an hour before serving. Dust with powdered sugar and garnish with berries to serve.
Notes
Adapted form Thibeault's Table and Fine Cooking
Nutrition Information:
Yield:
10
Serving Size:
1 slice
Amount Per Serving:
Calories: 232
Total Fat: 9g
Saturated Fat: 5g
Trans Fat: 0g
Unsaturated Fat: 3g
Cholesterol: 27mg
Sodium: 29mg
Carbohydrates: 37g
Fiber: 0g
Sugar: 36g
Protein: 2g
Note: This post may contain affiliate links; view
my Disclosure Policy
for details. I earn a small percentage from any purchase you make by clicking on these links at no extra cost to you.