Strawberry Shortcakes Franco-American Style with Roasted Strawberries
At my house, we eagerly await the local strawberry season. How timely that our berries were ripe just in time to make Dorie Greenspan's Strawberry Shortcakes, Franco-American Style. Roasted Strawberries were sandwiched between two ladyfinger cakes for one exquisite dessert.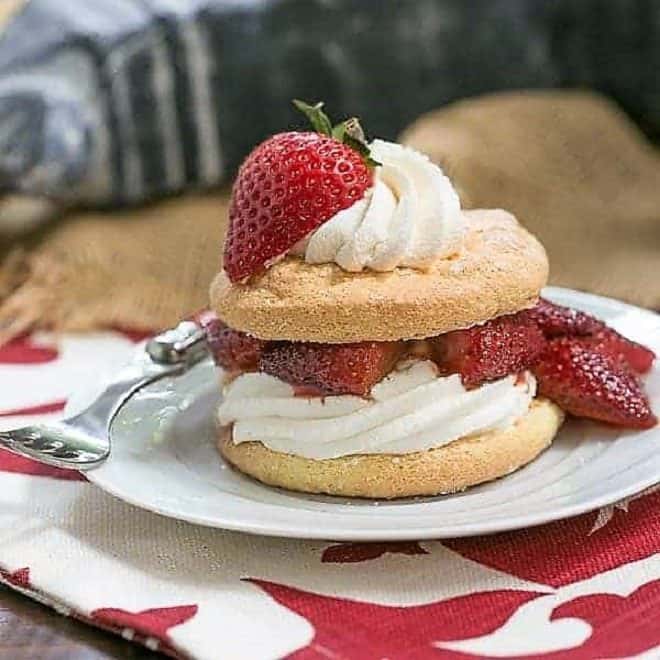 Strawberry Shortcakes Franco-American Style
My blogger friends have been roasting strawberries for years. Putting them in ice cream, parfaits, cakes and more, the concentrated flavor was a new twist for so many spring desserts. Of course, I'm not ahead of the game as usual, but thank goodness for Dorie. Her latest strawberry shortcake recipe started with ladyfinger cakes instead of the classic biscuit bases, followed by whipped cream and those sweet, juicy roasted strawberries. The resulting Strawberry Shortcakes Franco-American Style were outstanding!
Ladyfinger Shortcakes and Roasted Strawberries
I typically make a biscuit-like shortcake, varying the recipe from time to time, adding a slosh of liqueur to the berries or cream, but generally an old-fashioned version. Dorie admits that her iteration has probably never been seen in Paris, but she gave it her twist it by using a French biscuit, biscuits à la cuillère, or ladyfingers.
Basically a sponge cake piped into rounds, the base and tops are soft cakes versus the crumbly type my family is accustomed to. I served mine with roasted strawberries, but a mixture with fresh would be lovely as well. My crew enjoyed these strawberry stacks but preferred a more traditional version. If you love ladyfingers, I think you'll find this recipe a keeper. And when you tire of strawberries, these Blueberry Peach Shortcakes are terrific, too.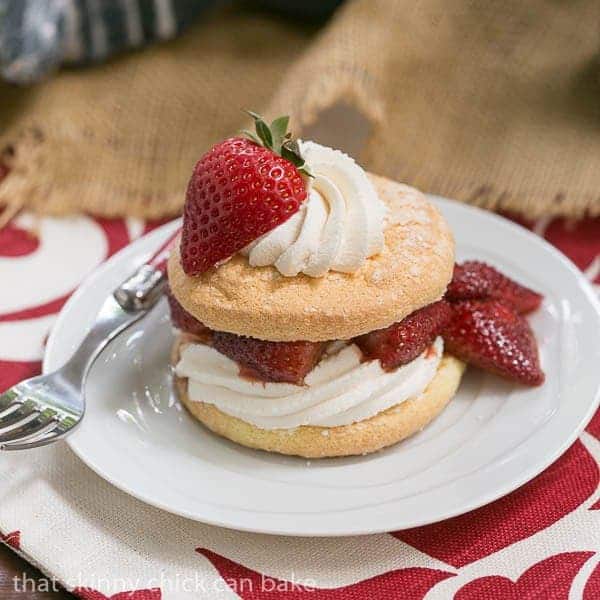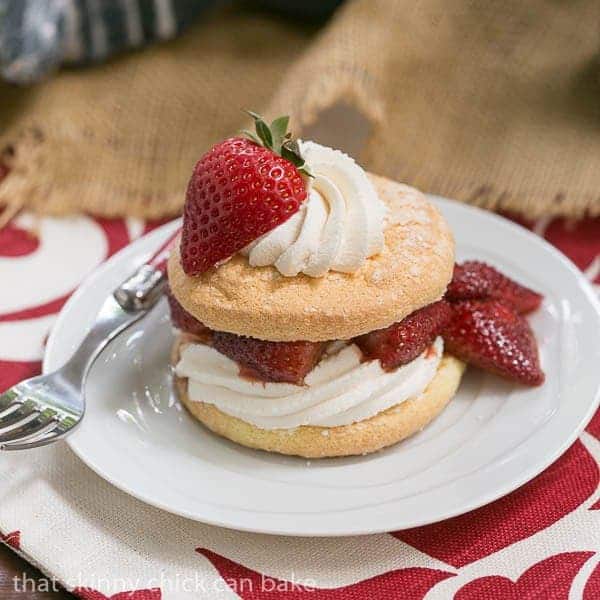 The Recipe:
Roasted Strawberries
Prep Time 15 minutes
Cook Time 30 minutes
Total Time 45 minutes
Yield 8 servings
A lovely topping for ice cream or strawberry shortcakes.
Ingredients
1 pound, about 4 cups, strawberries, hulled and sliced in half (attempt to make them all similar in size by halving or quartering)
1 tablespoon sugar
1 tablespoon extra virgin olive oil
1 teaspoon highest quality balsamic vinegar
Instructions
Mix together berries and sugar.
Preheat oven to 375º. Line baking sheet with parchment.
Stir berries then pour out onto prepared baking sheet. Bake for 30 minutes or till berries are soft. Remove berries and juices to a bowl. Stir in olive oil and balsamic. Let cool to room temperature before using.
Notes
Recipe very slightly adapted from Dorie Greenspan.
Nutrition Information:
Yield:
8
Serving Size:
1
Amount Per Serving:
Calories: 49
Total Fat: 2g
Saturated Fat: 0g
Trans Fat: 0g
Unsaturated Fat: 2g
Cholesterol: 0mg
Sodium: 1mg
Carbohydrates: 8g
Fiber: 2g
Sugar: 6g
Protein: 1g
This recipe for these Strawberry Shortcakes, Franco American Style, can be viewed on Google Books. The recipe is also on page 338 of Baking Chez Moi. To see what the other bloggers thought of this recipe, check out the LYL page on Tuesdays with Dorie.

Note: This post may contain affiliate links; view
my Disclosure Policy
for details. I earn a small percentage from any purchase you make by clicking on these links at no extra cost to you.