White Chocolate Raspberry Bars
I was heading to northern Minnesota for a family reunion a few summers ago. Of course, baked goods were expected! These White Chocolate Raspberry Bars were loaded in my suitcase, went through TSA to a Northwoods cottage where they got rave reviews!
This Raspberry Cookie Bars Recipe was sweet, rich, and sturdy enough to survive a flight and car drive to a lake house not too far from the Canadian border. I returned with just an empty container. Not a crumb remained!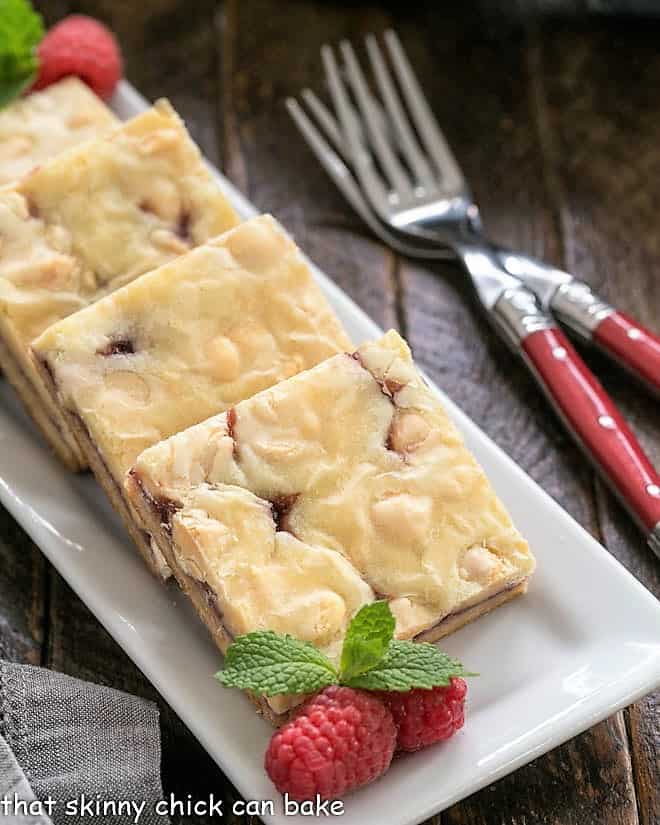 Why You Must Make
Two of my favorite ingredients in one cookie bar, raspberries, and white chocolate! I couldn't help but lick the bowl (quality control and all!) and the flavors were just perfect.
A little almond extract added a magnificent boost of flavor, and I never can pass up a white chocolate dessert!
My sister, Maddy, ate one of these raspberry bars before going to bed and then had a crazy dream about eating the most incredible desserts in her life. I think that says it all!!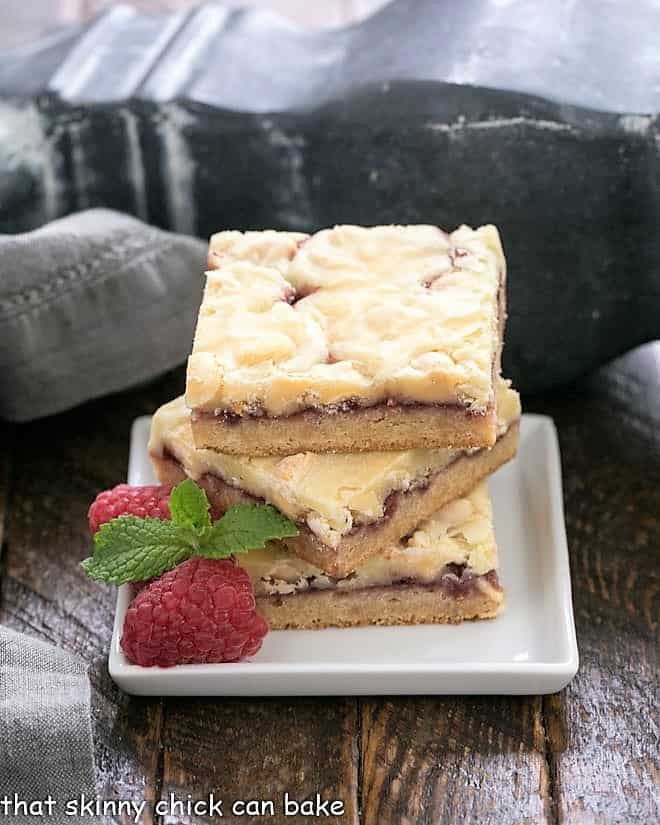 Expert Tips
I like lining my baking pan with non-stick foil. As the raspberry preserves cook, they can easily adhere to even a pan sprayed with cooking spray. Plus the foil helps you pull the bars out of the pan to cut. And makes cleanup a lot easier!
Let your white chocolate sit in the hot butter as you mix up the dough. Then use a whisk to combine so that no chunks remain. If you need to zap the mixture in the microwave to melt any stray bits, that's fine. I find white chocolate bars melt easier than chips, so that's another option.
These raspberry white chocolate chip bars can be made with all sorts of other jams and preserves. I'd love to try blackberry, black currant, or apricot versions.
If you're not a fan of almond extract, vanilla extract would be just as tasty in this raspberry bars recipe.
Feel free to sprinkle a few slivered almonds on top if you're a nut lover!
Frequently Asked Questions
How Do You Melt White Chocolate?
Typically, I'll put white chocolate chips or chopped white chocolate in a microwave-safe bowl and zap for 20-30 seconds, stop to stir, and repeat until the mixture is smooth. Note that white chocolate is softer than dark chocolate and will take less time to melt.
In this recipe, though, the directions state to melt butter in a heat-safe bowl, then add the chocolate chips and let them melt in the hot butter. I find that chocolate chips don't melt as easily as chopped chocolate bars, so I recommend chopping the chocolate chips into smaller bits to make melting easier.
What is White Chocolate?
Though not true chocolate, white chocolate cannot be classified as chocolate because it does not contain any chocolate liquor, according to my Food Lovers' Companion. But it's still called "chocolate" and found with the other types of chocolate in grocery stores.
What is White Chocolate Made Of?
The ingredients in white chocolate are usually sugar, cocoa butter, milk solids, lecithin, and vanilla. Without the chocolate liquor, there is noticeably little chocolate flavor.
You May Also Like:
Stay in touch through social media @ Instagram, Facebook, and Pinterest. Don't forget to tag me when you try one of my recipes! And if you love the results, please give it a 5-star rating in the recipe card. Note: As an Amazon Associate, I earn from qualifying purchases. Visit my Amazon Store for my favorite products.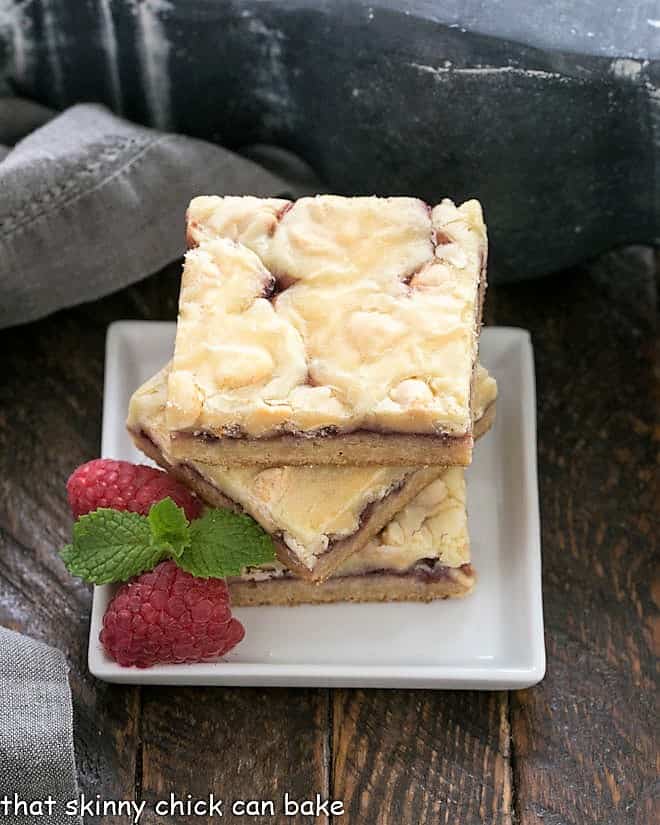 The Recipe:
White Chocolate Raspberry Bars
Prep Time 20 minutes
Cook Time 47 minutes
Total Time 1 hour 7 minutes
Yield 16 bars
Delicious buttery raspberry bars with a double dose of white chocolate! Adapted from Nestles via Hugs & Cookies XOXO
Ingredients
1/2 cup (1 stick) butter
2 cups white chocolate chips, divided
2 eggs
1/2 cup sugar
1 cup flour
1/2 teaspoon salt
1/2 teaspoon almond extract
1/2 cup raspberry jam
Instructions
Preheat oven to 325°. Butter and sugar 9-inch-square baking pan.
Melt butter in a medium, microwave-safe bowl on HIGH (100%) power for 1 minute; stir. Add 1 cup white chocolate chips and let stand without stirring. I recommend chopping these chocolate chips for easier melting.
Beat eggs in large bowl until foamy. Add sugar; beat until light lemon-colored, about 5 minutes. Stir in the morsel-butter mixture. Add flour, salt, and almond extract, then mix at low speed until combined. Spread 2/3 of batter into prepared pan.
Bake for 15 to 17 minutes or until light golden brown around edges. Remove from oven to wire rack. Leave oven on.
Heat the jam in a small, microwave-safe bowl on high power for 30 seconds; stir. Spread jam over warm crust. Stir remaining morsels into remaining batter. Drop spoonfuls of batter over jam.
Bake for 25 to 30 minutes or until the edges are browned. Cool completely in pan on wire rack. Cut into bars.
Nutrition Information:
Yield:
16
Serving Size:
1
Amount Per Serving:
Calories: 203
Total Fat: 7g
Saturated Fat: 4g
Trans Fat: 0g
Unsaturated Fat: 3g
Cholesterol: 28mg
Sodium: 97mg
Carbohydrates: 32g
Fiber: 0g
Sugar: 24g
Protein: 3g
Note: This post may contain affiliate links; view
my Disclosure Policy
for details. I earn a small percentage from any purchase you make by clicking on these links at no extra cost to you.