White Chocolate Bundt Cake
This moist, dense White Chocolate Bundt Cake is flavored with vanilla and almond for a simple, yet delightfully delicious dessert.
As with almost all the Sour Cream Pound Cake recipes I've made, this dessert was beloved by my family, even those with the most discriminating palates!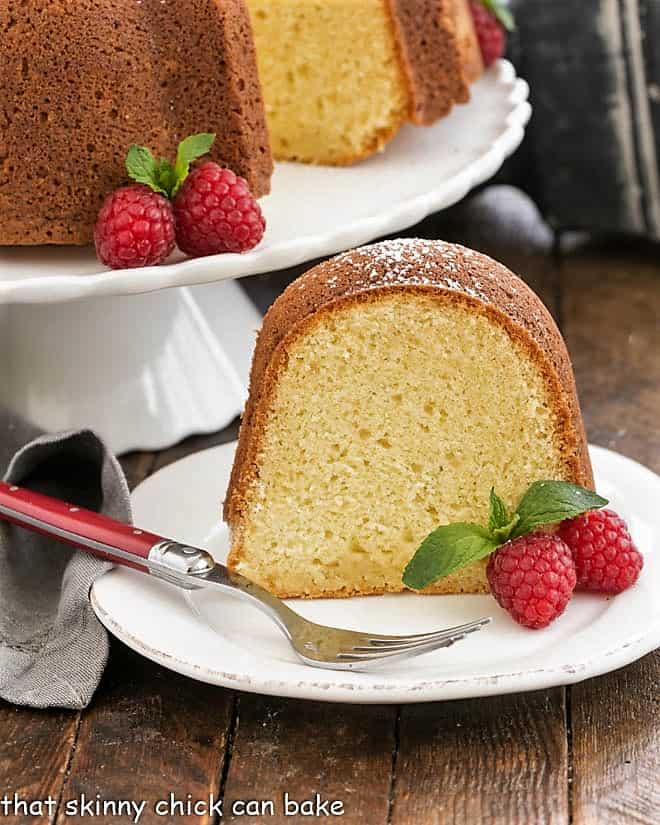 Why You Should Make this Bundt Cake
A Bundt cake serves at least 12 and makes a beautiful presentation even without frosting!
White chocolate is often overlooked as a cake flavor, but it's sweet and delectable.
I think this recipe can be traced back to Debbi Fields of Mrs. Field's Cookies, so you know it's good~
This white chocolate Bundt cake recipe was buried deep in my stacks of pre-blogging recipes. Flavored with vanilla, almond, and white chocolate, this cake was perfect for a family Sunday night dinner.
Though dark chocolate desserts are numero uno around here, there were no complaints as their generous, self cut wedges drizzled with white chocolate ganache, disappeared in a flash.
What is a Bundt Cake?
Named after the Bundt pan, a tube pan wth fluted, rounded sides, a Bundt cake is any cake baked in this specialized pan.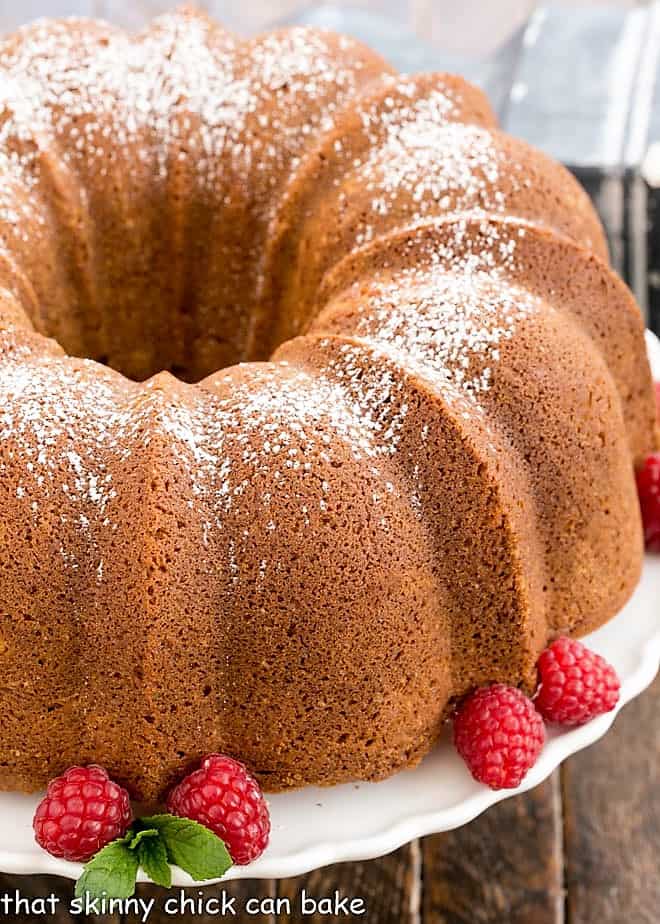 How to Make a Bundt Cake
Here are some tips for making Bundt cakes along with what to look for when selecting a recipe.
Look for butter in the list of ingredients and also something like sour cream, cream, or buttermilk to provide some extra moisture.
Also, when reading through the directions, if you see you must alternate wet and dry ingredients, I find that this is a clue indicating a quality recipe. This method helps prevent gluten formation and makes for a tender cake.
When adding the flour, the recipe should have you mix just until it's incorporated. Beating or mixing too long will encourage gluten formation and make for a tougher, less tender cake.
PRO-Tip: Use the paddle attachment for mixing as it will not beat air into the batter like the whisk attachment.
Check for a detailed recipe that gives a range of baking times (still you should start checking early in case your oven runs hot). Some of my old handwritten recipe cards from my mom are lacking explicit instructions. I'm certain many of you have those same recipes! But they're still treasures and over time, I've added some notes to help with the specifics.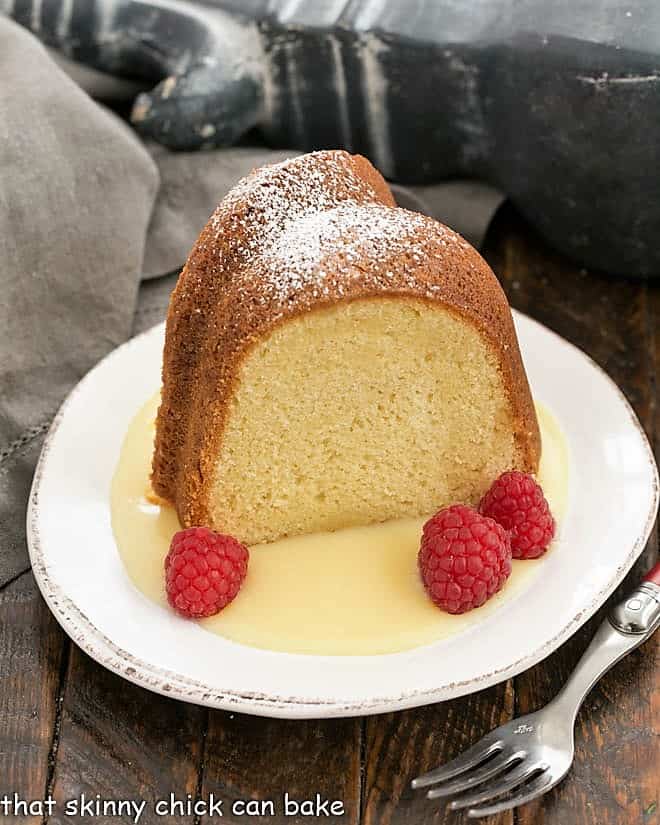 Sour Cream Pound Cake Recipe
As I was cracking egg after egg, I realized that this Bundt cake recipe was a pound cake. In case you're unfamiliar with this term, pound cake is the term for a recipe that originally contained a pound of flour, pound of sugar, pound of butter, and pound of eggs.
The result of this combination is a dense, fine crumb cake. The texture makes it perfect for making in a Bundt pan.
A sour cream pound cake has the addition of sour cream, contributing to the moistness of this cake. This Bundt cake recipe does contain sour cream.
Tips for Unmolding a Pound Cake:
Coat the interior of the pan with Crisco (shortening) then a dusting of flour. This is the best no-stick combo for Bundt cakes.
A non-stick baking spray like Baker's Joy works well, too. Its formula is a combination of flour and oil.
When the cake is finished baking, let it cool on a wire rack for 10-15 minutes before removing it from the pan.
Give the pan a gentle back and forth jiggle to make sure it's loose before inverting the pan onto the cooling rack.
Let the cake cool completely before slicing.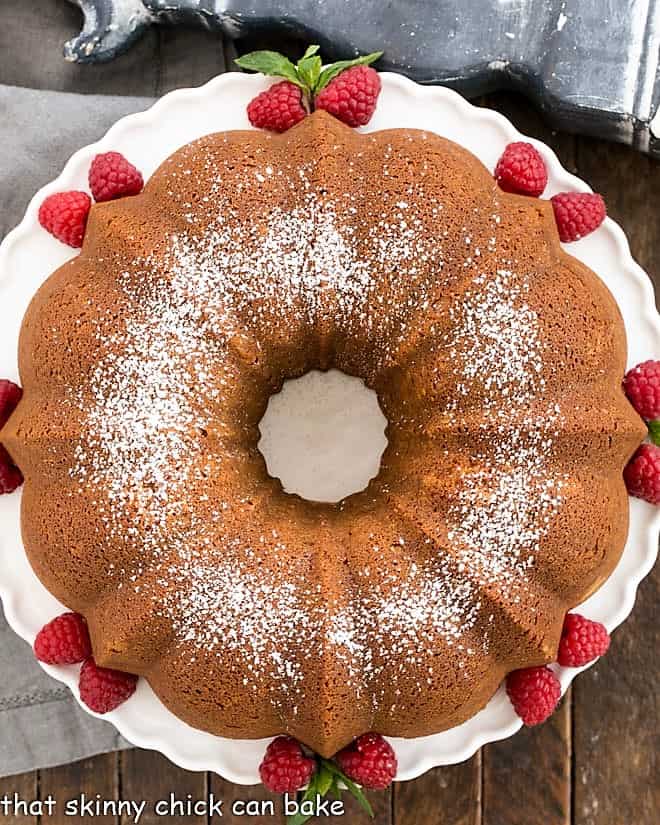 Frequently Asked Questions
How Do You Store a Bundt Cake?
A bundt cake can be left at room temperature for 2-3 days as long as it's covered well with plastic wrap.

Any longer, store in the refrigerator up to 5 more days, well wrapped. Make sure to let the cake come to room temperature before serving.
Can You Freeze a Bundt Cake?
Yes, Bundt cakes freeze well. Wrap in plastic wrap, then foil and store for up to 3 months. Defrost in the refrigerator overnight to serve.
How Should Bundt Cake Be Served?
Cut the room temperature Bundt cake into slices and add your favorite toppings. Fresh berries, berry sauces, ice cream or even a simple dusting of powdered sugar are tasty accompaniments.

There is a white chocolate glaze or sauce at the end of this recipe. I've glazed this cake before but prefer using a thicker sauce to make a puddle on the dessert plates before adding a slice.
More Bundt Cake Recipes You'll Love:
Don't Forget to Subscribe!
Have you subscribed to my weekly newsletter? You'll get the latest blog recipes plus some seasonal favorites delivered to your inbox every Saturday morning! And as a bonus, you'll receive a series of 5 Tips & Recipes for Leveling Up Your Desserts! Of course, you can unsubscribe at any time!!
SUBSCRIBE HERE—> https://bit.ly/3tLQIcL
This recipe was first shared in January 2018. Photos and text were updated in 2021.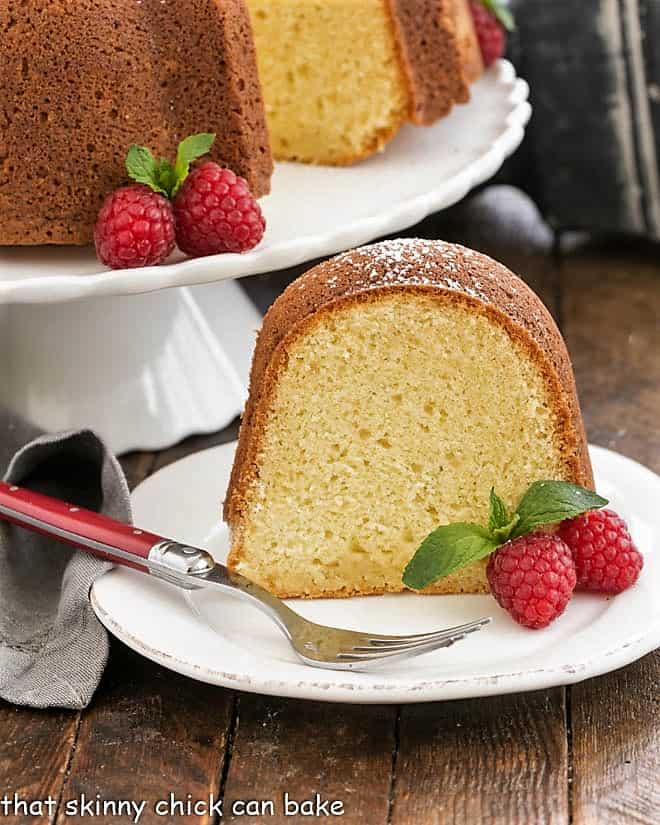 The Recipe:
White Chocolate Bundt Cake
Prep Time 30 minutes
Cook Time 1 hour
Total Time 1 hour 30 minutes
Yield 12
This moist, dense White Chocolate Bundt Cake is flavored with vanilla and almond for a simple, yet delightfully delicious dessert.
Ingredients
Cake:
3 cups flour
1 teaspoon baking powder
1/2 teaspoon baking soda
1/2 teaspoon salt
1 cup butter, softened, plus more for buttering pan
2 cups sugar
1 1/2 teaspoons vanilla
1/2 teaspoon pure almond extract
5 eggs, at room temperature
4 ounces white chocolate, melted and still warm
1 cup sour cream
White chocolate glaze or sauce:
4 ounces white chocolate, coarsely chopped
1/4-1/2 cup heavy cream (use more cream to use it as a glaze and less for a drizzle)
Instructions
Preheat oven to 350º. Butter and flour a standard Bundt pan or spray with Baker's Joy[.
In a bowl, whisk together the flour, baking powder, baking soda, and salt.
Put the butter and sugar in a bowl and cream together using a stand mixer fit with a paddle attachment (if available) on medium speed until light and fluffy.
Add the vanilla and almond extracts and the eggs, one at a time, beating just until incorporated. Slowly beat in the melted white chocolate. Scrape down the bowl.
Add the flour mixture to the butter mixture in thirds, alternating with the sour cream. Beat just until combined. Place the batter in the prepared pan and smooth the top.
Bake for 55 to 60 minutes. The top will be brown, and a toothpick inserted in the center will come out with a few crumbs on it. Remove the cake to a wire rack to cool for 10 minutes, then remove from pan and let cool to room temperature.
Make the white chocolate glaze.
In a microwave-safe bowl, heat the white chocolate with 1/2 cup heavy cream in a microwave for 30-second intervals, stirring after each interval, until smooth. Let the ganache cool for about 10 minutes, then drizzle and/or spread over the cake with pastry brush.
Transfer the cake to a serving plate and garnish it with berries if desired.
Notes
Recipe adapted from Great American Desserts.
Recommended Products
As an Amazon Associate and member of other affiliate programs, I earn from qualifying purchases.
Nutrition Information:
Yield:
12
Serving Size:
1
Amount Per Serving:
Calories: 584
Total Fat: 31g
Saturated Fat: 18g
Trans Fat: 1g
Unsaturated Fat: 10g
Cholesterol: 145mg
Sodium: 359mg
Carbohydrates: 70g
Fiber: 1g
Sugar: 46g
Protein: 8g
Note: This post may contain affiliate links; view
my Disclosure Policy
for details. I earn a small percentage from any purchase you make by clicking on these links at no extra cost to you.