Easy Lemon Bundt Cake
This Easy Lemon Bundt Cake is a delicious retro recipe from my childhood. We all need a few shortcuts this crazy time of year! Dense, moist, and irresistible, it's just as appropriate for a summer pitch-in as it is for a holiday dessert!
This Lemon Cake Recipe starts with a yellow cake mix which is doctored up to the point you'd think it was made from scratch. When you're short on time, but want an Easy Cake Recipe, I've got you covered!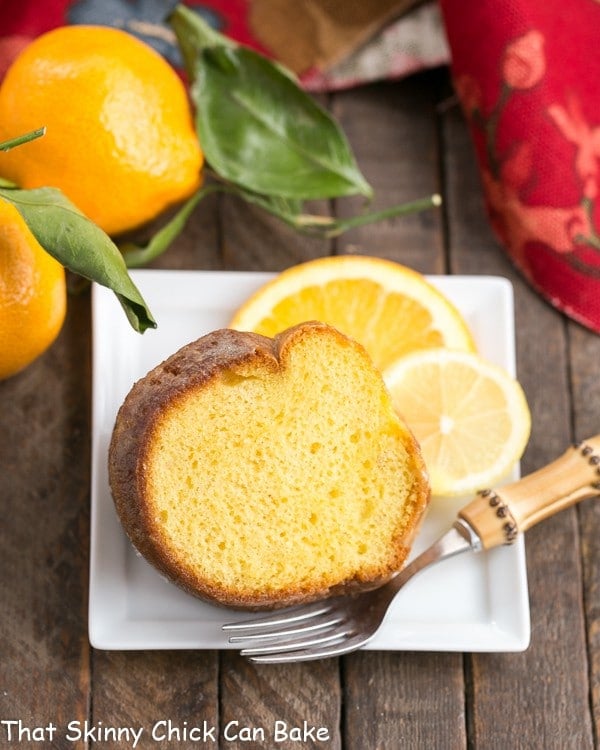 Why You Must Make
It's one of the easiest cakes you'll ever make!
A box of instant lemon pudding adds a burst of citrus flavor without having to zest or squeeze any lemons.
No one will ever guess this is made with a cake mix! It tastes like it's made from scratch.
This lemon bundt cake was one of those recipes that my mom got from her bridge club friends. Back in the day, before the Internet, recipes made the rounds the old-fashioned way. The ladies would rotate between each others' homes for a few hands of cards, snacks, and desserts. My mom had a stash of handwritten recipe cards from decades of these gatherings. Most were easy and almost all were a hit with my sisters and me.
This lemon bundt cake was dubbed "Mock Baba Cake," possibly in homage to the Baba au Rhum cake, which is a yeast cake soaked in a liquor-spiked syrup. Like many desserts from back in the 1970s, this one started with a cake mix. Doctored up, this lemon cake bore no resemblance to the uninspired yellow cake mix from which it originated.
Ingredient Notes
Box of Yellow Cake Mix – Both Yellow and Butter Flavors work. I prefer Butter. 15.25 ounce box.
Small Box of Instant Lemon Pudding Mix – 3.4 oz box.
Water
Vegetable Oil – Canola oil works well. Avoid olive oil as you want a more neutral flavored oil.
Eggs – At room temperature
Powdered Sugar – Sift to remove lumps
Butter – Melted
Orange Juice Concentrate – Defrosted. Provides a deep citrus flavor to the glaze.
How to Make
Mix cake batter.
Pour into prepared Bundt pan and bake as directed.
Make the glaze, then using a wooden skewer, poke holes on the under-surface of the cake, and drizzle with a quarter to a third of the glaze.
Invert the cake onto a cooling rack over a sheet pan. Poke holes across the top of the cake, then brush the surface with the glaze. Cool completely, slice, and dig in!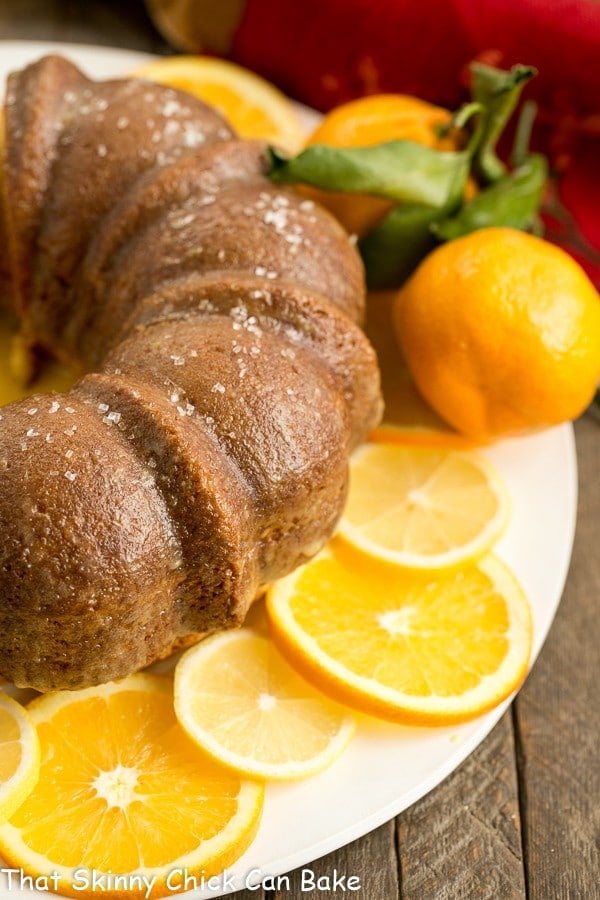 Expert Tips
A box of cake mix, instant lemon pudding, eggs, and oil combine to make a sweet, dense pound cake. A unique glaze made with orange juice concentrate (yes, they still sell the stuff!!) doubled the citrus punch.
I actually prefer a butter cake mix as it seems to have less of an artificial taste than the yellow cake, but truthfully, both that or a yellow cake mix works well.
Just add the instant pudding, eggs, water, and oil to the cake mix and beat until well combined.
Prep your Bundt pan with an oil and flour spray, like Baker's Joy or Pam's version, so the cake will release from the pan easily.
Bake as directed and check doneness by poking a toothpick into the middle of the cake. If it comes out clean, the cake is done. If not, bake another 5 minutes and recheck.
Cool the cake on a wire rack for 10-15 minutes before releasing it from the pan. It needs some time to cool so it doesn't fall apart when you flip it over onto the cooling rack. If you wait too long, the cake will stick. I like to give it a little shake back and forth to help loosen the cake from the walls of the pan, before inverting.
Cool slightly before glazing. Make sure to sift your powdered sugar if you want a smooth, lump-free glaze.
This lemon Bundt cake is easy peasy to make, yet tasty enough to serve to guests! Both picky palates in the house were thrilled with this cake. I think you will be, too.
Frequently Asked Questions
Why Do You Add Pudding Mix to a Cake Recipe?
Besides a nice boost of flavor, the pudding mix also adds moisture and density to the cake.
What's the Best Way to Add Lemon Flavor to a Cake?
Lemon zest, with its aromatic essential oils, adds a more intense lemon flavor to a recipe than lemon juice. It's a delicious way to boost the lemon intensity of any recipe. 
Also, rubbing the lemon zest into any sugar called for in the recipe will help release the oils and flavor the sugar which will then flavor the cake.
You May Also Like:
Everyone knows how busy it is around the holidays. Shopping, wrapping, and parties fill our days. Easier recipes are a huge bonus, especially when they're as tasty as those we're sharing today. If you love this lemon Bundt cake, don't miss my Kentucky Butter Bundt Cake recipe!
Stay in touch through social media @ Instagram, Facebook, and Pinterest. Don't forget to tag me when you try one of my recipes! And if you love the results, please give it a 5-star rating in the recipe card. Note: As an Amazon Associate, I earn from qualifying purchases. Visit my Amazon Store for my favorite products.
The Recipe:
Easy Lemon Bundt Cake Recipe
Prep Time 15 minutes
Cook Time 45 minutes
Total Time 1 hour
Yield 12 servings
A doctored up cake mix makes for an easy, delicious Bundt cake that will please even the pickiest eaters.
Ingredients
Cake:
1 box yellow or butter cake mix (15.25 ounces)
1 small box of instant lemon pudding mix (3.4 ounces)
¾ cup water
¾ cup vegetable oil
4 eggs
Glaze:
1 cup powdered sugar, sifted
2 tablespoons butter, melted
⅓ cup frozen orange juice concentrate, defrosted
Instructions
Preheat oven to 350º. Butter and flour a standard Bundt pan (or spray with Baker's Joy). Set aside.
Combine all cake ingredients in a bowl and beat until thick and smooth, about 3 minutes.
Pour into the prepared pan. Bake for 45 minutes or until a toothpick inserted into the center of the cake comes out clean.
When the cake is almost finished baking, whisk together the glaze ingredients until smooth.
When the cake is removed from the oven, let cool for about 10 minutes.
Then poke some holes over the surface of the cake with a long-pronged fork. Drizzle part of the glaze over the cake.
Invert the cake onto a cake plate. Poke the top surface of the cake with the fork and drizzle the rest of the glaze over the cake.
Let cool completely before serving.
Notes
¼ cup of rum can be substituted for ¼ cup of the water if you'd like a lemon rum cake.
Helpful Tools (As an Amazon Associate and member of other affiliate programs, I earn from qualifying purchases).
Nutrition Information:
Yield:
12
Serving Size:
1 slice
Amount Per Serving:
Calories: 243
Total Fat: 19g
Saturated Fat: 3g
Trans Fat: 0g
Unsaturated Fat: 14g
Cholesterol: 73mg
Sodium: 88mg
Carbohydrates: 17g
Fiber: 0g
Sugar: 14g
Protein: 3g
Note: This post may contain affiliate links; view
my Disclosure Policy
for details. I earn a small percentage from any purchase you make by clicking on these links at no extra cost to you.