Cream Cheese Filled Apple Bundt Cake
Dense, spiced with cinnamon, and with a bonus cheesecake swirl, this Apple Bundt Cake is the perfect way to celebrate autumn!
Apple desserts are ideal on crisp fall days, this Apple Cinnamon Cake with a ribbon of cream cheese makes this recipe a standout!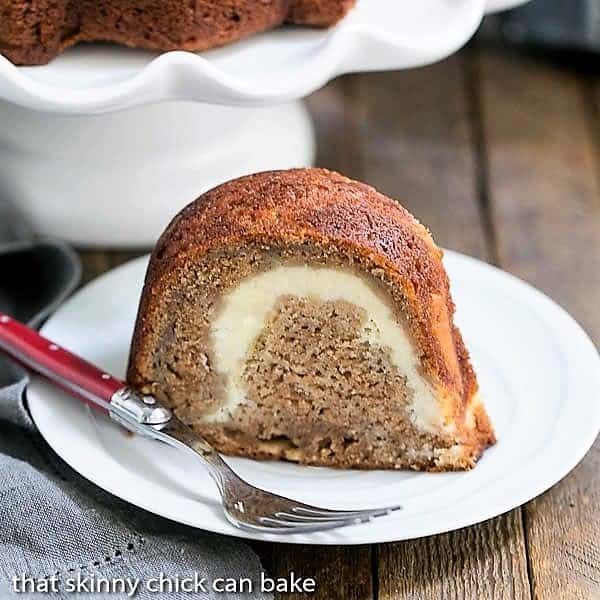 Why You Must Make
When autumn rolls around, I get a hankering for a sweet apple dessert. So many choices we love: apple pie, apple crisp, and how about all these delicious apple desserts??! But sometimes it's time for something on the wild side like this cream cheese-filled apple bundt cake.
Bundt cakes are perfect for serving a group. They're less intensive than making and frosting a layer cake.
The classic apple and cinnamon dessert is delicious any time of year!
Throwing a birthday party for a dear friend was the perfect excuse to make a dessert that the picky hubby would just ignore. He'd devour a chocolate bundt cake, but an apple version would be snubbed unless he was desperate. This translates to no Oreos in the pantry and even then, I'm not sure he'd bite even then. He's a fan of apple pie and apple crisp, but apple bread, cakes, and muffins do not pass muster. Sigh.
Recipe Tips:
If you've ever had part of your Bundt cake stick to the bottom of the pan after you flipped it out onto a serving plate, I've been there, too! Over the years, I've learned some tips and tricks for making a perfect Bundt cake recipe.
Make sure you prep your pan properly. Even if you have a non-stick Bundt pan, the finish will wear off over time.
PRO-Tip: The best way to grease a Bundt pan is with shortening, then a dusting of flour. Make sure to tap out any excess flour. You can also use a flour and oil spray like Baker's Joy. Make sure every nook and cranny is covered.
Don't over-mix your batter. You'll want a denser cake that holds together well. Incorporating excess air into the batter will make a more fragile cake.
Make sure your eggs and cream cheese are at room temperature before mixing. They will blend and incorporate more easily.
PRO-Tip: Fill the Bundt pan 2/3 to 3/4 full. Any more batter will cause the batter to overflow the pan and create a mess in your oven.
PRO-Tip: Let your cake cool for about 15 minutes before inverting and releasing it onto a cooling rack. Any shorter time period and the cake may break apart. Any longer and the cake will stick.
If you feel comfortable with this, place a cooling rack on top of the cake, then flip over the pan and the rack together. Use hot pads and be careful not to burn yourself!
I like to gently shake the cake back and forth for an initial loosening before removing it from the Bundt pan.
Let your Bundt cake cool thoroughly before slicing.
Use a serrated knife to slice into nice wedges and serve with sweetened whipped cream or a drizzle of caramel sauce!
This Bundt cake recipe evolved from a couple of versions I spotted in Southern Living. They were both finished with a praline frosting. But since I had a stash of my microwave caramel in the fridge, I warmed that up and served it with just a drizzle. My experience with frosting Bundt cakes still haunts me!!! I prefer the easy route. Caramel goes with apples like peanut butter with jelly. I loved this cake; if you're an apple dessert fan, you will, too!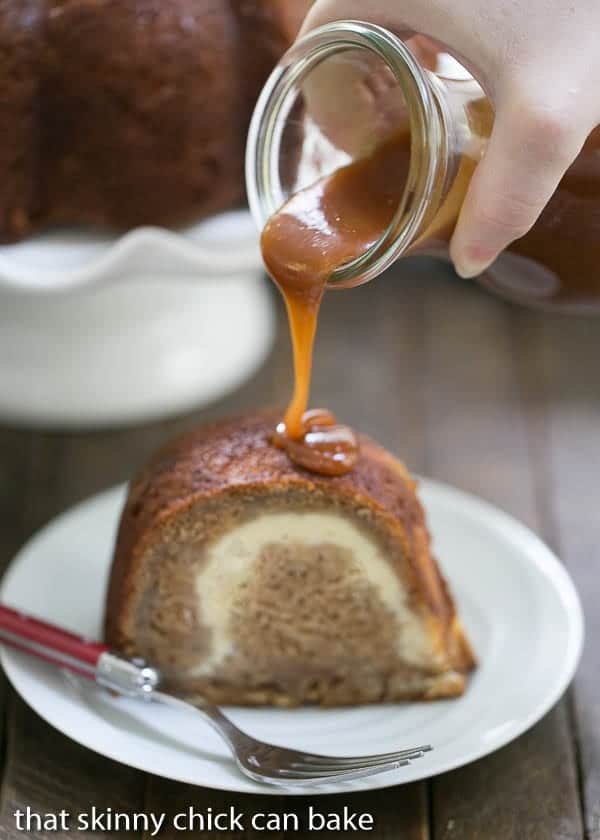 Frequently Asked Questions
What are the Best Baking Apples?
Northern Spy, Golden Delicious, Granny Smith, Jonagold, Jonathan, Pink Lady, and Winesap are all excellent baking apples. It's nice to use 2-3 types since they all vary in sweetness and firmness.
What is a Bundt Cake?
A Bundt cake is any cake baked in a special tube pan called a Bundt pan. It has fluted sides unlike the other popular tube pan, an angel food cake pan.
How Can You Tell When a Bundt Cake is Done?
Use a toothpick and insert it into a few spots between the two sides of the pan. If the toothpick comes out clean or with a few moist crumbs, the cake is done. If there is batter on the toothpick, bake for another 10 minutes and recheck.
What Spices Can Be Used in an Apple Cake?
Any warm spices like cinnamon, ginger, cloves, and nutmeg are delicious with apples. And though not a spice, vanilla extract is always a nice addition.
You May Also Like:
The Recipe:
Apple Bundt Cake with Cream Cheese Filling
Prep Time 20 minutes
Cook Time 1 hour 15 minutes
Total Time 1 hour 35 minutes
Yield 16 servings
A wonderful spiced apple Bundt cake with a surprise in the middle!
Ingredients
Filling:
8 ounces cream cheese, at room temperature
1/2 cup sugar
1 egg
2 tablespoons flour
1 teaspoon vanilla
Cake:
1 cup finely chopped toasted* pecans, optional (I did not use)
3 cups all-purpose flour
1 cup granulated sugar
1 cup firmly packed light brown sugar
2 teaspoons ground cinnamon
1 teaspoon salt
1 teaspoon baking soda
1/2 teaspoon ground nutmeg
1/2 teaspoon ground allspice
1/2 teaspoon ground ginger
3 large eggs, lightly beaten
3/4 cup canola oil
3/4 cup applesauce
1 teaspoon vanilla
3 cups peeled and grated Granny Smith apples (about 1 1/2 lb.)
Instructions
Prepare Filling:
Beat first 3 ingredients at medium speed with an electric mixer until blended and smooth.
Add egg, flour, and vanilla; beat just until blended. Set aside.
Prepare Cake Batter:
Whisk together 3 cups flour and the next 8 ingredients in a large bowl; stir in eggs and next 3 ingredients, stirring just until dry ingredients are moistened.
Stir in apples and pecans, if using.
Spoon two-thirds of the apple mixture into a greased and floured 12 or 14-cup Bundt pan. Spoon cream cheese filling over apple mixture, leaving a 1-inch border around the edges of the pan. Spoon the remaining apple mixture over Cream Cheese Filling.
Bake at 350º for 1 hour to 1 hour and 15 minutes or until a toothpick inserted in the center comes out clean. Cool cake in pan on a wire rack for 15 minutes; remove from pan to wire rack, and cool completely.
Serve with a dusting of powdered sugar or a drizzle of caramel sauce.
Notes
*To toast pecans, place them on a baking sheet and place in a 350º oven for 5 or so minutes, until they start to become aromatic. Watch carefully so they don't burn.
Recommended Products
As an Amazon Associate and member of other affiliate programs, I earn from qualifying purchases.
Nutrition Information:
Yield:
16
Serving Size:
1 slice
Amount Per Serving:
Calories: 430
Total Fat: 21g
Saturated Fat: 4g
Trans Fat: 0g
Unsaturated Fat: 16g
Cholesterol: 61mg
Sodium: 278mg
Carbohydrates: 56g
Fiber: 2g
Sugar: 34g
Protein: 6g
Note: This post may contain affiliate links; view
my Disclosure Policy
for details. I earn a small percentage from any purchase you make by clicking on these links at no extra cost to you.