Deep Dish Apple Pie
This Deep Dish Apple Pie was a hit when I hosted our dinner club the weekend before Thanksgiving. This lattice-topped deep-dish apple pie was the perfect dessert for our autumnal feast.
If you're looking for Thanksgiving Dessert Ideas, apples make a tasty Thanksgiving Pie!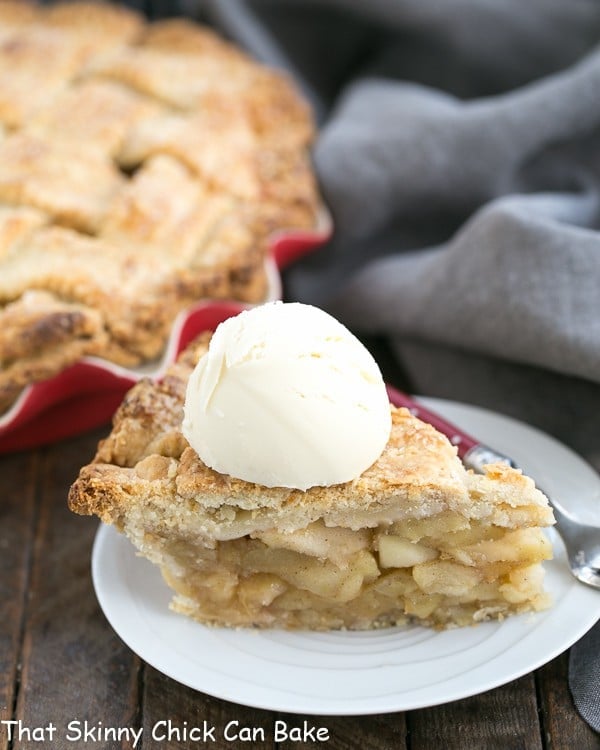 Why You Must Make
Recipe Tips
A Classic Apple Pie is one of my favorite desserts, no matter the time of year! It doesn't make sense to only make this iconic American dessert only in the fall. And if you love apple pie filling as much as I do, then MORE is better. That's what you get with a Deep Dish Apple Pie!
Bonus Of A Lattice Crust:
Another bonus of this deep-dish apple pie recipe is that it's packed full of apples but designed to bake in a standard pie plate. No need to rush out and buy a deep dish pan. SO many reasons to give this spectacular deep-dish apple pie a try!
Shop This Recipe:
Frequently Asked Questions
What Apples Are Best for Pies?
My favorite pie apples are Northern Spys, but they're typically found in New York and Minnesota. I've seen them at Whole Foods, so check there in the fall.

A combination of apples provides the best flavor. Use a combination of sweet, tart, soft, and firm. My go-to pairing is Golden Delicious and Granny Smith apples. Other good pie apples include Honeycrisp, Pink Lady, Braeburn, Cortland, Jonagold, and Jonathan.
How Do You Know When an Apple Pie is Done?
When a pie is done, the crust will be golden and you'll see the filling bubbling through the vents. If you're still not sure, use a sharp knife and pierce a couple of apples. If the knife slides into the apple slices easily, the pie is done. If you meet resistance, it needs more time.

If you need to bake the pie longer and the crust is nicely browned, loosely cover the pie with aluminum foil.
What's the Difference Between a Deep Dish Crust and a Regular Crust?
The obvious answer is that the deep dish crust (and pie plate) is deeper. The measurements for each are:
A Regular Pie Plate: 9-inches wide and 1½-inches deep.
A Deep Dish Pie Plate: 9½-10- inches wide and 2-inches deep.
You May Also Like:
Stay in touch through social media @ Instagram, Facebook, and Pinterest. Don't forget to tag me when you try one of my recipes! And if you love the results, please give it a 5-star rating in the recipe card. Note: As an Amazon Associate, I earn from qualifying purchases. Visit my Amazon Store for my favorite products.
The Recipe:
Deep Dish Apple Pie
Prep Time 45 minutes
Cook Time 1 hour 20 minutes
Total Time 2 hours 5 minutes
Yield 8 servings
A lovely deep dish apple pie worthy of a special occasion.
Ingredients
Pastry::
2 ½ cups flour
1 teaspoon salt
2 tablespoons sugar
12 tablespoons cold butter, cold, cut into small cubes
8 tablespoons shortening, cold and cut into 4 pieces
¼ cup ice water
¼ cup vodka
Filling::
½ cup sugar
¼ cup brown sugar
¼ teaspoon salt
1 tablespoon lemon juice
½ teaspoon grated lemon zest
½ teaspoon ground cinnamon
5 pounds apples, peeled, cored and sliced ¼-inch thick (I used half Granny Smith and half Golden Delicious)
1 egg white, beaten lightly
Instructions
Process flour, salt, and sugar together in a food processor until combined. Add butter and shortening and pulse until butter is the size of large peas, about ten 1-second pulses.
Combine the water and vodka. Drizzle about half over the flour mixture and pulse a few times to mix. Add the rest and pulse until the dough forms large clumps which hold together when pressed.
Form the dough into a ball, then divide it in half. Press each half into a disk and wrap it in plastic. Refrigerate at least 2 hours before rolling.
To make apple filling mix ½ cup granulated sugar, brown sugar, salt, zest, and cinnamon in a large bowl. Add the apples and toss to combine. Cook in a Dutch oven, stirring often, with cover on until apples are just tender, about 15 minutes. Remove the apples and juices to a rimmed baking sheet and let cool, for about 30 minutes.
Preheat oven to 425º.
Roll out one disk of dough to a 12-inch diameter on a lightly floured surface. Fit dough into the bottom of a standard-size 9-inch pie plate. If the dough gets too soft, place the pie plate into the fridge until it firms up.
Drain juices off of apples saving ¼ cup of the liquid. Add lemon juice to the reserved apple juices.
Roll out the second disk of dough. Place apples into pie shell and drizzle with the juice and lemon mixture. Top filling with the pastry and, trim the overhang to about ½-inch.
Pinch the edges of the crusts together and fold under. Crimp as desired. Cut a few vents into the top crust to help release steam. (Alternatively, you can make a lattice crust by cutting strips and weaving them over the top of the filling. No steam vents are needed).
Place the pie on a rimmed baking sheet to catch any drips. Brush with egg white and sprinkle with coarse sugar if desired.
Bake for 25 minutes or until the crust is light golden brown, then reduce oven temperature to 375º. Bake for 30-40 minutes or until juices are bubbling and the crust is a deep golden brown. Cool about 2 hours before serving.
Notes
Adapted from Cook's Illustrated.
Can be made in a regular pie plate despite its name.
Use a variety of baking apples for the best flavor.
Nutrition Information:
Yield:
8
Serving Size:
1 slice
Amount Per Serving:
Calories: 666
Total Fat: 31g
Saturated Fat: 16g
Trans Fat: 1g
Unsaturated Fat: 13g
Cholesterol: 55mg
Sodium: 525mg
Carbohydrates: 91g
Fiber: 8g
Sugar: 51g
Protein: 6g
Note: This post may contain affiliate links; view
my Disclosure Policy
for details. I earn a small percentage from any purchase you make by clicking on these links at no extra cost to you.