Calvados Mascarpone Topped Tea Poached Apples
Tea Poached Apples with Calvados mascarpone topping are a divine option for an elegant autumnal or holiday dessert recipe. This post is sponsored by Honest Cooking; all opinions are my own.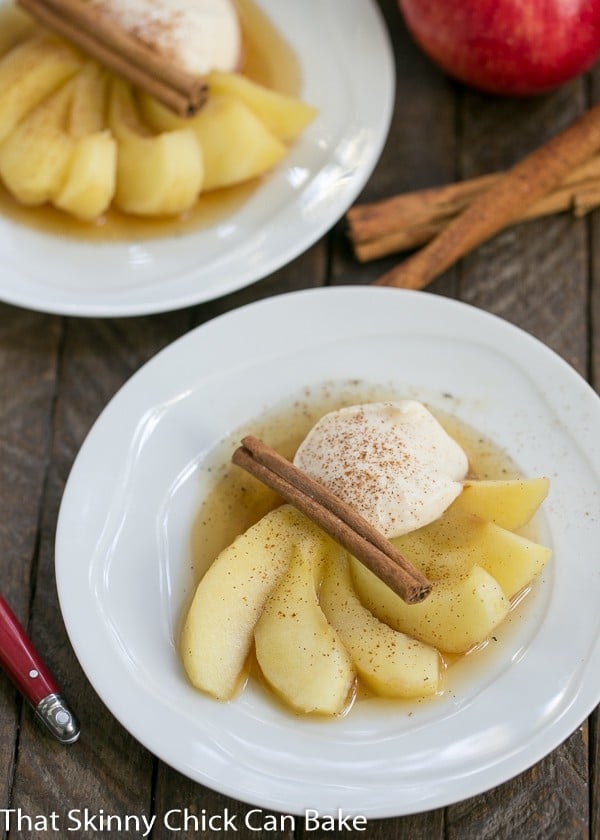 Tea Poached Apples
Poached fruit is a healthier dessert for this holiday season, when decadence is the norm. Having a flavorful poaching liquid is key and this one is magnificent. With honey for sweetness, white wine for a key depth of flavor, a cinnamon stick, a vanilla bean and one surprise ingredient make it a winner. I had one of Celestial Seasonings' holiday teas in my pantry. Their Nutcracker Sweet is a hand crafted black tea with "creamy, nutty vanilla and a pinch of cinnamon," capturing the magic of the classic holiday ballet, The Nutcracker Suite! It adds a certain je ne sais quoi, a mysterious, delicious undertone to this lovely apple dessert recipe.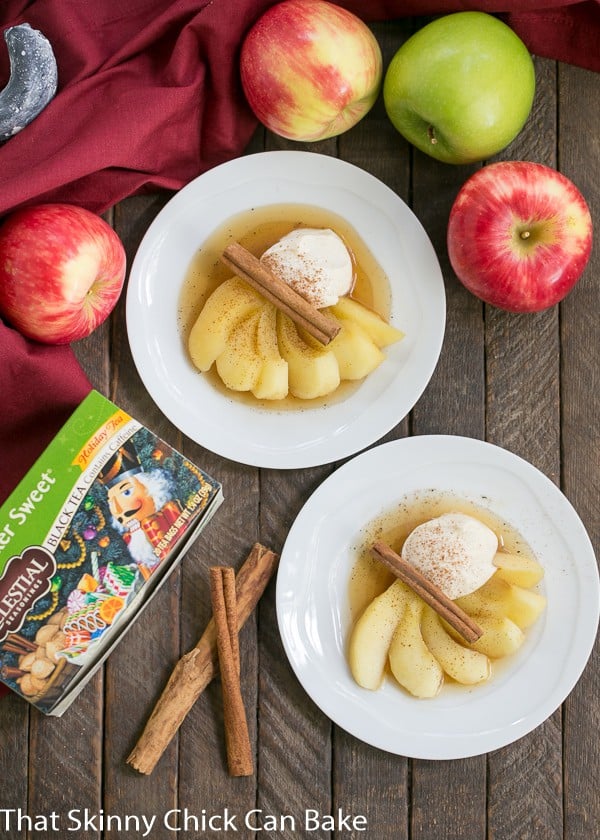 Apple Selection for Tea Poached Apples
As I developed this poached apples recipe, I explored which apple varieties would work best. Golden Delicious were just too soft after poaching. Tasty, but impossible to slice nicely. Besides being flavorful, Granny Smith and Honeycrisp apples kept their shape making them ideal for fanning. You'll want to start cutting just below the stem end and make four almost parallel slices. It's imperative not to slice all the way through so you can spread out the segments for an attractive presentation. Then you can garnish to make it fancy-dancy, with a dollop of spiked (or not) mascarpone cream and a sprinkle of cinnamon.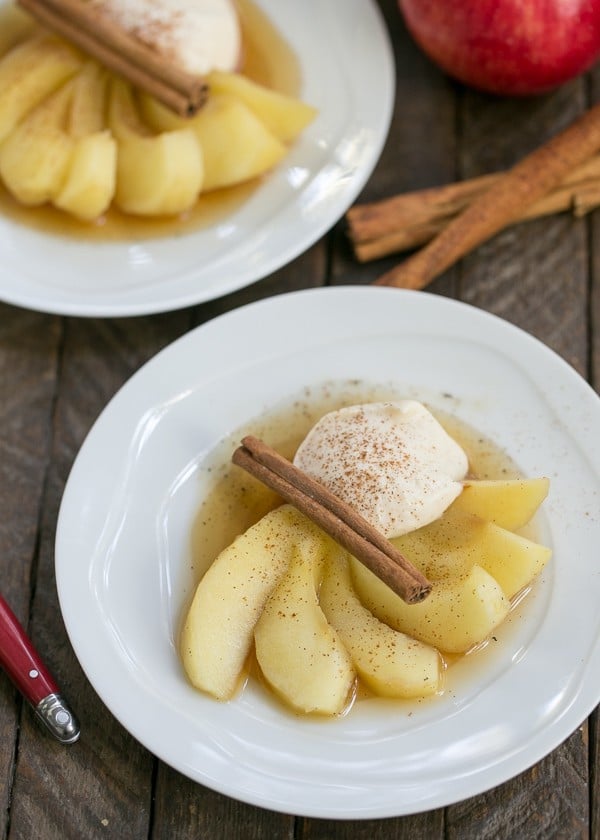 Tip of the Day:
Use a melon baller to core your apples. You will be able to remove a perfect round from the center, then just use a paring knife to trim out the ends.
You Might Need:
OXO Good Grips Melon Baller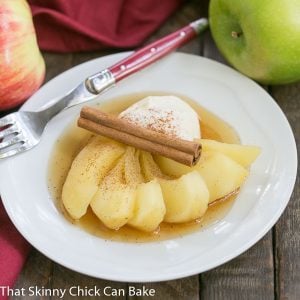 The Recipe:
Calvados Mascarpone Topped Tea Poached Apples
Prep Time 20 minutes
Cook Time 15 minutes
Total Time 35 minutes
Yield 4 servings
A beautiful, healthier holiday dessert featuring tea and honey poached pears with a lovely dollop of spiked mascarpone cream.
Ingredients
2 apples, peeled, halved and cored (Granny Smith or Honeycrisp)
2 tablespoons fresh lemon juice
1 cup boiling water
1 Celestial Seasonings Nutcracker Sweet Black Tea bag
1/2 cup dry white wine (I used Sauvignon Blanc)
6 tablespoons honey
1/2 vanilla bean, split lengthwise
1 cinnamon stick
1/2 cup mascarpone cheese
2 teaspoons sugar
1/4 teaspoon vanilla bean paste
1-2 teaspoons Calvados, apple brandy, optional
Ground cinnamon, to garnish, optional
Instructions
Gently toss apples with lemon juice in a large bowl. Set aside to prepare the poaching liquid.
Combine boiling water and tea bag and steep for a minute or so. Add tea, wine and honey to a medium saucepan. Scrape seeds from inside of vanilla bean and add beans and seeds along with the cinnamon to the pan. Heat over medium until honey dissolves. Carefully add apples and cover with a round of parchment paper. Reduce heat to bring liquid to a gentle simmer. Cook for about 15 minutes, gently turning apples once in the middle of the cooking time.
Remove apples to a large bowl. Reduce poaching liquid to about ¾ cup by cooking for a few more minutes. Cool this syrup, then pour over apples. Cover apples and refrigerate till cold, at least 8 hours.
Before serving, whip mascarpone cheese with sugar, vanilla bean paste, and Calvados. Add ¼ cup poaching liquid and whip till soft peaks from.
To serve, thinly slice apples lengthwise from a spot just below the stem, leaving the apple attached at stem end. Fan apples over individual serving plates and serve with a dollop of mascarpone cream, a drizzle of syrup, and a sprinkle of cinnamon if desired.
Nutrition Information:
Yield:
4
Serving Size:
1 apple
Amount Per Serving:
Calories: 450
Total Fat: 26g
Saturated Fat: 15g
Trans Fat: 0g
Unsaturated Fat: 8g
Cholesterol: 76mg
Sodium: 250mg
Carbohydrates: 45g
Fiber: 3g
Sugar: 40g
Protein: 3g

Note: This post may contain affiliate links; view
my Disclosure Policy
for details. I earn a small percentage from any purchase you make by clicking on these links at no extra cost to you.