Gingered Cranberry Oatmeal Cookies
Gingered cranberry oatmeal cookies are festive holiday cookies made from an easy oatmeal cookie recipe. It's that time of year!
Cookie exchange invitations are going out and you're scrambling for a new recipe that will dazzle your friends. I baked up these festive and easy oatmeal cookies for a blogger cookie swap this year!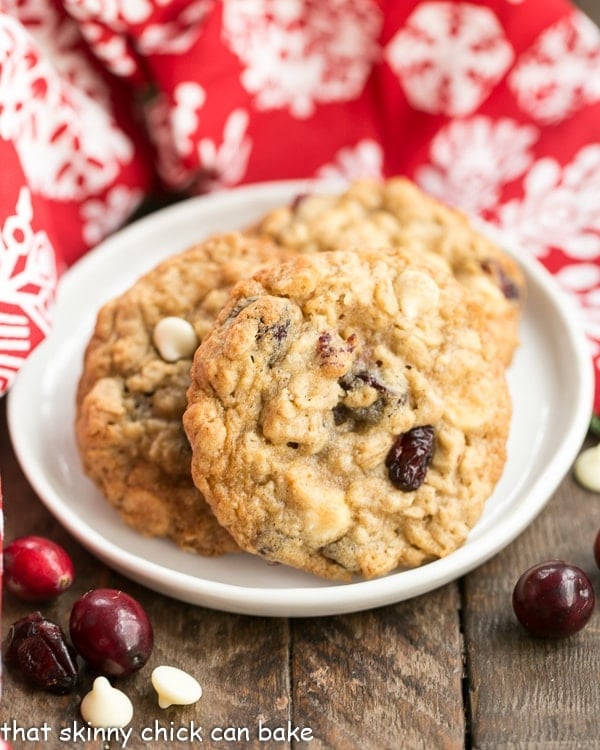 Gingered Cranberry Oatmeal Cookies
Chewy ginger cookies are always a part of my holiday baking repertoire, and my love of ginger inspired me to gingerize these oatmeal cookies. With a dose of ground ginger along with some crystallized ginger, they have a nice punch of spice.
Ginger, cinnamon and dried cranberries transformed ordinary oatmeal cookies into seasonal gems! The white chocolate chips were just a bonus. These are the cookies I sent to the 3 bloggers I was assigned for the Food Blogger Love Cookie Exchange.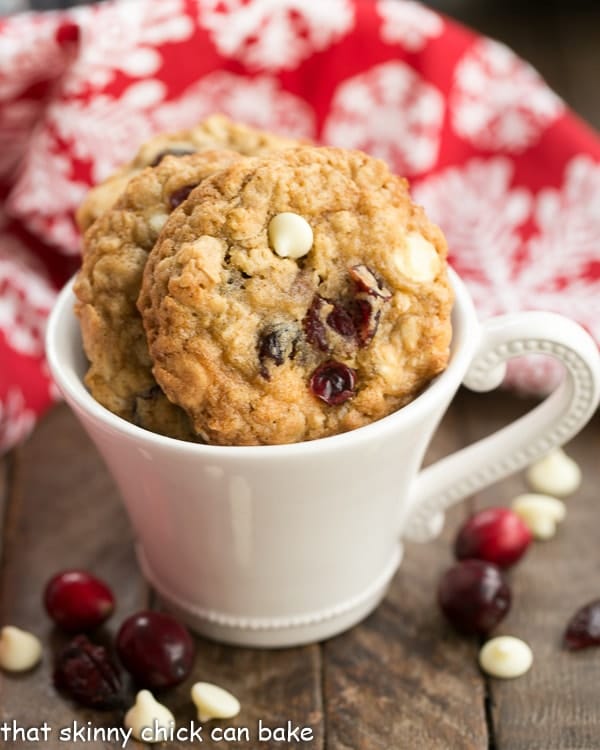 How to Make:
There are a few tips that are general for all cookie baking. Remember that all ovens bake a little differently, so often the first batch will determine the exact baking time for your cookies. I always prefer underbaking to overbaking since I prefer chewy cookies, but you may want your cookies crisper!
Have your butter and eggs at room temperature unless the recipe states otherwise. This ensures better incorporation of the ingredients.
Whisking together the dry ingredients before adding them to the wet ingredients helps distribute the salt, spices, and leaveners.
PRO-Tip: Use a wooden spoon or rubber spatula to mix the dry ingredients into the wet. If you use a mixer, too much air can be incorporated and the gluten formation is overactivated. This can change the texture of your cookies.
Use a cookie scoop to dish out your dough. It helps make all the cookies the same size.
PRO-Tip: If any cookies bake up misshapen, use a spatula to tap them into rounds as soon as they come out of the oven. They will still be pliable until they start to cool. Be careful as the baking sheet will be very hot!
If you're gifting these cookies, reserve some dried cranberries and white chocolate chips to press into the top of the cookies when they come out of the oven. This will give a more finished, bakery look to your cookies!
Helpful Tools: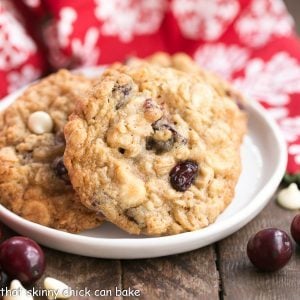 The Recipe:
Gingered Cranberry Oatmeal Cookies
Prep Time 20 minutes
Cook Time 11 minutes
Total Time 31 minutes
Yield 4 dozen
Chewy oatmeal cookies with the tastes of the holidays: dried cranberries, cinnamon and ginger and white chocolate chips for a bonus! Adapted from Fine Cooking
Ingredients
1 1/2 cups flour
1 teaspoon baking soda
1/2 teaspoon salt
1/2 teaspoon ground ginger
1/2 teaspoon ground cinnamon
2 1/2 cups old-fashioned oats
1 cup butter, at room temperature
1 cup brown sugar
1/2 cup sugar
2 large eggs
1 tablespoon honey
2 teaspoons pure vanilla extract
1 cup dried cranberries
1 cup white chocolate chips
3 tablespoons crystallized ginger, chopped
Instructions
Preheat the oven to 350°. Line baking sheets with parchment.
In a medium bowl, whisk together the flour, baking soda, salt, ginger and cinnamon. Mix in in the oats. In another bowl, beat the butter and both sugars until light and fluffy with an electric mixer. Beat in the eggs, one at a time, and then scrape down the sides of the bowl; add the honey and vanilla and beat until blended. Add the flour mixture in two additions, beating until well combined. Stir in the cranberries, white chocolate chips and crystallized ginger.
Drop the dough by the heaping tablespoonful about 2 inches apart onto the cookie sheets. Bake until the centers of the cookies are soft and no longer look wet, 9 to 11 minutes. Once out of the oven, I use my spatula to tap the cookies into nice circles (only if you care about that sort of thing!). Let cool on the sheets for 5 minutes; transfer to a wire rack to cool completely.
Nutrition Information:
Yield:
24
Serving Size:
2 cookies
Amount Per Serving:
Calories: 246
Total Fat: 11g
Saturated Fat: 6g
Trans Fat: 0g
Unsaturated Fat: 4g
Cholesterol: 37mg
Sodium: 173mg
Carbohydrates: 35g
Fiber: 1g
Sugar: 23g
Protein: 3g

Soft Butterscotch Pudding Cookies — Sugar Plum Fairy Holiday Cookies — Homemade Ginger O's
The Holiday Cookies!
I received three deliveries of terrific holiday cookies the week before Thanksgiving! First up were the Soft Butterscotch Pudding Cookies from my friend Sarah at Fantastical Sharing of Recipes. We have crossed paths in the Sunday Supper group so it was lovely to receive these delicious cookies from Sarah. Colleen of Faith, Hope, Love, & Luck sent a box of yummy jam-filled thumbprint cookies, appropriately named Sugar Plum Fairy Holiday Cookies.
Finally, I received these tasty Homemade Ginger O's from a blog I've been visiting for years, The Emotional Baker. My daughter was especially excited when she took a whiff of Megan's treats. We truly enjoyed them ALL! These recipes will be shared on each website today. In fact, there will be loads of new cookie recipes to find using the hashtag #FBLCookieExchange. Dozens of cookies have been mailed across the states over the past few weeks. Thanks to the gals at the PinterTestKitchen for organizing this massive event!!
P.S. My cookies were sent to Colleen and Megan, who I mentioned above, as well as Renee of If Spoons Could Talk.
Note: This post may contain affiliate links; view
my Disclosure Policy
for details. I earn a small percentage from any purchase you make by clicking on these links at no extra cost to you.