Dutch Apple Pie
A crumb topping makes this Dutch Apple Pie so easy to make. Full of sweet, autumnal spiced apples, this Homemade Apple Pie is destined to become a favorite!
Though the focus on apple desserts tends to be in autumn, they're magnificent all year long! And who doesn't love a slice of warm apple pie with a scoop of vanilla ice cream? This streusel topping on this Apple Crumb Pie makes this a must-make treat for any season!
Why You'll Love this Pie
There's no top pastry crust to roll and crimp!
The crumb topping is simple to make and delicious.
It's the perfect way to celebrate apple season!
Ingredient Notes
Kitchen Staples – Sugar, Flour, Brown Sugar, Cinnamon
Butter – Cool, not cold
Lemon Juice – Freshly squeezed
Nutmeg – May use ground nutmeg from the market, but I like freshly ground
Baking Apples – I like to pair two apples like Granny Smith and Golden Delicious. See FAQs below for more great pie apples.
Pastry Dough – One layer homemade or storebought
Expert Tips
Two or more varieties of apples will give your pie a delicious depth of flavor.
If using a top crust, precook the apples so there's no space between the top crust and filling from shrinking apples.
Bake on a lower shelf so the bottom crust cooks enough and doesn't get soggy.
Watch the crust and cover the edges with foil if they start to get too brown before the apples are cooked.
Cool the pie before slicing so the juices have time to thicken.
Frequently Asked Questions:
What Is a Dutch Apple Pie?
A Dutch Apple Pie recipe typically refers to an apple pie topped with a crumble topping. I found no history of this dessert having a connection to the Netherlands, though. Instead, it looks like the Pennsylvania Dutch settlers were influenced by both German and French, not the Dutch. Flaky crusted pies were topped with crumbles, which often contained walnuts.
But a kind reader of my blog,  who lives in Amsterdam, brought this perspective: In Holland, we have "Appel Kruimel Taart", which translates to "Apple Crumb Pie". He said it's been around for hundreds of years. I stand corrected!
What Apples Are Best for Apple Pie?
The tastiest apple pies are made with a variety of baking apples. This ensures that your homemade apple pie has a depth of flavor, a combination of textures, and a balance of sweetness and tartness. My go-to selection is a couple each of Granny Smiths, golden delicious, and Jonathans. Honeycrisp apples work well, too. Though, when I got a shipment of Northern Spys from Michigan, those alone made the best-tasting pie ever—so if you have access to a spectacular pie apple, it's just fine to go for a solo variety. Otherwise, a nice mixture is your best bet.
How Long Do You Bake an Apple Pie?
Different apples soften at different rates in the oven. I will use a sharp knife to check 3 or 4 apples to make sure they're soft before pulling the pie out of the oven. If you need to add more time and are worried about your crust getting too dark, just cover the perimeter with aluminum foil or a pie crust shield. If the streusel topping of this apple crumb pie is browning too fast, cover the whole top of the pie with foil.
How Do You Store an Apple Pie?
You can store an apple pie at room temperature for up to 2 days. In a humid climate, you must watch the crumb topping for signs of spoiling. After two days, you can store your homemade apple pie in the refrigerator for up to 2 more days, lightly covered. If you still have leftovers after 4 days, consider freezing the rest. Wrap well in plastic, then aluminum foil and freeze up to 3 months. Defrost in the refrigerator, then reheat slices in a 300º oven until warm.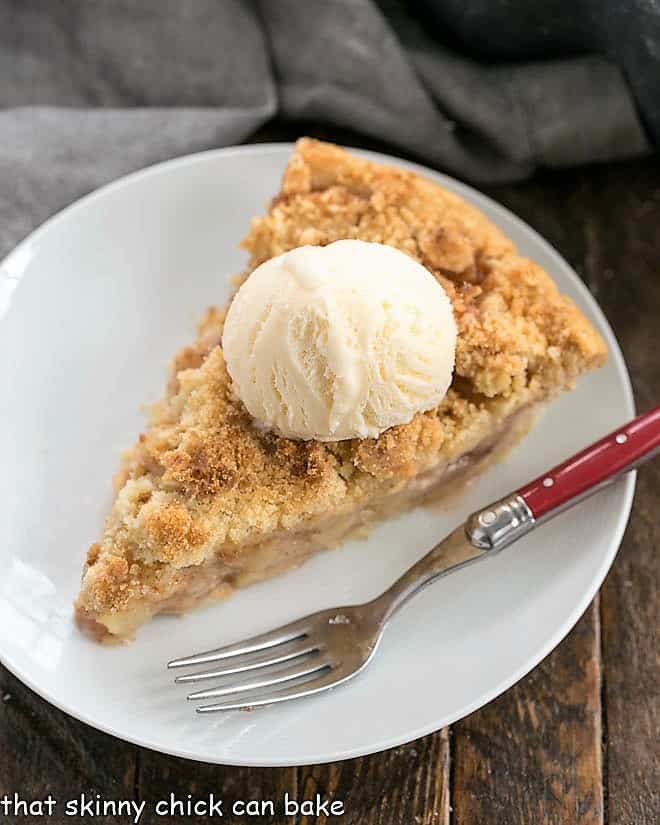 You May Also Like:
Pumpkin and apple are my go-to flavors once autumn rolls around. Besides this apple crumb pie, here are a few more of my favorite fall dessert recipes.
The Recipe:
Dutch Apple Pie Recipe
Prep Time 30 minutes
Cook Time 50 minutes
Total Time 1 hour 20 minutes
Yield 8 servings
A delectable apple pie topped with streusel
Ingredients
3 pounds baking apples (use different types like Granny Smith, Golden Delicious, Jonathon), peeled and cut into slices
3/4 cup sugar
1 tablespoon freshly squeezed lemon juice
1 teaspoon cinnamon
A few gratings of fresh nutmeg
Pastry dough for 1 layer pie crust (your favorite recipe or pre-made crust)
1 cup flour
1/2 cup sugar
1/4 cup brown sugar
6 tablespoons butter, cool, not cold
Instructions
Roll out pie dough and fit into a 9-inch pie plate. Place in refrigerator while preparing the filling. Preheat oven to 400º.
Toss apple slices with sugar, lemon juice, cinnamon, and nutmeg. Set aside, stirring once or twice to help dissolve sugar.
In a medium bowl, using two knives or pastry blender, cut butter into flour and sugars. Then pinch with fingers till large crumbs form.
Take crust out of the refrigerator and fill with apples. Sprinkle topping over top of apples. Bake for 40 minutes then reduce to 350º for 50 minutes or till filling is bubbling and apples are tender. Cover crust with foil if browning too quickly.
Cool before slicing. Serve with vanilla ice cream.
Notes
If you're not sure if your apples are fully cooked, pierce a few with a sharp knife. If they're soft, your pie is done.
Nutrition Information:
Yield:
8
Serving Size:
1 slice
Amount Per Serving:
Calories: 629
Total Fat: 24g
Saturated Fat: 11g
Trans Fat: 0g
Unsaturated Fat: 11g
Cholesterol: 28mg
Sodium: 316mg
Carbohydrates: 102g
Fiber: 6g
Sugar: 57g
Protein: 5g
Note: This post may contain affiliate links; view
my Disclosure Policy
for details. I earn a small percentage from any purchase you make by clicking on these links at no extra cost to you.