Chocolate Chip Cookie Bars with Caramel
If you love caramel, these Chocolate Chip Cookie Bars with Caramel will make you swoon. Each bite of these buttery bars is sheer bliss.
These Chocolate Caramel Bars are made by layering half a batch of chocolate chip cookie dough, drizzling with a buttery caramel sauce, then topping with more cookie dough. Slightly underbaking results in soft, rich, and out-of-this-world Chocolate Chip Cookie Bars!
Why You'll Love Chocolate Caramel Bars
These are quicker to make than individual cookies.
The gooey caramel pairs beautifully with chocolate.
Using Werther's caramels melted with heavy cream is a wonderful shortcut!
Both of our sons join us for Sunday dinner. It's the perfect time to test out new, more time-consuming dessert recipes. But there are days when we're craving a decadent treat but I don't want to spend time scooping and baking individual pans of cookies or making a complicated dessert. That's why I love cookie bars, and these chocolate chip cookie bars were extraordinary.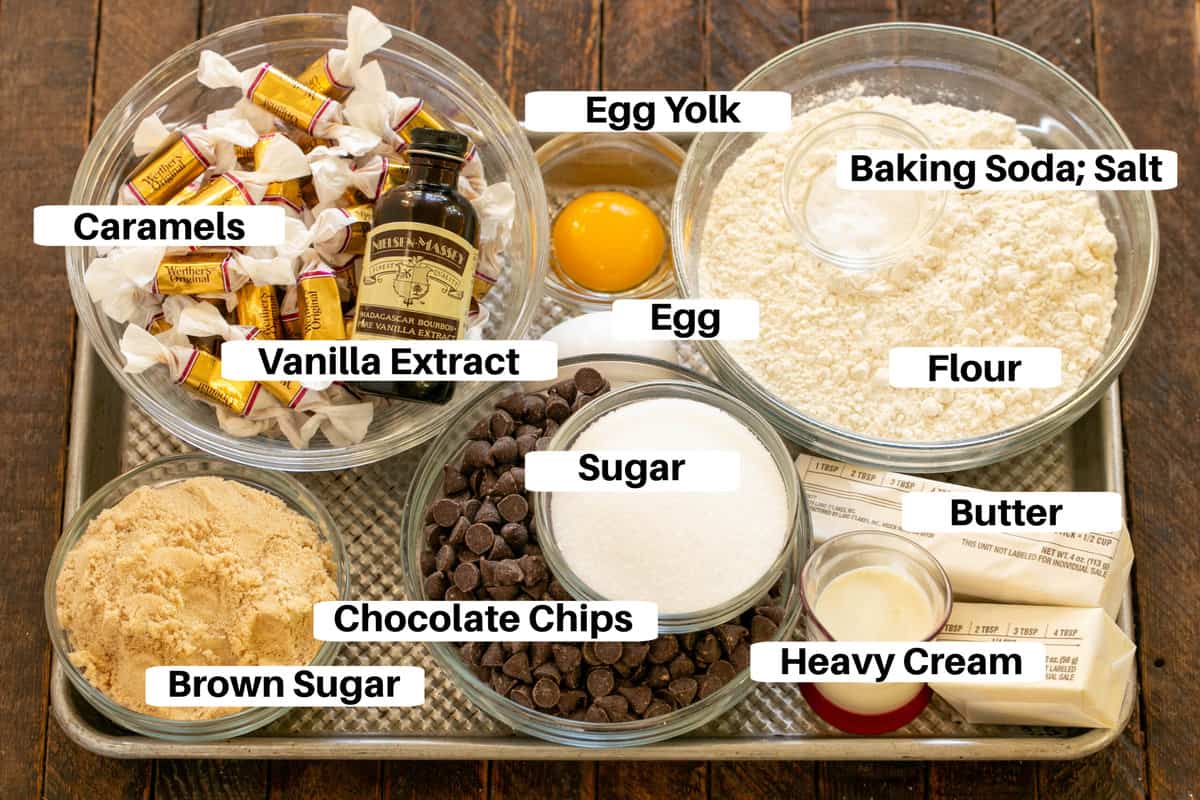 Recipe Notes
Kitchen Staples – Flour, Baking Soda, Salt, Sugar, Brown Sugar
Eggs – Large eggs are used in all my recipes unless noted otherwise. You will need 1 whole egg and one egg yolk. It's best to separate your egg yolk from the egg white when the egg is cold. It's less likely the yolk will break.
Butter – Salted butter is OK. There is only a small amount of salt added to the dough.
Vanilla Extract – Always double-check the label so you're using real vanilla extract, not imitiation or artificially flavored.
Semisweet Chocolate Chips – May use chocolate discs instead, but you won't need the full amount.
Bagged Caramels – I used Werther's brand. Kraft would be my second choice.
Heavy Cream – Should have 36% butterfat.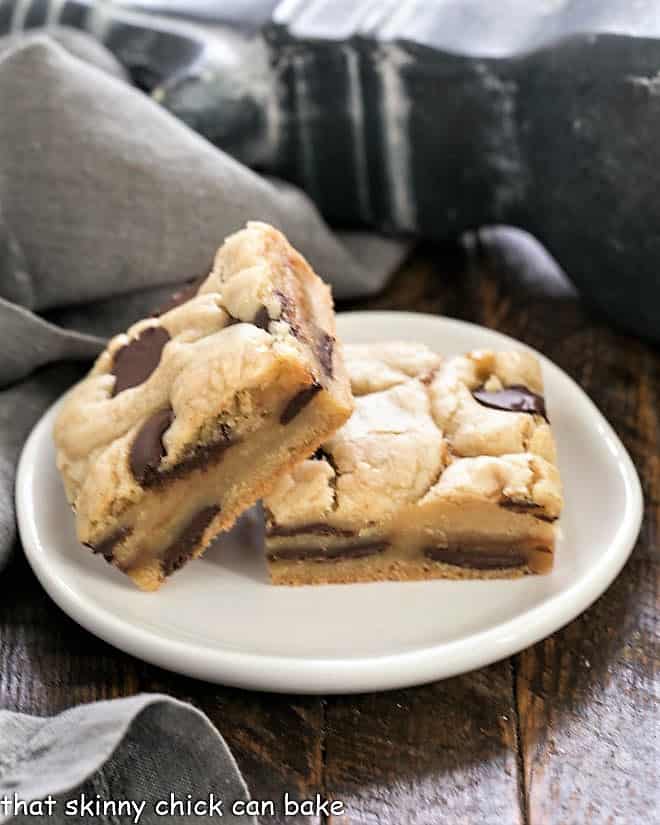 How to Make Chocolate Caramel Bars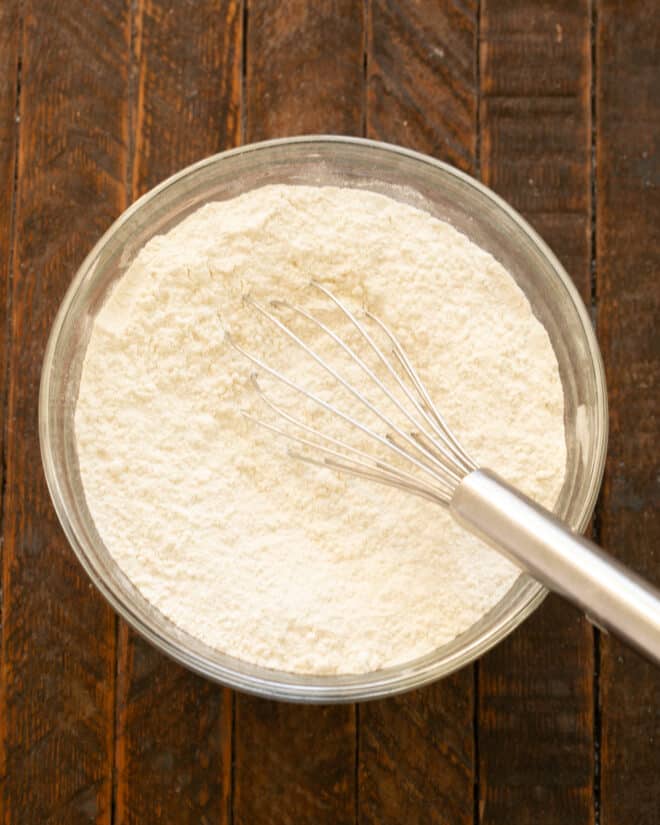 Recipe Notes
Back in 2013, I shared these chocolate chip cookie bars with my girlfriends. The gals wanted to know where I bought my chocolate, what kind of caramels to use, and when the recipe would be posted. You know it's a winner when the room grows quiet as everyone is chewing their first bite…right before the deluge of questions.
PRO-Tip: Line your baking pan with non-stick foil. This makes for easy removal and easy cleanup!
I've made this with caramel sauce but melting caramels with cream made for a more stable caramel layer.
You may use chocolate discs instead of chips as both work well. Semisweet chocolate is my preference, but bittersweet or even white chocolate chips would be tasty, too. If you use the discs, you will want to decrease the amount.
Also, hold back some of the chocolate to press randomly on top of the unbaked bars for a nice presentation.
When you drizzle on the caramel, do not go all the way to the edges or it will ooze out and make the edges very sticky. Another reason to use non-stick foil!
I like making flat disks of dough to cover the caramel. If you try to spread out the dough, the caramel layer will disperse as you spread it, and not be even.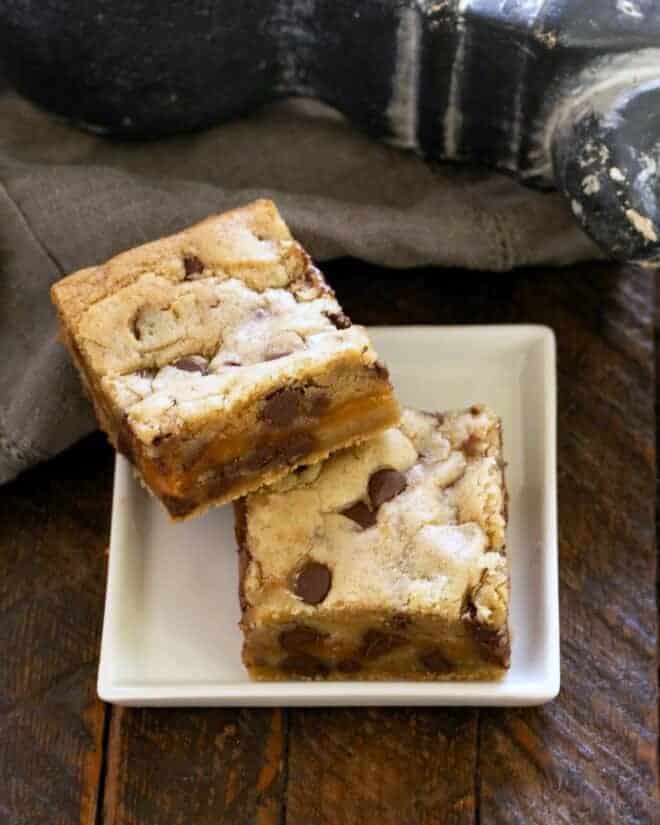 Frequently Asked Questions
Why Do You Use Nonstick Foil?
There are a few reasons. First, the foil can be used to lift the cooled bars out of the pan to be sliced. It also makes cleanup easy since the pan will not get dirty. Plus, the bars won't stick to the foil.
Can You Use Jarred Caramel Sauce instead of Melted Caramels?
Jarred caramel sauce is too runny and may not form a solid layer after the bars cool.
Can Other Varieties of Chocolate Chips Be Used in this Recipe?
Sure! Bittersweet chocolate chips or White chocolate chips will also work well in these bars. Even peanut butter chips would be delicious!
You May Also Like:
I made these again for our summer book club gathering in our backyard. One of my friends exclaimed, "Oh, these are GOOD!" I don't think she remembers that she was one of my first taste-testers 7 years ago! But there's something about the chocolate and caramel combo that wins people over. Every.Single.Time.
Stay in touch through social media @ Instagram, Facebook, and Pinterest. Don't forget to tag me when you try one of my recipes! And if you love the results, please give it a 5-star rating in the recipe card. Note: As an Amazon Associate, I earn from qualifying purchases. Visit my Amazon Store for my favorite products.
The Recipe:
Caramel Chocolate Chip Cookie Bars
Prep Time 20 minutes
Cook Time 40 minutes
Total Time 1 hour
Yield 16 bars
Delectable buttery cookie bars with a boost from both caramel sauce and chocolate chips!
Ingredients
10 ounces wrapped caramels (I used Werther's brand)
3 tablespoons heavy cream
2 ⅛ cups flour
½ teaspoon baking soda
⅛ teaspoon salt
12 tablespoons butter, melted and cooled slightly
1 cup brown sugar
½ cup sugar
1 large egg
1 large egg yolk
2 teaspoons vanilla extract
2 cups chocolate chips
Instructions
Preheat oven to 325º.
Put the unwrapped caramels and heavy cream in a microwave-safe mixing bowl. Gently melt in the microwave, stopping to stir frequently until smooth. Set aside.
Line a 9 x 9-inch baking dish with non-stick aluminum foil, to help remove bars from pan after baking.
In a medium bowl, whisk the flour, baking soda, and salt together.
In a second bowl, combine the butter and both sugars, mixing until combined.
Add the egg, egg yolk, and vanilla to the butter mixture, and mix to completely incorporate. Add the dry ingredients and mix till combined.
Mix in the chocolate chips.
Pat half the batter evenly in the bottom of the pan.
Pour the caramel sauce over the cookie dough, leaving just a little space around the edges.
Dollop the remaining cookie dough over the caramel.
Carefully pat the dough with your fingertips to distribute. It may be difficult to cover all the caramel.
Bake for 30 minutes, or until the bars are golden brown and slightly firm to the touch.
Remove the pan to a wire rack.
Let the bars cool completely before lifting them out of the pan and cutting into squares to serve. For the cleanest cuts, chill the bars first, but bring to room temperature to serve.
Total time: 2 hours with cooling time
Nutrition Information:
Yield:
16
Serving Size:
1 bar cookie
Amount Per Serving:
Calories: 300
Total Fat: 14g
Saturated Fat: 8g
Trans Fat: 0g
Unsaturated Fat: 5g
Cholesterol: 58mg
Sodium: 215mg
Carbohydrates: 43g
Fiber: 1g
Sugar: 29g
Protein: 3g
Note: This post may contain affiliate links; view
my Disclosure Policy
for details. I earn a small percentage from any purchase you make by clicking on these links at no extra cost to you.