Streusel Topped Rhubarb Muffins
These Streusel Topped Rhubarb Muffins have a sweet, tender sour cream base, tart juicy rhubarb, and cinnamon streusel topping. A fabulous spring treat!
As usual, my rhubarb crop is pitiful! But I gathered enough to fill a one-cup measuring cup and made this Rhubarb Muffin Recipe.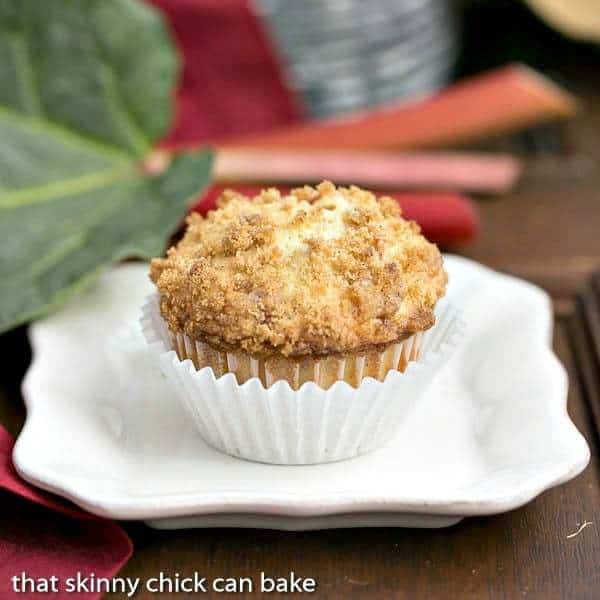 Streusel Topped Rhubarb Muffins
As a child, there was a large patch of rhubarb in our backyard. Totally ignored, yet it grew like a weed. Sometime during the summer, my mom would bake up a rhubarb pie and even some rhubarb sauce. I adored that pie. No custard, just straight-up rhubarb enveloped in pastry.
So heavenly when it was divvied out still warm from the oven and served with a scoop of vanilla ice cream melting into all the nooks and crannies. A slice of this pie was one of the highlights of summer. Here in Indiana, I seem to have a black thumb. My rhubarb is pencil-thin. Pitiful. Not like I need bushels of rhubarb as I'd be lucky if the picky hubby would humor me with a courtesy bite. It would most likely be followed with a confirmation that he still doesn't like rhubarb. So with a few scrawny stalks fresh from the garden, I decided to make a small batch of streusel-topped rhubarb muffins to share with my girlfriends. I'd get my fix.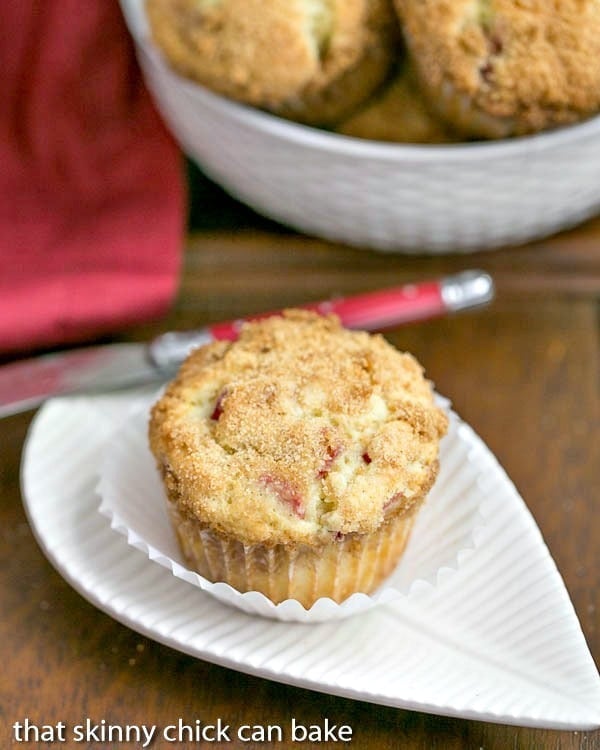 Tips for Making Rhubarb Muffin Recipe
Fresh rhubarb is impossible to find in the dead of winter and can also be elusive in the spring. Thank goodness that many markets carry it in their frozen food aisle. If you happen to see those ruby red stalks in your produce section or your grocer's freezer, nab them up while you can and bake some muffins, a fruit crisp, or even a double crust fruit pie. Just save me a slice if you bake up the latter. You might also enjoy this Rhubarb Bread Recipe.
Baking muffins, like all quick bread, will get better results with a little knowledge. Here are some pointers:
Baking powder often expires long before it's used up. Baking soda is more commonly used. So check the expiration date and replace if needed. You can also test to see if it's still active by placing a spoonful into a bowl of hot water. It should bubble vigorously if fresh.
PRO-Tip: Do not over mix the muffin batter. When you combine the wet and dry ingredients, they should be gently mixed just until combined. If you overmix, the muffins will have peaked instead of round tops and the muffins will have lots of tunnels.
Fill your muffin cups about 2/3 full. This gives them room to expand as they bake.
To check if the muffins are done baking, you have two options. First is to use the toothpick test. Insert a toothpick into the center of the muffin. When it's removed, there should be no batter on the toothpick if the muffins are done. Harder to do with a streusel topping, but you can also tap the top of the muffin and if the indentation stays, the muffins need more time in the oven. If it bounces back up, they're done.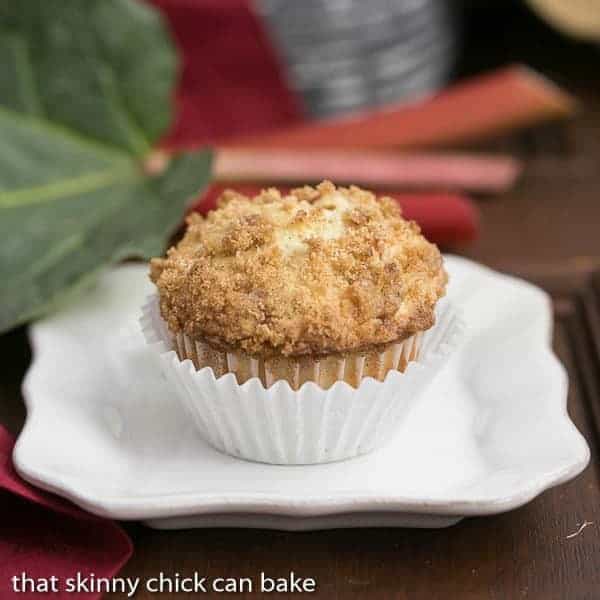 The Recipe:
Streusel Topped Rhubarb Muffins
Prep Time 15 minutes
Cook Time 22 minutes
Total Time 37 minutes
Yield 12 muffins
Moist rhubarb studded muffins topped with a buttery streusel. Adapted from Fine Cooking.
Ingredients
Muffins:
1 cup flour
¼ cup plus 2 tablespoons sugar
1 ¼ teaspoons baking powder
¼ teaspoon baking soda
½ teaspoon cinnamon
¼ teaspoon salt
½ cup sour cream
¼ cup butter, melted
1 egg
1 teaspoon vanilla
1 cup diced rhubarb
Streusel;:
⅕ cup brown sugar
2 tablespoons flour
½ teaspoon cinnamon
1 tablespoon butter, at room temperature
Instructions
Preheat oven to 400º. Line 12 cup muffin tin with paper liners. Set aside.
In a mixing bowl, whisk together flour, sugar, baking powder, baking soda, cinnamon, and salt.
In a glass measuring cup or bowl, whisk together the sour cream, melted butter, egg, and vanilla.
Gently fold the wet ingredients into the dry ingredients, being careful not to overmix. Fold in rhubarb. Divide batter between muffin cups.
Make the streusel by mixing together brown sugar, and cinnamon. With your hands or a pastry cutter, mix or cut in the butter until small crumbs are formed. Sprinkle over top of muffins. You may not need all of the streusel.
Bake 18-22 minutes. Cool on a wire rack before removing from the muffin tin to finish cooling. Serve warm or at room temperature.
Recommended Products
As an Amazon Associate and member of other affiliate programs, I earn from qualifying purchases.
Nutrition Information:
Yield:
12
Serving Size:
1 muffin
Amount Per Serving:
Calories: 141
Total Fat: 7g
Saturated Fat: 4g
Trans Fat: 0g
Unsaturated Fat: 2g
Cholesterol: 34mg
Sodium: 170mg
Carbohydrates: 17g
Fiber: 1g
Sugar: 8g
Protein: 2g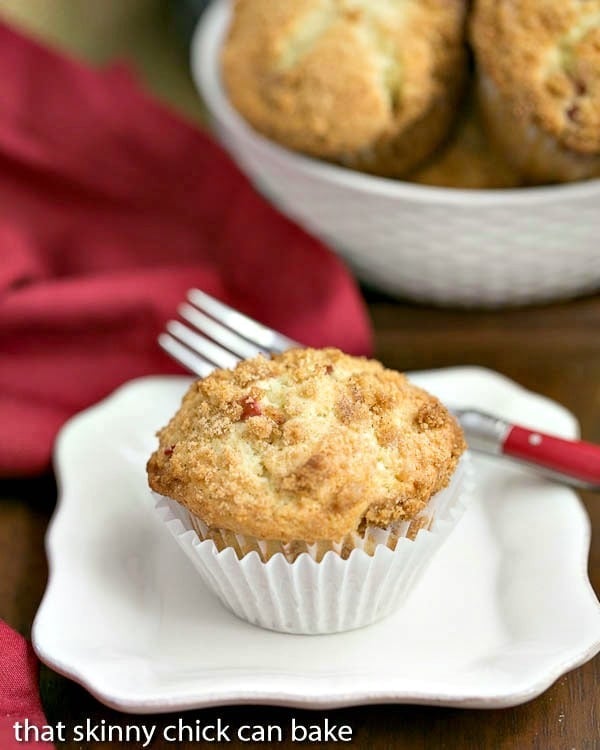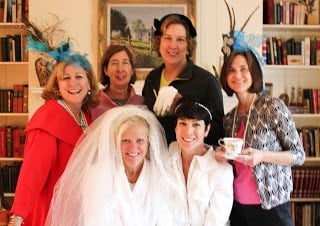 I made these years ago with just a cinnamon sugar sprinkle on top.
We gathered to watch Prince William marry Kate Middleton. Aren't we fun????
More Favorite Muffins: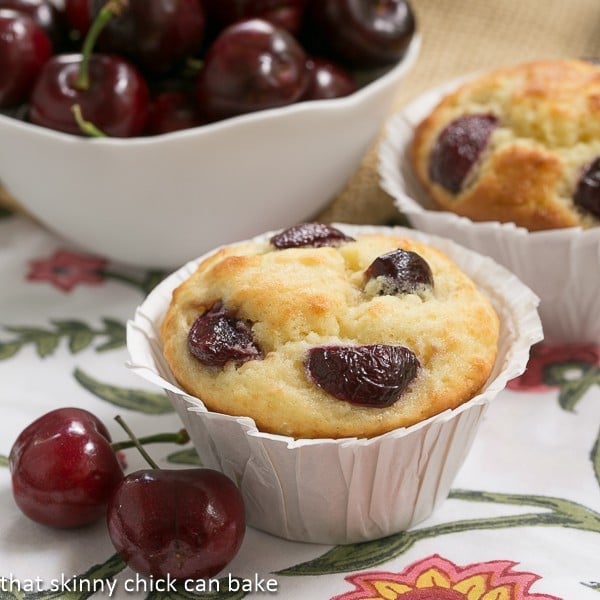 Note: This post may contain affiliate links; view
my Disclosure Policy
for details. I earn a small percentage from any purchase you make by clicking on these links at no extra cost to you.