Fresh Strawberry Pie Recipe
This Fresh Strawberry Pie Recipe, made with a fresh berry glaze, will be the first dessert to disappear at your next summer picnic or gathering!
With a buttery pastry crust filled with glazed berries, the flavorful strawberries are the star of the show! The Strawberry Pie Filling is pure berry deliciousness as it's made without Jello.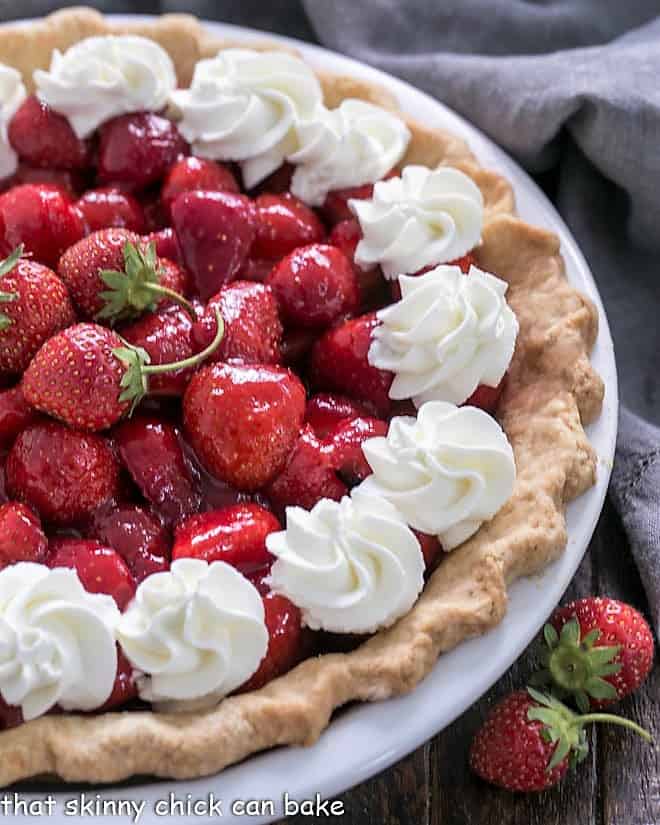 Why You'll Love this Strawberry Pie Recipe
I've made those fresh strawberry pies with a jello glaze when I'm in pinch for time, but the artificial flavor and color detract from the deliciousness of ripe summer berries. This fresh strawberry pie is the second I've tested this summer and the obvious winner.
The glaze is made with fresh strawberries and no jello!
The filling is simple and highlights the flavor of the berries.
The glossy red berries make a show stopper of a dessert!
This strawberry pie should be made at the peak of the strawberry season when the berries are sweet, ripe, and juicy. With no other ingredients to disguise the strawberry flavor, you definitely want the best of the best berries.
How to Pick the Best Strawberries
You've all probably encountered hard, flavorless strawberries a time or two. Here are some tips for selecting the best strawberries.
PRO-Tip: First, you should smell the sweet aroma of strawberries when you near the display at the supermarket or farmers' market. That is your number one cue that the berries are fresh and ripe. If you detect no strawberry scent, your berries will have no flavor.
Next, inspect them for good coloration and the absence of bruises. Your strawberries should be red and the stem ends should not be pale or white, indicating they were picked before fully ripe.
PRO-Tip: Also, inspect the strawberry seeds. If they're brown, the berries are old. The red berry skin should have a bit of a sheen which indicates freshness.
If your strawberries are in a clear plastic box, flip it over to see if there are any bruised or mushy spots or even mold. These sorts of berries are already deteriorating.

How to Make the Strawberry Pie Filling
Since you're not using strawberry Jello, you'll need a different thickening or jelling agent to help glaze the fresh berries. In this case, it's the combination of cornstarch and Sure-Jell for low sugar recipes. The latter is premium fruit pectin and is used to make jams and jellies. It should be available in larger supermarkets.
First, you'll use a food processor to puree part of your fresh strawberries. This is where it's vital to have flavorful, sweet berries. If your strawberries have white centers and don't have an intoxicating berry fragrance, your pie will not have the desired taste.
Once you have your puree, cook that along with the sugar, cornstarch, and Sure-Jell. Make sure to add a pinch of salt. PRO-Tip: Like wine, salt is a flavor enhancer. All you need is a pinch to perk up the flavor of the strawberry gel.
The mixture will need to boil for a full 2 minutes to activate the thickening power of your ingredients. Stir frequently with a heat-proof spatula so the bottom does not scorch. PRO-Tip: If your filling is runny, you did not have your mixture at a full boil for at least two minutes.
Add lemon juice which will also provide a depth of flavor, but it also balances the pH, preventing the glaze from being too runny. Once the glaze has cooled to room temperature, fresh strawberries can be mixed in, then piled high into the prepared crust.
Tips for How to Make a Strawberry Pie
A buttery homemade pie crust is the perfect vessel for this simple strawberry pie. But if making a pastry crust is out of your comfort zone, feel free to use a store-bought crust. Just bake and cool either option before filling.
Now that you know how to select the best strawberries, make sure you purchase perfectly ripe, luscious, and fragrant berries for this pie. If you have access to local berries, that's your best bet. The berries I used were small, beautiful Indiana strawberries that are at their peak in early June.
Note: This pie is best eaten on the day it is made and within 5 hours of chilling. To streamline the process, you can make and bake your crust the day before you make the pie. The strawberry puree can also be made ahead of time. Just cover the surface with plastic wrap and refrigerate.
If your strawberries are large, they'll need to be cut into quarters. With the array of sizes of the berries and a luscious glaze instead of a gelled filling, it's hard to cut magazine cover perfect slices. I like whipping up some cream with a bit of powdered sugar to sweeten and a touch of vanilla as a strawberry pie topping. Used to garnish each slice or pipe on the whole pie will detract from any slicing imperfections!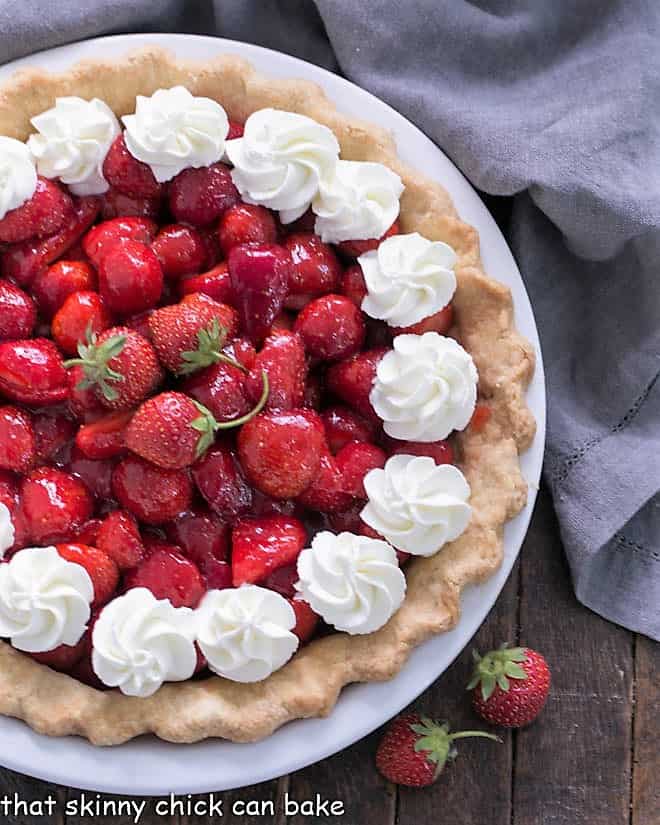 More Berry Dessert Recipes:
This recipe was first shared in July 2015. Photos and text were updated in 2020.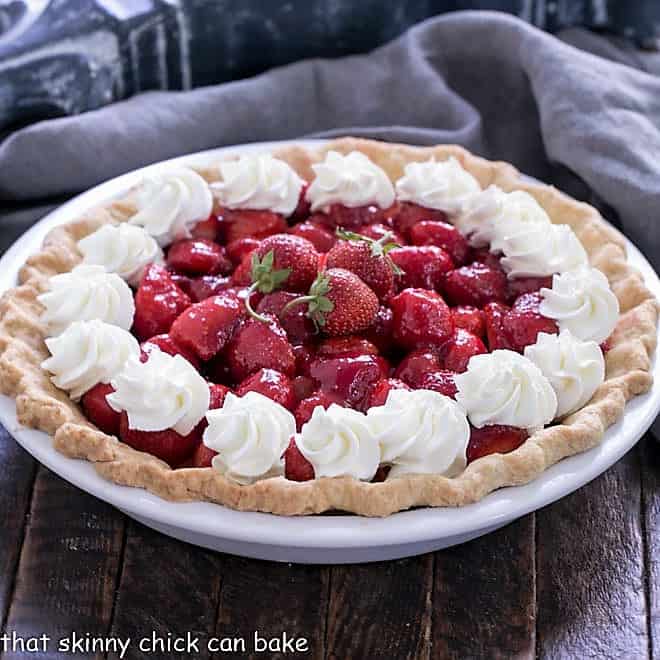 The Recipe:
Simple Strawberry Pie
Prep Time 30 minutes
Cook Time 5 minutes
Total Time 35 minutes
Yield 8 servings
A pie recipe to showcase the best of the best summer berries!
Ingredients
One baked pie crust
3 pounds fresh strawberries, gently rinsed and dried, hulled
¾ cup sugar
2 tablespoons cornstarch
1½ teaspoons Sure-Jell for low-sugar recipes (the pink box)
Pinch of salt
1 tablespoon lemon juice
Instructions
Add 6 ounces of your strawberries to your food processor, process the berries till smooth, scraping down the bowl as needed.
Whisk the sugar, cornstarch, Sure-Jell, and salt in a medium saucepan. Stir in the berry puree. Cook over medium-high heat, stirring constantly with a heatproof spatula, and bring to a full boil. Boil, scraping the bottom and sides of the pan with a heat proof spatula, for a full 2 minutes to thicken. Remove to a large bowl and stir in lemon juice. Let cool to room temperature.
Pick out 2 pounds of the best looking berries from those remaining. Cut the larger strawberries in half or quarters. Add the berries to the bowl with the glaze and gently toss until the berries are coated. Pile into the pie shell, arranging the berries cut side down for a nice presentation. Refrigerate pie until chilled, about 2 hours.
Top with sweetened whipped cream if desired.
Notes
Total time does not include cooling or chilling times.
Best served within 5 hours of chilling. 
Recipe Adapted from Cook's Illustrated.
Recommended Products
As an Amazon Associate and member of other affiliate programs, I earn from qualifying purchases.
Nutrition Information:
Yield:
8
Serving Size:
1 slice
Amount Per Serving:
Calories: 235
Total Fat: 6g
Saturated Fat: 2g
Trans Fat: 0g
Unsaturated Fat: 4g
Cholesterol: 0mg
Sodium: 109mg
Carbohydrates: 45g
Fiber: 4g
Sugar: 28g
Protein: 2g
Note: This post may contain affiliate links; view
my Disclosure Policy
for details. I earn a small percentage from any purchase you make by clicking on these links at no extra cost to you.