Homemade Chicken Nuggets Recipe
These baked herbed chicken nuggets will please the kids AND the adults in your family. Guaranteed. They're healthier than fast food, easy, and delicious!
Instead of running through the drive-through for your chicken nugget fix, make your own at home with this super simple, much more wholesome homemade chicken nuggets recipe!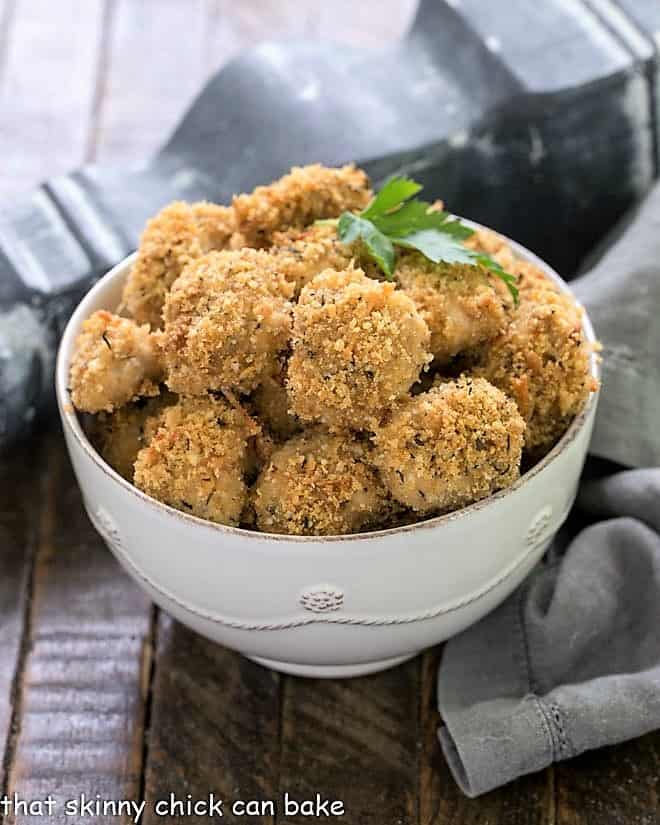 Why You Must Make
My family loves these. And they aren't easy to please! Even our basically vegetarian daughter eats my chicken nuggets!
Despite dipping in melted butter, they are healthier than fast food versions since they're baked, not fried.
The crushed croutons add yummy flavor and texture.
I found the inspiration for this recipe in an old Southern Living while vacationing at a lake house in Arkansas over 2 decades ago. In the evenings, I'd flip through a stack of cooking magazines, jotting down recipes to try at home and when I spotted homemade baked chicken nuggets, I took the bait! The family loved these, so they quickly became a regular on our dinner rotation!
How to Make
Back then, with 3 children aged 2-8 and a picky husband, it was nearly impossible to make a dinner that everyone would eat without complaining. But McDonald's chicken nuggets seemed to be popular with the wee ones, and I was determined to make a healthier, more appealing version.
With a simple coating of Parmesan and crushed croutons with a few dried herbs thrown into the mix, these baked chicken nuggets were hailed a success by all of us!! I was delighted that these nuggets were made with real chunks of chicken breasts instead of ground chicken breasts and skin. Ewww. Somehow the former seems so much more wholesome, right?
The process is to dip chunks of boneless, skinless chicken breasts into melted butter, coat with the crumb mixture, and bake. It's as easy as that. Read on for tips and a detailed recipe.
Expert Tips
Even though this recipe uses a bag or box of seasoned croutons, they're much healthier than their fast-food counterparts! Here are a few tips for making baked chicken nuggets at home.
Cut your chicken breasts into cubes while the chicken is still slightly frozen. You will be able to make nicer looking nuggets with better control over the slicing.
Wait until the chicken pieces are defrosted before dipping them into the butter. Very cold chicken will make the melted butter congeal and then the coating will not stick.
PRO-Tip: I like to have two pie plates for dipping, one with melted butter and the second with the breading. Your fingers will get a little messy, but it's worth it to get all the nuggets well-coated. If you're a pro, you'll keep one hand for dipping and the other hand clean. Somehow that never happens when I'm cooking.
A dose of herbs makes for the most flavorful result. I love the combination of basil and thyme added to the crumbs to give a boost of spice. No salt is needed as the croutons and Parmesan provide plenty.
PRO-Tip: Line your baking sheet with heavy-duty foil for easy cleanup. Not necessary, but an option I use frequently.
Bake until browned and crispy, about 25 minutes. Time will vary depending on the size of your nuggets.
Frequently Asked Questions
What are chicken nuggets made of?
Here are the ingredients in McDonald's Chicken Nuggets: Ingredients: White Boneless Chicken, Water, Vegetable Oil (Canola Oil, Corn Oil, Soybean Oil, Hydrogenated Soybean Oil), Enriched Flour (Bleached Wheat Flour, Niacin, Reduced Iron, Thiamine Mononitrate, Riboflavin, Folic Acid), Bleached Wheat Flour, Yellow Corn Flour, Vegetable Starch (Modified Corn, Wheat, Rice, Pea, Corn), Salt, Leavening (Baking Soda, Sodium Aluminum Phosphate, Sodium Acid Pyrophosphate, Calcium Lactate, Monocalcium Phosphate), Spices, Yeast Extract, Lemon Juice Solids, Dextrose, Natural Flavors.
Here are the ingredients in my chicken nuggets: White Boneless, Skinless Chicken, Butter, Seasoned Croutons, Grated Parmesan Cheese, Dried Basil, Dried Thyme. Note: there are more ingredients included in the croutons, but not nearly as many chemicals as a fast food option.
How many calories in chicken nuggets?
The calories for one quarter of this recipe or one serving is 441 calories, very similar to 8 fast-food chicken nuggets. Since there are no fillers, the protein content is 2 1/2 times greater in my homemade version.
How long should you bake chicken nuggets?
The time will vary depending upon whether your nuggets are precooked or uncooked as well as whether they're right from the freezer or homemade. The size of the nuggets is another variable. These freshly made chicken nuggets take about 25 minutes in a 400º oven to fully cook.
How do you make crispy chicken nuggets?
To make these chicken nuggets as crispy on the bottom as they are on the top, place an oven-safe wire rack over a rimmed baking sheet. Place the uncooked chicken nuggets on the rack and bake as directed.
The heat of the oven will be able to circulate, reach, and brown the underside of the nuggets using this technique. Serve immediately so they don't have time to "sweat" on the sheet pan.
Who invented chicken nuggets?
They were invented in the 1960s by Robert C. Baker in a Cornell University Lab. He dehydrated ground chicken and mixed it with binders. Chicken nuggets were first marketed as chicken sticks and were instantly a hit in New York State.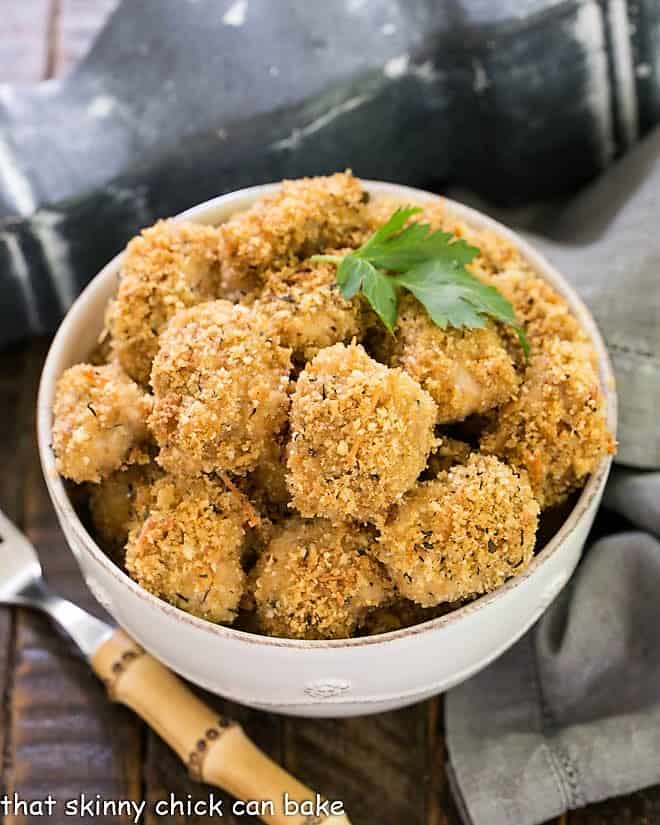 You May Also Like
Would you like to make more copycat fast food recipes at home? Here are some fun recipes to try.
Stay in touch through social media @ Instagram, Facebook, and Pinterest. Don't forget to tag me when you try one of my recipes! And if you love the results, please give it a 5-star rating in the recipe card. Note: As an Amazon Associate, I earn from qualifying purchases. Visit my Amazon Store for my favorite products.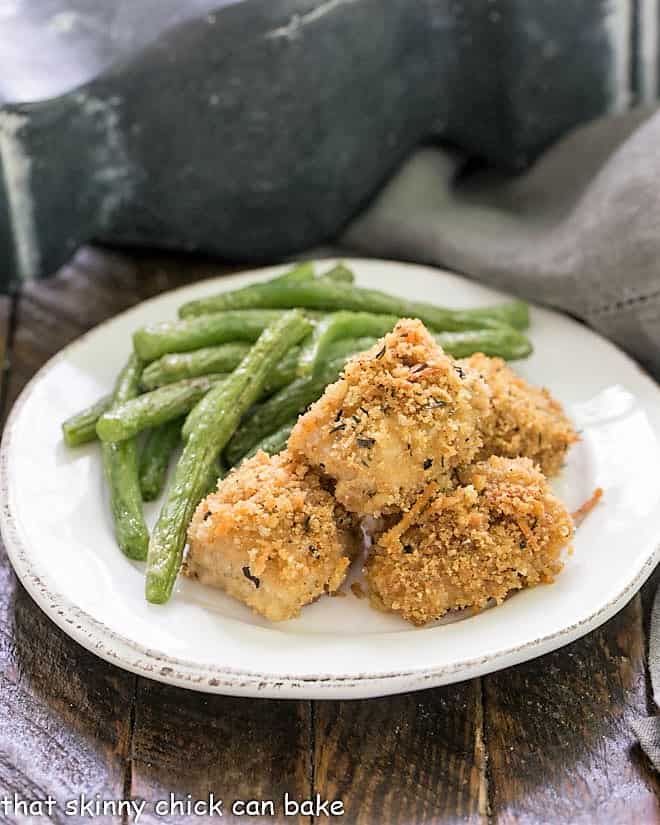 The Recipe:
Herbed Chicken Nuggets
Prep Time 10 minutes
Cook Time 25 minutes
Total Time 35 minutes
Yield 4 servings
An easy, delicious weeknight meal that will please the whole family. Adapted from Southern Living.
Ingredients
5 ounces seasoned croutons, processed or crushed into crumbs
1/2 cup grated Parmesan
1 teaspoon basil
1 teaspoon thyme
4 boneless, skinless chicken breasts, cut into 1-inch pieces
1 stick (1/2 cup) of butter, melted
Instructions
Preheat oven to 400º. Cover large baking sheet with foil (or just lightly grease baking sheet).
Place crushed croutons, Parmesan, basil and thyme in a pie plate and mix to combine.
Pour melted butter into a second pie plate. Dip chicken pieces in melted butter, then crouton mix. Place on large baking sheet.
Bake 20-25 minutes, till lightly browned.
Recommended Products
As an Amazon Associate and member of other affiliate programs, I earn from qualifying purchases.
Nutrition Information:
Yield:
4
Serving Size:
1
Amount Per Serving:
Calories: 441
Total Fat: 17g
Saturated Fat: 7g
Trans Fat: 0g
Unsaturated Fat: 9g
Cholesterol: 123mg
Sodium: 724mg
Carbohydrates: 24g
Fiber: 2g
Sugar: 2g
Protein: 45g
Note: This post may contain affiliate links; view
my Disclosure Policy
for details. I earn a small percentage from any purchase you make by clicking on these links at no extra cost to you.