Blueberry Peach Custard Pie
With 25 pounds of peaches ripening in my kitchen, it was time to bake! And this Blueberry Peach Custard Pie was an exquisite seasonal dessert using both juicy, fresh peaches and sweet, plump blueberries.
With a single crust and simple egg, sugar, and flour filling, this beautiful pie was a blissful change of pace and took little effort to throw together.
Blueberry Peach Custard Pie
I tend to shy away from custard pies, enjoying the unadulterated flavor of a simple fruit filling. But when a foodie friend shared her recipe for this easy peach pie, I quickly changed my mind! First of all, I only have an oven in my kitchen at the moment. No sink, no garbage disposal, and no counters. Kind of hard to roll out pie crust as you can imagine.
So I broke my vow to keep perfecting my pie crusts by making them all from scratch. And a bonus was that using a pre-rolled crust gave me the chance to play with a fun border instead of a simple fluted crust. I twisted together two thin strands of pie crust and used a bit of water to attach it to the perimeter of this blueberry peach custard pie instead of crimping the edge.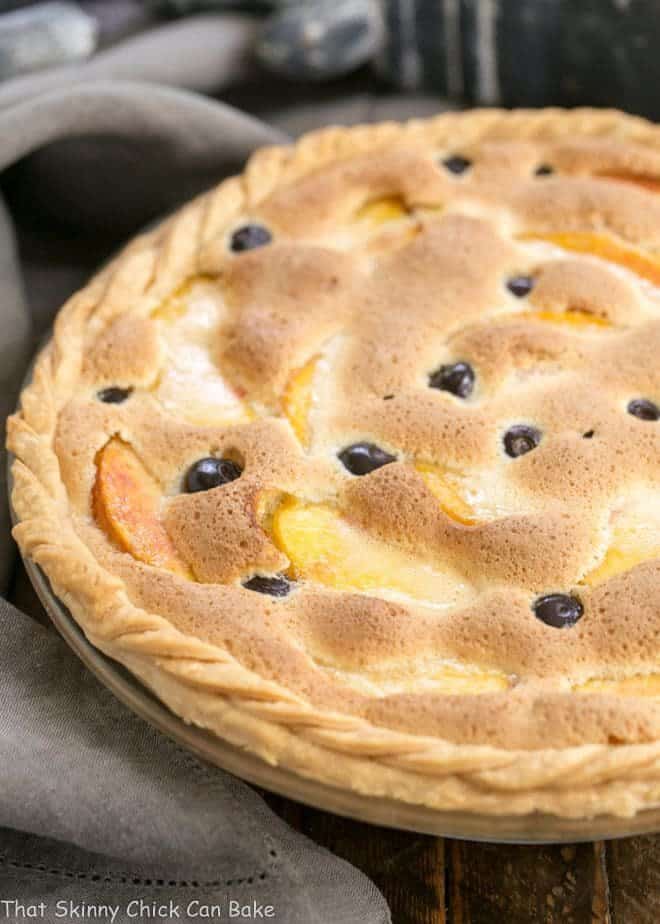 Tips for Making a Custard Pie
Even though this blueberry peach custard pie doesn't contain milk or cream, the addition of eggs produces a custard-like filling when cooked with the peach juices and a bit of flour. The most famous custard pie in the states is a classic pumpkin pie.
If you're worried about a soggy crust, you can par-bake, AKA blind bake, before adding the filling. I didn't find it necessary with this peach custard pie, but you can pop the unfilled crust in a 450º oven for about 5 minutes.
To determine if your custard pie is done, take a sharp knife and insert it near the center. It should come out clean. Or gently shake the pie and there shouldn't be much jiggle when it's fully cooked.
If you decide to par-bake your crust first, you may need to cover the edge with foil as the pie finishes baking. This will prevent the crust from getting too dark. I usually cut a circle out of the middle of a square of foil to cover the pie, so the center of the pie gets heat, but the edges do not.
After your pie comes out of the oven, cool for a couple of hours on a wire rack, then refrigerate. See the rationale below.
Almond extract is added to this peach custard pie for a change from the typical warm spices like cinnamon and nutmeg. Feel free to use more traditional spices if that's your preference.
FUN-Fact: Almonds are actually a member of the stone fruit family, like peaches, apricots, and nectarines. It makes sense that almond extract pairs well with peaches.
If you'd like more blueberry flavor, add a cup instead of a half-cup. You may need to hold back a few peach slices to make room for the extra berries.
What is the Difference Between a Custard Pie and a Cream Pie?
A custard pie is made of an uncooked mixture cooked in an unbaked or partially baked pie crust. The custard typically contains eggs, milk, and sugar. A cream pie, on the other hand, is created when a cooked custard fills a baked pie crust, like a banana cream pie, coconut cream pie, etc.
Do Custard Pies Need to be Refrigerated?
Though I've heard that baked goods with a good deal of sugar do not need to be refrigerated, I think it's better to be on the cautious side and refrigerate any pie that is made with eggs, cream or milk. According to the FDA, perishable food should not be left above 40º for any more than 2 hours.
So let your pie cool for up to 2 hours, then pop it in the refrigerator. I like to gently microwave to take the chill off a slice before diving in! And a scoop of vanilla ice cream never hurts!!
More Peach Desserts You'll Love:
In July and August, I make more peach desserts than anything else. This Lattice Topped Peach Pie is a more classic peach pie and my Streusel Topped Peach Tart is another winner. This Southern Peach Cobbler looks terrific as does this Fresh Peach & Raspberry Clafoutis. Do you have a favorite peach dessert?
The Recipe:
Blueberry Peach Custard Pie
Prep Time 20 minutes
Cook Time 45 minutes
Total Time 1 hour 5 minutes
Yield 6 servings
A one crust peach pie speckled with blueberries
Ingredients
1 single pie crust, purchased or homemade
2 eggs
1 cup sugar
1/2 - 3/4 teaspoon almond extract
2 tablespoons flour
A pinch of salt
5 ripe peaches, peeled and sliced
1/2 cup fresh blueberries reserving a few to garnish
Instructions
Preheat oven to 350º. Line a 9-inch pie plate with pastry and flute the edges as desired. Set aside.
Beat together eggs, sugar, almond extract flour, and salt.
Add the sliced peaches plus the fresh blueberries, reserving a few to garnish. Stir into sugar mixture.
Pour the mixture into the prepared crust, spreading the filling out evenly. Dot with reserved blueberries.
Bake in the prepared pie plate for about 45 min or until the center is firm.
Notes
If your peaches are very juicy, slice and place on paper toweling to that the excess moisture doesn't prevent the custard from setting.
Nutrition Information:
Yield:
6
Serving Size:
1 slice
Amount Per Serving:
Calories: 358
Total Fat: 9g
Saturated Fat: 3g
Trans Fat: 0g
Unsaturated Fat: 6g
Cholesterol: 62mg
Sodium: 166mg
Carbohydrates: 66g
Fiber: 3g
Sugar: 48g
Protein: 5g
Note: This post may contain affiliate links; view
my Disclosure Policy
for details. I earn a small percentage from any purchase you make by clicking on these links at no extra cost to you.