Rhubarb Upside Down Brown Sugar Cake
I'm jumping in a little late with this deliciously seasonal Rhubarb Upside-Down Brown Sugar Cake shared by my Tuesdays with Dorie friends earlier this week. As the FFwD group concludes our journey, we continue to reflect on our years of cooking from Around My French Table and a Dorie recipe seemed apropos.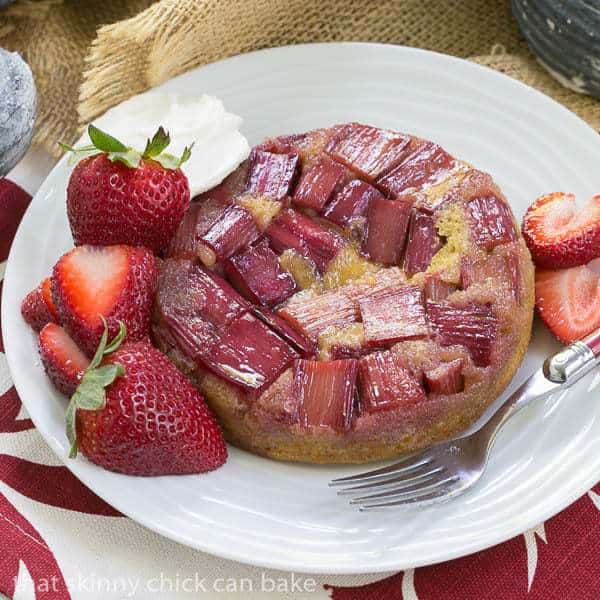 Lessons from Cookbook Author, Dorie Greenspan
Today's challenge was to share an "aha" moment and our top 5 recipes. I'm not certain I have one particular moment, but instead, some more lessons learned.
French cooking does not necessarily mean complicated. A simple layering of flavors can produce a masterpiece.
A reminder to cook seasonally. Dorie's rhubarb cake is the perfect example as was her Roasted Rhubarb we cooked up for FFwD in 2011.
And, once again, use the best ingredients. You may need to reinvent your planned recipe when you see what's available at the market.
Rhubarb Upside-Down Brown Sugar Cake
The French know how to make a presentation. Think of a Tarte Tatin. Like this rhubarb upside-down cake, it's flipped to serve and who isn't awed by those slices of sugar-glazed apples over pastry? Dorie had us whip up an orange zest and vanilla flavored sponge cake and pour it over caramelized rhubarb. I've also made Dorie's Rhubarb Baby Cakes–also delicious!
I baked half a batch (you know who doesn't do rhubarb) in two 5-inch diameter spring-form pans. They needed more time than the 25 minutes called for in the full recipe, so beware if you intend to try this recipe. Served with sweetened cream and berries, I got my fix of rhubarb without any competition! This recipe can be found on page 24 of Baking Chez Moi. On occasion, Dorie shares some of these recipes on her blog, but this one is not available online as of yet.

My Top 5 French Fridays with Dorie Recipes
There are SO many recipes I loved—these are just a few unforgettable favorites: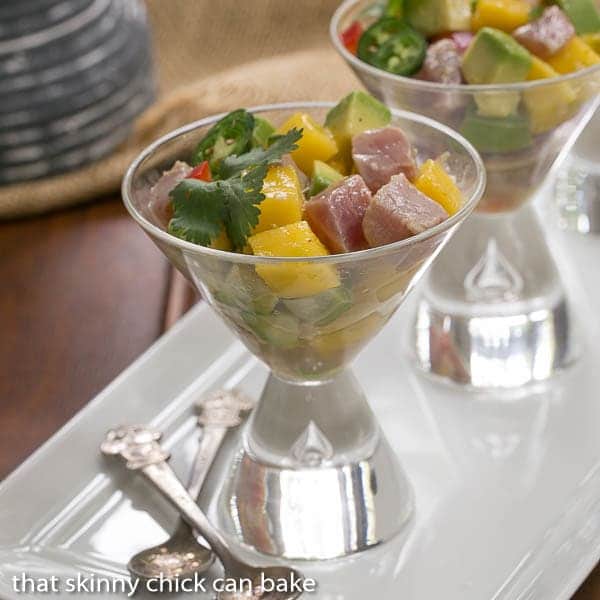 Tuna and Mango Ceviche (are you seeing a trend???)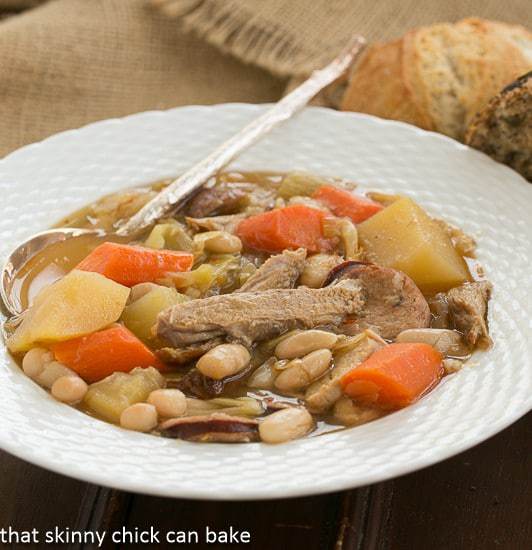 Garbure (peasant stew with loads of flavor)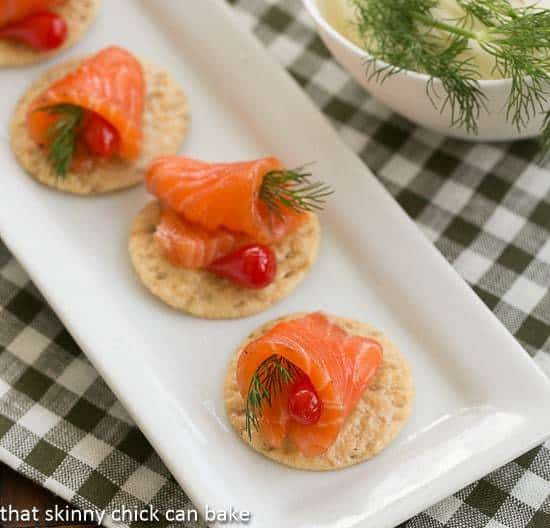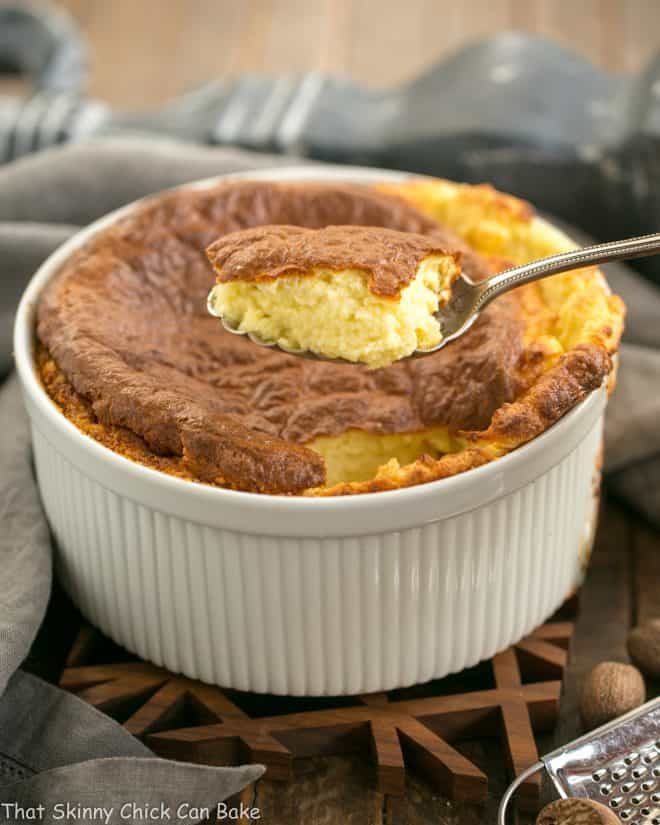 More Tasty Recipes from Dorie Greenspan
Honorable mentions go to Scallops with Caramel Orange Sauce, Salade Nicoise and Tuna Confit with Black Olive Tapenade and Tomato Salsa. Yeah, where are the desserts, the raspberries??? I loved that this group gave me the excuse to explore some recipes and techniques that I'd typically skip due to the picky palates that surround me. So it was often the seafood, especially the rare or raw seafood, that left the most indelible impressions. Thank you, Dorie!!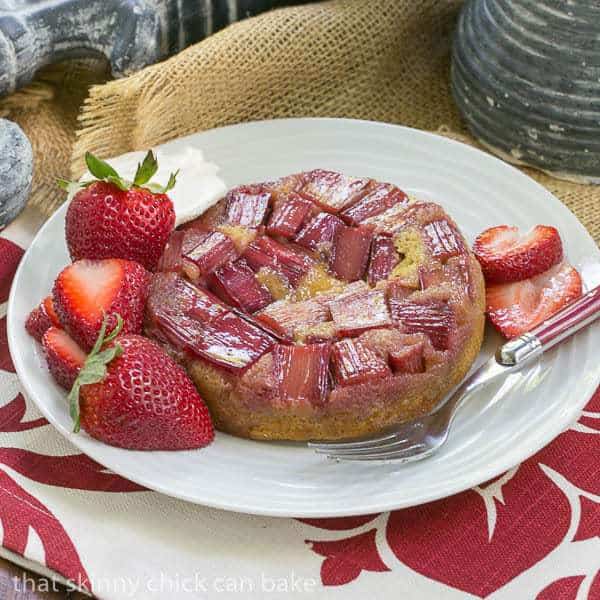 The Recipe:
Rhubarb Upside Down Brown Sugar Cake
Prep Time 30 minutes
Cook Time 25 minutes
Total Time 55 minutes
Yield 8
A twist on the upside down cake utilizing fresh spring rhubarb.
Ingredients
Rhubarb Topping:
1 1/4-1 1/2 cups rhubarb, trimmed and rinsed (peel if stems are tough)
3/4 cup sugar, divided (1/4 cup to caramelize)
1 1/2 tablespoons butter
Cake:
1 cup flour
1 teaspoon baking powder
Pinch of sea salt
3 eggs, room temperature
3/4 cup brown sugar
Zest of one orange, finely grated
1 1/2 teaspoon vanilla
1 stick (1/2 cup) butter, melted
Glaze:
Leftover rhubarb syrup
Strawberry jam
Garnish:
2 cups of strawberries, leaves and hulls removed, then cut in half
8 ounces creme fraiche
Instructions
Cut the stalks into 1 inch lengths and toss them with ½ cup sugar and set aside for 30 minutes.
Drain the rhubarb and reserve the syrup to make the glaze.
Butter a 9 inch round cake pan with sides at least 1½ high. Set aside.
Melt the butter in a large skillet over medium high heat then stir in the sugar. When the sugar has melted and is JUST changing color add the rhubarb. Stir sparingly for about 3 minutes or until the sugar is slightly caramelized. Scrape the rhubarb and syrup into the cake pan and leave to cool.
To make the cake, preheat oven to 350 degrees .
Whisk the flour, baking powder and salt together in a small bowl.
In a large bowl whisk the eggs and brown sugar together until thick and smooth. Whisk in the zest and vanilla.Pour in the butter in 3 additions. Whisk well.
Add the dry ingredients in 3 additions whisking gently.
Scrape the batter into the pan over the rhubarb and put the pan onto a parchment lined baking sheet.
Bake the cake for about 25 minutes, rotating it after 12 minutes. My small version took more than 25 minutes.
Bake until it is golden brown, springy to the touch and just beginning to pull away from the sides of the pan.
Transfer to serving plate.
To make the glaze, bring the reserved rhubarb syrup to a boil then reduce to a simmer until it reduces and becomes syrupy. Add a few spoonfuls of strawberry jam and stir well. Gently spoon the glaze over the top of the cake.
To serve the cake, add strawberries to the cake plate, dollop with Crème Fraiche and serve.
Notes
I made a half batch in 5-inch springform pans. They took longer than 25 minutes to fully cook.
Nutrition Information:
Yield:
8
Serving Size:
1 slice
Amount Per Serving:
Calories: 419
Total Fat: 16g
Saturated Fat: 10g
Trans Fat: 1g
Unsaturated Fat: 6g
Cholesterol: 111mg
Sodium: 180mg
Carbohydrates: 65g
Fiber: 2g
Sugar: 46g
Protein: 5g
Note: This post may contain affiliate links; view
my Disclosure Policy
for details. I earn a small percentage from any purchase you make by clicking on these links at no extra cost to you.