Fresh Raspberry Crisp
Whether you go berry picking or pick up a couple of pints of raspberries at the market, a Fresh Raspberry Crisp is an easy, delectable dessert!
My family adores pie, but making pie crust is not my favorite task in the kitchen. That's where fruit crisps provide a scrumptious alternative. With Raspberry Desserts like this crisp, you get to indulge in the same yummy filling without all the work!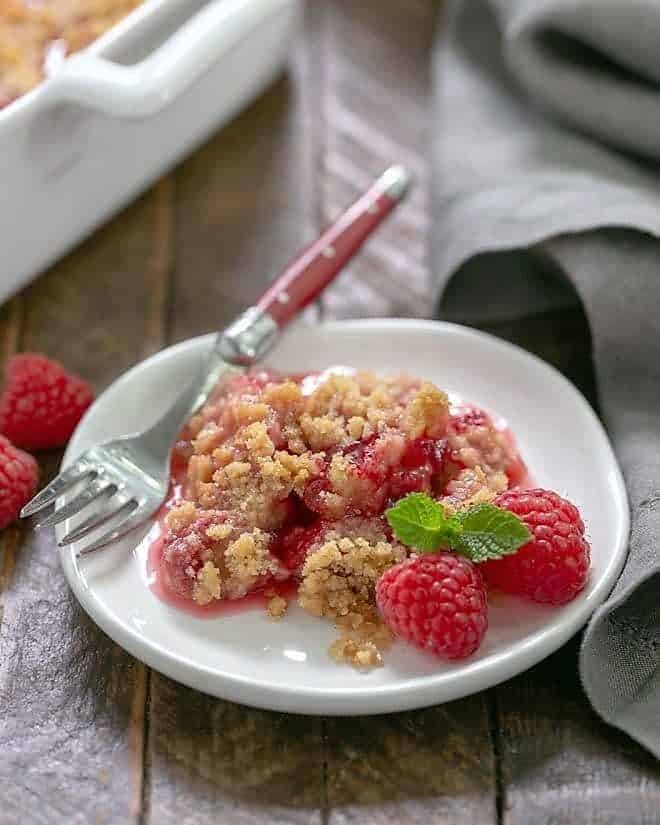 Note: This post may contain affiliate links; view my Disclosure Policy for details. I earn a small percentage from any purchase you make by clicking on these links at no extra cost to you.
Why You Must Make
With berry season here in full force, I had to make a raspberry dessert. As my loyal readers know, I'm without a kitchen so there's no way I can roll out a pie crust or do anything that dirties up numerous bowls. But as the summer is all about berry desserts, I couldn't resist making a simple crisp. We are all fans of fresh raspberry recipes.
A raspberry crisp or crumble is super easy to make. There are minimal, easy-to-find ingredients, and it's quick to throw together.
It's a delicious summer dessert if you have access to beautiful local or supermarket berries.
Serving it warm with a scoop of vanilla ice cream makes for a spectacular, comforting dessert.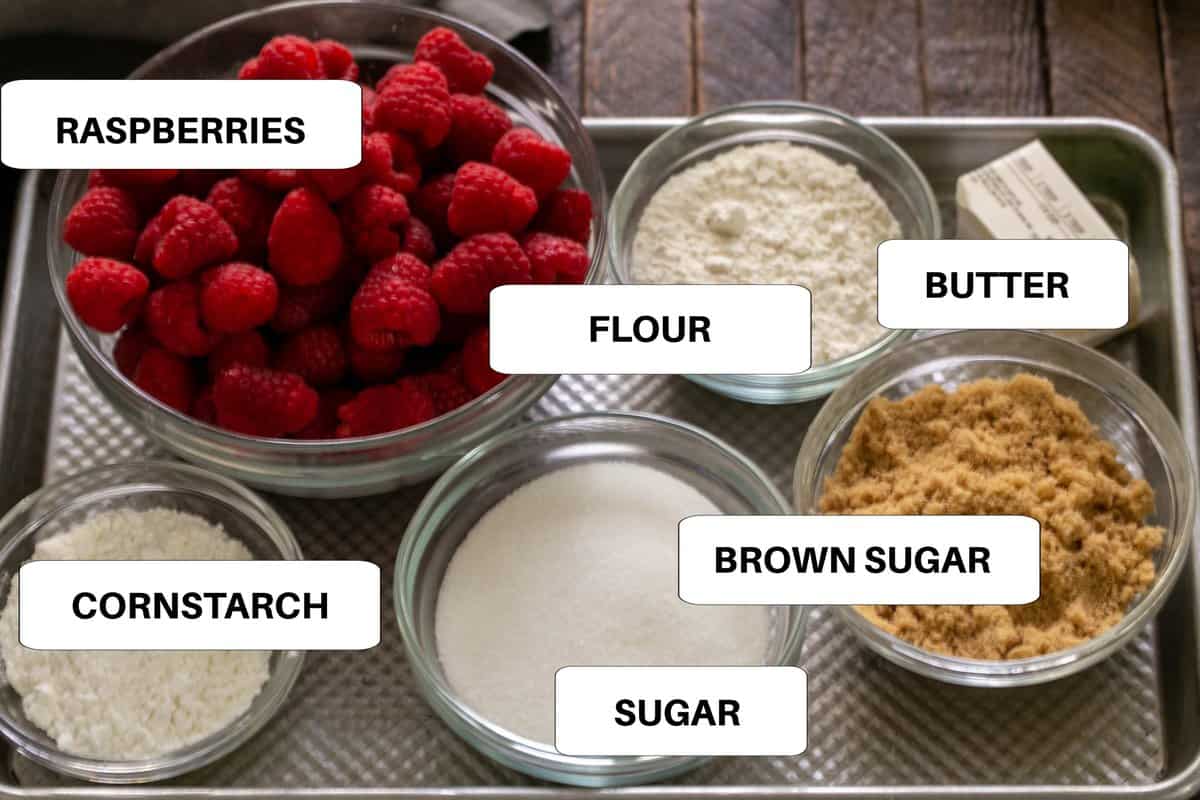 Ingredient Notes
Pantry Ingredients – Sugar, Flour, Brown Sugar, Butter
Fresh Raspberries – Look for vibrant-colored, glossy berries, with so signs of mold or deterioration. Examine all sides of the packaging.
Cornstarch – Needed to thicken the filling. The filling must bubble/boil to activate the cornstarch.
Most of the ingredients for this recipe can be found in your pantry or refrigerator. But buying sweet, plump raspberries is key. Make sure to check the packaging for signs of mold, soft spots, or any deterioration. They should be bright, and glossy with a consistent color.
How to Make
Fruit crisps and crumbles are some of the easiest desserts to make. Think apple in the autumn, peach in the summer, and this berry crisp whenever you can find sweet plump raspberries.
Here are the four easy steps to make this dessert: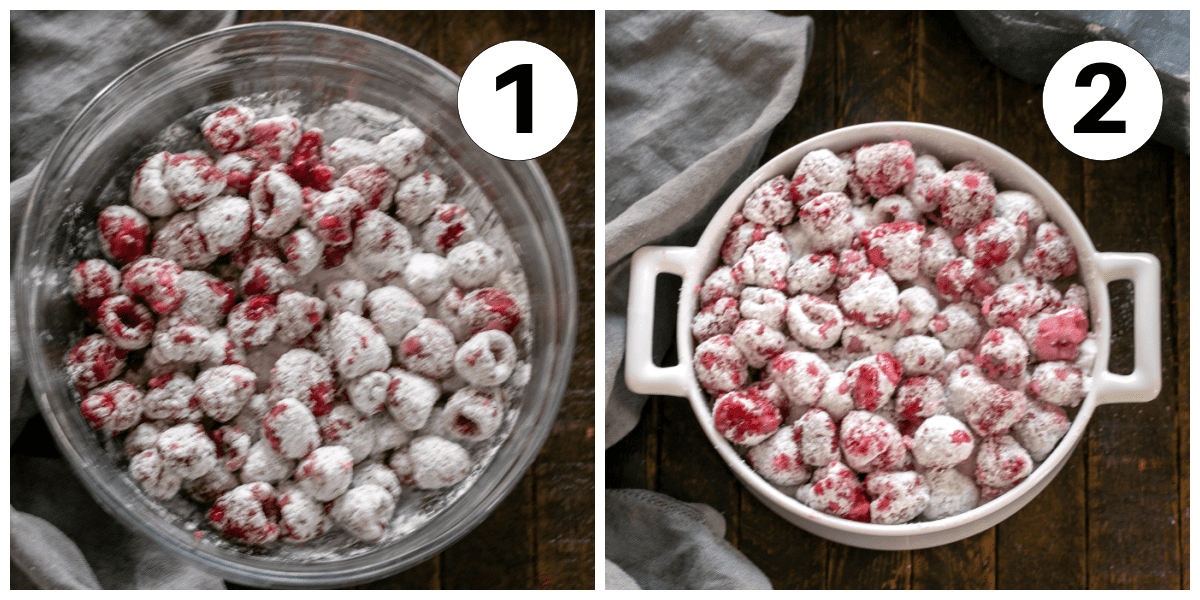 Toss the fresh raspberries in flour, sugar, and cornstarch.
Add to a greased baking dish.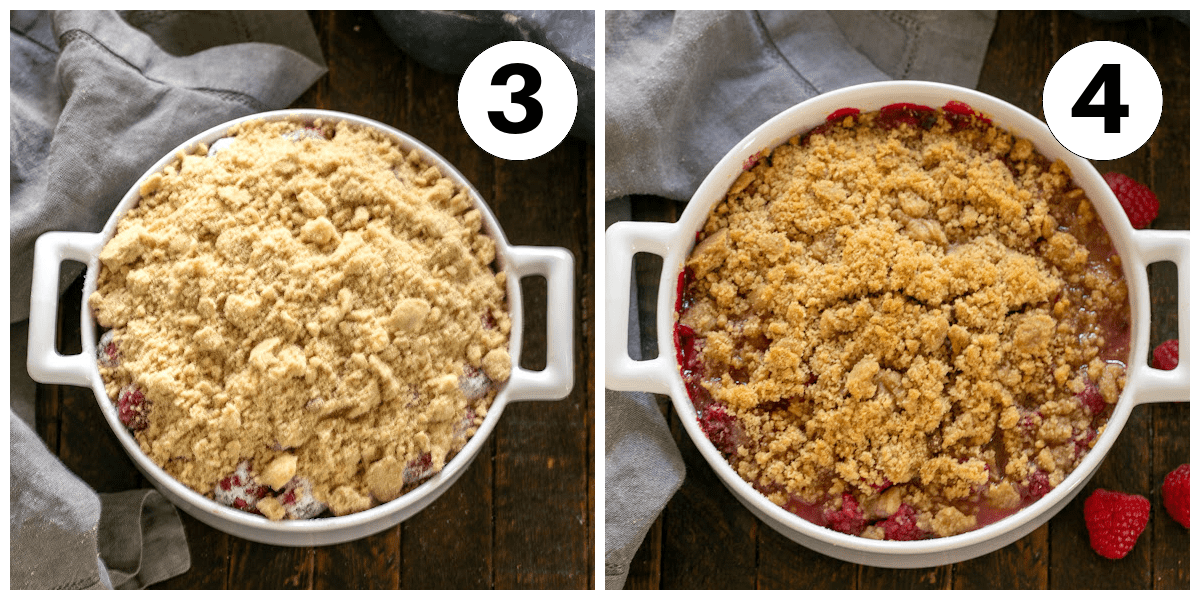 Make the streusel topping and crumble it over the raspberries.
Bake until topping is lightly browned and filling is bubbly.
General Tips for Crisps and Crumbles
Fruit such as apples must be cooked until tender and you can easily pierce the fruit with a fork or knife. Berries will cook much faster.
Even though the berries become soft and juicy more quickly than other fruit, you must wait until the middle of the crisp is bubbly. PRO-Tip: Bringing the center of the crisp up to a boiling temperature allows the cornstarch to gel the filling.
PRO TIP: If you pull your crisp out too early, the filling will be watery. It will still be incredibly delicious, but I prefer the juices to be thick and glossy.
Crisp topping and crumble topping recipes can vary. Since the picky hubby prefers his oatmeal in a bowl for breakfast and not in cookies or as a dessert topping, I make a simple topping of sugar, butter, and flour. We both love it that way, but I wouldn't refuse an oat-topped crisp, either!
After mixing the topping ingredients, use your hands to work the mixture and pinch it into crumbs.
PRO-Tip: You can pop a fruit crisp under the broiler to brown the topping if it's a tad bit too pale. But be mindful and watch carefully as it can easily burn.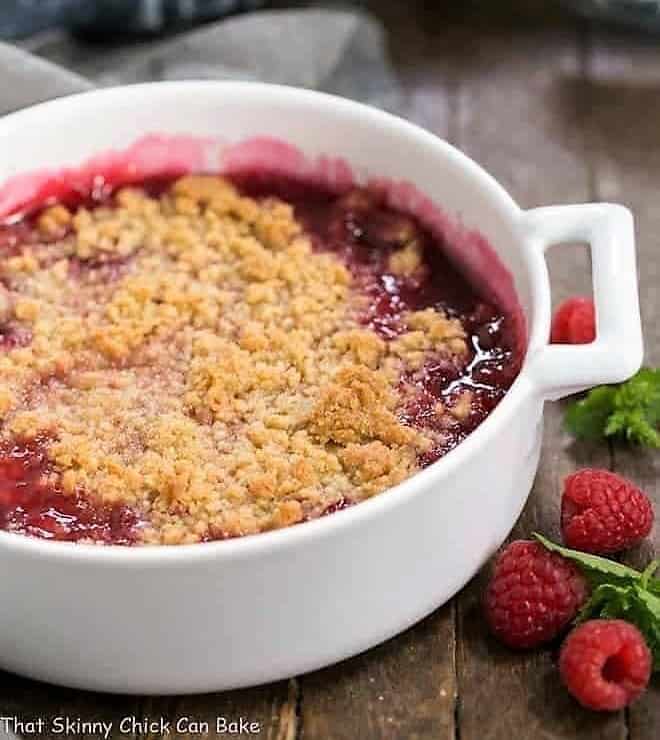 Expert Tips
I have not tested this recipe with frozen berries, but I'm sure it can be done. You will not even need to defrost the berries, just mix the frozen berries with the sugar and cornstarch mixture. The frozen berries will be juicier, so you may need to increase the cornstarch.
PRO-Tip: Again, make sure the middle of the crisp is bubbling to ensure that the juices thicken properly. Cornstarch will not thicken unless the mixture boils.
Select your fresh berries carefully. Look for plump, fragrant berries that have a bit of a sheen versus a dull finish. Look at the bottom of the package for moldy berries as they can go bad quickly.
The crisp topping gets less and less crisp as it sits. PRO-Tip: Therefore, this fresh raspberry crisp is best on the day it's baked. But my family will still eat leftovers days later.
Serve your warm crisp with a dollop of sweetened whipped cream or a scoop of vanilla ice cream. It's a heavenly combination!
Frequently Asked Questions
How Should You Store a Fruit Crisp or Crumble?
It will keep well at room temperature for up to 3 days. Just cover with plastic wrap or foil. Note that the topping will soften from sitting on top of the juicy filling. A few minutes under the broiler, watching carefully, will help re-crisp the topping.
How Do you Reheat a Crisp Recipe?
Pop it in a 350-degree oven for 12-15 minutes. This will also re-crisp the topping to a degree. If you're just reheating and not needing the topping revived, a short stint in the microwave will do the trick.
How Do You Extend the Life of Fresh Raspberries?
Because most raspberries have a few mold spores on them when they come from the market, they'll develop mold within a few days. Store them in their plastic shells or in a shallow bowl and remove any mushy berries.

To be proactive against mold development, rinse the raspberries in a mixture of 8 cups of water and 1 cup of vinegar. Of course, you can cut this in half for a small number of berries. Let dry completely before putting them in the refrigerator.
You May Also Like:
Stay in touch through social media @ Instagram, Facebook, and Pinterest. Don't forget to tag me when you try one of my recipes! And if you love the results, please give it a 5-star rating in the recipe card. Note: As an Amazon Associate, I earn from qualifying purchases. Visit my Amazon Store for my favorite products.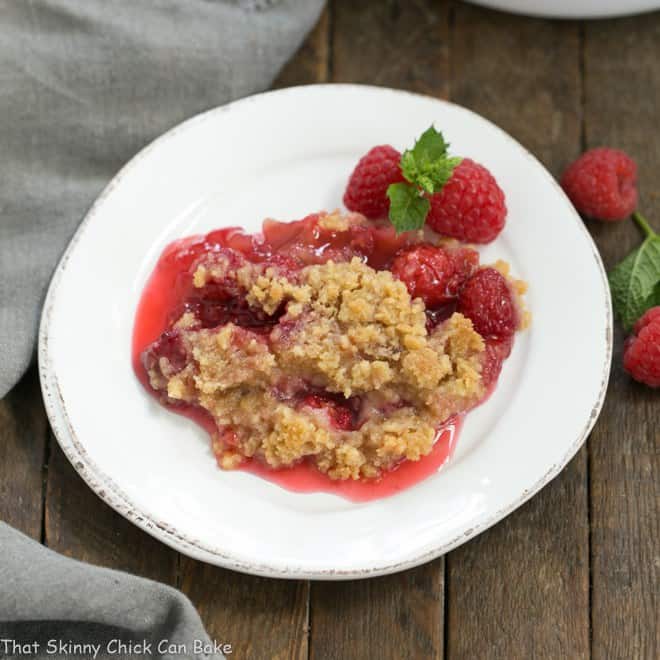 The Recipe:
Fresh Raspberry Crisp
Prep Time 15 minutes
Cook Time 45 minutes
Total Time 1 hour
Yield 6 servings
An easy summer berry dessert that will knock your socks off!
Ingredients
Filling:
5 cups fresh raspberries
5 tablespoons cornstarch
¾ cup sugar
Topping:
½ cup flour
¼ cup brown sugar
¼ cup butter, cut into cubes
Instructions
Preheat oven to 350 degrees.
Spray a 9 x 9-inch baking pan with non-stick spray. Set aside.
Add raspberries to a large bowl followed by sugar and cornstarch. Toss to combine, then add berries to the baking dish and distribute the sugar/cornstarch mixture that's left in the bowl over the fruit.
Make the topping by mixing the flour and brown sugar together in a medium bowl. Cut in the flour using a pastry blender, two knives or your fingers, until the butter is well distributed. Then pinch and squeeze the topping mixture with your fingers to make nice crumbs.
Sprinkle the crumbs over the berries.
Bake for 35-45 minutes or longer, until the middle of the crisp is bubbling.
Serve warm with a scoop of vanilla ice cream or sweetened whipped cream.
Notes
Feel free to use a bigger or smaller baking dish, just adjust the time as a larger dish won't take as long to bake.
I haven't tested this with frozen berries, but I would imagine this would take some extra cornstarch to ensure a thickened filling.
Recommended Products
As an Amazon Associate and member of other affiliate programs, I earn from qualifying purchases.
Nutrition Information:
Yield:
6
Serving Size:
1
Amount Per Serving:
Calories: 310
Total Fat: 8g
Saturated Fat: 5g
Trans Fat: 0g
Unsaturated Fat: 3g
Cholesterol: 20mg
Sodium: 65mg
Carbohydrates: 59g
Fiber: 7g
Sugar: 37g
Protein: 2g
Note: This post may contain affiliate links; view
my Disclosure Policy
for details. I earn a small percentage from any purchase you make by clicking on these links at no extra cost to you.