The Best Lemon Bars Recipe
This is the BEST Lemon Bars Recipe with a buttery shortbread crust and a thick, luscious layer of citrus custard. These Lemon Squares make a sublime treat!
Lemon bars are a popular dessert that is easy to make, but these are the best, bar none. These Easy Lemon Bars are always a hit! These have the perfect ratio of creamy, flavorful lemon filling and tender crust.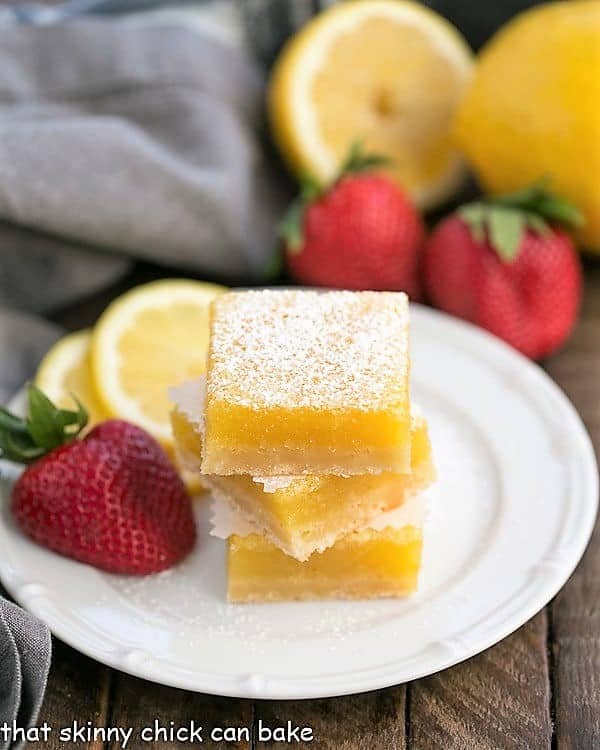 Why You Must Make
This lemon bars recipe with a shortbread crust and sweet-tart lemon custard topping is a classic treat.
Not everyone is a chocoholic, so having a few recipes with lemon is great for your dessert repertoire.
These lemon squares are easy to make and are absolutely delicious!
Ingredient Notes:
Kitchen Staples: flour, sugar, salt, eggs
Butter – Do not use margarine, butter provides better flavor. I used salted butter.
Fresh Lemons – For lemon juice and zest – Never use bottled lemon juice as the flavor is inferior.
Powdered Sugar – Sift before using to remove lumps.
Strawberries – Optional garnish if making for company.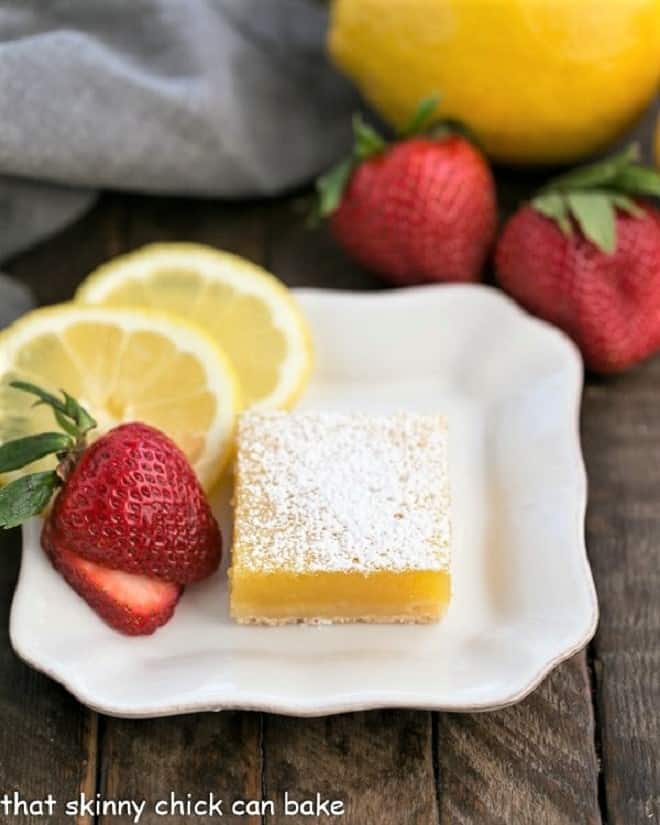 How to Make
Expert Tips:
First, buy fresh lemons. You will need ½ cup of fresh juice. Each average lemon will provide approximately 2 tablespoons of lemon juice, so you will need at least 4 lemons. I'd buy one extra to be safe as there is a wide variation in sizes and juice production!
PRO-Tip: Zest your lemons before juicing. Once they're juiced, it's more of a challenge to zest.
PRO-Tip: There are a couple of ways to get the maximum juice out of a lemon. First, you can roll the lemon back and forth on the counter with the palm of your hand to help break up the fibers. Also, microwaving the whole lemon for about 20 seconds may help get additional juice as well!
Use the food processor to make the shortbread crust. It is quicker than cutting the butter in by hand, plus makes a tender crust.
Par baking the crust first provides a barrier to the lemon filling plus ensures the crust will finish baking at the same time as the topping.
Making a lemon filling instead of a lemon curd provides a moister more flavorful burst of lemon.
Lining the baking dish with parchment or non-stick foil makes for easy removal and pan cleanup!
Let the bars cool completely before cutting to get the cleanest-looking squares. Chilling them also makes for cleaner slices.
Dust with powdered sugar before serving for a nice finished appearance. If you do this ahead of time, the sugar will melt and absorb into the bars.
Frequently Asked Questions
What Makes This Lemon Squares Recipe the BEST?
Starting from the bottom up, these bars begin with a simple, buttery shortbread crust. Nothing funky, just 3 ingredients pulsed in the food processor to make a perfect base.

Next, the combination of both lemon juice and lemon zest gives a bold citrus flavor. Note that fresh juice and zest are a must. None of the jarred lemon juice or off-the-rack dried lemon zest.

Adding flour to the lemon mixture thickens the filling perfectly without compromising the texture.
Having the perfect ratio of crust to filling is key, too. You need just enough crust so you can pick up these bars with your fingers as needed and a thicker layer of lemon custard to give you that zesty lemon flavor you love!
How Do You Slice Lemon Bars?
For the cleanest slices, chill your bars first. Then use a warm knife (run under hot water, then dry it) to help the knife glide through the bars easily.

Lining the baking pan with non-stick foil or parchment allows you to easily remove a whole batch to a cutting board for easier slicing.

If you want all the bars to be the same size, use a ruler to make marks at 2-inch intervals along each side to guide you.
How Should You Store Lemon Bars?
They can be stored on the countertop at room temperature for a day or so, but to extend their lifespan, it's best to refrigerate them. They will be good for 4-5 days kept in the fridge.
Why Didn't My Lemon Bars Set?
If they're underbaked, your lemon custard will not set. And to get your bars firmer, store them in the refrigerator.
You May Also Like:
There is no doubt that chocolate is the gold standard for decadent desserts at our house. Fruit pies rate near the top, too. Though he snubs lime sweets, the hubby always raves when I whip up a lemon dessert. Lemon bars are the easiest way to experience the sweet-tart nirvana of a lemon dessert! And just to feel virtuous, top each with half a ripe strawberry! Double the fruit for a nice dose of vitamin C. This Best Lemon Squares Recipe is a must make!!!
The Recipe:
The Best Lemon Bars Recipe
Prep Time 20 minutes
Cook Time 50 minutes
Total Time 1 hour 10 minutes
Yield 16 bars
Luscious lemon bars with a shortbread crust.
Ingredients
Crust:
1 cup flour
¼ cup sugar
½ cup butter cold butter, diced
Lemon topping:
3 eggs
1 ½ cups sugar
1/2 cup fresh lemon juice
1 tablespoon lemon zest
½ cup flour, sifted
⅛ teaspoon salt
Garnish:
Powdered Sugar
Fresh strawberries, cut in half, optional
Instructions
Preheat oven to 350º. Line an 8 x 8-inch pan with non-stick foil or line it with parchment paper. Set aside.
In a food processor, pulse the crust ingredients until the butter is in very small pieces. Press into the bottom of the prepared pan and bake for about 15 minutes or until the crust just starts to brown. Cool completely.
To make the filling, whisk together eggs, sugar, lemon juice, zest, flour, and salt.
Pour over the cooled crust.
Bake for 30-35 more minutes or until the topping is firm and lightly browned.
Cool, then cut a sliver off all sides before sprinkling with powdered sugar and cutting into bars. Garnish with berries if desired.
Notes
You may double the recipe and bake in a 9 x 13-inch pan or triple and bake in a jelly roll pan.
Make sure to zest your lemons before you juice them. It's very difficult to zest a juiced lemon.
Recipe adapted from Ina Garten
Recommended Products
As an Amazon Associate and member of other affiliate programs, I earn from qualifying purchases.
Nutrition Information:
Yield:
16
Serving Size:
1 bar
Amount Per Serving:
Calories: 229
Total Fat: 8g
Saturated Fat: 4g
Trans Fat: 0g
Unsaturated Fat: 3g
Cholesterol: 52mg
Sodium: 81mg
Carbohydrates: 39g
Fiber: 0g
Sugar: 29g
Protein: 3g
Note: This post may contain affiliate links; view
my Disclosure Policy
for details. I earn a small percentage from any purchase you make by clicking on these links at no extra cost to you.