M&M Brownie Cookies
M&M brownie cookies are soft chocolate cookies, full of M&M candies. This recipe is perfect to make with leftover Halloween candy!
This Recipe for M&M Cookies is a family favorite. It combines their love of fudgy cookies and their M&M addiction!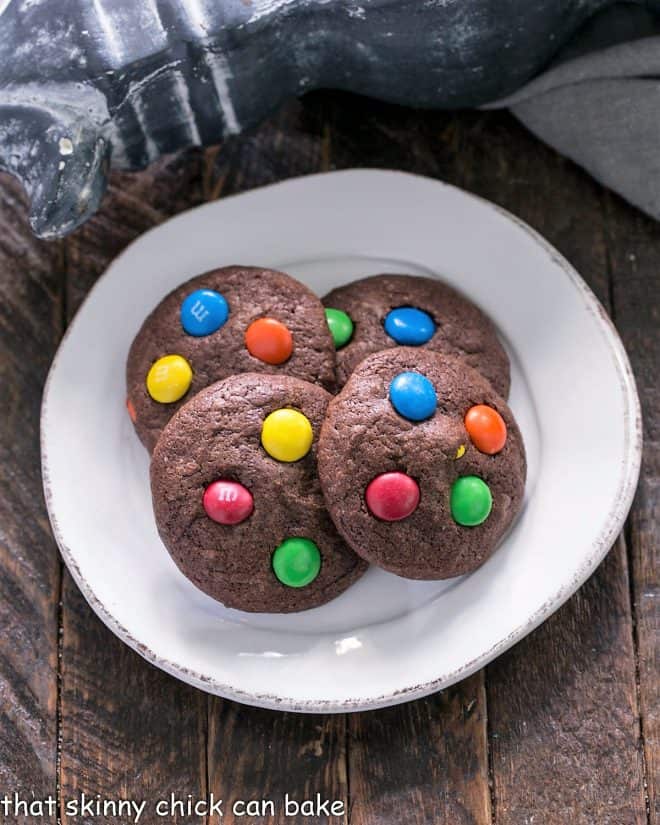 Why You Should Make these Cookies
These are perfect for leftover Halloween candy!!
They're not as messy as brownies so perfect for lunchboxes and snacks.
You can swapp out the M&Ms for any seasonal version to make holiday cookies!
We get oodles of trick or treaters at our door. I love to buy a variety of full-sized candy bars…and when my kids were little, I let them select one for themselves before the doorbell started ringing. Katie and Tom would choose Reese's Peanut Butter Cups and Nick was more likely to pick Skittles.
The hubby, my 4th kid, liked to confiscate some M&M's or 3 Musketeers Bars. And I liked to set aside some of the candy that works well in cookies, and here's where I reach for the M&M's, too.
Frequently Asked Questions
Why Is My Cookie Dough Loose and Runny?
This happens when the butter and chocolate are still too warm. Let the dough rest until it's thick enough to scoop out nice mounds of dough with a cookie disher.
What Can I Use Instead of M&Ms?
The original recipe used semisweet chocolate chips, so that's an easy alternative. White chocolate, bittersweet chocolate, mint chips, etc. will also work well.
How Do I Make Nice Round Cookies?
I have a few tips:
Hold back some of the M&Ms as too many will make it hard to get nice dough balls.
Use a cookie disher for even sized cookies.
With a damp finger, gently tap the dough mounds so they are nicely rounded.
After the cookies come out of the oven, while hot and pliable, use your spatula to tap the baked cookies into nice rounds. If the cookies are sticking to the spatula, spray it with a non-stick cooking spray like Pam
What to Do with Leftover Halloween Candy
At Easter, the white chocolate egg-shaped M&M's go into brown butter M&M cookies, but at Halloween, I think brownie cookies dotted with classic M&M's are perfect for my own goblins. A combination of white and dark chocolate chips works well in these brownies in cookie form, too. No matter which option you chose, these M&M Brownie Cookies will definitely be a crowd-pleaser. These chewy Classic M & M Cookies are also winners!
Helpful Tools:
More Candy Filled Cookies You'll Love:
Tip of the Day: When making M&M cookies, reserve a few to add to the top of the cookies immediately after they come out of the oven for a prettier presentation.
This recipe was first shared in October, 2013. Photos and text were updated in 2021.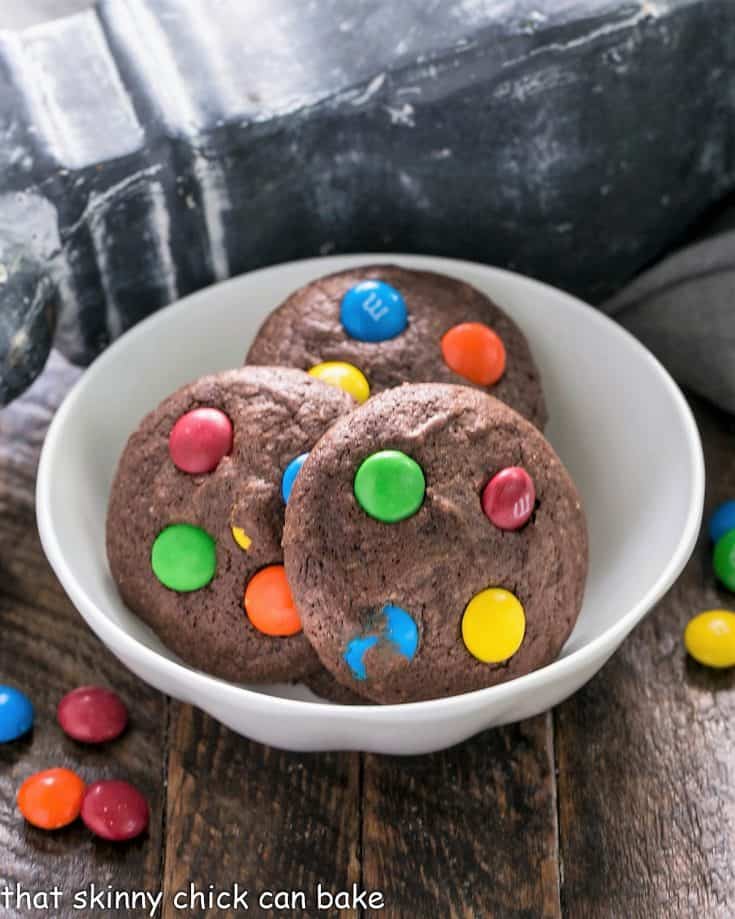 The Recipe:
M&M Brownie Cookies
Prep Time 20 minutes
Cook Time 10 minutes
Total Time 30 minutes
Yield 36 cookies
M&M brownie cookies are soft chocolate cookies, full of M&M's candies.
Ingredients
6 ounces unsweetened chocolate, chopped
1/2 cup butter
1 3/4 cups sugar
4 large eggs
1 teaspoon vanilla
1 1/4 cups flour
1 1/2 cups M&M's (plus more to garnish)
Instructions
Preheat oven to 350º.
Melt the chocolate and butter in a microwave safe bowl, starting with 60 seconds, stirring, then heating and stirring in 30 second increments until smooth.
Add sugar; mix well. Add the eggs and mix until combined. Add the vanilla.
Add the flour and mix until incorporated. Add the M&M's and mix until well distributed.
Drop by rounded tablespoons onto parchment lined cookie sheet. Bake for 10 minutes. The centers should still look underbaked. If desired, immediately press a few M&M's into hot cookies to garnish. Cool on the pan for 10 minutes before removing to cooling rack.
Notes
Adapted from recipe by Caprial Pence.
Nutrition Information:
Yield:
36
Serving Size:
1 cookie
Amount Per Serving:
Calories: 4127
Total Fat: 202g
Saturated Fat: 120g
Trans Fat: 4g
Cholesterol: 991mg
Sodium: 344mg
Carbohydrates: 520g
Fiber: 32g
Sugar: 353g
Protein: 67g
Note: This post may contain affiliate links; view
my Disclosure Policy
for details. I earn a small percentage from any purchase you make by clicking on these links at no extra cost to you.