Classic Monster Cookies
When oatmeal and peanut butter cookies collide with M&M's, chocolate chips and walnuts, the result is a batch of chewy, irresistible Classic Monster Cookies!
I've loved these Peanut Butter Oatmeal Cookies since my mom used to bake up a huge batch back in the 1970's. She made a large version, about 1/4 cup of dough per cookie; no wonder they were called monster cookies!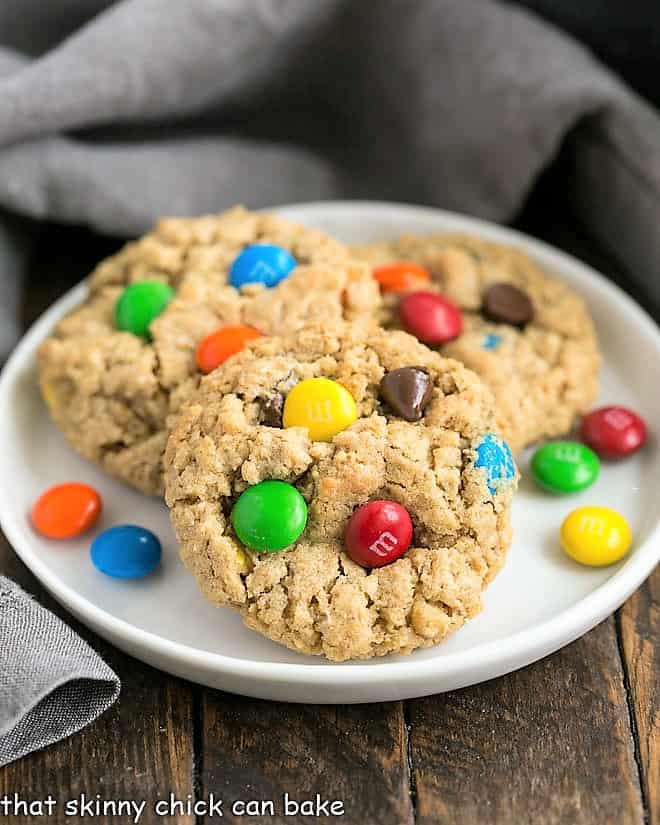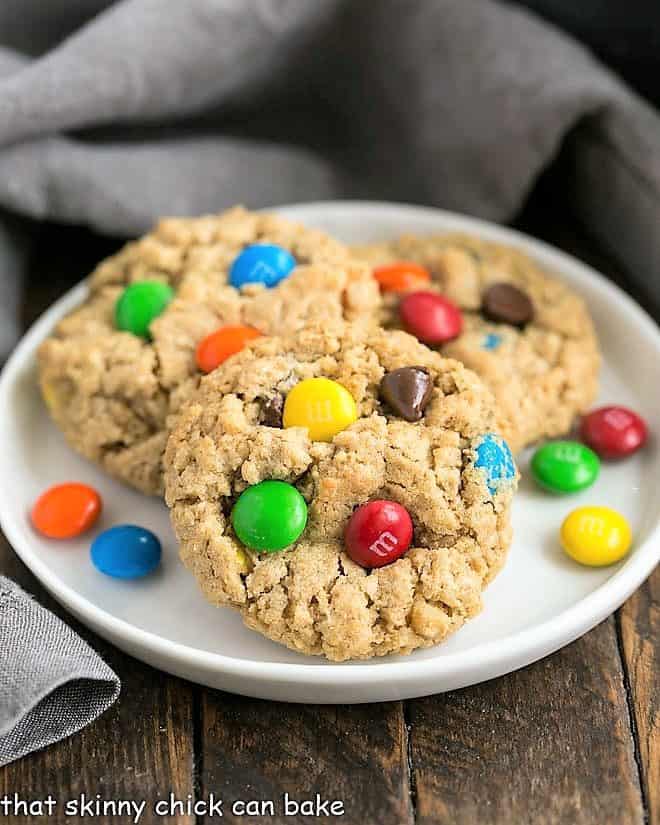 Classic Monster Cookies
I have memories of eating these loaded peanut butter oatmeal cookies right out of the freezer when I was a teenager. Apparently, I haven't matured much since then! My mom's classic monster cookie recipe called for 12 eggs, a pound of butter and 18 cups of oatmeal. Scaling down her recipe is a must!
Why Are These Called Monster Cookies?
These monster cookies were new on the scene when my mom first baked up that humongous batch using a dozen eggs way back in the 1970s. Her recipe card called for 1/4 cup of dough per cookie. If those aren't monster-sized cookies, I don't know what are!
Another plausible explanation is that they are a mishmash of recipes just like Frankenstein was a mashup of a monster! I'm not certain there is a definitive answer. I just know that I loved these peanut butter oatmeal cookies from my first bite!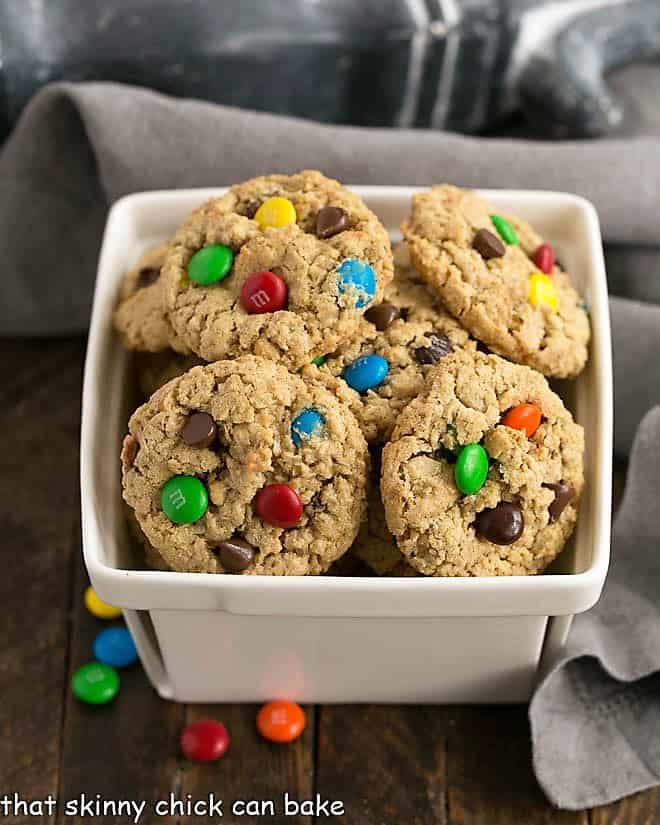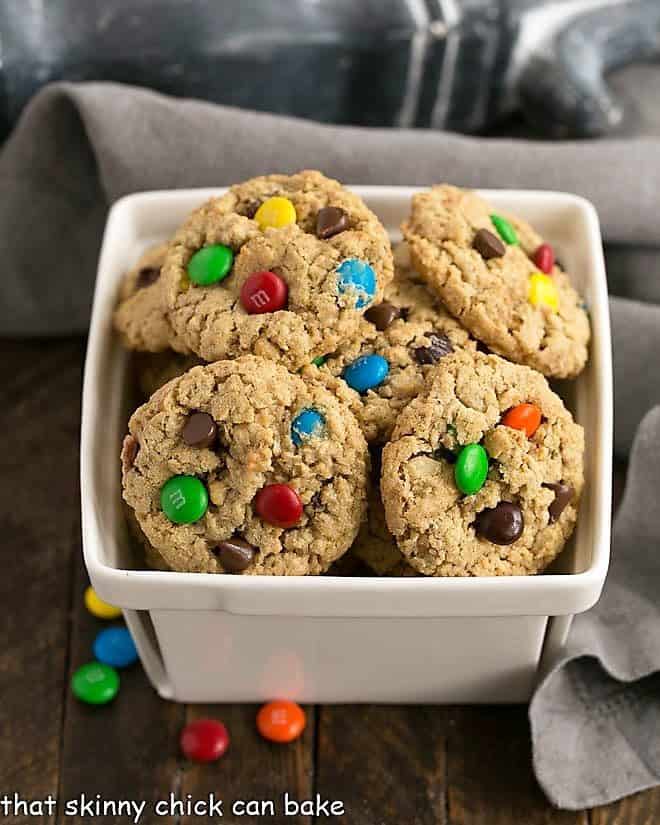 Tips for Making Monster Cookies
These yummy cookies are a perfect way to get your peanut butter chocolate fix. They freeze great, so don't worry about the large number a batch makes. Plus you can shake them up for the holidays by using seasonal M&M's as I did with these Patriotic Monster Cookies.
Here are a few tips on How to Make Monster Cookies:
This is just half of my mom's recipe that used 12 eggs and so on. You can easily double it, if you're feeding a large group, but it also cuts in half perfectly if you'd rather make a reasonably sized batch of 3 dozen cookies.
Use quick oats instead of old fashioned oats. The thinner flakes work better in these loaded cookies. Do not use Instant Oats as they are too fragile.

As mentioned, you can make these peanut butter oatmeal cookies with either 1 1/2 tablespoons of cookie dough or 1/4 cup of cookie dough per cookie. Just adjust the baking time.
Do not over-bake these cookies. I like them a wee bit underdone so they're still chewy.

PRO-Tip: When measuring out sticky ingredients like peanut butter, honey and corn syrup, spray your measuring cup with non-stick spray and they will slide right out! Game changer!!
I like using a cookie scoop so that all the cookies are the same size. If dough starts sticking in the scoop, just clean it and continue.

PRO Tip: Often, even when using a cookie scoop, cookies will not bake up into perfect rounds. If this bothers you, take your spatula and tap them into shape when they're hot and fresh out of the oven.
PRO Tip: Another trick to make these bakery shop worthy is to reserve a few M&M's and chocolate chips to press into the hot cookies to garnish.

To freeze, I like to place the cooled cookies in a gallon sized Ziploc freezer bag, remove as much air as possible, then place in the freezer. They can also be layered between sheets of parchment in a covered, airtight container.
Generally, cookies can be frozen up to three months, but I'm sure I've eaten cookies older than that from my freezer!
More Peanut Butter Treats You'll Love:
Reese's Rice Krispie Treats are an amped-up version of another childhood favorite. Dorie Greenspan's Classic Peanut Butter Cookies are divine, as is this Tagalong Dip! If you're looking for a dinner party dessert, I'd recommend either this Peanut Butter Chocolate Mousse Cake or this luscious Chocolate Peanut Butter Pie.
If you'd like to try making your own peanut butter, try Texan Erin's detailed recipe. Or how about this Snickers Peanut Butter Brownie Ice Cream Cake from Life Love and Sugar???
Note: This recipe was originally posted in August 2010. The text and photos were updated in 2019.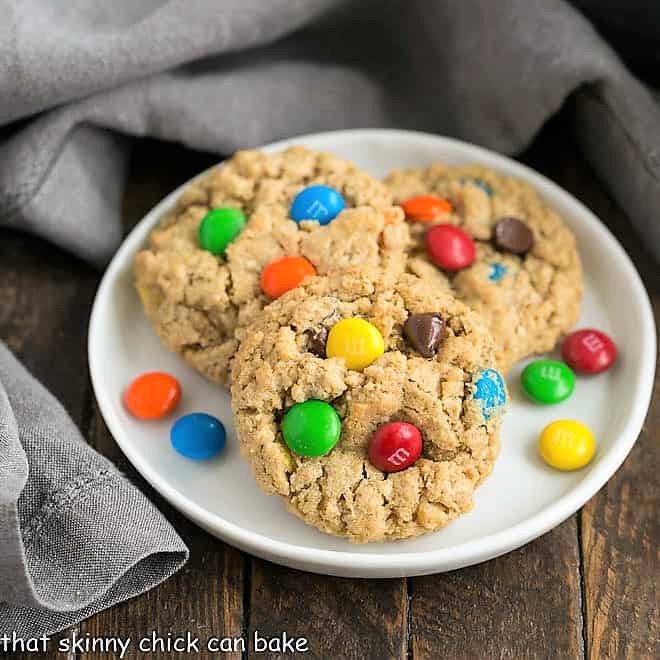 The Recipe:
Classic Monster Cookies
Prep Time 15 minutes
Cook Time 12 minutes
Total Time 27 minutes
Yield 6 dozen
Loaded, chewy peanut butter oatmeal cookies
Ingredients
1/2 cup of salted butter, at room temperature
2 1/4 cups brown sugar
2 cups sugar
6 eggs
2 tablespoons vanilla
2 2/3 cups peanut butter
4 teaspoons baking soda
9 cups quick oats
1+ cup chocolate chips
1 cup chopped walnuts
1/2  pound M&Ms, plus more to garnish
Instructions
Preheat the oven to 350º. Line baking sheets with parchment paper and set aside
Blend butter and sugars. Mix in eggs, then add vanilla and peanut butter.
Mix in soda, then oats, chocolate chips, walnuts, and M&Ms.
Scoop out rounded tablespoons of dough and place them onto a parchment-lined cookie sheet. Bake for 10-12 minutes. See the note below if you want to make larger cookies. Cool on rack.
Notes
The original recipe calls for 1/4 cup dough balls to be baked for 20 minutes if you really want MONSTER cookies.
I like to press a few M&M's into the tops of the cookies as soon as they come out of the oven for a prettier presentation.
Recipe can easily be cut in half if you want to make 3 dozen instead of 6.
2 cookies = 1 serving if you're checking the nutritional info below.
Nutrition Information:
Yield:
36
Serving Size:
2 cookies
Amount Per Serving:
Calories: 374
Total Fat: 19g
Saturated Fat: 6g
Trans Fat: 0g
Unsaturated Fat: 11g
Cholesterol: 39mg
Sodium: 316mg
Carbohydrates: 46g
Fiber: 3g
Sugar: 31g
Protein: 8g
Note: This post may contain affiliate links; view
my Disclosure Policy
for details. I earn a small percentage from any purchase you make by clicking on these links at no extra cost to you.