Chocolate Peanut Butter Pie
A delicious night out at an upscale restaurant inspired me to make this incredibly decadent Chocolate Peanut Butter Pie. Though I was too stuffed to order it, I knew I wanted to recreate their chocolate peanut butter pie at home!
This Frozen Peanut Butter Pie was extraordinary! With a chocolate cookie crust, thick and creamy layer of peanut butter mousse, and a rich chocolate ganache topping, it was an exquisite dessert for any lover of the chocolate and peanut butter combo!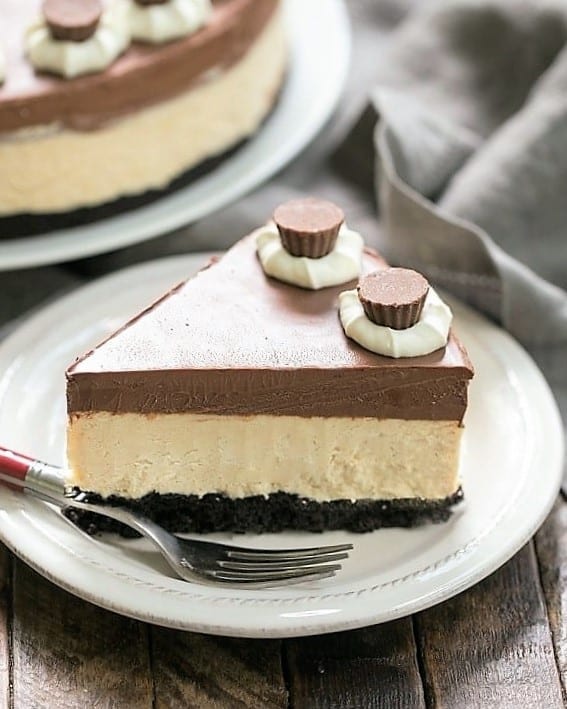 Why You Must Make
It's frozen, so it's a perfect summer dessert!!
Plus, since it's frozen, it can easily be made ahead. Such a perk when you're having company for dinner!
If you love the chocolate and peanut butter combo (Hello, Reese's!!), you'll adore this peanut butter pie.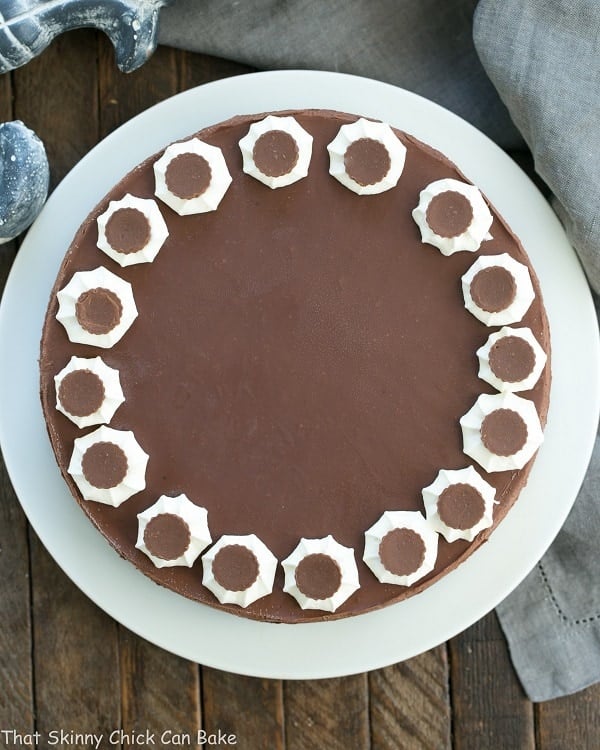 Expert Tips
Instead of dividing this chocolate peanut butter pie recipe into 6 ring molds as the original Ocean Prime recipe suggests, I took a leap of faith and made it in a 9-inch springform pan.
Most kitchens are not equipped with ring molds or mini-cheesecake pans, the latter being which I was planning to utilize.
Since I was having 10 over for dinner on the 4th of July this year, I figured one big pie would be easier to divvy up. My fingers and toes were crossed in hopes that it would not flop!! I was delighted that it was the best peanut butter pie recipe I've made to date! It got rave reviews from our friends!
Use an offset spatula to spread each layer, aiming to keep them smooth and level.
For special occasions, garnish the perimeter with swirls of whipped cream, then top each with a mini peanut butter cup.
Frequently Asked Questions
How Do You Make A Peanut Butter Pie?
Almost all pies have a crust and a filling. Instead of a pastry crust, this peanut butter pie has a cookie crust made from Chocolate Wafers. Next, there must be a peanut butter filling. In this case, it's a peanut butter mousse. Toppings will vary from a ganache to chocolate peanut butter candies to plain old sweetened whipped cream. Usually, a peanut butter pie is chilled (or frozen) before serving.
How Do You Store a Peanut Butter Pie?
Most peanut butter pies need to be covered with plastic wrap and refrigerated (or in this case, frozen) before serving. Leftovers should be returned to the refrigerator or freezer for storage.
Can You Freeze a Peanut Butter Pie?
Yes, many can be frozen, including this recipe. If well wrapped it will keep for up to 3 months. Wrap well in plastic wrap, then foil so that it's airtight.
Defrost overnight in the refrigerator to serve.
You May Also Like:
Stay in touch through social media @ Instagram, Facebook, and Pinterest. Don't forget to tag me when you try one of my recipes! And if you love the results, please give it a 5-star rating in the recipe card. Note: As an Amazon Associate, I earn from qualifying purchases. Visit my Amazon Store for my favorite products.
The Recipe:
Chocolate Peanut Butter Pie
Prep Time 40 minutes
Cook Time 10 minutes
Total Time 50 minutes
Yield 12 servings
A decadent Chocolate Peanut Butter Pie inspired by a wonderful meal at Ocean Prime, Indianapolis.
Ingredients
Oreo Crust:
2 cups chocolate wafer crumbs (I use Nabisco Famous Wafers) or boxed Oreo crumbs
1/2 cup peanut butter
Peanut Butter Mousse:
4 ounces cream cheese, at room temperature
3/4 cups powdered sugar
1 cup peanut butter
2 cups heavy cream, whipped
Ganache:
8 ounces semi-sweet chocolate, finely chopped
1 1/4 cups heavy cream
Whipped cream and mini peanut butter cups, to garnish, optional
Instructions
Preheat oven to 350 degrees.
Process the chocolate wafer cookies in a food processor until very fine and measure out 2 cups. Add peanut butter and pulse until combined.
Press crumbs into the bottom of a 9-inch springform pan.
Bake for 10 minutes, then remove to rack and cool completely.
To make the mousse, beat cream cheese, peanut butter, and powdered sugar in a stand mixer with the paddle attachment until smooth.
Then increase speed to medium-high and mix well to make sure the mixture is homogeneous.
Add about ⅓ of the well-whipped cream to the peanut butter mixture and mix on low until combined.
Remove mixing bowl from mixer and gently fold in half the remaining whipped cream and then, when that is incorporated, fold in the rest.
Pour the mousse over the crust and smooth the top with an offset spatula. Freeze until firm, about 4 hours.
Make the ganache by placing the chopped chocolate in a heat-proof bowl. In a microwave-safe Pyrex mixing cup, microwave the cream until just short of boiling.
Pour over the chocolate and let sit for 3-4 minutes. Whisk until smooth.
Cool for about 5 minutes, then pour over the mousse.
Return pie to the freezer.
To serve, the pie must be removed from the freezer to the refrigerator for a couple of hours before serving to allow to defrost.
Slice and add a dollop of whipped cream and some mini-peanut butter cups to garnish, if desired.
Notes
This is a great make-ahead dessert!
Recommended Products
As an Amazon Associate and member of other affiliate programs, I earn from qualifying purchases.
Nutrition Information:
Yield:
12
Serving Size:
1 slice
Amount Per Serving:
Calories: 676
Total Fat: 52g
Saturated Fat: 24g
Trans Fat: 1g
Unsaturated Fat: 23g
Cholesterol: 83mg
Sodium: 340mg
Carbohydrates: 48g
Fiber: 4g
Sugar: 31g
Protein: 12g
The hubby does not appreciate a good peanut butter dessert, but I had one of those cravings and had to make this decadent Chocolate Peanut Butter Pie. I could happily indulge in any of these chocolate-peanut butter desserts. Even before Reese's peanut butter cups were at every checkout counter, my mom was making Buckeyes AKA Peanut Butter Bon Bons.
Back in the day, the chocolate was fortified with paraffin wax to give it a nice sheen (or at least my mom's recipe was!). We loved when she got the same craving! My sisters and I did not give a hoot that this candle-making ingredient was in our treats! We devoured these confections.
But fast forward a few decades and we have a house divided. The hubby and youngest son would snub this dessert, so I waited until we were having friends over for a holiday cookout before attempting this dreamy Chocolate Peanut Butter Pie recipe!
Note: This post may contain affiliate links; view
my Disclosure Policy
for details. I earn a small percentage from any purchase you make by clicking on these links at no extra cost to you.