Brown Butter M&M Cookies
Brown Butter M&M Cookies are chewy, buttery, and a most versatile treat. Whether for a holiday picnic, college care package or an after-school snack, there will be no complaints when you fill your cookie jar with these M&M studded cookies!
This M and M Cookies Recipe has a simple twist that increases the caramel undertones and makes these cookies impossible to resist!
Why You Must Make Brown Butter Cookies
The addition of brown butter adds subtle nutty undertones!
Dark brown sugar adds a rich caramel flavor.
These cookies are packed full of mini M&Ms and garnished with regular M&Ms!!!
On the day before we were to move Nick to college, I realized I had no homemade goodies to send along with him. Bad mama. Bad food blogger. I opened up my pantry and saw a partial bag of mini-M&M's and thought back to these Brown Butter Easter Cookies made with white chocolate M&M's. I love this base cookie with the slightly nutty flavor of browned butter and the touch of molasses from the dark brown sugar….mmmmm.
Expert Tips :
Use caution when making brown butter so it doesn't burn.
PRO-Tip: Did you know you can make dark brown sugar at home? Just add a tablespoon of molasses to one cup of light brown sugar, mix, and it's ready to go!
Don't worry if the cookie dough looks a little greasy as it's just due to the melted butter.
Reserve some extra M&Ms to garnish the warm cookies when they're fresh out of the oven.
Store in an airtight container to keep them soft and chewy.
Shake up the recipe by using other varieties of M&Ms: peanut butter, caramel, pretzel, milk chocolate, etc.
Buy holiday colored M&Ms and make these cookies for Christmas, Easter, the 4th of July, and more!
Use two M&M cookies and a scoop of vanilla ice cream to make ice cream sandwiches!
How to Make Brown Butter
Making brown butter takes less than 10 minutes. Be sure to watch it carefully as it can go from browned to burnt very quickly.
Cut your butter into chunks.
Use a light-colored pan so you can observe the color change.
Warm the pan to melt the butter.
Stir frequently as the melted butter starts to bubble and foam. This is caused by the water in the butter evaporating.
Continue stirring as you see the milk solids (the little specks in the butter) start to color.
Remove from heat once the butter is browned to your desired color.
Be attentive to prevent burning.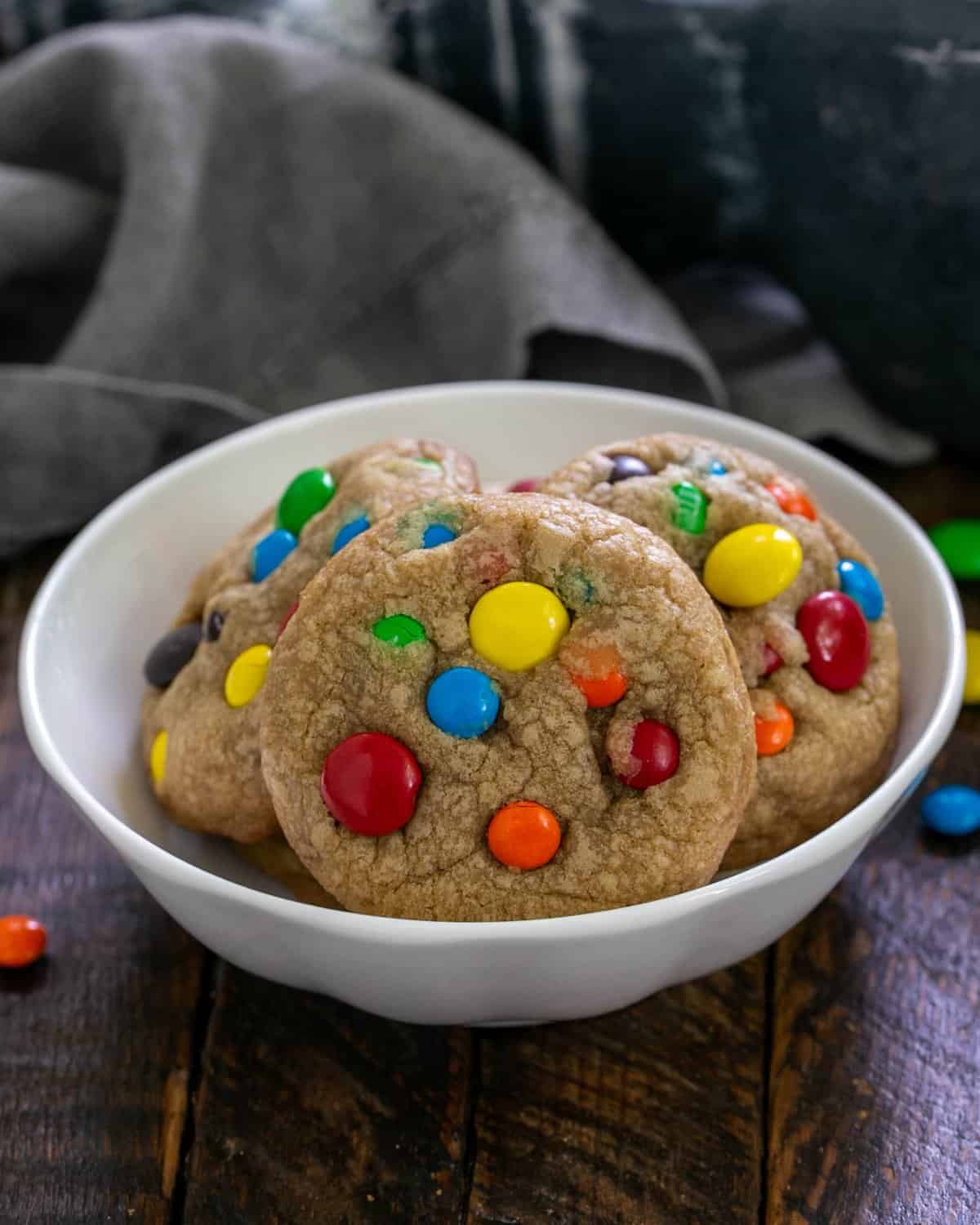 Frequently Asked Questions
What Is Brown Butter?
Brown butter, or beurre noisette, refers to butter that's cooked over low heat until it turns the color of  "light" hazelnuts (noisettes). The taste is transformed into a deep, nutty flavor and is irresistible in sauces, desserts, and more. If altering another cookie recipe, you should let the brown butter solidify since it probably was developed using unmelted butter.
What Does Brown Butter Do For Cookies?
Brown butter gives cookies a subtle nutty flavor with caramel undertones. It also complements the caramel flavor of the brown sugar in the recipe.
How Do You Make Bakery-Style Cookies?
Use a cookie scoop or cookie disher to make all the cookies the same size. Roll the dough between your palms to make them nice and round. Bake on parchment-lined baking sheets so they don't stick to the pan.
As soon as they come out of the oven, hold onto the pan with a hot pad, and with the other hand, use a spatula to tap the perimeters of any misshapen cookies to nudge them into nice rounds. Use leftover M&Ms to press into the top of the hot cookies to garnish.
How Do You Keep the M&Ms from Cracking?
The high heat in the oven is the culprit. It's nearly impossible to prevent all of the M&Ms from cracking, but when they're encased in dough, they'll likely stay whole. Just press fresh M&Ms into the cookies as they come out of the oven. This last-minute addition should not crack.
How Do You Store M & M Cookies?
Keep your freshly baked and cooled M & M Cookies in an airtight container for 3-4 days at room temperature. They can be frozen for up to 3 months. I like using a freezer-quality zip-topped bag and remove any excess air before freezing.
You May Also Like: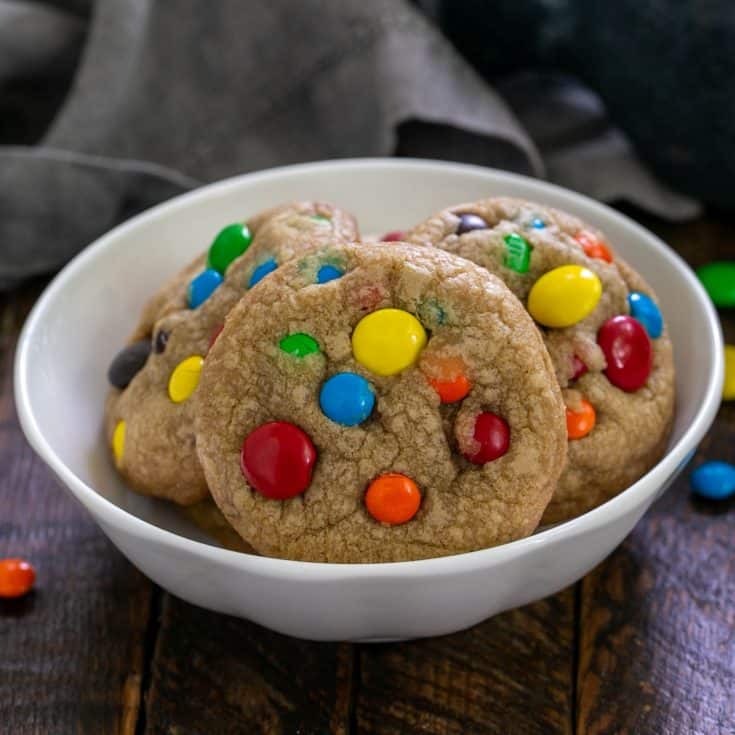 The Recipe:
Brown Butter M&M Cookies
Prep Time 20 minutes
Cook Time 10 minutes
Total Time 30 minutes
Yield 24
Brown Butter M&M Cookies are chewy and buttery with a double dose of caramel undertones from the dark brown sugar and browned butter.
Ingredients
Adapted from Cook's Illustrated
14 tablespoons butter
1/2 cup sugar
3/4 cup dark brown sugar
2 teaspoons vanilla
1 egg
1 egg yolk
1/2 teaspoon salt
1/2 teaspoon baking soda
1 3/4 cup flour
1 1/4 cups mini M&M's
1 3.14 ounce bag of M&M's, optional garnish
Instructions
Preheat the oven to 375º.
Melt 10 tablespoons of the butter in a saucepan over medium-high heat till melted. Continue cooking for a couple more minutes till butter is golden brown with a nutty fragrance.
Pour into a heatproof bowl, and add the remaining 4 tablespoons of butter. Stir till melted.
Add sugars, then vanilla. Mix in egg and egg yolk. Add baking soda, then flour, and mix till just combined. Add M&M's.
Use a medium cookie scoop to make dough balls. Roll between your palms to make nice dough balls, if desired.
Place about 2 inches apart on parchment-lined cookie sheets. Bake for 8-10 minutes or until the cookies are golden.
Press a few regular M&M's into warm cookies to garnish. Cool on rack.
Nutrition Information:
Yield:
24
Serving Size:
1 Cookie
Amount Per Serving:
Calories: 214
Total Fat: 11g
Saturated Fat: 6g
Trans Fat: 0g
Unsaturated Fat: 3g
Cholesterol: 35mg
Sodium: 138mg
Carbohydrates: 28g
Fiber: 1g
Sugar: 20g
Protein: 2g
Note: This post may contain affiliate links; view
my Disclosure Policy
for details. I earn a small percentage from any purchase you make by clicking on these links at no extra cost to you.