Cookie Dough Chocolate Truffles
Cookie Dough Chocolate Truffles are a much safer and more elegant option than just eating cookie dough from the bowl with a spoon! There are no raw eggs or flour!!
So go ahead and whip up a batch of these impossible to resist Cookie Dough Bites. They're a delicious, way to get your cookie dough fix.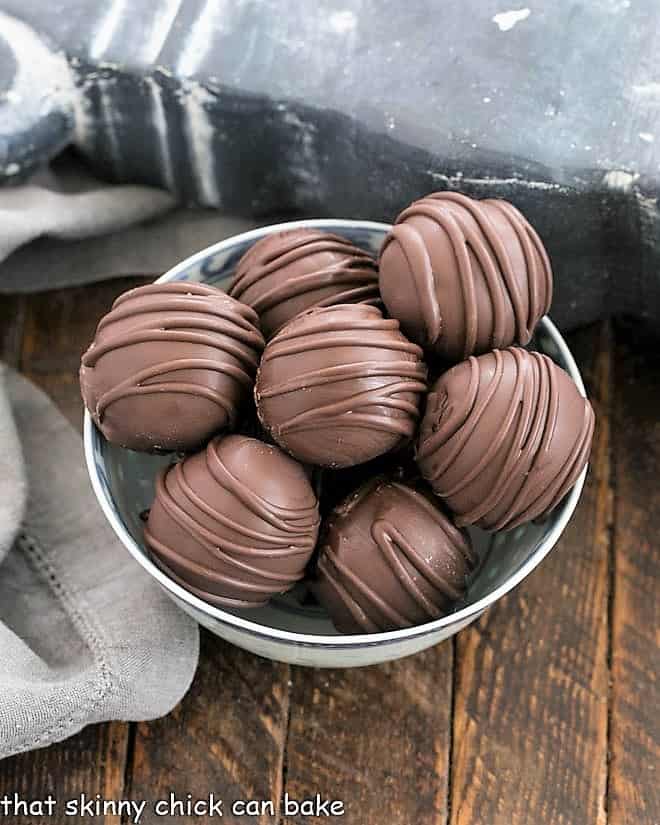 Why You'll Love these Cookie Dough Bites
Cookie dough. It's definitely my nemesis. I'm sure I wouldn't need to huff and puff on the treadmill each day if I could muster some self-control when mixing up a bowl of chocolate chip cookie dough! The hubby always gives me the look when he catches me nibbling raw dough straight from the bowl.
Salmonella, scramonella. With these egg-free cookie dough truffles, there is all the yumminess of cookie dough without any danger of food poisoning!
And thanks to Ghirardelli Melting Wafers, coating them is a breeze. No need to deal with tempering chocolate!
Both the white and dark versions are scrumptious. I was a truffle making maven this week, and I'll show you how to be one, too.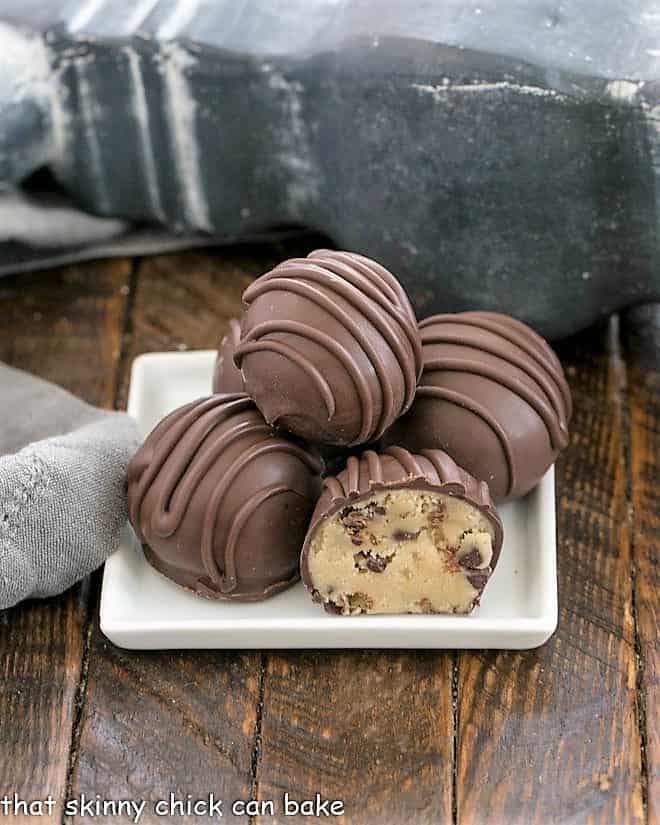 Recipe Tips
To make them safe for everyone to eat, make egg-free cookie dough. You may know that raw flour can also harbor bacteria. So I recommend heating your flour in the oven to kill any possible e-coli. Make sure you cool the flour before using it.
PRO-Tip: Spread your flour on a baking sheet and place it in a preheated 350º oven for 5 minutes. The flour should reach 160º which is hot enough to kill the bacteria.
These are no ordinary cookie dough truffles. Instead of regular butter, make brown butter, to give them an extra depth of flavor, plus a bit of nuttiness. This tweak makes them totally irresistible. Feel free to use regular butter if you don't have time for this extra step. They'll still be delicious.
Top each truffle with a drizzle of chocolate, more mini-chocolate chips, or even a few Heath bar toffee bits (the hubby eyed those like they were poison or something…sheesh). They are incredible unadorned as well.
Using melting wafers gives a nice smooth coating that won't "bloom" or develop a whitish coating after cooling like untempered melted chocolate.
The advantage of using Melting Wafers over pure chocolate is that you won't have to temper the wafers. Tempering is a tedious process that keeps the chocolate from blooming or getting a grayish cast as it cools. If you're a pro at tempering, go for it, but I use Ghirardelli Melting Wafers for an easy shortcut.
For white chocolate cookie dough truffles, just use white melting wafers instead of dark.
Tips for Dipping Truffles
It's really a challenge to make truffles look like they came from the Godiva truffle case! I've never had one that even came close, but here are a few tips to making the process less stressful.
I like melting my chocolate in the microwave. Just use the instructions on the package, usually melting slowly and gently, stopping and stirring, until the melts have melted.
Make sure you keep your melted chocolate on the warm side, especially if you're new to candy dipping. You can use a double boiler or if you have a warming tray, that works well, too.
Chill your dough balls. This will help keep them round when they're dipped into warm chocolate.
Rest a cookie dough ball on a fork, then lover it into the chocolate. Quickly spoon chocolate over any areas that are void of chocolate, then lift up and allow excess to drip into the bowl. Gently tap the fork with your hand to help encourage more of the extra chocolate to fall from the truffle.
There are special candy forks that have only 2 thin tines that work really well if you do a lot of candy dipping. PRO-Tip: Or you can break off the middle tines of a plastic fork for a homemade version.
When you're satisfied with your results, use a toothpick or offset spatula to gently push the truffle off the fork onto a parchment or wax paper-lined sheet pan. Note that any excess chocolate that puddles at the base can be cut away with a sharp knife once the chocolate hardens.
Let cool and then dive in!!
Frequently Asked Questions
How Do You Store Chocolate Truffles?
They should be stored in an airtight container. They're fine at room temperature for a day or so, but keeping them in the refrigerator for up to a week is best.
Can You Freeze Truffles?
Yes, these cookie dough bites freeze well for up to 3 months. If condensation develops on the chocolate while defrosting in the refrigerator, the coating could look spotty. They'd still be perfectly safe to eat.
Why Do You Cook The Flour?
Most everyone knows the chance of salmonella food poisoning from eating raw or undercooked eggs, but the danger of raw flour has come to light more recently. E-coli food poisoning has been linked to raw flour, so it's essential to heat your flour to a temperature that kills the bacteria if serving it uncooked.
This is especially important when serving these truffles to the very young, elderly or anyone who's immune-compromised. As noted above, heating to 160º will kill e-coli.
You May Also Like:
This recipe was first shared in October 2013. Photos and text were updated in 2021.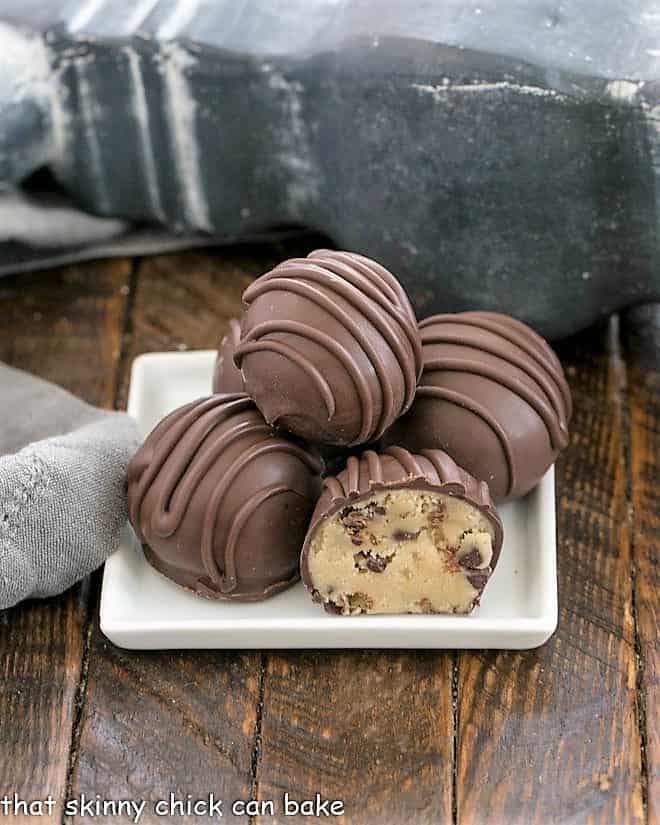 The Recipe:
Brown Butter Cookie Dough Truffles
Prep Time 30 minutes
Cook Time 5 minutes
Total Time 35 minutes
Yield 2 dozen
A decadent, irresistible homemade truffle filled with egg-free cookie dough. Inspired by Cooking Classy.
Ingredients
1 stick (8 tablespoons) butter, cut into chunks*
¾ cup brown sugar
¼ cup heavy cream
½ teaspoon vanilla extract
¼ teaspoon salt
1 cup plus 2 tablespoons flour*
½-¾ cup mini semi-sweet chocolate chips
12 ounces Ghirardelli Dark Melting Wafers
Crushed Heath bars or sprinkles to garnish, optional
Instructions
Brown butter in a saucepan till color changes and a "nutty" smell develops. Scrape into a heatproof bowl and chill till it solidifies.
Preheat oven to 350º and place the flour on a sheet pan. Bake for 5 minutes to kill any potential bacteria. Cool before proceeding.
Remove butter from the fridge. Add brown sugar, cream, vanilla, and salt and mix till well blended. Stir in flour, then mix in chocolate chips.
Scoop our tablespoonfuls of dough and place them on a parchment-lined baking sheet. Chill until firm. Then roll into balls between your palms.
Melt Ghirardelli Melting Wafers in a microwave-safe bowl according to package directions.
Dip in melted chocolate and sprinkle with crushed Heath bars or sprinkles if desired. Or drizzle with more melted chocolate once the coating chocolate exterior has solidified.
Store covered in the refrigerator.
Notes
You do not need to use brown butter. Feel free to substitute 8 tablespoons of regular butter and skip the browning step.
*The flour should be placed on a sheet pan and cooked in a 350º oven for 5 minutes to kill potential bacteria. Cool before using.
Recommended Products
As an Amazon Associate and member of other affiliate programs, I earn from qualifying purchases.
Nutrition Information:
Yield:
12
Serving Size:
2 truffles
Amount Per Serving:
Calories: 338
Total Fat: 18g
Saturated Fat: 10g
Trans Fat: 0g
Unsaturated Fat: 6g
Cholesterol: 10mg
Sodium: 78mg
Carbohydrates: 45g
Fiber: 3g
Sugar: 38g
Protein: 3g
Note: This post may contain affiliate links; view
my Disclosure Policy
for details. I earn a small percentage from any purchase you make by clicking on these links at no extra cost to you.