Easy Oreo Truffles
Easy Oreo Truffles are a rich, simple dessert and a crowd pleaser! Oreo Balls are perfect for ravenous college students or holiday gifts.
These No-Bake Oreo Balls are a breeze to prepare, using minimal ingredients plus there's no need to temper the chocolate to make the coating.
Oreo Truffles
I was never a fan of Oreo Truffles until I made them myself. They are an easy no-bake dessert recipe needing only 3 ingredients!
Nick came home from college with a request from one of his roomies: Oreo Balls. Well, sure, I could make those. I wasn't exactly thrilled since the ones I'd tasted in the past were unimpressive.
But I had the whole gang home for dinner the day I made these, and, boy, did they rave about these babies. I also made the Brown Butter Cookie Dough Truffles and tried to get a clear winner from the crew. They were fans of both no-bake dessert balls, one with a smoother, creamier filling, and the other with the yummy crunch of mini chocolate chips. If you're up for a challenge, try both and let me know your verdict.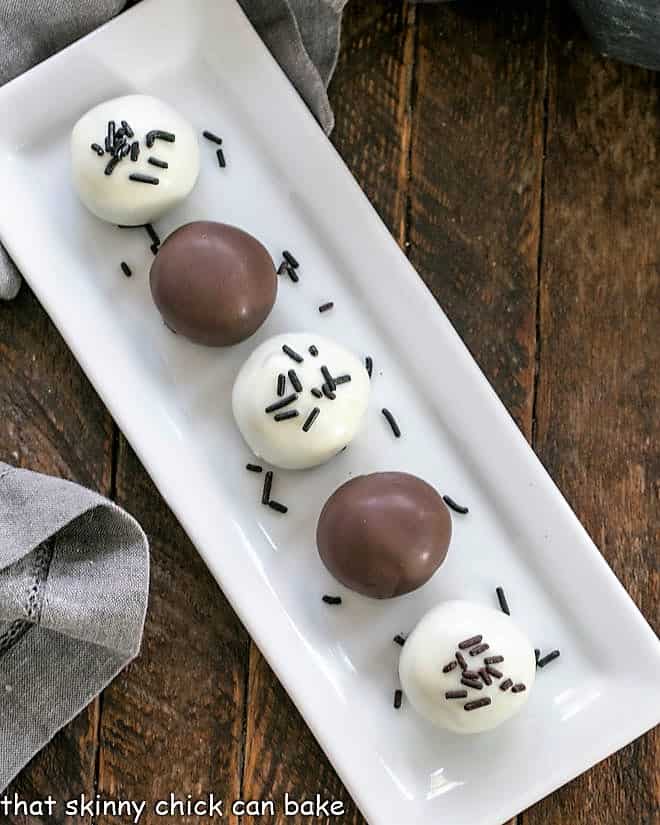 No-Bake Oreo Balls
Well, in a rush to get Nick back to campus, these easy Oreo truffles were left at home. The pumpkin bread, brown butter coyotas, and Italian pasta casserole all made it into the car. About 10 minutes into the trip, I realized the Oreo Truffles were still parked in the fridge.
But, coincidentally, the roommate who suggested these ended up behind us as we pulled off the beltway onto the highway leading to the university. I quickly called him to see if he'd take Nick the next leg of the trip, and he immediately agreed. He saved me over two hours of driving time, so I HAD to mail the truffles as my thanks.
I think the Oreo cookie truffles lasted a matter of minutes when they finally reached their destination. I will definitely treat the boys to this easy no-bake dessert again soon! It was the perfect thank you gift!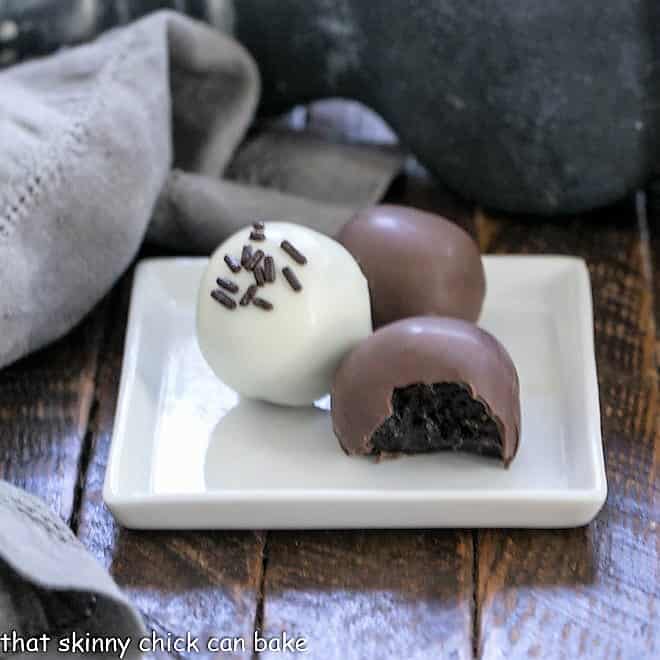 Tips for Making Oreo Truffles
Since Oreo balls are made with cream cheese, they must be stored in the refrigerator. They will keep well for up to 3 weeks in a covered container. If you freeze them, they will keep up to 2 months.
There are three ways to crush your Oreos. Use your food processor, blender, or a Ziploc bag and a rolling pin to smash them. A food processor is by far the quickest and most efficient method for making Oreo crumbs.
Note: Do not use a box of Oreo crumbs. You must make crumbs from regular Oreos including the cream filling.
The cream cheese must be at room temperature if you want to have a homogeneous mixture when you blend.
After shaping the balls, chill at least one hour or overnight to allow them to become firm. If you're in a hurry, you can also freeze for 15 minutes.
Use a dinner fork or candy fork to dip your Oreo balls into the melted chocolate. They should be fully immersed.
Tap the fork on the side of the bowl to let excess chocolate drip off, then remove to a parchment-lined baking sheet.
After garnishing, chill your Oreo Truffles for about an hour before serving.
For the holidays, just dust the truffles with appropriately colored sugar or sprinkles immediately after coating. The melting wafers dry quickly, so garnishing cannot wait.
You can also drizzle them with a contrasting color of melted chocolate or top with a few crushed Oreo crumbles, nuts, or crushed candies.
Wrapping a few in a cellophane bag tied with a coordinating ribbon makes a terrific hostess or holiday gift.
More Oreo Desserts
I married an Oreo addict, so we always have a stash in the pantry for his cravings. So I've made plenty of desserts with Oreos. Here are a few favorites:
The Recipe:
Oreo Truffles Recipe
Prep Time 30 minutes
Total Time 30 minutes
Yield 36
Easy truffles made with Oreos and cream cheese!
Ingredients
15-ounce package original Oreos
8 ounces cream cheese, at room temperature
12 ounce packages Ghirardelli White or Dark Melting Wafers (may need a backup bag)
Sprinkes, optional, for garnish
Instructions
Inspired by Allrecipes
Process Oreos in a food processor until fine crumbs form. Cut cream cheese into 6-8 pieces and add to crumbs. Process until the mixture is well combined, about 1-2 minutes. Shape mixture into tightly packed 1-inch balls and set on parchment-lined cookie sheet.
Chill at least one hour or overnight.
Melt Ghirardelli Melting Wafers as directed on package. Dip balls and place on a parchment-lined cookie sheet. Garnish with sprinkles if desired.
Refrigerate for about an hour before serving.
Store covered in the refrigerator.
Notes
This recipe is adapted from Allrecipes.
Total time does not include chilling time.
Helpful Tools (As an Amazon Associate and member of other affiliate programs, I earn from qualifying purchases):
Nutrition Information:
Yield:
18
Amount Per Serving:
Calories: 0
Total Fat: 0g
Note: This post may contain affiliate links; view
my Disclosure Policy
for details. I earn a small percentage from any purchase you make by clicking on these links at no extra cost to you.