The chocoholics in my family are huge fans of this decadent Candy Bar Pie! Save it for the holidays, a special occasion or when you can't ignore those chocolate cravings one more second!
Candy Bar Pie
Bill's Aunt Alice was a spectacular cook…we were always treated to a gourmet, multi-course meal when visiting her. I have scads of recipe cards written in her tidy penmanship. I never left her house without asking for at least one, if not more recipes. She made excellent, flaky pie crusts, one of her specialties. She had a couple chocolate pies that I made frequently as a newlywed, one with a meringue crust and this one with a cookie crust. It was high time I revived some of these long-forgotten favorites. I'm certain I used Hershey bars back in the day, but I found these one ounce Valrhona Lait bars at Trader Joes…and I couldn't resist making a candy bar pie.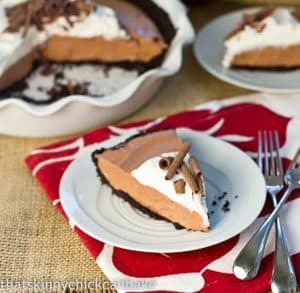 Baking for a Cure
This week's Sunday Supper was sponsored by Chantal. 20 bloggers received their newest pie plate and have baked up something delicious to share. I didn't sign up in time to participate, so I used a dish from my own collection. We are also Baking for a Cure for cancer…as this month is Breast Cancer Awareness Month. We're encouraging you all to bake something for a friend afflicted by cancer or for the health professionals caring for them. I'm certain each of the Sunday Supper crew has their own story to share. I've already mentioned my career as an oncology nurse, my brother-in-law who is living today thanks to a stem cell transplant, and my many friends and family affected by cancer. I pray for better treatments and cures to come from the on-going clinical research. Hopefully very soon.
You may need these supplies to make the candy bar pie recipe:
Print
Candy Bar Pie
!Recipe from Bill's Aunt Alice
Author:
Yield: 6-8 servings
Category: Dessert, Pie
Cuisine: American
Ingredients
Crust:
25 Nabisco Famous Wafers, crushed
1 tablespoon sugar
4 tablespoons butter, melted
Filling:
20 regular marshmallows
1/2 cup milk
1 8-ounce milk chocolate bar
1 cup heavy cream plus more for topping (I topped with 1/2 cup whipped cream)
Grated chocolate to garnish
Instructions
Combine crushed cookie crumbs, sugar, and butter. Pat into 9-inch pie plate and freeze.
In a medium saucepan, combine marshmallows and milk. Cook over low heat, stirring occasionally, till melted. Add chocolate chunks and remove from heat. Stir till melted. Refrigerate 10 minutes. Whip the 1 cup cream and fold into chocolate. Pour into shell and refrigerated at least 3 hours.
To serve, garnish each slice with whipped cream and grated chocolate.
These #SundaySupper Contributors were provided with a beautiful Easy as Pie Dish by Chantal Cookware.  They will be sharing their recipes with you this Sunday and also their thoughts on this Beautiful Pie Dish.   Many are giving away their dish along with their pie to brighten someone's day.
As you may have noticed, when the #SundaySupper Team does something, we come together and do it with a bang.   Check out these additional recipes, perfect to take to someone who you want to make feel special this month.
The Sunday Supper Team and Chantal Cookware would be honored to have you join us for this special #BakeForACure event Around the Family Table this week.
Join us on Twitter throughout the day during #SundaySupper.  We'll be meeting up at 7:00 pm(Eastern) for our weekly #SundaySupper  live chat where we'll talk about our favorite Comfort Food Recipes.
All you have to do is follow the #SundaySupper hashtag or you can follow us through TweetChat.
Note: This post may contain affiliate links; view
my Disclosure Policy
for details. I earn a small percentage from any purchase you make by clicking on these links at no extra cost to you.