Chocolate Pudding Pie
This Chocolate Pudding Pie will tantalize your taste buds with rich chocolate pudding in a buttery pastry crust topped with whipped cream!
Chocolate Pie happens to be a favorite family dessert and is often on our menu for holidays and family get-togethers. The crusts and fillings will vary, but there's always chocolate involved!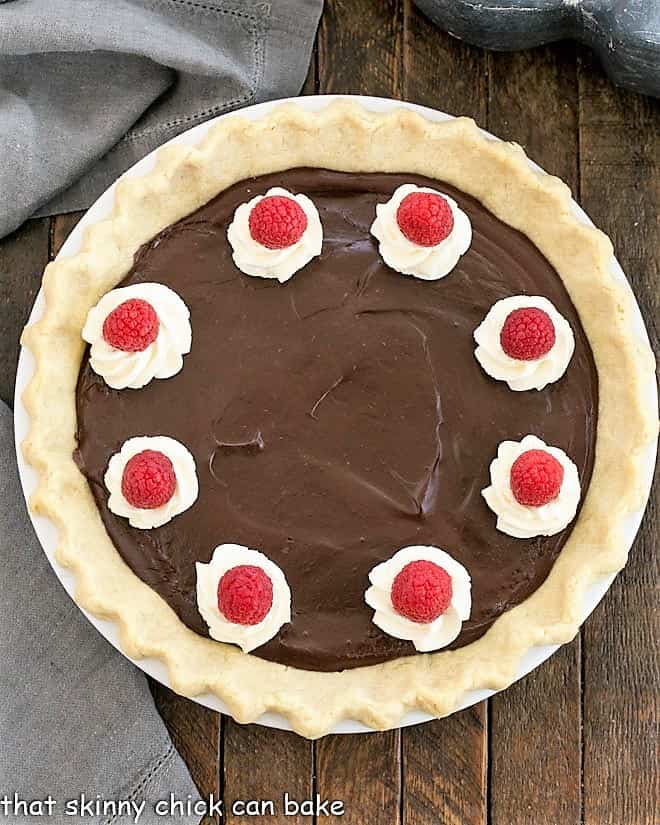 Why You Must Make
My family loves pudding. So it's not a big jump to assume that they are fans of cream pies, especially chocolate cream pie.
Cream pies are essentially homemade pudding piled into a pie crust and topped with whipped cream. Perfect for pudding lovers.
Homemade pudding is a must, but if time is short this can be made using a storebought graham cracker or chocolate cookie crust. Or even fit a refrigerated Pillsbury sheet of pie dough into your own pie plate and fill it once it's baked and cooled!
When I married Bill, I knew he had certain food standards. For example, no instant pudding, but the box labeled "Cook and Serve" was quite acceptable. Quite the gourmet, wouldn't you say?
Expert Tips:
Use a standard-sized pie plate for this recipe. The first time I made this pie, I used a deep dish pan and it needed more filling.
If you use a pastry crust, blind-bake it first.
The chocolate pudding filling would be delicious in almost any pie crust. Use a homemade or store-bought pastry crust, graham cracker crust, or chocolate cookie crust depending on your mood.
Cool your pie crust before filling, but the filling only needs to cool for about 5 minutes, stirring a few times, before scraping it into the pie crust.
Chill the pie for a couple of hours before adding the whipped cream topping. Small beads of moisture can develop on the surface after this pie sits in the refrigerator. They will not affect the taste of this pie.
Garnish as desired. I've used fresh raspberries and chocolate curls.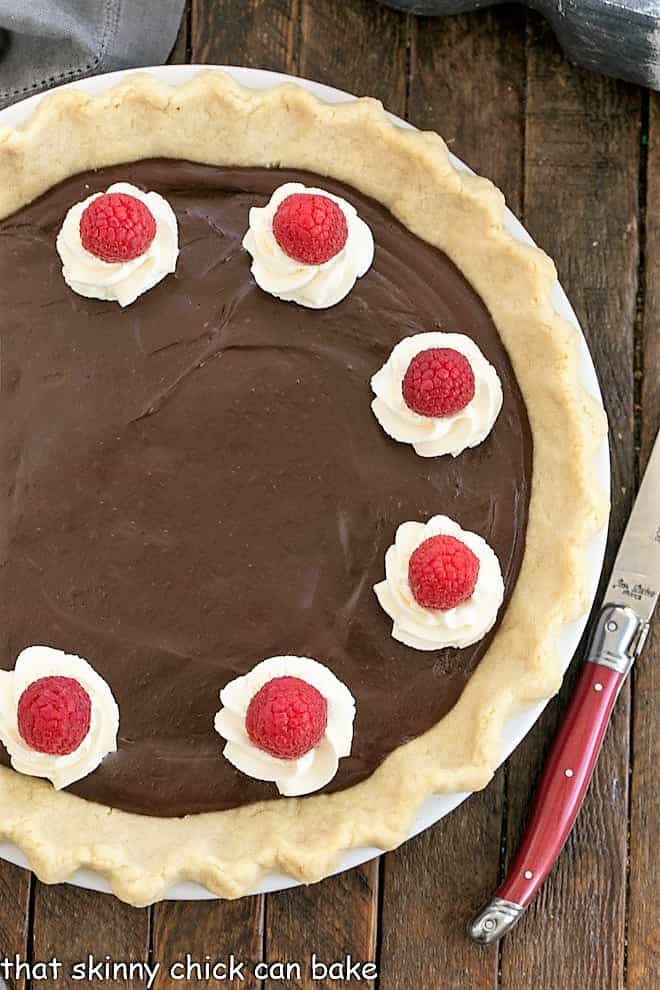 How to Make Chocolate Pudding
Puddings made from scratch usually contain eggs as a thickener. The goal is to cook the eggs so they're incorporated into the pudding and not scrambled. Nobody wants bits of cooked egg in their pie filling.
First, whisk together the dry ingredients in a heavy-bottom saucepan. A flimsy pan won't conduct heat properly and the bottom of the mixture could scorch. Note: you can use whatever pan you have, just use extra care if it's on the lighter side.
Follow the recipe and whisk in the egg yolks. Reserve the egg whites for meringue cookies, pavlova, macrons, lemon meringue pie, etc.
Slowly add the liquids, whisking well, then cooking over medium-high heat, while continuing to whisk, until the mixture boils and thickens.
PRO-Tip: Use a flat whisk (affiliate link) to get into the corners of the pan.
Remove from the heat and add the chopped chocolate and vanilla. Whisk until the chocolate is melted.
Pour into the prepared pie shell and chill before topping with whipped cream.
Frequently Asked Questions
What's the Difference Between Pudding and Custard?
The difference between pudding and custard comes down to the thickening agents. Both use eggs, but pudding also uses starch, like cornstarch or flour as well. Custard tends to be thicker and pudding lighter, but both are frequently used as pie fillings.
What is Blind Baking?
If you use a pastry crust to make this chocolate pie, you must bake it first. This is because after it's filled with the pudding, it will not be cooked again. This is called blind baking a pie crust.
How Do You Blind Bake a Crust?
1. To blind-bake a pie crust, first fit the rolled-out pie dough into your pie plate.
2. Trim and flute the edges.
3. Preheat your oven and line the pie crust with parchment paper.
4. Place pie weights (which could be ceramic pie weights you purchase or dried beans you reserve for this specific use) over the parchment to weigh down the bottom of the crust. This prevents the pie crust from puffing up off the bottom of the pie plate as it bakes.
5. Alternatively, you can poke the bottom crust with a fork, but I prefer using pie weights. This technique is called docking a pie crust. Docking gives the steam developing under the crust a means to escape.
6. Once the crust is baked, remove it from the oven, carefully remove the parchment (and weights), and let it cool on a wire rack.
You May Also Like: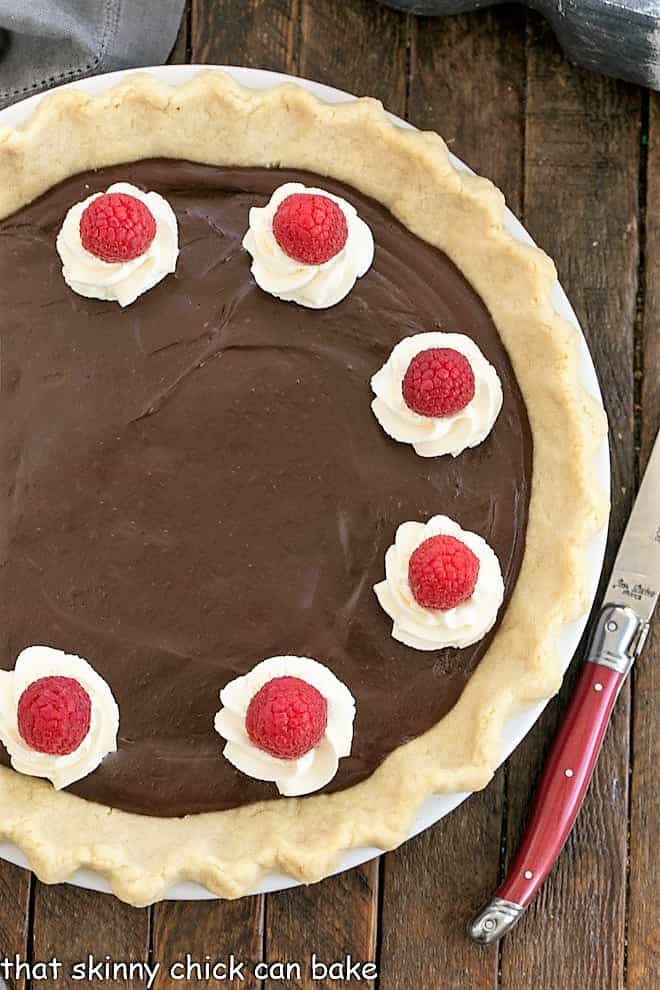 The Recipe:
Chocolate Cream Pie Recipe
Prep Time 30 minutes
Cook Time 10 minutes
Total Time 40 minutes
Yield 8 servings
A buttery pastry crust, creamy chocolate filling and whipped cream topping for a divine dessert!
Ingredients
Filling:
⅔ cup sugar
¼ cup cornstarch
2 tablespoon cocoa powder
Pinch of salt
6 egg yolks
2 cups 2% milk
½ cup whipping cream
6 ounces semi-sweet chocolate, chopped
1 tablespoon dark rum
1 teaspoon vanilla
9-inch pie crust of your choice
Topping:
1 cup whipping cream
¼ cup powdered sugar
½ teaspoon dark rum
½ teaspoon vanilla
Instructions
Whisk the sugar, cornstarch, cocoa powder, and salt together in a medium saucepan.
Whisk in egg yolks till well combined.
Slowly whisk in milk, then cream, and continue to whisk and cook over medium-high heat.
Once the mixture comes to a boil, cook and stir for one more minute.
Remove from heat and stir in chocolate. Whisk till smooth.
Add rum and vanilla. Let rest for about 5 minutes, stirring occasionally, then pour into baked pie crust.
Chill till cold, at least two hours.
Beat together the topping ingredients till the mixture comes to firm peaks. Pile onto the middle of the pie or use an open star tip and pipe whipped cream over the top of the pie. Garnish as desired with berries or chocolate curls.
Notes
Adapted from Bon Appetit.
Total time does not include chilling time.
Recommended Products
As an Amazon Associate and member of other affiliate programs, I earn from qualifying purchases.
Nutrition Information:
Yield:
8
Serving Size:
1
Amount Per Serving:
Calories: 528
Total Fat: 33g
Saturated Fat: 18g
Trans Fat: 1g
Unsaturated Fat: 13g
Cholesterol: 194mg
Sodium: 156mg
Carbohydrates: 54g
Fiber: 2g
Sugar: 37g
Protein: 8g
Note: This post may contain affiliate links; view
my Disclosure Policy
for details. I earn a small percentage from any purchase you make by clicking on these links at no extra cost to you.