White Chocolate Pudding with Frangelico
White Chocolate Pudding flavored with a touch of Frangelico makes for a lush and dreamy dessert that's impossible to resist! If you've only eaten pudding from a box, you're in for a surprise. Homemade pudding is silky smooth, rich, and swoon-worthy!!
White Chocolate Desserts are sweet and rich, and this delectable homemade pudding is no exception!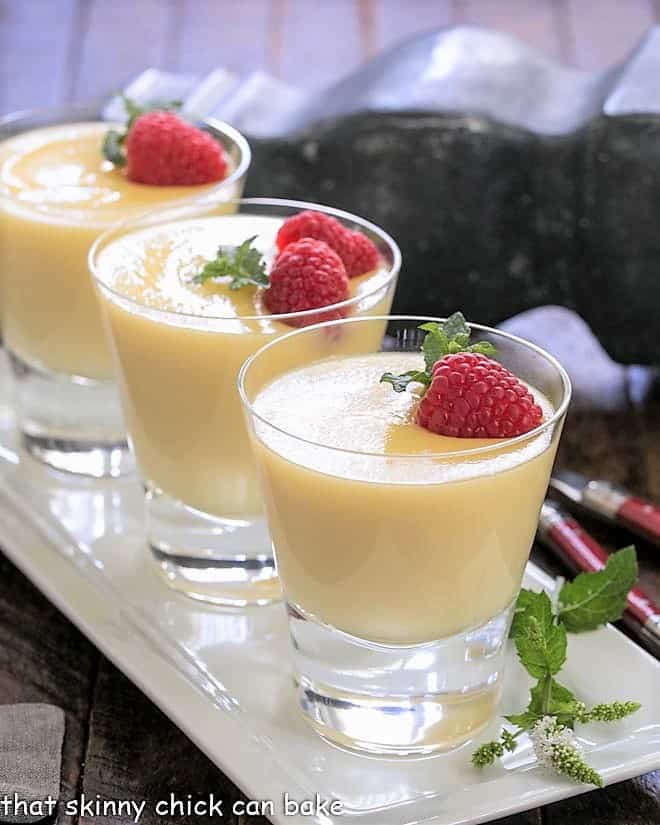 Why You Must Make
When we were first married, boxes of pudding mix made their way into our kitchen. The hubby was a fan, but he did have his standards. No instant, only cook and serve.
Well, slowly I've nixed even that option as it's not too tough to whip up a batch of pudding from scratch. The biggest dilemma was what kind of pudding to make. We quickly settled on white chocolate—one of the few flavors all 3 of us can agree upon!
It's a delicious change of pace from chocolate pudding.
Homemade pudding is SO much more delicious than pudding made from a box or premade pudding in the refrigerator section of the grocery store.
White chocolate pudding is the perfect way to showcase fresh spring and summer berries. It's ideal for Easter, Mother's Day, or just a Sunday dinner when the whole family can gather.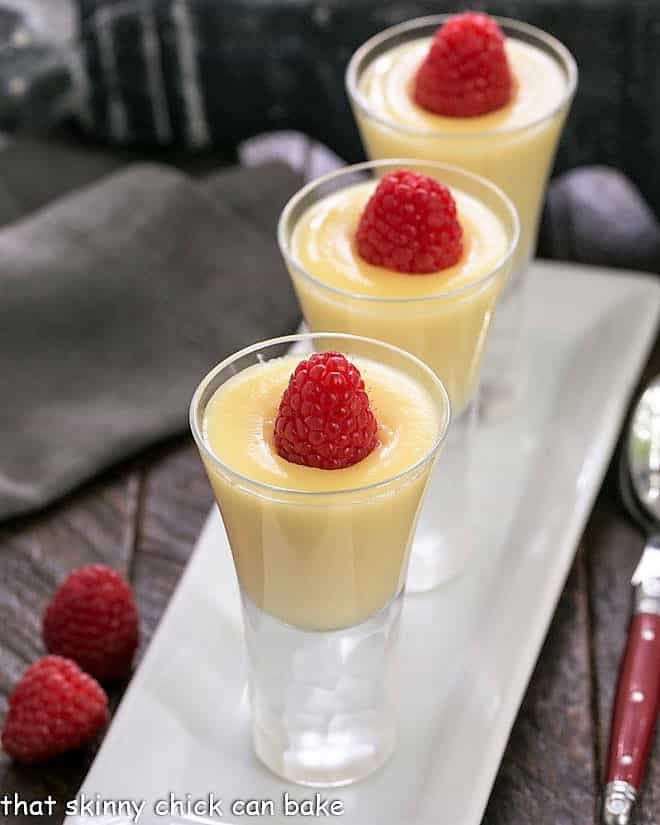 How to Make
The silky smooth texture and heavenly flavor of this homemade pudding will certainly please your toughest critics. A little slosh of Frangelico, a hazelnut liqueur, is one of my favorite ways to enhance a white chocolate dessert. Here are a few details about how to make pudding.
Start by whisking together the dry ingredients in a large, heavy saucepan. This will help evenly distribute the thickening agent, the cornstarch, and the salt, with the sugar.
Melt the white chocolate and give it a few minutes to cool. I like to melt the chocolate gently in the microwave. Start with 30 seconds, give it a stir, then use 15-second intervals, stopping to stir, until the chocolate is smooth. Set aside.
Separate your eggs, reserving the egg whites for macarons, pavlova, or egg white cookies AKA meringues. 3 yolks are needed for this recipe.
PRO-Tip: Eggs separate best when they're cold.
Whisk in the half and half first, then the yolks, and finally the milk. When that's combined, add the white chocolate which will clump a bit as it hits the cool liquid. That's to be expected.
Bring the mixture to a boil, whisking constantly. PRO-Tip: You want to keep the liquid moving to minimize the heat at the bottom of the pan from scrambling the eggs. When the mixture finally thickens, reduce the heat and continue stirring, letting the pudding thicken a bit more.
Pass the pudding through a sieve to remove any tiny lumps. This will make your pudding extra luscious. Then stir in the flavorings and butter.
PRO-Tip: I like to place the sieve over a 4-cup liquid measuring cup with a spout. This gives you the ability to pour the warm pudding into serving dishes.
This can be served warm or chilled (our preference).
PRO-Tip: Before chilling cover the surface with plastic wrap to prevent skin from developing on the surface of the pudding.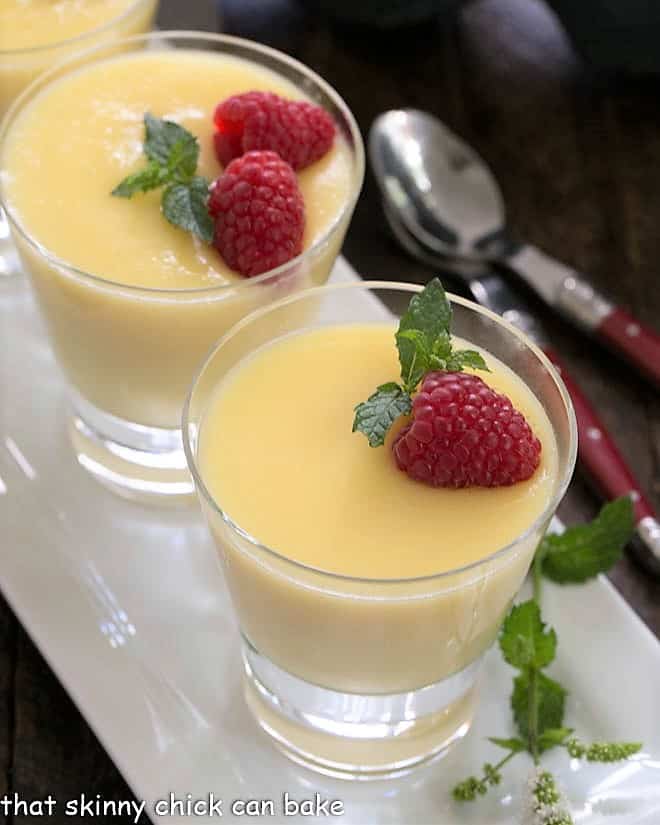 Frequently Asked Questions
What is White Chocolate?
Technically, white chocolate isn't true chocolate since it doesn't contain any chocolate solids. It does contain sugar, cocoa butter, milk products, vanilla, and lecithin, which is a fatty substance, according to Bon Appetit.
How do you melt White Chocolate?
White chocolate is the softest of the "chocolates," and doesn't take long to melt. There are two main ways to melt white chocolate, in the microwave or by using a double boiler. Start by chopping your white chocolate into small pieces.
To melt in a microwave, use 50% power to prevent scorching. Start with 30 seconds, then stir with a wooden spoon or rubber spatula. Repeat until there are just a few pieces of unmelted chocolate left in the bowl. The residual heat will finish melting those bits.
To melt in a double boiler*, fill the bottom pan with about an inch of water and bring it to a simmer. Place the chocolate in the top part of the double boiler or use a heatproof bowl to nestle in the pan without having the bottom of the bowl touch the water. Stir the white chocolate as it starts to melt, and continue to stir occasionally until there are only a few tiny unmelted bits remaining. Turn off the burner and let the residual heat finish melting the white chocolate.
*Note: A double boiler is a set of pans where one nestles into the other. The bottom pan holds simmering water which gently heats the contents in the pan that's inserted above it. Alternatively, you can rig your own using a heatproof bowl over a pan of simmering water. Just find a bowl that will sit securely in the pan without touching the water.
What is Frangelico?
Frangelico is a hazelnut liqueur. It's enhanced with flower and berry essences. It is delicious paired with white chocolate in cheesecakes and mousse.
You May Also Like:
Stay in touch through social media @ Instagram, Facebook, and Pinterest. Don't forget to tag me when you try one of my recipes! And if you love the results, please give it a 5-star rating in the recipe card. Note: As an Amazon Associate, I earn from qualifying purchases. Visit my Amazon Store for my favorite products.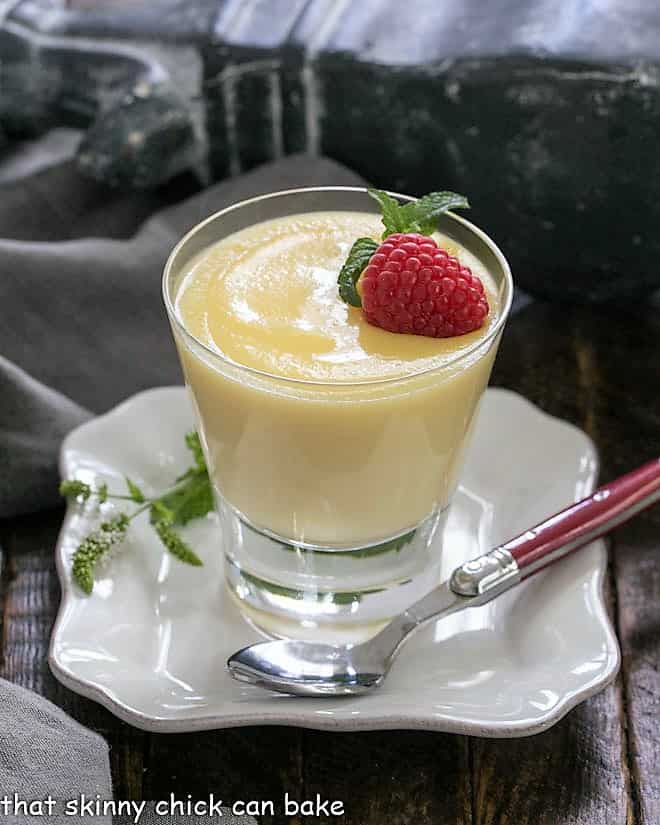 The Recipe:
White Chocolate Pudding
Prep Time 20 minutes
Cook Time 10 minutes
Total Time 30 minutes
Yield 6 servings
Creamy and luscious white chocolate pudding with a touch of hazelnut liqueur
Ingredients
2 tablespoons cornstarch
⅔ cup sugar
Dash of salt
1 cup half and half (or cream)
3 egg yolks
2 cups whole milk
6 ounces white chocolate, melted and cooled slightly
1 tablespoon butter, at room temperature
1 teaspoon vanilla
2 teaspoons Frangelico liqueur (may double the vanilla and omit the Frangelico if desired)
Instructions
Whisk together cornstarch, sugar and salt in a large saucepan. Whisk in half and half, then the yolks, followed by the milk. Stir in chocolate (don't worry if it clumps a bit).
Bring mixture to a boil, whisking constantly, till pudding thickens. Reduce heat and cook, stirring with a wooden spoon or spatula for a couple more minutes till pudding thickens even more (should reach 200º).
Pass the pudding through a sieve into a medium bowl. Stir in butter, vanilla and Frangelico. May divide into individual bowls. Serve warm or chilled, but cover surface with plastic wrap before chilling.
Notes
Save your leftover egg whites and make some meringue cookies!
Recommended Products
As an Amazon Associate and member of other affiliate programs, I earn from qualifying purchases.
Nutrition Information:
Yield:
6
Serving Size:
1 bowl
Amount Per Serving:
Calories: 400
Total Fat: 20g
Saturated Fat: 12g
Trans Fat: 0g
Unsaturated Fat: 7g
Cholesterol: 126mg
Sodium: 131mg
Carbohydrates: 48g
Fiber: 0g
Sugar: 45g
Protein: 7g
Note: This post may contain affiliate links; view
my Disclosure Policy
for details. I earn a small percentage from any purchase you make by clicking on these links at no extra cost to you.