Chocolate Raspberry Pavlova
When you need an impressive dessert, a Chocolate Raspberry Pavlova is the answer! A cocoa meringue base is topped with a luscious cloud of whipped cream, sweet ripe raspberries, and chocolate shavings.
This Chocolate Pavlova is perfect to serve whenever you can find sweet, flavorful raspberries in the market. This pavlova recipe is a stunner, so wow your friends and family by presenting this beauty at your next gathering!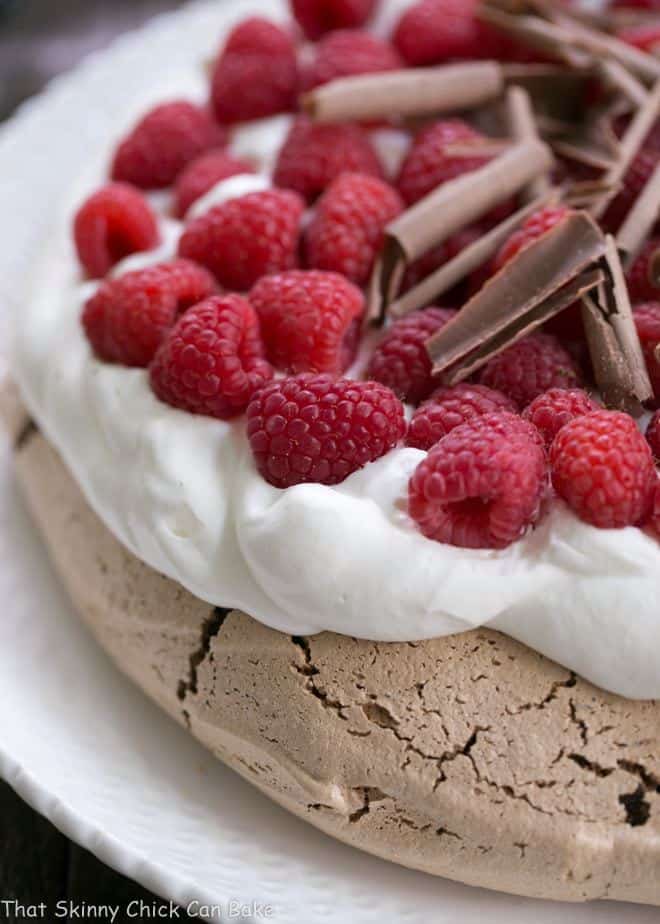 Why You Must Make
When I first made this, over a decade ago, none of my friends had ever heard of nor eaten a pavlova! It's a beautiful, often novel dessert from Nigella Lawson.
It's absolutely delicious!!
Plus, topped with berries and cream, it's a show-stopper.
Ingredient Notes
Egg Whites – Must be free of oil, and grease, which includes even just a speck of egg yolk. Must be at room temperature for the best volume.
Sugar – Superfine is best. It will blend more easily than regular granulated sugar.
Cocoa Powder – Good quality. Ghirardelli is a bit better than Hershey's.
Vinegar – Raspberry or Balsamic, good quality.
Toppings – Heavy Cream, Powdered Sugar, Vanilla Extract, Grated Semisweet Chocolate.
How to Make
Spread the cocoa meringue into a round on a parchment-lined baking sheet.
Bake as directed and let cool in the oven.
Top the center of the pavlova with sweetened whipped cream.
Sprinkle with fresh raspberries and grated chocolate. Slice into wedges and enjoy!
An Easy, Make-Ahead Dessert
Nigella's Chocolate Raspberry Pavlova was an instant hit when I first made it many summers ago. A crisp outer meringue juxtaposed with the chewy center was topped with a cloud of whipping cream. It formed the perfect base for mounds of beautiful red raspberries. YUMMY…my decision was made.
I like to make the meringue shell the night before I serve this dessert. After it cools, I just store it in the oven and top it with the whipped cream and berries a few hours before serving. If you do tuck away the pavlova shell in the oven, make sure to put a post-it on the oven door so you don't accidentally turn it on.
The gang oohed and ahhed over this dessert. Many had never even heard of a pavlova (we had a few pronunciation lessons: pav-LOH-vuh), let alone tasted one. Even one guest, who swore he was not a dessert eater (hard for me to fathom), proclaimed its wonders. I know you will, too.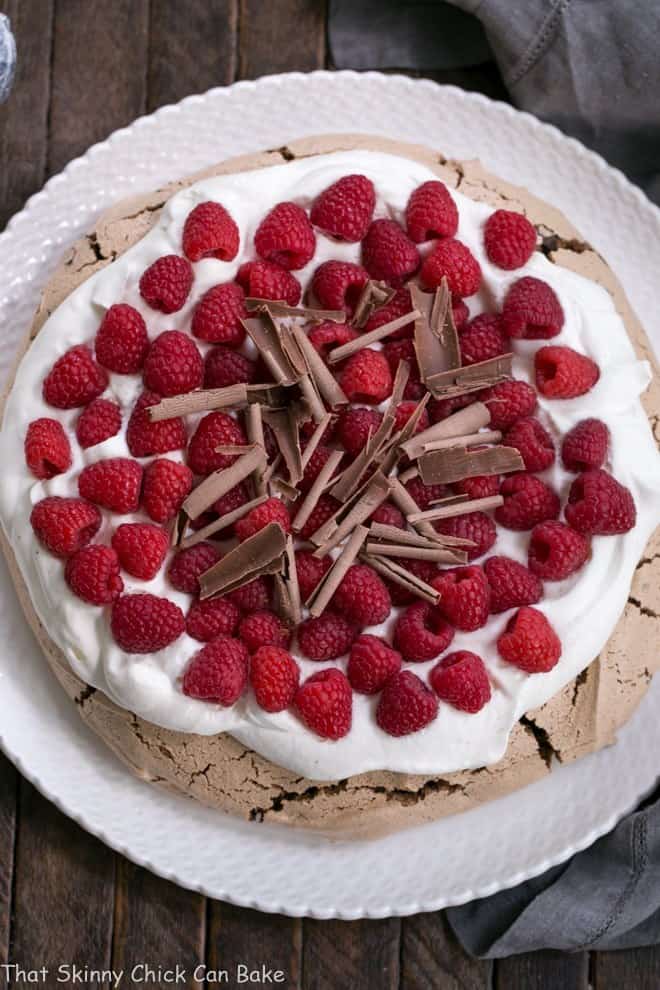 Expert Tips
Many of the tips for making meringues are appropriate for making a pavlova, plus there are some tricks that aren't used with the small meringue cookies.
The Egg Whites
PRO-Tip: First, when collecting your egg whites, make sure no yolk contaminates them and that your bowls and utensils are free from any grease. Even a small speck of egg yolk or oil will prevent the whites from whipping properly.
The best practice is to separate each egg into an empty bowl, then pour the white into a larger bowl to whip once you know there's no yolk contamination. Otherwise, separating over a whole bowl of whites could result in you having to toss them all if some yolk gets dropped in by mistake.
PRO-Tip: Note that eggs separate best when they're cold. A cold yolk is less likely to break.
Also important is to let your egg whites come to room temperature. This will also help the sugar mix in properly. I usually sit my bowl of whites in a larger bowl of warm water to take the chill off.`
The Meringue
Superfine sugar makes it easier for the whites to absorb the sugar. Purchase superfine sugar (affiliate link) in the baking aisle of your grocery store.
To make your pavlova nice and round, take a 9-inch diameter pan and make an outline of it in the middle of a sheet of parchment paper. Flip the paper over and place it on a baking sheet. This is your template for spreading the meringue.
Unlike a true meringue, a pavlova has the addition of vinegar. Just a small amount that won't affect the flavor but helps make the exterior crisp and center soft. Cream of tartar or corn starch is often added to stabilize the meringue, but not in this recipe.
Start adding the sugar when the egg whites are foamy, after about 1 minute of whipping. Add the sugar slowly.
The meringue is ready when it's thick, white, and glossy. Ideally, you won't want to feel any gritty sugar when you rub some of the meringue between your fingers.
Baking
Scoop out the meringue onto your parchment-lined baking sheet. Use an offset spatula to spread it into a circle, then level the top.
PRO-Tip: Use a 9-inch cake pan to draw a template on the parchment paper. Then flip the parchment over and you'll know how big to make your pavlova.
Bake as directed but let the pavlova cool in the oven with the door open.
Garnishing
I used to add a whipped cream stabilizer called Whip-It to prevent the whipped cream topping from separating. PRO-Tip: Since I first shared this recipe, I've found that placing my mixing bowl in the freezer to chill before whipping the cream will also stabilize the cream.
To make chocolate shavings, use a vegetable peeler and scrape down the flat side of a chocolate bar (see old photo below). For the larger shavings in my photos above, I found a block of Callebaut chocolate at Whole Foods, warmed it very gently in the microwave, and peeled larger curls.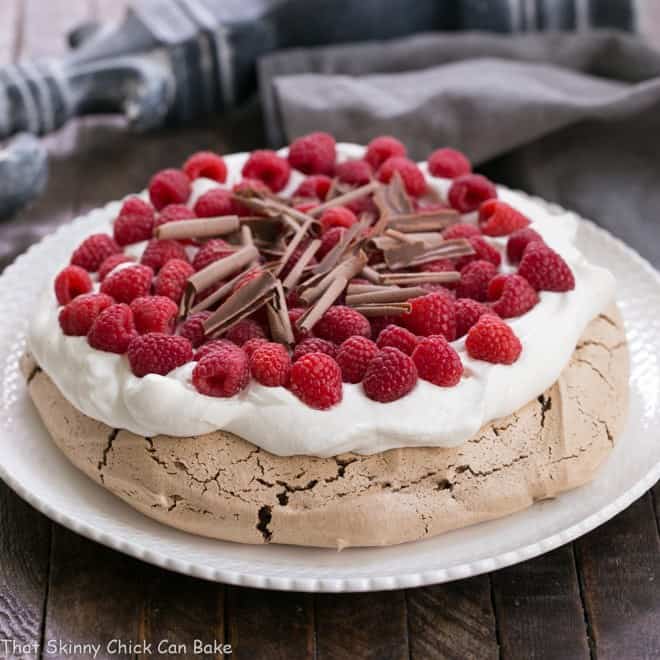 Troubleshooting
If your pavlova didn't turn out perfectly, I've got your back. Here are some specific issues that can occur when baking a pavlova and what you can do to prevent them from happening again.
Cracks – If there are cracks in your pavlova, there are a couple of reasons this could have happened. First, the sugar wasn't dissolved before baking, so make sure to use superfine sugar and add it very slowly, giving the sugar time to incorporate. A few cracks are OK and even with a lot of cracks, your pavlova will still be tasty! The oven could have been too hot, so make sure you have an oven thermometer to double-check. Also, a pavlova can crack when it isn't allowed to cool slowly in the oven. Some recipes have you turn off the oven and others have you crack the oven door.
Meringue Doesn't Thicken -If your meringue does not eventually beat up into a white, glossy, billowy mass, it could be that your egg whites were contaminated with fat. This could be grease, fat, or oil on your beaters or mixing bowl or egg yolk contaminating your whites. Take care when separating your whites from your yolks and if there's any chance some yolk got into your whites, start over. Also, ensure your mixing implements have been washed thoroughly with hot soapy water or run through the dishwasher to eliminate any greasy residue. Do not use plastic bowls as they're notorious for harboring oils. Also, note that adding any water to the egg whites before beating will prevent perfect results.
Frequently Asked Questions
Where Did Pavlova Originate?
There is a debate about where the pavlova originated, Australia or New Zealand. Both claim it as their own. The pavlova was developed in honor of Anna Pavlova, the Russian ballerina, who visited the region in the 1920s.
What Is Pavlova?
Simply put, a pavlova is just a big baked meringue (though you can make mini versions, too). Made of whipped egg whites and sugar, it's then baked until the outside is crisp and the inside is "squidgy," a term used by Nigella Lawson for describing the chewy middle. The marshmallow-like middle is one characteristic that differentiates a pavlova from a meringue.

Pavlovas are usually topped with cream and fruit and this chocolate raspberry pavlova varies from the classic version due to some cocoa powder and chocolate mixed into the meringue. Of course, there are numerous iterations using lemon curd, etc.
How Do You Store a Pavlova?
Pavlova should be stored in a cool and dry spot. Moisture and heat will soften the pavlova and make it sticky. One suggestion is to store your pavlova in a cold oven. Just leave a note on the door so you don't accidentally turn it on!

You can make the pavlova shell the day before you plan to serve it, then add the toppings the day you serve. It's best on the day it's made, but we never let leftovers go to waste!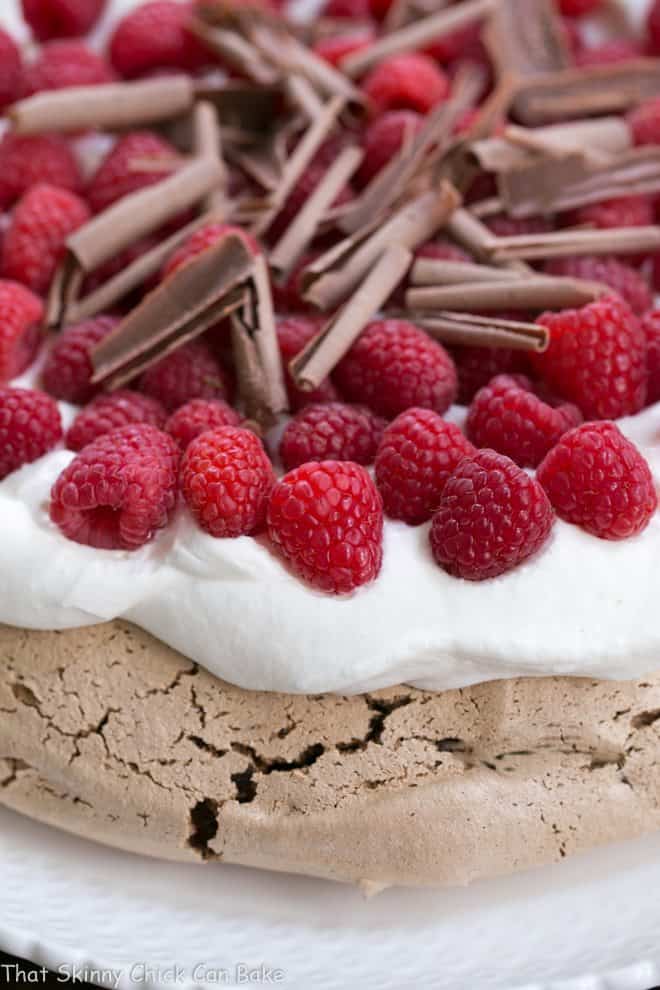 You May Also Like: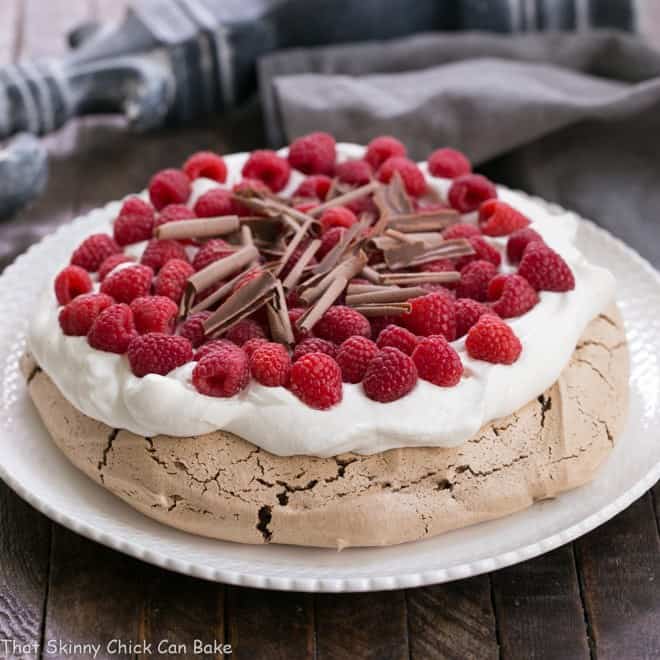 The Recipe:
Chocolate Raspberry Pavlova
Prep Time 20 minutes
Cook Time 1 hour 15 minutes
Total Time 1 hour 35 minutes
Yield 8 servings
A jumbo cocoa meringue topped with cream and berries!
Ingredients
6 egg whites, at room temperature
1 ½ cups superfine sugar
3 tablespoons good quality cocoa powder
1 teaspoon raspberry or balsamic vinegar
2 ounces semi-sweet chocolate, finely chopped
2 cups heavy cream
½ cup powdered sugar
1 teaspoon vanilla
2-3 tablespoons coarsely grated semi-sweet chocolate
Instructions
Preheat the oven to 350º. Line the baking sheet with parchment. Draw a 9-inch circle on parchment, then flip the paper over. Set aside.½
Beat the egg whites till satiny in appearance. Slowly add the sugar, while continuing to beat, until the meringue is stiff and glossy. Sift cocoa powder over the meringue, then add vinegar and chopped chocolate. Fold well till combined.
Pile the meringue onto the baking sheet, keeping it within the 9-inch circle. Smooth the top and edges with an offset spatula. Place in oven and immediately decrease the temperature to 300º. Bake for 1-1 1/4 hours till dry on edges and top. Pavlova will appear cracked. Turn off the oven, open the oven door, and allow it to cool completely.
To serve, place the pavlova onto a serving plate.
Whip cream with powdered sugar, vanilla and Whip It, if using.
Top pavlova with whipped cream, then sprinkle with raspberries followed by grated chocolate.
Notes
Recipe adapted from Nigella Lawson.
Total time does not include cooling time.
Recommended Products
As an Amazon Associate and member of other affiliate programs, I earn from qualifying purchases.
Nutrition Information:
Yield:
8
Serving Size:
1
Amount Per Serving:
Calories: 452
Total Fat: 25g
Saturated Fat: 16g
Trans Fat: 1g
Unsaturated Fat: 8g
Cholesterol: 67mg
Sodium: 59mg
Carbohydrates: 55g
Fiber: 1g
Sugar: 53g
Protein: 5g
Note: This post may contain affiliate links; view
my Disclosure Policy
for details. I earn a small percentage from any purchase you make by clicking on these links at no extra cost to you.