How to Make Mini Pavlovas
If you're looking for an easy, elegant dessert, these Mini Pavlovas topped with sweetened whipped cream and fruit hit the mark.
Who wouldn't love having their own Individual Pavlova? They melt in your mouth and a naturally gluten-free dessert.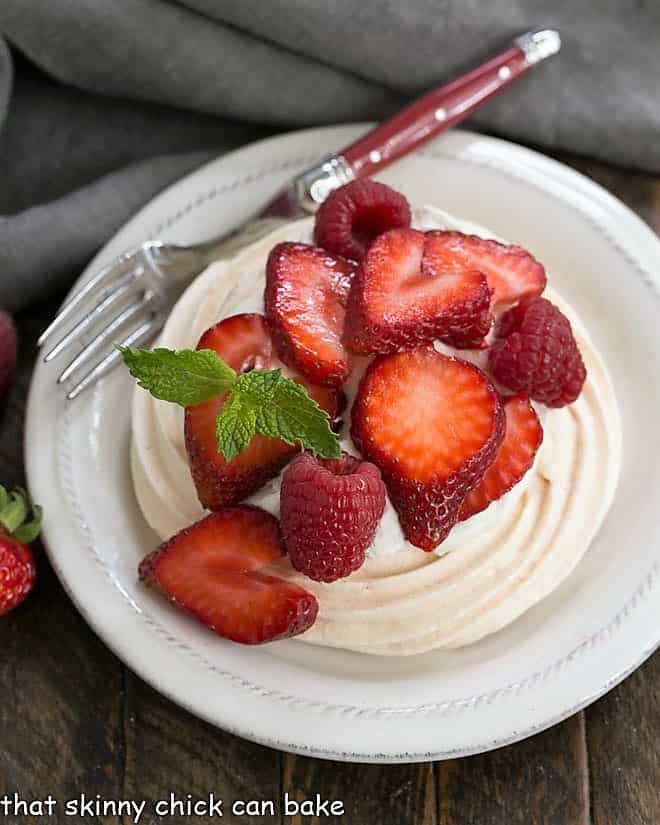 Why You Must Make
One summer, some friends mentioned they'd like to watch me make a pavlova. Smaller mini pavlovas were the perfect way for everyone to get their own dessert. For that demo, I used a large Ziploc bag with the corner cut off to pipe the meringues. For this batch, I used an open star tip for a more professional appearance, but both options are delicious!!
Guests (and family!), love having their own individual dessert.
These mini pavlovas are beautiful along with being absolutely delicious!
You can adapt the toppings depending on the season and your preferences. The whipped cream can be topped with lemon curd, fudge sauce, other berries, fresh peach slices, sauteed apples, or whatever your heart desires!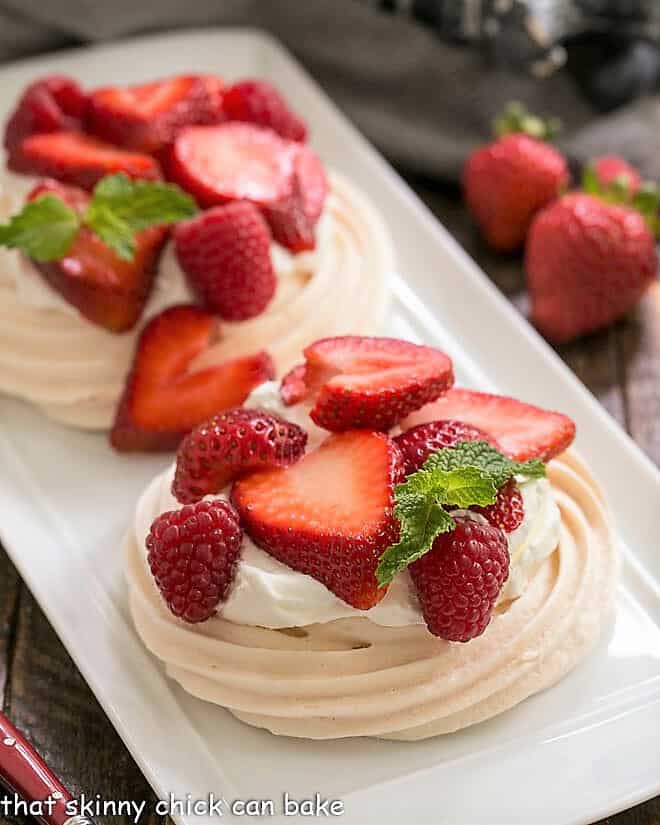 How to Make
Gather your ingredients and get out your mixer.
Beat egg whites and sugar until glossy and billowy.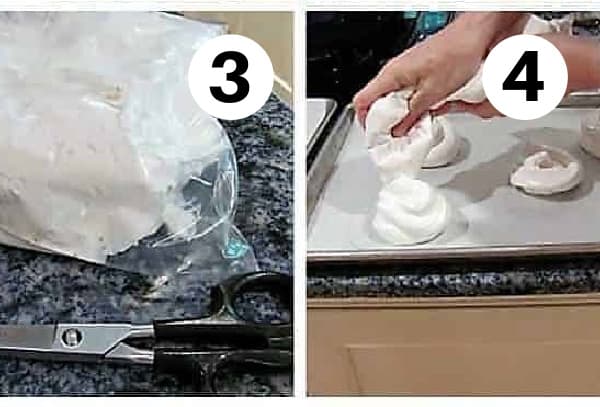 Scrape the batter into a piping bag with an M1 tip or into a large Ziploc bag, then cut off a corner to pipe.
Pipe rounds of batter onto the baking sheet. With a spoon, create a slight well in the centers for toppings after they're baked and cooled.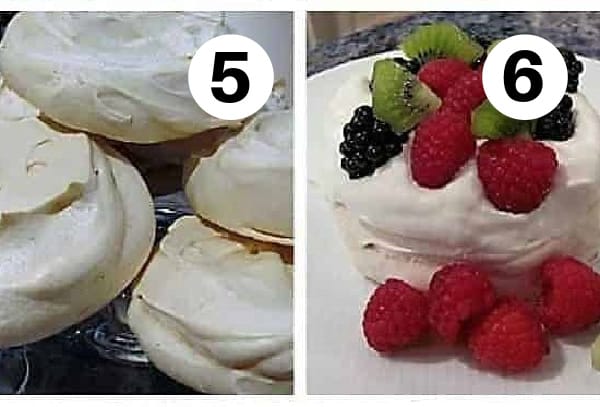 Bake as directed.
Cool, then topped with sweetened whipped cream and fresh berries.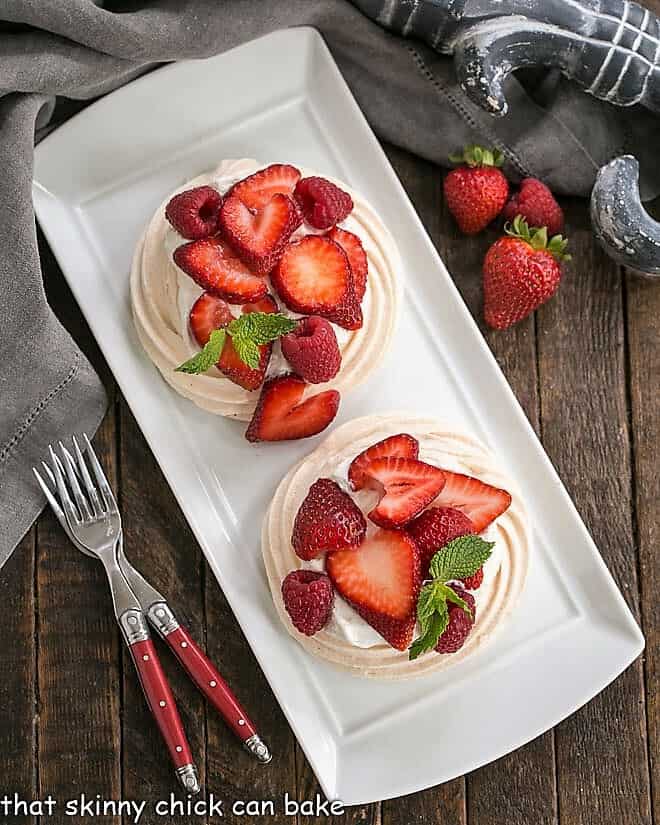 Expert Tips
Separate your egg whites while the eggs are still cold. You're less likely to break a yolk.
PRO-Tip: Have your egg whites at room temperature to whip. They will whip into peaks easier and faster when not refrigerator cold.
Use the freshest eggs available.
Keep your mixing bowl and beater scrupulously clean.
PRO-Tip: Any bit of grease, oil or even a touch of egg yolk will prevent your whites from whipping up properly. For this very reason, I always wash my stand mixer bowl and beaters in the dishwasher.
Superfine sugar works really well for meringues and pavlovas. It dissolves much easier than regular granulated sugar. Domino brand makes a (affiliate link)superfine sugar.
If you won't be able to eat the whole pavlova on the day you are making it, you might want to consider picking up some Whip-It by Oetker. It's a whip cream stabilizer that prevents the cream from breaking and instead keeps it light and fluffy for days. It's available in some grocery stores or specialty food shops.
PRO-Tip: Adding an acid like vinegar makes a more stable meringue. Lemon juice or cream of tartar can also be used.
Add sugar gradually as it will incorporate much better than all at once.
Bake low and slow. A longer will make a crisp pavlova. A shorter baking time will make a chewy or "squidgy" center as Nigella calls it. We prefer a little chewy.
Top your pavlova with the best fruit available. Traditionally a pavlova is made with strawberries, passion fruit, and bananas, but it is equally irresistible with raspberries, kiwis, peaches, or the ripest, yummiest fruit available.
With no flour in a pavlova recipe, it's a gluten-free dessert.
Frequently Asked Questions
Why Didn't My Egg Whites Stiffen?
"Most likely there was a speck of egg yolk in the whites or your bowl or beaters had some residual grease. Even a tiny bit of oil, grease or fat will prevent the egg whites from beating properly.
Can You Over Beat the Egg Whites?
Yes, if you overbeat, you'll see the egg whites droop or fall off the whip. If this happens, you will have to start over for the best results. When you over-whip, the egg whites will be dry. They will break down as you add the rest of the ingredients, making your end result heavier, which is not ideal for the classic meringue or pavlova texture.
You May Also Like:
These tips for making pavlovas are exactly what you need when you bake any meringue-based dessert. Here are a few more of my favorite recipes.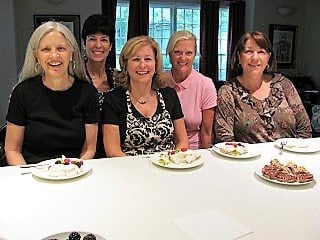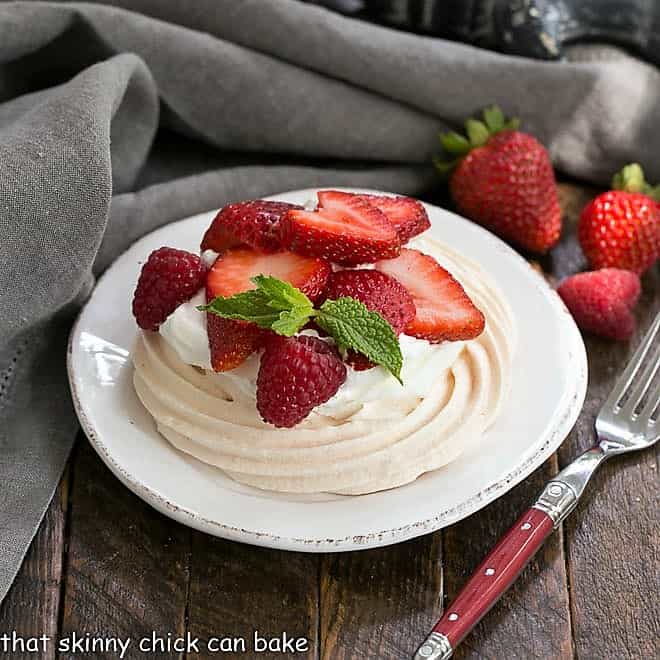 The Recipe:
Mini Pavlovas
Prep Time 30 minutes
Cook Time 30 minutes
Total Time 1 hour
Yield 8 servings
Individual pavlovas topped with sweetened whipped cream and fresh fruit
Ingredients
4 egg whites
Pinch of salt
1 1/4 cups superfine sugar, if available
2 teaspoons corn starch
1 teaspoon white wine vinegar
1/2 teaspoon vanilla
To serve:
1 cup heavy cream
1/4 cup powdered sugar
2 cups sliced strawberries or mixed fruit
Instructions
Preheat the oven to 350º. Line 2 baking trays with parchment paper.
Beat the egg whites and salt until the mixture forms satiny peaks. Keep beating while slowly adding the sugar. Continue beating till the meringue is stiff and shiny. Sprinkle meringue with corn starch, vinegar and vanilla. Mix in gently.
Form meringues on the parchment paper about 4 inches in diameter (I traced 4 inch circles on backside of parchment paper for a guide to size). I use a piping bag with a star tip, but you can also use a gallon sized ziploc bag. Cut the corner off the bag to pipe meringue onto the parchment.
Make an indentation in the middle of each pavlova with the back of a spoon.
Put into oven and immediately reduce the heat to 300º. Bake for 30 minutes. Turn off oven and leave pavlovas inside for 1 1/2 to 2 hours.
Serve with sweetened whipped cream (whip cream and powdered sugar until soft peaks form), fresh fruit and, if you'd like, a fruit syrup.
Notes
Adapted from Nigella Lawson, How to be a Domestic Goddess.
Total time does not reflect cooling time.
Nutrition Information:
Yield:
8
Serving Size:
1 pavlova
Amount Per Serving:
Calories: 273
Total Fat: 11g
Saturated Fat: 7g
Trans Fat: 0g
Unsaturated Fat: 3g
Cholesterol: 34mg
Sodium: 53mg
Carbohydrates: 43g
Fiber: 1g
Sugar: 40g
Protein: 3g
Note: This post may contain affiliate links; view
my Disclosure Policy
for details. I earn a small percentage from any purchase you make by clicking on these links at no extra cost to you.