Layered Chocolate Meringue Cake
A dreamy magazine photo inspired this Layered Chocolate Meringue Cake: Three chocolate pavlovas are layered with sweet whipped cream and crowned with chocolate shards for a magnificent result!
Why You Must Make
This gluten-free dessert is perfect for those wishy-washy chocoholics like my daughter. Often she'll like a chocolate cake, but complain that the frosting is too intense, too chocolaty.
These chocolate meringues have a touch of cocoa powder, vanilla whipped cream, and then accentuated with a topping of chocolate shards. It's a scrumptious combination.
Cool and light, it's an impressive hot weather treat.
This chocolate meringue cake is light, luscious, and perfectly lovely!
Tips for Making Meringues and Pavlovas
There are still enough similarities between these two types of desserts that some general rules must be followed for both.
The Eggs
PRO-Tip: Your egg whites must be at room temperature. But note that eggs separate more easily when they are cold, meaning the yolks are less likely to break.
So due to the fragility of room-temperature eggs, I like to separate the whites from the yolks when the eggs come out of the refrigerator. Then I cover them with plastic wrap and let them sit at room temperature. Save your yolks for ice creams, puddings, or custards like creme brulee.
To prevent any yolk from contaminating the egg whites, as the fat in the yolk will prevent your whites from whipping properly, you'll need 3 bowls.
One bowl for the whites, one for the yolks, and one to catch your whites during the separating process. After the white is separated in that initial bowl, move it to the designated whites bowl, add the yolk to the yolks bowl and repeat the process.
If a yolk happens to break while you're doing the separating, save it for scrambled eggs or some other use, but grab another clean bowl to continue separating the eggs.
Your bowls and beaters must be scrupulously clean, without a smidgen of grease. I make sure my mixer's bowl and beaters have been washed in the dishwasher so they pass the test. Egg whites will not beat when they come in contact with any fat which includes residual grease on your equipment or even the teeniest bit of egg yolk.
Whipping the Egg Whites
PRO-Tip: Using superfine sugar (I can find Domino's brand around here) will dissolve more easily than regular granulated sugar. This is not required but helpful.
I used to think I could whiz my sugar in a food processor to make my own, but I read an article stating that this homemade version of superfine sugar is subpar due to the sharp nature of the processed sugar grains.
Add the sugar slowly, about 2 tablespoons at a time, giving the egg whites a chance to dissolve the sugar. Rub some of the mixture between your thumb and index finger to check if it feels gritty. If it does, you can mix a bit longer, but I'd rather have a little grit than overbeat the meringue.
The meringue is fully whipped when it's thick and glossy.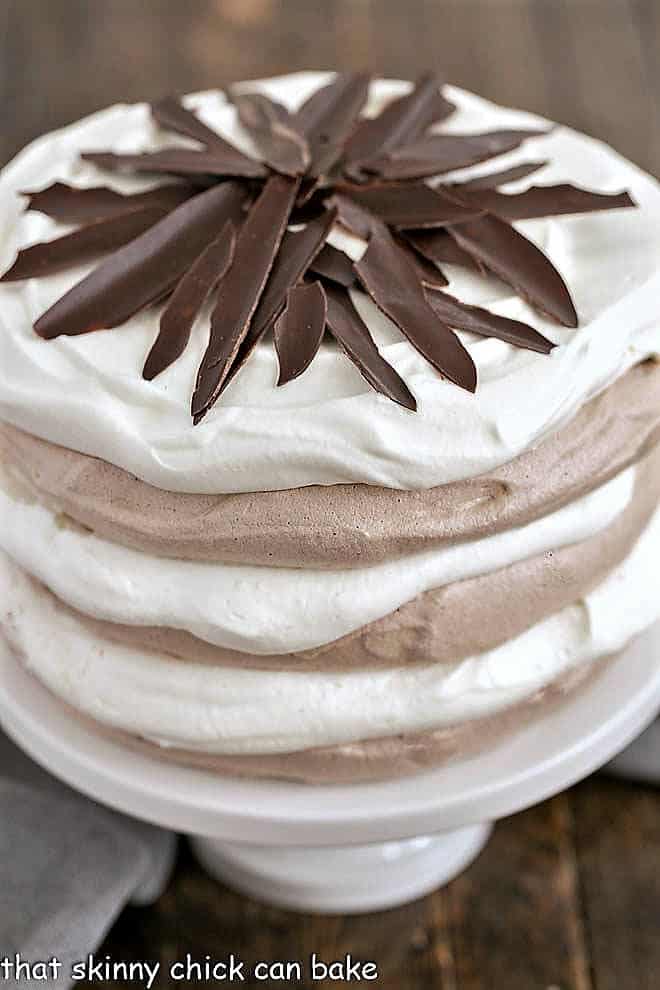 Baking your Meringue
Since your meringue will be in the oven for 3 hours, it's baked at a lower temperature than typical cakes or cookies.
This recipe also requires a 3-hour cooling down, drying out period in the oven after the initial baking period. Make sure NOT to accidentally turn on the oven during this time.
PRO-Tip: Place a Post-It on your oven door reminding you not to use it while the pavlova is inside.
The template you drew on each piece of parchment helps you make the same-sized meringues. I like using an off-set spatula to smooth the sides and tops.
If you only have two baking sheets, feel free to bake one meringue on one sheet and the other two on the second sheet.
Serving Your Meringue Cake
I photographed this meringue cake on a cake stand, but it wasn't easy to slice on the pedestal stand. I suggest serving this dessert on a cake plate.
PRO-Tip: After smashing this cake to bits and having the whipped cream ooze out the sides with my first attempt to slice, I discovered that heating a serrated knife makes much easier work of that task. I just run the knife under very hot water, then dry it off before slicing.
Frequently Asked Questions
What's the Difference Between a Meringue and a Pavlova?
Both meringues and pavlovas are egg white desserts, but the culinary terms are not interchangeable. Meringues are crisp throughout but a classic pavlova has a soft, marshmallow-like center that's chewy.
Is this Dessert Made of Meringues or Pavlovas?
If you go strictly by the definition, this cake is made of three pavlovas, thus a pavlova cake. Meringues tend to be made of only egg whites and sugar, whereas pavlovas have the addition of cornstarch and vinegar, making the inside more marshmallow-like or '"squidgy, " as Nigella would say.
My additions were cornstarch and lemon juice instead of vinegar, which provided the acid needed for the classic texture of a pavlova. But I don't think anyone will argue with you if you apply either of these terms to describe this dessert.
You May Also Like: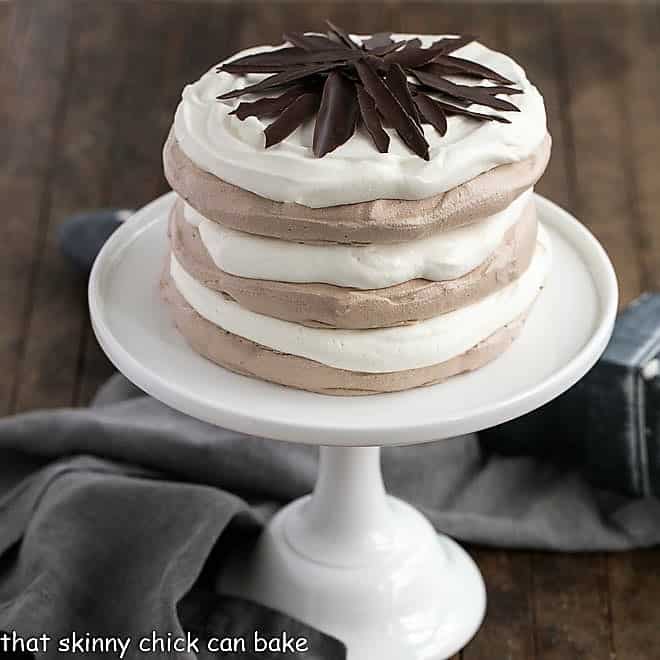 The Recipe:
Layered Chocolate Meringue Cake
Prep Time 30 minutes
Cook Time 3 hours
Total Time 3 hours 30 minutes
Yield 12 servings
3 sweet, light chocolate meringues layered with whipped cream for an elegant dessert!
Ingredients
6 egg whites, at room temperature
1 1/2 cups superfine sugar (use granulated if superfine not available)
1 1/2 tablespoons of cornstarch
3 tablespoons good quality cocoa powder
1 teaspoon lemon juice
2 cups heavy cream
1/2 cup powdered sugar
1 teaspoon vanilla
Chocolate shards to garnish
Instructions
Preheat the oven to 225º. Line 3 baking sheets with parchment. Draw a 7-inch circle on each piece of parchment, then flip the paper over. Set aside.
Whisk together the sugar and the cornstarch in a small bowl. Set aside.
Beat the egg whites till satiny in appearance. Slowly add the sugar mixture, while continuing to beat, until meringue is stiff and glossy. Sift cocoa powder over the meringue, mix to combine, then mix in the lemon juice.
Divide the meringue between the baking sheets, keeping within the 7-inch circles. Smooth tops and edges with an offset spatula. Place in oven and bake for 3 hours until they're dry on edges and top. Pavlova will appear cracked. Turn off oven and leave in oven for 3 more hours.
To serve, place one meringue on a serving plate. Whip cream with powdered sugar, vanilla. Top meringue with about 1 1/3 cup whipped cream, then repeat with the second and third meringue. Top with grated chocolate, chocolate curls or chocolate shards.
Notes
Make sure your beaters and bowl are grease free and there is no yolk in your egg whites or else your egg whites will not whip properly.
This recipe was inspired by Nigella Lawson's chocolate pavlova and the Chocolate-Coconut Pavlova Cake in Southern Living.
Recommended Products
As an Amazon Associate and member of other affiliate programs, I earn from qualifying purchases.
Nutrition Information:
Yield:
12
Serving Size:
1 slice
Amount Per Serving:
Calories: 267
Total Fat: 15g
Saturated Fat: 9g
Trans Fat: 0g
Unsaturated Fat: 4g
Cholesterol: 45mg
Sodium: 39mg
Carbohydrates: 32g
Fiber: 0g
Sugar: 31g
Protein: 3g
Note: This post may contain affiliate links; view
my Disclosure Policy
for details. I earn a small percentage from any purchase you make by clicking on these links at no extra cost to you.