Lemon on a Cloud
This dreamy Lemon Pavlova combines a meringue, lemon curd, a cloud of whipped cream, and luscious fresh berries! You'll swoon with every bite!
This Lemon on a Cloud was a specialty of my mom's and one of my favorite childhood desserts! It's a perfect treat for citrus lovers and they'll all be clamoring for seconds!!.

Why You Must Make
This is a recipe from my mom. It was as delicious back in the 1970s as it is now!
The white meringue shell topped with lemon curd, whipped cream and fresh berries is a showstopper!
This lemon pavlova is one of those gems that's perfect for a dinner party.
Ingredient Notes:
Kitchen Staples – Sugar
Egg whites – Separate your eggs when cold, but they'll whip best when they're at room temperature. Make sure not even a speck of yolk is in the whites and your bowl and beaters are free from grease or the whites will not whip properly.
Egg yolks
Lemon Juice – Use freshly squeezed for the best flavor. Do not use bottled lemon juice off the shelf.
Whipping Cream – 36% butter fat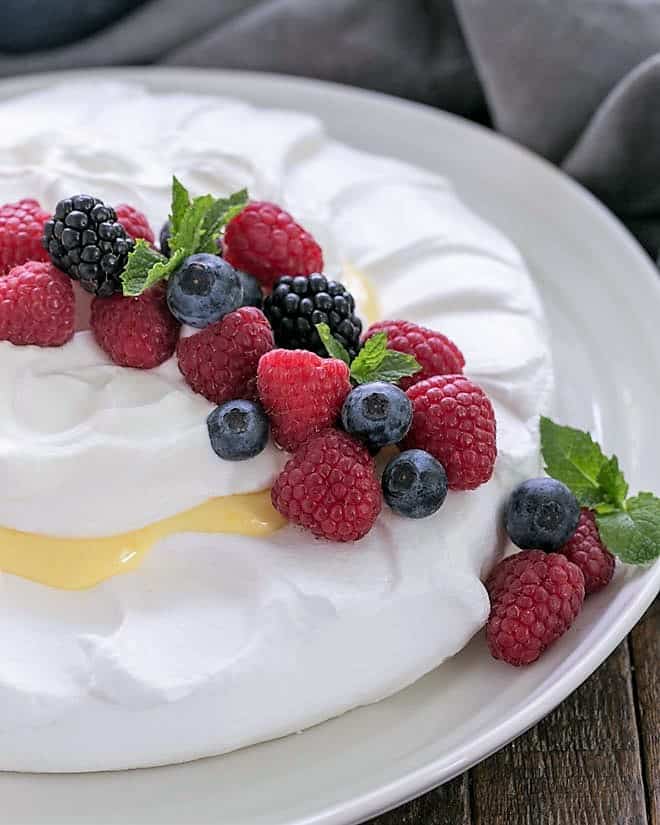 A Lemon Pavlova
We had a huge freezer down in the basement of my childhood home. Perfect for those times my parents purchased a side of beef or made a run to the Sara Lee outlet in Des Moines and came home with boxes and boxes of cheese danish.
My mom typically made a double batch of this lemon meringue dessert and popped one in our freezer. But as soon as we knew of its existence, my sisters and I would sneak down to the musty cellar with a knife and carve ourselves slivers of this citrus beauty. I'm certain our fingers were sticky and our sweet tooths satisfied before returning upstairs.
Years later, I tried to recreate my mom's recipe, but I think her version had more of a lemon curd topping followed by Cool Whip. My family loved my creation, but I may have to hunt down the handwritten recipe card next time I'm back in Iowa. It was my first taste of what I later learned was a lemon pavlova!

Expert Tips
If you've ever made meringue cookies or a pie topping, making a pavlova recipe will be a breeze. Following these tips will help make your first pavlova dessert a success!
PRO-Tip: Make sure your beaters and bowl are scrupulously clean before you start to whip your egg whites.
Egg whites will not beat properly if any grease or fat from a broken egg yolk, contaminates the whites. Note that eggs separate best when cold, but the whites beat best when at room temperature.
Use a piece of parchment to line your baking sheet. Trace a circle on one side of the parchment, depending on the desired size of your pavlova. Flip it over and you'll have a template for spreading out your meringue mixture.
PRO-Tip: I used a 9-inch round cake pan to draw the circle on my parchment since this lemon pavlova recipe suggests a 9-inch circle. Make sure your marking is dark enough so you can see it when the paper is turned over.
To bring your egg whites up to room temperature, you can set your bowl of whites into a larger bowl of hot (not boiling) water while doing your prep work.
Beat your egg whites until foamy, then slowly add 1 tablespoon of the sugar at a time. If you happen to have superfine sugar takes less time to incorporate.
The meringue will get thick and billowy. Once all the sugar is combined, add the lemon juice.
PRO-Tip: The acid in the lemon juice helps delay the coagulation of the whites, making a fluffier meringue. Fresh eggs are more acidic and will also help make a lighter meringue. Besides lemon juice, cream of tartar is often added to meringues for acidity.
Mound the whipped meringue in the middle of your template on the parchment paper. Use an offset spatula to spread and level the meringue into a flat-topped circle.
This recipe calls for a "well" in the center of the meringue to make space for the lemon filling. Try to make it deep enough to accommodate your lemon filling.
Bake as directed. Meringues and pavlovas are typically baked low and slow, so they keep their white color and do not brown.
Cool your meringue shell completely before topping.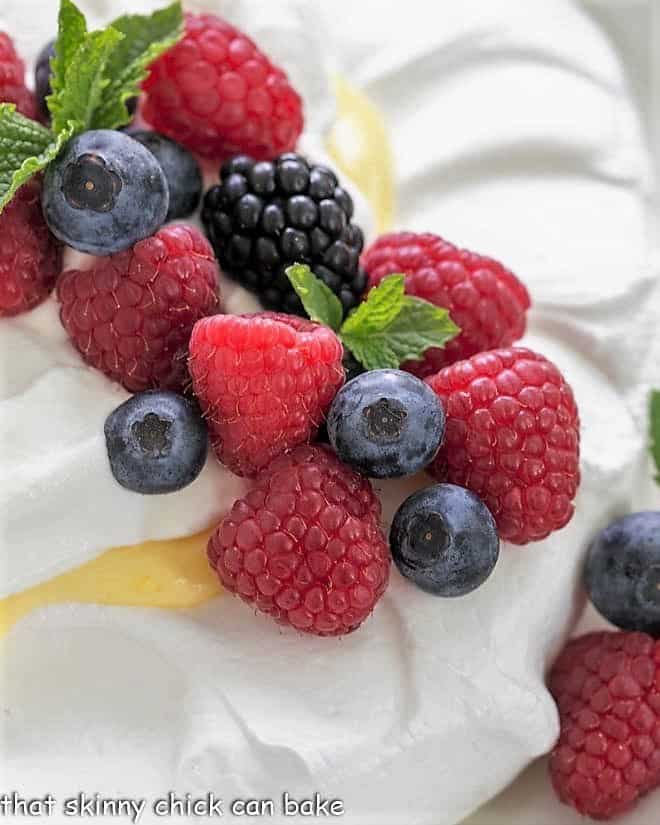 Frequently Asked Questions
What Is Pavlova?
A Pavlova is a large meringue that's topped with whipped cream and fruit. Its origin is often debated as Australia and New Zealand both like to take credit for inventing this dessert named for Anna Pavlova, the ballerina
How do you store a pavlova?
The meringue shell alone can be stored at room temperature in a cool, dry location. But once the toppings are added, the dessert must be refrigerated.
How long will a pavlova keep?
Once a pavlova is assembled, it's best to be eaten on that day. The meringue shell will start to soften and the fruit topping will not be as fresh the next day, but it will still be safe to eat for a couple of days after it's made.
You May Also Like:
Stay in touch through social media @ Instagram, Facebook, and Pinterest. Don't forget to tag me when you try one of my recipes! And if you love the results, please give it a 5-star rating in the recipe card. Note: As an Amazon Associate, I earn from qualifying purchases. Visit my Amazon Store for my favorite products.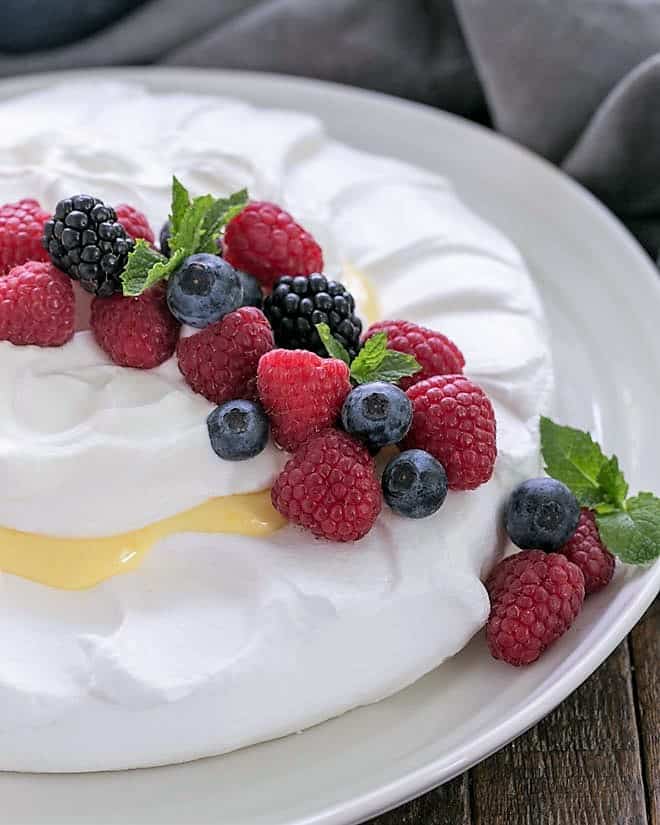 The Recipe:
Lemon on a Cloud
Prep Time 45 minutes
Cook Time 2 hours 20 minutes
Total Time 3 hours 5 minutes
Yield 8 servings
A crisp meringue shell topped with lemon curd and cream
Ingredients
4 egg whites, at room temperature
1 cup sugar
1 teaspoon lemon juice
4 egg yolks
1/2 cup sugar
1/4 cup lemon juice
1 cup whipping cream
Instructions
Preheat oven to 200º. Beat egg whites in a large bowl until foamy.
Gradually add 1 cup sugar, beating until the mixture is very stiff and glossy.
Add lemon juice and mix until combined.
Place parchment paper on a baking sheet. Trace a 9-inch circle in the middle of the paper, then flip so that marks are on the underside of the paper.
Pile meringue into the center of the circle, then spread to the edges, building up the perimeter of the meringue to make a shell. Alternatively, you can bake meringue in a greased 9-inch pie plate. Bake for 2 hours. Cool completely at room temperature.
Meanwhile, combine egg yolks, 1/2 cup sugar, and lemon juice in a saucepan. Cook over low heat, whisking constantly until thickened. Remove from heat and cool at room temperature, refrigerate until cold.
Beat cream until stiff peaks form. Using the same beaters, beat lemon filling until smooth. Fold 1/2 cup of the cream into the lemon filling until blended, then pile it into the cooled meringue shell.
Reserve the rest of the whipped cream in the refrigerator. Cover and chill for at least 2 hours before serving. Top with remaining cream and berries to serve, if desired.
Notes
Make sure there is no egg yolk in your whites or they won't whip properly.
The bowl and beaters need to be free of oil, grease to whip well.
Total time is closer to 5 1/2 hours including cooling times.
Nutrition Information:
Yield:
8
Serving Size:
1
Amount Per Serving:
Calories: 284
Total Fat: 13g
Saturated Fat: 8g
Trans Fat: 0g
Unsaturated Fat: 5g
Cholesterol: 126mg
Sodium: 42mg
Carbohydrates: 39g
Fiber: 0g
Sugar: 39g
Protein: 4g
Note: This post may contain affiliate links; view
my Disclosure Policy
for details. I earn a small percentage from any purchase you make by clicking on these links at no extra cost to you.