Lemon Cake Recipe with Lemon Curd
This Lemon Layer Cake, with 2 vanilla layers topped with luscious lemon curd, and Swiss meringue buttercream, is the perfect dessert for a lemon lover!
One of my dear friends begged me (well, maybe that's a bit of an exaggeration!) to bake a cake for her mom's 90th birthday. The family matriarch wasn't a huge chocolate fan, so we decided to celebrate her big day with spectacular a Lemon Cake Recipe.
Why Make this Lemon Layer Cake
If you're a lemon lover, you'll be thrilled with this dessert!
The filling of lemon curd helps to balance the sweetness of the cake and frosting.
If you've never eaten a Swiss meringue buttercream frosting, this introduction to the most luxurious frosting ever will win you over with your first bite!
Gini was making dinner for her mom and siblings, who were traveling home from around the country for their mom's birthday. Without spouses, there would be 12 in attendance. 11 children. Yes, this mother of 11 deserved a party and she wanted a lemon dessert! Gini is a wonderful cook and baker, but she had enough on her plate trying to plan the meal.
How to Make a Lemon Layer Cake with Lemon Curd
I was delighted to help celebrate this monumental birthday!
I baked up a recipe for a two-layer vanilla cake, then sliced each cake in half horizontally to create 4 layers.
Next, I made enough lemon curd so I could cut each layer in half and top 3 layers with curd. Made with fresh lemon juice, the tart curd contrasted deliciously with the sweet cake and frosting.
The second time I made this cake, I simplified not splitting the layers and filling with a premium brand of lemon curd. I've included the directions below for making homemade lemon curd and a two-layer cake.
A buttery Swiss meringue was whipped up with a touch of vanilla to ice the cake. Add a touch of lemon extract, too, if desired. This lemon curd layer cake was a beauty!
How to layer a cake with lemon curd
If you spread the lemon curd to the edge of your bottom layer, it will ooze out the sides when you top it with the second layer. Therefore, it's best to leave a half-inch gap between the side of the cake and the lemon curd. This will give the curd some room to spread. Any curd that escapes can be cleaned off with an offset spatula.
How to stack a layer cake
Place the first layer, top side down, on a cake plate or stand. Tuck strips of wax or parchment paper around the perimeter of the cake to help keep the cake stand clean while frosting. Depending on the total amount of frosting available, spread 1/2-3/4 cup of frosting on top of the bottom layer.
Next, top with the second layer, top side up. This places the two flat bottom sides in the middle of the cake. Finish frosting the cake.
Tips for Making a Swiss Meringue Buttercream Frosting
This is one of my absolute favorite frosting recipes, but it is a bit tricky! Feel free to substitute with a regular American buttercream or even cream cheese frosting, But if you're daring, give the swiss meringue buttercream a try. I'll give you all my tips and tricks to making this outrageously delicious frosting.
The egg whites and mixing bowl and beaters must be free of any grease (or egg yolk which contains fat) as this will prevent the meringue from whipping into stiff peaks.
Eggs separate best when they're cold, but whip best when they're at room temperature. When you separate the eggs, do it one at a time using 3 bowls. One for the yolks, one for the whites as you separate, then the mixing bowl to which you dump each egg white once you're sure there's no yolk contamination.
Make sure you have an instant-read thermometer. The egg and sugar mixture must be heated to 160º to make sure the sugar is melted. The thermometer is key to monitor the temperature correctly. This temperature will also kill any pathogens that can lead to food poisoning.
This heating process is done in a double boiler, which is a set of pans with the top one inserted into a second filled with a couple of inches of simmering water. A trick is to use the bowl of your stand mixer and place it over a pan filled with 2 inches of simmering water. The bottom of the bowl should not touch the water.
Cook the whites and sugar over the simmering water, whisking until the sugar dissolves and the mixture reaches 160º. This will take 4-5 minutes. If you want to double-check the mixture, rub a bit of it between two of your fingers. You should not feel any grains of sugar. If you do, it needs to be cooked longer.
Carefully remove the bowl from the water and pour the mixture into the bowl of your stand mixer. Or if you're using your mixer's bowl, carefully attach it to the mixer (it will be hot). With the whisk attachment, beat the mixture for about 10 minutes or until stiff peaks form and the bottom of the bowl isn't warm.
Switch to the paddle attachment and add a tablespoon of the room temperature butter at a time, adding the next tablespoon only after the previous one is incorporated. When all the butter is mixed in, turn the mixer down and mix in any flavorings. Sample, swoon, and frost your cake!
If you love lemon desserts, here are a few more favorites!
This recipe was first shared in September 2015. Photos, text, and the recipe were updated in 2020.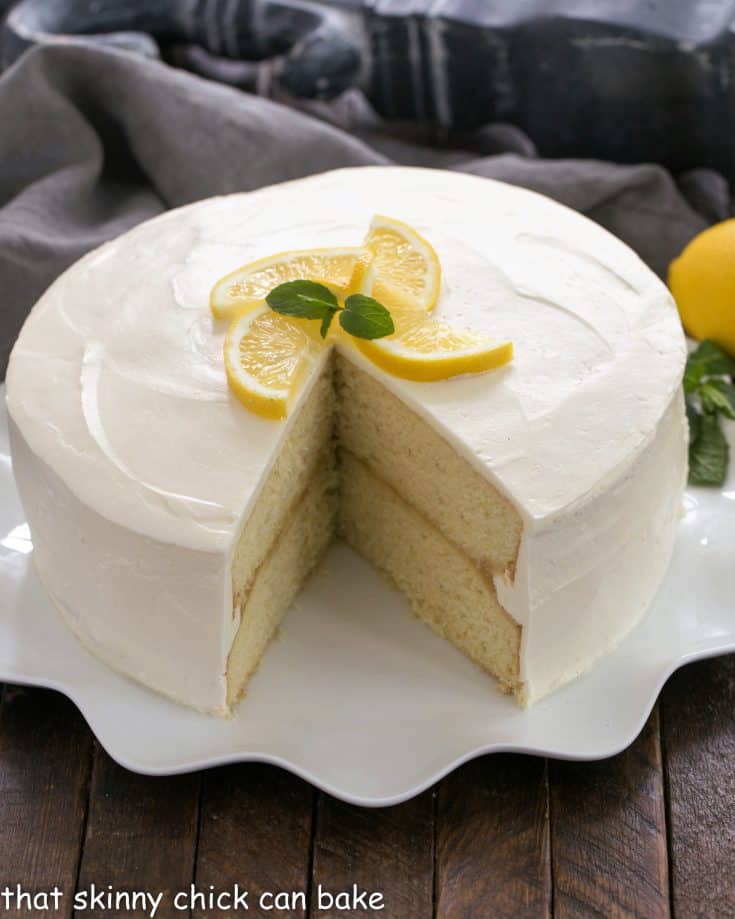 The Recipe:
Lemon Layer Cake
Prep Time 30 minutes
Cook Time 40 minutes
Total Time 1 hour 10 minutes
Yield 16 servings
A luscious four layer cake filled with lemon curd and topped with a Swiss meringue.
Ingredients
Lemon Curd (or use a store-bought lemon curd):
1 cup fresh lemon juice
1 teaspoon unflavored gelatin (I used Knox brand)
1 1⁄2 cups sugar
1⁄8 teaspoon salt
4 eggs
6 egg yolks, (reserve egg whites for cake)
8 tablespoons unsalted butter cubes and frozen
Cake:
2 1⁄4 cups cake flour
1 cup whole milk, room temperature
6 egg whites, room temperature
2 teaspoons vanilla extract
1 3⁄4 cups sugar
4 teaspoons baking powder
1 teaspoon salt
12 tablespoons unsalted butter, softened, but still cool
Swiss Meringue Frosting
3 egg whites
1 cup sugar
3/4 cup butter, at room temperature
1/2 teaspoon lemon extract or 1 teaspoon vanilla extract
Instructions
Filling:
Measure 1 tablespoon lemon juice into a small bowl; sprinkle gelatin over the top.
Heat remaining lemon juice, sugar, and salt in a saucepan over medium-high heat, stirring occasionally until sugar dissolves and the mixture is hot, but not boiling.
Whisk eggs and yolks in a large non-reactive bowl.
Whisking constantly, slowly pour hot lemon-sugar mixture into eggs, then return mixture to saucepan.
Cook over medium-low heat, stirring constantly until mixture reaches 170°, about 4-6 minutes.
Immediately remove from heat and stir in gelatin mixture until dissolved. Stir in frozen butter until incorporated.
Pour filling through a fine-meshed strainer into a bowl.
Cover surface with plastic wrap; refrigerate until firm enough to spread, about 4 hours.
Cake:
Preheat oven to 350°.
Grease and flour two 9-inch cake pans and line with parchment paper.
In a medium bowl, whisk together whites and vanilla.
In a mixer bowl, combine flour, sugar, baking powder, and salt; mix at slow speed.
Add butter one piece at a time, continue to beat until mixture resembles moist crumbs, and no visible butter chunks.
Add all but 1 cup of milk mixture to crumbs and beat at medium speed until mixture is pale and fluffy, about 1 1/2 minutes.
With the mixer running, add remaining 1/2 cup milk mixture, beat 1 minute more.
Divide batter evenly between cake pans.
Bake 23-25 minutes or until a toothpick inserted in center of cakes comes out clean.
Cool cakes in pan 10 minutes then remove from pan onto a greased wire rack, remove parchment paper, invert again and cool completely.
When the layers are cool, place the first cake layer on a serving plate.
Spread 1 cup of the lemon filling evenly on top of the cake, leaving a 1/2-inch border around the perimeter.
Place the top layer on the cake, and smooth out any filling that may have leaked from the layers.
Swiss Meringue Buttercream:
Combine the egg whites and sugar in a mixer bowl or heatproof bowl. Set over a medium saucepan filled with 2-inches of simmering water.
Cook stirring constantly until mixture reaches 160°, 5-10 minutes
.Transfer mixture to mixer bowl (if needed) with the whisk attachment and beat on medium-high speed until glossy, stiff peaks form and mixture is no longer warm about 10 minutes.
Switch to the paddle attachment. Slowly add butter, one tablespoon at a time, making sure it's incorporated before adding the next tablespoon.
Place the first cake layer on a serving plate.
Spread 1 cup of the lemon filling evenly on top of the cake, leaving a 1/2-inch border around the perimeter.
Place the top layer on the cake, smooth out any filling that may have leaked from the layers.
Place the top layer on the cake, smooth out any filling that may have leaked from the layers.
Note: If you made the homemade lemon curd, you can put a second layer on top of the cake and only frost the sides.
Spread icing on the cake.
Notes
Adapted from Southern Living
Nutrition Information:
Yield:
16
Serving Size:
1 slice
Amount Per Serving:
Calories: 469
Total Fat: 18g
Saturated Fat: 10g
Trans Fat: 0g
Unsaturated Fat: 7g
Cholesterol: 155mg
Sodium: 329mg
Carbohydrates: 72g
Fiber: 0g
Sugar: 56g
Protein: 7g
Note: This post may contain affiliate links; view
my Disclosure Policy
for details. I earn a small percentage from any purchase you make by clicking on these links at no extra cost to you.