Butter and Rum Crêpes with Lemon Curd
Even my dubious husband thought these lemon curd-filled Butter and Rum Crêpes were an outstanding dessert! Elegant and delicious!
This Dorie Greenspan recipe takes simple crêpes and turns them into a multi-faceted treat by adding Homemade Lemon Curd. These Dessert Crêpes are perfect for a special brunch offering as well!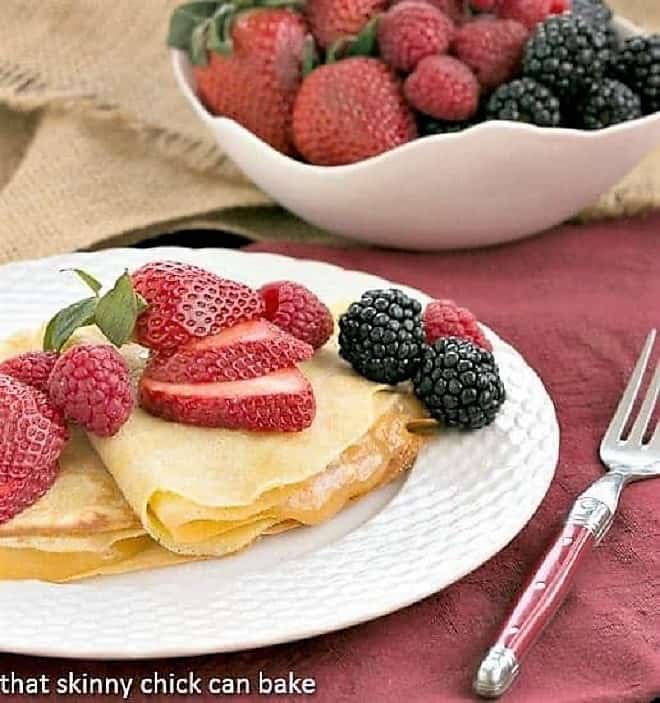 Why You Must Make
Once you learn how to make a basic crêpe recipe you can make sweet or savory versions for any meal of the day.
This is an elegant dessert that doesn't require baking.
The simple lemon curd filling is delicious especially when you garnish with fresh berries.
I had some 3-day old chocolate chip bars sitting on the counter. The hubby was eyeing those for his dessert. But there was also a plate of these freshly made Butter and Rum Crêpes, filled with lemon curd and topped with berries and a citrus honey sauce. "You know I really don't like crêpes," was his response when I asked him to just take a d@$m forkful.
You who have met me in real life realize that's only what I thought, not what I said, as I took a deep breath. He finally humored me with a courtesy bite, and, as I expected, he was pleasantly surprised. "Boy, is that lemony…and good." Uh, yeah, lemon curd is nothing new around here…but I kept my wifely comments to myself, while inwardly smiling.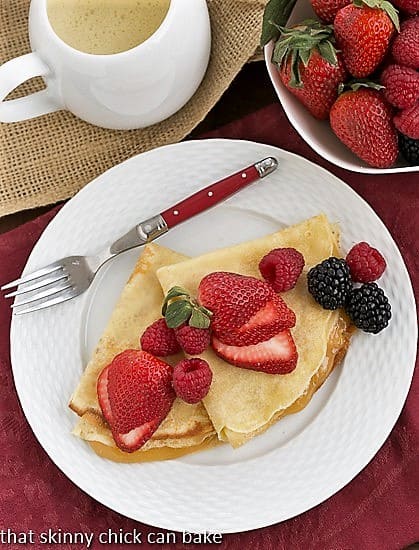 Recipe Tips
Make sure you have a nice non-stick saute pan, 8 to 10-inches in diameter or a crêpe pan available.
Rubbing the citrus zest into the sugar will release their essential oils adding more flavor than just tossing the zest into the batter.
If you have time, let the batter rest in the refrigerator for at least 30 minutes and up to overnight. This will help the gluten relax and give the flour time to absorb the liquid in the batter.
Make sure to whisk the batter after the resting period so it's homogeneous.
If the batter seems a little too thick after resting, you can add a little more milk to get it to the proper consistency.
Even with a nonstick pan, use some oil to grease the pan. If you prefer you can use melted butter instead which will add a delicious flavor along with keeping the crêpes from sticking. Add more as needed while cooking.
Heat your pan under medium heat. If it's too hot, the batter will set before it can be well distributed across the surface of the pan.
After pouring some batter into the heated pan, turn the pan with your wrist to help spread the batter over the surface. Work quickly.
Most often, the first pancake isn't perfect, but it can be the cook's treat!
Store leftover crêpes stacked with wax paper between layers. This will prevent them from sticking to each other.
Dessert or Breakfast?
"Can I eat this for breakfast?" my hubby questioned. So like with a child, I have learned to pick my battles. Tollhouse chocolate chip bars after dinner….and dessert crêpes for breakfast. Welcome to my world!
These were not your typical breakfast crêpes. The batter was doused with some dark rum, Grand Marnier plus lemon and orange zest. Sold yet? They were then filled with lemon curd (use either Dorie's recipe or a premium jarred version from your market) and drizzled with a sauce made of honey, orange, and lemon juice, and, of course, butter. So whether you want to serve these fancy crêpes for breakfast or dessert, you have my permission. Just make sure to make these lemon crêpes!

Frequently Asked Questions
What Are Crêpes?
Crêpe is the French word for pancake. Unlike American pancakes, crêpes are light, paper thin, and can be sweet or savory. Dessert crêpes may be filled with jam, fruit, or chocolate, and are often ignited after a light dousing of rum or brandy. Savory crêpes can be filled with mixtures of meat, cheese, or vegetables and covered in a sauce. They can be served as a starter or entree.
How Do You Pronounce Crêpes?
There are two acceptable pronunciations:  Krayps or Krehps. The latter is closest to the French pronunciation.
Do You Need a Crêpe Pan to Make Crêpes?
If you're making crêpes frequently, it might be worth the investment. Using a nice nonstick saute pan will work well, too. Use a pan with sloped sides for the best results.
You May Also Like: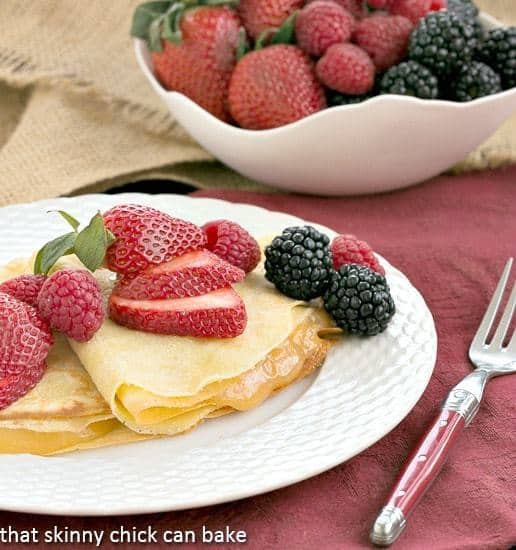 The Recipe:
Butter and Rum Crêpes Recipe with lemon curd
Prep Time 10 minutes
Cook Time 20 minutes
Total Time 30 minutes
Yield 10 crepes
Dosed with Grand Marnier and rum and filled with lemon curd, these are no ordinary crepes!
Ingredients
For the crepes:
2 tablespoons sugar, plus more for sprinkling
Finely grated zest of ½ lemon
Finely grated zest of ¼ orange
Pinch of salt
2 large eggs
¾ cup whole milk, plus a little more if needed
1 tablespoon dark rum or 1 ½ teaspoons pure vanilla
2 teaspoons Grand Marnier (optional)
3 tablespoons unsalted butter, melted
½ cup all-purpose flour
Canola oil or other flavorless oil, for the pan
For the sauce:
⅓ cup honey
⅓ cup fresh orange juice
¼ cup fresh lemon juice
7 tablespoons unsalted butter, at cool room temperature
For the Lemon Curd:
1 ¼ cups sugar
4 large eggs
1 tablespoon light corn syrup
¾ cup fresh lemon juice (from 4-5 lemons)
8 tablespoons (1 stick) unsalted butter, cut into chunks
Instructions
Put the sugar and zests into a bowl and rub together with your fingertips until the sugar is moist and very fragrant. Put the sugar and zest into a food processor or blender.
Add the salt, eggs, milk, rum or vanilla, and Grand Marnier, if you're using it, and blend. Pour in the butter and process until the mixture is well blended.
Add the flour and pulse the machine to incorporate it. Make certain the flour is blended, but don't overmix. Pour the batter into a pitcher or a large measuring cup with a spout, cover, and refrigerate for at least 2 hours.
When you're ready to make the crepes, sprinkle a dinner plate with sugar. Then rub an oiled paper towel over the surface of a 7-½-inch-diameter crepe pan or a similar-sized skillet. Place over medium heat.
When the pan is hot, lift it from the heat and pour in 2 to 3 tablespoons of batter and immediately swirl the pan to spread the batter in a thin, even layer. Return the pan to the heat and cook until the top of the crepe is set. Check the underside to see if it's brown, then flip using fingers or a spatula. Cook until the underside is browned.
Transfer the crepe to the sugared plate, sprinkle it lightly with sugar, and continue with the rest of the batter.
To make the sauce, melt the honey in a microwave oven or in a saucepan over low heat. Cool the honey for 5 minutes, then add the orange and lemon juices. Blend or whisk in the butter, adding it a tablespoon at a time. Use immediately or refrigerate and reheat when needed.
If you want to fill the crepes, spoon some lemon curd (see instructions below for making lemon curd) onto the upper-right-hand quarter of each crepe and fold in half and then in thirds to make triangles.
Arrange the crepes on plates, drizzle the sauce over them, and serve immediately.
If you want the filling, make lemon curd. Whisk sugar and eggs in a heavy saucepan; whisk in the remaining ingredients.
Over medium-low heat, stir constantly until the curd thickens and just starts to bubble. But do not let it boil. Scoop the curd into a heatproof container. Press plastic wrap against the surface. Cover, let cool, and then refrigerate.
Notes
Total time does not include chilling time.
Recommended Products
As an Amazon Associate and member of other affiliate programs, I earn from qualifying purchases.
Nutrition Information:
Yield:
10
Serving Size:
2 crepes
Amount Per Serving:
Calories: 661
Total Fat: 27g
Saturated Fat: 15g
Trans Fat: 0g
Unsaturated Fat: 11g
Cholesterol: 168mg
Sodium: 142mg
Carbohydrates: 103g
Fiber: 0g
Sugar: 96g
Protein: 5g
This recipe can be found in Around My French Table (affiliate link) by Dorie Greenspan.
Note: This post may contain affiliate links; view
my Disclosure Policy
for details. I earn a small percentage from any purchase you make by clicking on these links at no extra cost to you.