Frozen Grasshopper Pie with an Oreo Crust
A dessert twist on the classic mint after-dinner drink, this Frozen Grasshopper Pie with an Oreo Crust is one of our traditional 4th of July desserts. My family would revolt if I skipped this winner!
With a chocolate cookie crust and dreamy creme de menthe filling, this luscious pie is one of our family's favorite No-Bake Desserts. Ideal for summer parties, holiday desserts or any special occasion, it's an annual Independence Day dessert at my house. But note that this recipe is easy enough to treat yourself any time of year!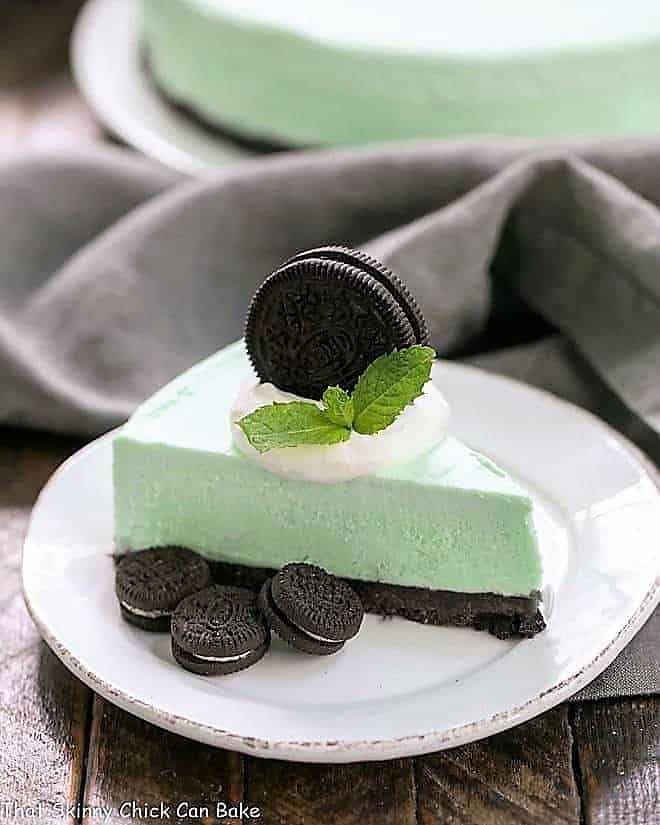 Why You Must Make
This frozen pie is perfect for summer entertaining, but the mint makes it worthy of holiday gatherings.
Since it must be frozen to eat, it's an easy make-ahead dessert!
The first grasshopper pie recipes had fillings with gelatin and egg whites and were a lot more complicated. This is one of the easiest no-bake desserts that is always a hit.
My children all adore the combination of mint and chocolate. Bill? AKA the picky husband? Well, not so much. He won't even taste anything with mint in it. Except for toothpaste. This is the sort of logic I have to deal with on a day-to-day basis.
Like no cherries except for Cherry Koolaid. I think I married a 5-year-old in an adult's body. But I digress. There is always a stash of Thin Mints in our basement freezer for the kids for those mint cravings, but once a year, I whip up this frozen mint pie. It doesn't last long!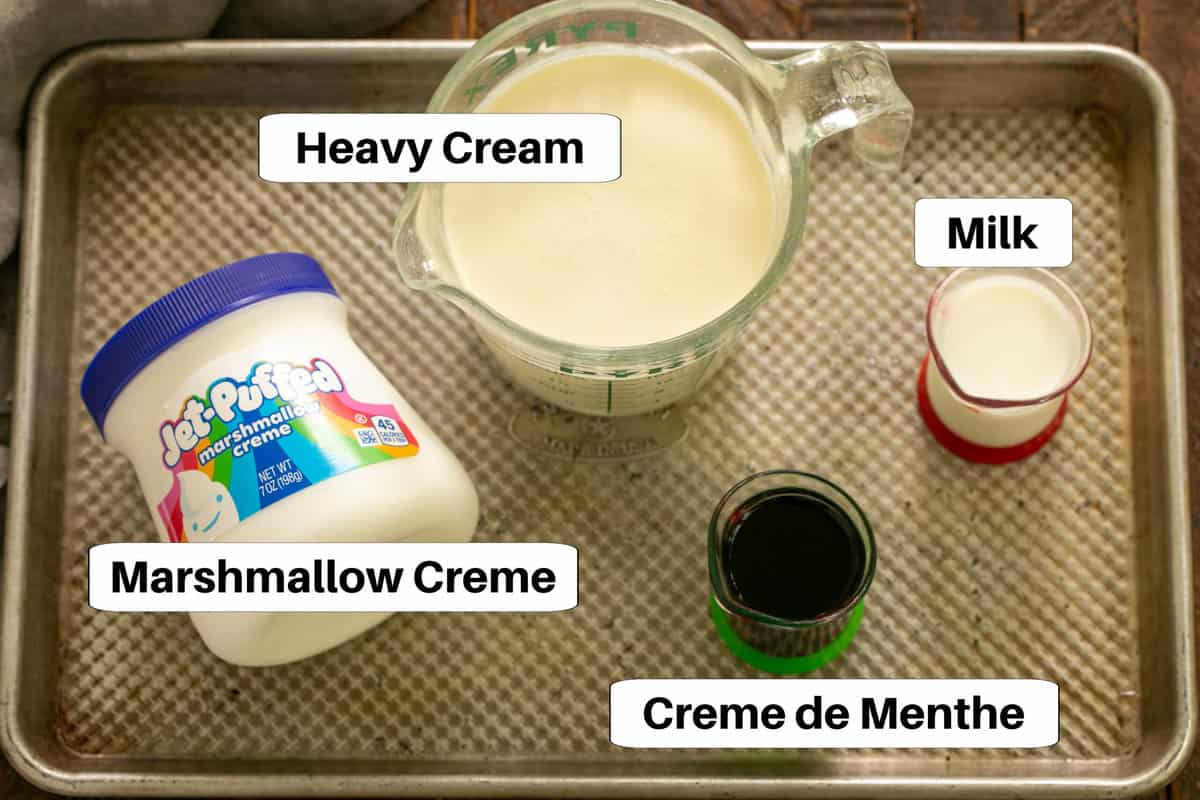 Ingredient Notes
Kitchen Staples – Milk (I used 2%), Butter (I use salted as salt is a flavor enhancer)
Oreos – crushed using a food processor. May also use Nabisco Famous Wafers plus 2 T sugar.
Creme de Menthe – A green liqueur giving this dessert it's minty flavor and color.
Marshmallow Creme – 7 ounce jar.
Heavy Cream – 36% Butterfat, whipped.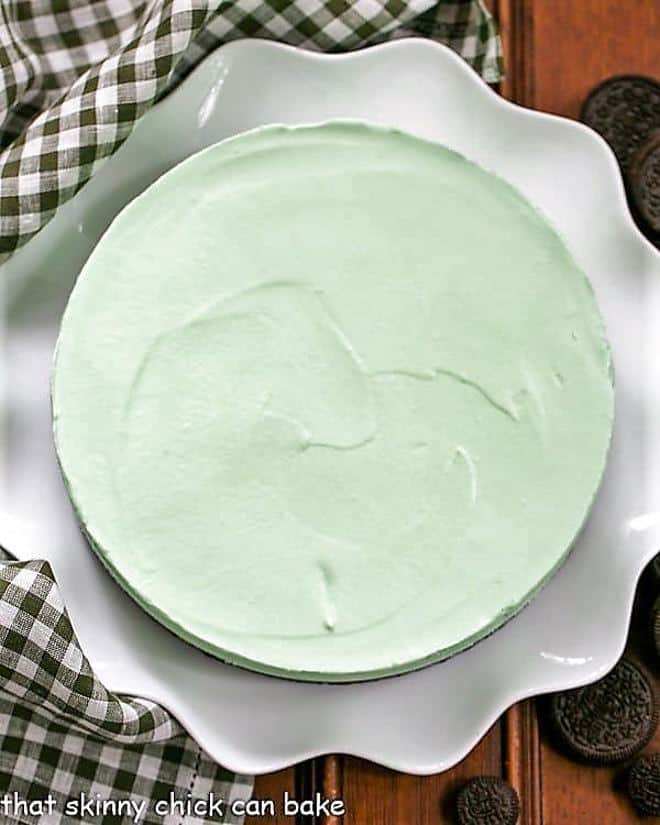 How to Make a Grasshopper Pie
I started making this no-bake dessert for our Fourth of July gathering about 15 years ago using my mom's recipe from the 1970s. It comes together very quickly and easily. But it does require some time in the freezer, so make sure not to make this grasshopper dessert at the last minute.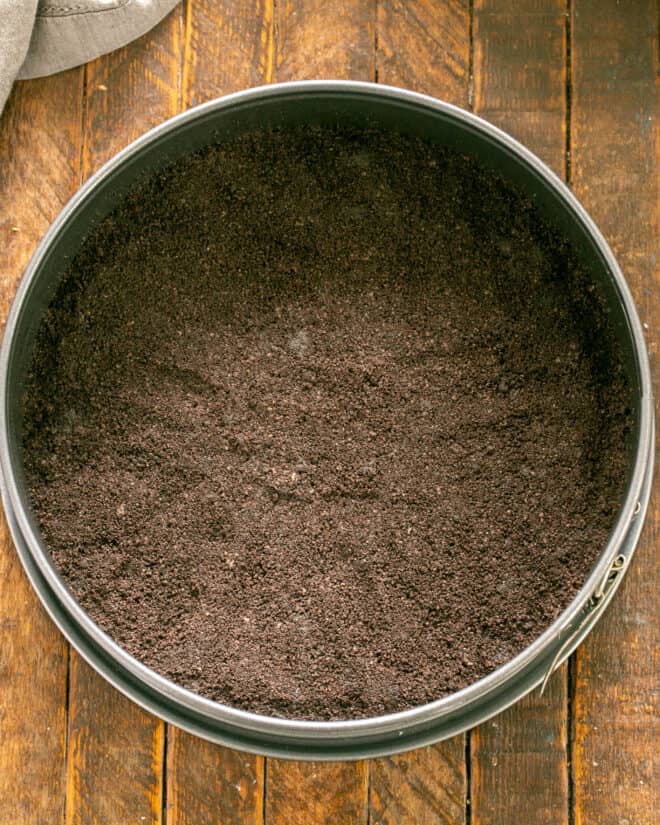 First, make the Oreo crust by making cookie crumbs in the food processor. Mix the crumbs with melted butter and pressed them onto the bottom of the springform pan.
Next, with a mixer, blend together the milk and marshmallow cream. A little patience is needed for the ingredients to combine into a smooth liquid. Creme de menthe is added for the minty flavor and classic green color of a grasshopper cocktail.
Gently add the whipped heavy cream into the mint mixture.
Scrape the filling over the crust, smooth the top with an offset spatula, and freeze.
For special occasions, not our casual 4th of July party, serve slices with a dollop of whipped cream garnished with an Oreo Cookie.
One neighbor, in particular, always gets an extra slice to take home. His wife, Sharon, is "helping" him diet by limiting her baking, and I got an email about a week before the holiday with his annual request for this grasshopper pie recipe. And he denies even liking desserts! Anyone who is that fond of one of my desserts gets a huge slice PLUS a doggy bag for a midnight snack.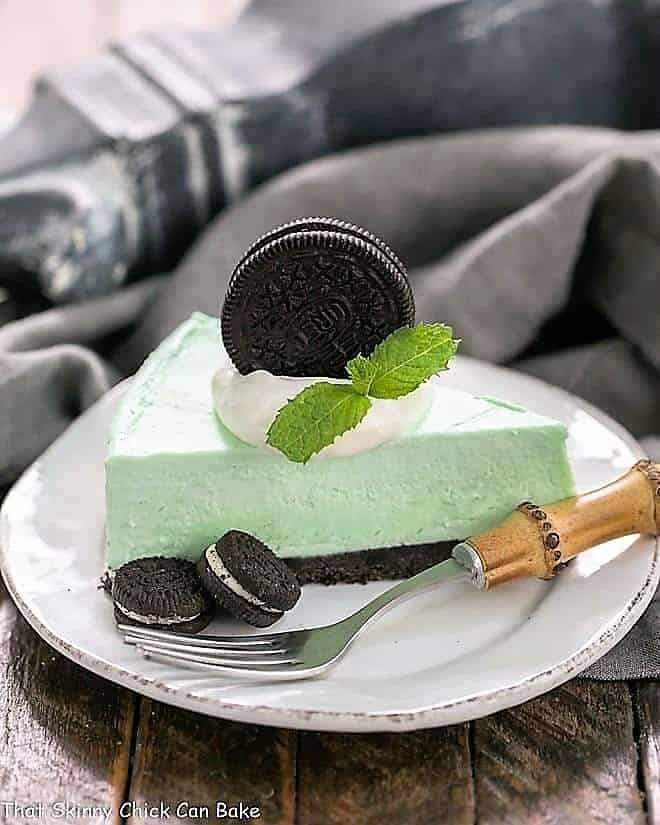 Expert Tips
When it's hot and humid, no-bake desserts are a cool, creamy way to end a meal. Plus, not needing to turn on the oven on a sultry day is a huge bonus! There are a couple of things you'll want to keep in mind when making sweets like this frozen pie.
Mixing the Mint Filling
PRO-Tip: With an ice cream pie or a frozen no-bake pie, the flavors are usually dulled by the freezing process. The creme de menthe in this pie provides an intense mint flavor that is mellowed by marshmallow cream, whipped cream, and time in the freezer.
To ensure perfect textured filling, carefully fold in the whipped cream or whipped topping if called for in the recipe. Folding is when you use a rubber spatula and lift a portion of the mixture up from the bottom of the mixing bowl and flip it over to gently combine. Repeat this gentle circular motion over and over, rotating the bowl, until the mixture is homogeneous. This means no white streaks are visible in the green filling.
Freezing and Cutting a Frozen Grasshopper Mint Pie
Make your Grasshopper Pie in a 9-inch springform pan. Remove the ring after it's frozen; this makes it very easy to slice and serve.
Freeze the pie for at least 4 hours or overnight so it can solidify. I like to make this dessert the day before I'm serving it.
Cover the pie with plastic wrap to prevent frost from forming on top of the pie for storing longer than a day in the freezer.
If you have time, you can set the pie/dessert out on the counter for about 10 minutes before slicing. This will soften the filling slightly without melting it (unless you're outdoors on a summer day!).
PRO-Tip: If the pie is frozen solid and difficult to cut into slices, heat a knife by running it under hot water and drying it. The heat will help the knife glide through the frozen filling.
Frequently Asked Questions
Where Did This Pie Get Its Name?
My children will go for anything "grasshopper," as long as none of the green, hopping insects are on the ingredient list. This grasshopper mint pie recipe is named after the very sweet grasshopper cocktail that grew in popularity in the U.S. in the 1950s and '60s.

Creme de Menthe gave this rich, creamy adult beverage its green color which made someone think of a real-life grasshopper. Creme de Cacao, a chocolate liqueur, and cream also contributed to this sweet after-dinner drink. Both this irresistible Grasshopper Chocolate Bark and this decadent  Grasshopper Poke Cake would get my children's approval, too.
What is Grasshopper Pie?
This Grasshopper Pie Recipe has a few simple ingredients. The crust is made of Oreos processed to make crumbs, then combined with melted butter. Alternatively, you can make it with boxed Oreo crumbs or processed Nabisco Famous Wafers, a touch of sugar, and melted butter.

The filling ingredients include milk, creme de menthe, marshmallow cream, and whipping cream. If you use clear creme de menthe, you'll want to add green food coloring for the classic green filling. A little Creme de Cacao is always an optional addition to mimic the cocktail even more.
How Do You Garnish a Grasshopper Pie?
Right before serving, I like to pipe swirls of whipped cream around the perimeter of the pie. Then add a mini Oreo to each swirl. Alternatively, top each slice with a dollop of whipped cream and an Oreo cookie.
You May Also Like:
This recipe was first shared in July 2011. Photos and text were updated in 2019 and 2021.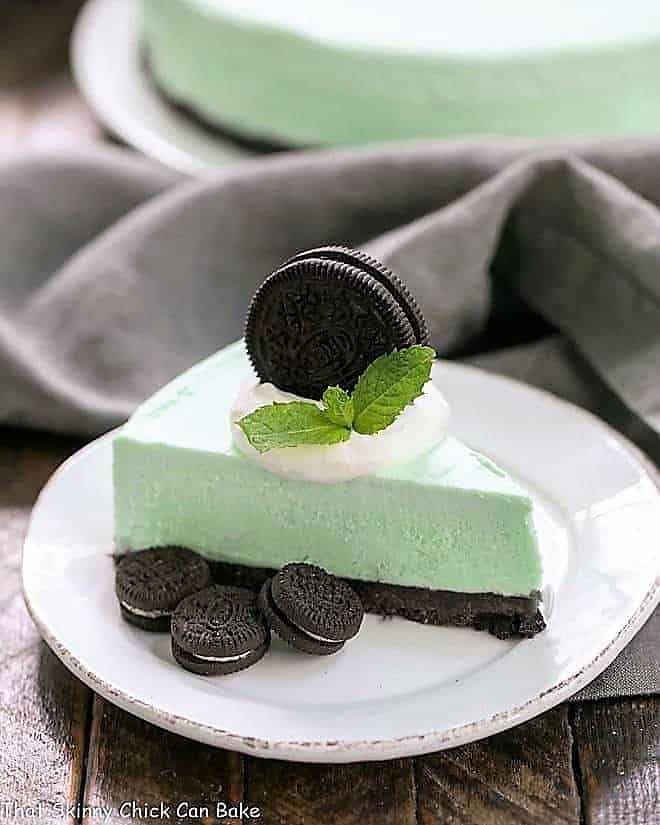 The Recipe:
Frozen Grasshopper Pie with an Oreo Crust Recipe
Prep Time 30 minutes
Total Time 30 minutes
Yield 12
This frozen minty grasshopper pie will delight mint fans of all ages!
Ingredients
24 Oreos, crushed (or Nabisco Famous Wafers plus 2 T sugar)
¼ cup butter, melted
¼ cup milk
¼ cup creme de menthe
1 7-oz jar marshmallow creme
2 cup heavy cream, whipped
Instructions
Place cookies in a food processor and pulse till crumbs form. Combine crumbs and butter.
Press onto the bottom of a 9-inch springform pan.
In a mixing bowl, gradually add milk and creme de menthe to the marshmallow cream, beating with a hand mixer to break up the marshmallow cream.
Fold in whipped cream.
Pour over crust. Freeze.
No need to garnish, but I like to top slices with some whipped cream, a mint sprig, and an Oreo when serving to company.
Notes
Recipe from my mom's recipe cards.
Total time does not include freezing time.
Recommended Products
As an Amazon Associate and member of other affiliate programs, I earn from qualifying purchases.
Nutrition Information:
Yield:
12
Serving Size:
1 slice
Amount Per Serving:
Calories: 352
Total Fat: 23g
Saturated Fat: 13g
Trans Fat: 1g
Unsaturated Fat: 5g
Cholesterol: 56mg
Sodium: 147mg
Carbohydrates: 34g
Fiber: 1g
Sugar: 22g
Protein: 2g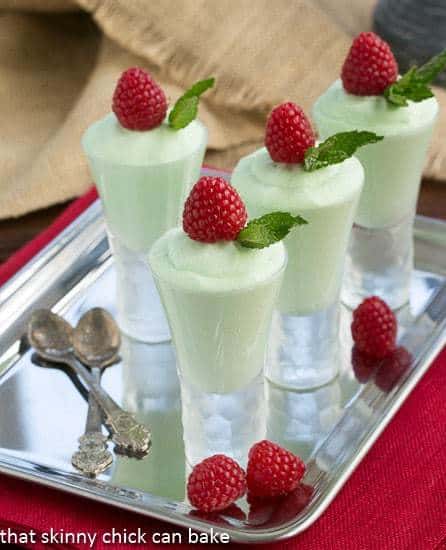 Note: This post may contain affiliate links; view
my Disclosure Policy
for details. I earn a small percentage from any purchase you make by clicking on these links at no extra cost to you.