Tunnel of Mousse Cake
Who doesn't love a chocolate mousse cake? But even better is a Tunnel of Mousse Cake with mousse used as both frosting and filling!
This mousse filled cake provides a delicious surprise when cutting each slice! Perfect for holidays, special company or a family dinner.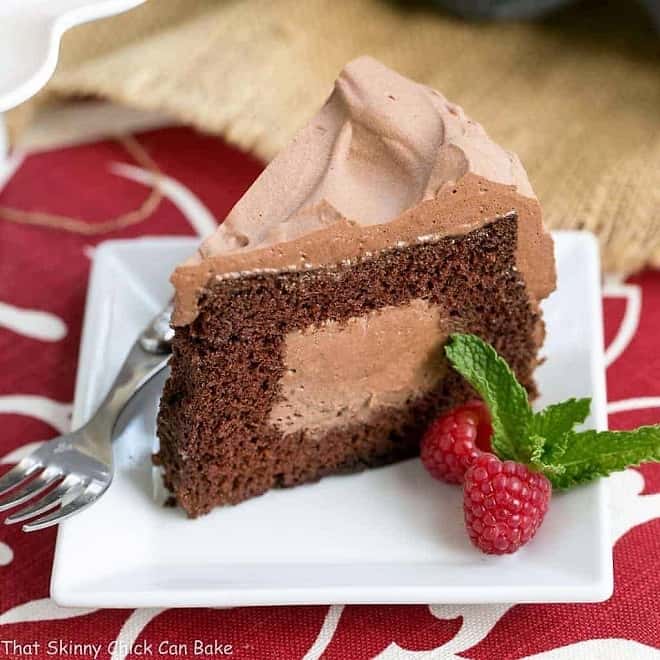 Tunnel of Mousse Cake
My friend, Cindee, shared her family recipe for this tunnel of mousse cake after I posted a different mousse cake on the blog last month. When I've seen "tunnel" cakes like this Chocolate Tunnel Cake from my friend Maria at Two Peas & Their Pod, my mouth can't help but water!
So when debating what to make for our Easter dessert, besides the annual fudge lamb, of course, this brilliant dessert came to mind. And what a cake it was.
The whole darned family licked their plates clean. The mousse reminded me of soft chocolate ice cream, which isn't surprising considered it's made of heavy cream, cocoa, and sugar. And the cake had a delicate crumb without the chocolate intensity that my daughter finds too rich. So everyone was pleased. Score one for the baker.
Aly of Cooking in Stilettos
I'm sharing this recipe over at Cooking in Stilettos, the blog written by my lovely friend, Aly. She had an unfortunately kitchen accident involving her thumb and a mandoline. Enough said.
Needless to say, her sore digit makes it difficult to cook and type. Hard on a blogger. So pop on over to her blog, tell her hello and check out this tunnel of mousse cake recipe that has now become a tradition in two families! Thanks, Cindee. And hope you heal quickly, Aly!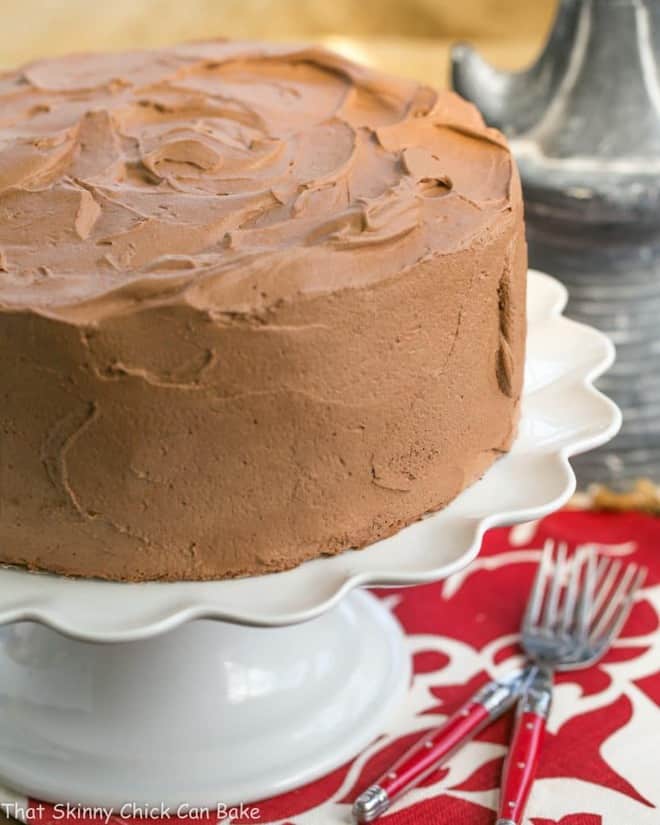 More Mousse Dessert Recipes You'll Love:
You Might Need:
The Recipe:
Tunnel of Mousse Cake
Prep Time 45 minutes
Cook Time 1 hour
Total Time 1 hour 45 minutes
Yield 12
Who doesn't love a chocolate mousse cake? But even better is a Tunnel of Mousse Cake with mousse utilized as both frosting and filling!
Ingredients
For Cake:
½ cup sifted cocoa powder
¾ cup boiling water
1¾ cups sifted cake flour
1¾ cups sugar
1½ teaspoons baking soda
½ teaspoon salt
½ cup vegetable oil
7 egg yolks, reserve egg whites
2 teaspoons vanilla
1 cup of egg whites (7 or 8), at room temperature
½ teaspoons cream of tartar
For Mousse:
4 cups heavy cream
1½ cups powdered sugar
¾ cup sifted cocoa
2 teaspoons vanilla
¼ teaspoon salt
Instructions
Preheat oven to 325º.
Put cocoa powder into small bowl and stir in the boiling water till smooth. Cool for 30 minutes. Sift together flour, sugar, soda and salt. Make a well in the center and add oil, egg yolks, vanilla and cocoa mixture. Beat till smooth with a hand mixer, scraping sides of bowl as needed. Set aside.
Put egg whites into the bowl of a stand mixer fit with the whisk attachment. Sprinkle with cream of tartar. Beat until stiff peaks form. Pour chocolate batter over egg whites and gently fold together till blended. Pour into an ungreased tube pan.
Bake for 50-60 minutes or till the top of the cake springs back when pressed. Cool on rack for at least 1½ hours. Use a straight, thin metal spatula to go around the perimeter of the cooked cake to help loosen, then remove carefully.
Make the mousse by combining all ingredients. Refrigerate for one hour. Then beat till quite firm. Refrigerate for another hour before assembling the cake.
When whipped mousse is fully chilled, prepare the cake. With a long serrated knife, carefully slice off the top 1 inch of the cake. As a guide, insert toothpicks one inch below the top spaced around the perimeter. Reserve the top for later.
Next cut vertically around the perimeter of the cake, one inch from the outside edge and one inch from the inside edge. You will be making a well in the middle of the cake. Be careful not to cut through to the bottom of the cake. Carefully cut the inside into sections and pull out pieces of the cake leaving one inch of cake at at the bottom for the base. Reserve cake pieces.
Fill the cavity with the chilled mousse. Crumble some of the reserved cake into a bowl and mix in ½ cup of mousse. Fill the hole in the center of the cake with the mousse/cake mixture.
Replace the top of the cake and frost with the remaining mousse. Garnish as desired. Refrigerate leftovers.
Notes
Snack on leftover cake pieces.
Total time does not include cooling time.
Nutrition Information:
Yield:
12
Serving Size:
1 slice
Amount Per Serving:
Calories: 671
Total Fat: 41g
Saturated Fat: 20g
Trans Fat: 1g
Unsaturated Fat: 18g
Cholesterol: 197mg
Sodium: 356mg
Carbohydrates: 66g
Fiber: 2g
Sugar: 45g
Protein: 10g

Note: This post may contain affiliate links; view
my Disclosure Policy
for details. I earn a small percentage from any purchase you make by clicking on these links at no extra cost to you.