Danish Twists with Cream Cheese Filling are made with a tender, sweet yeast bread, a sweet cream cheese center plus a generous drizzle of a powdered sugar glaze!  I have received product related to these brands to use for #Brunchweek. All opinions stated are my own. Please scroll down to see how you can win some of these fabulous giveaways!
Way before the Internet, my mom learned of all the latest finds from her bridge club, church or university friends. One summer it was all about the Sara Lee outlet in the metropolis of Des Moines, 30 miles south of my hometown, and their cheese danish. What the heck was cheese doing in a sweet roll, my sisters and I wondered???
Danish Twists with Cream Cheese Filling
I was not thinking of cream cheese but instead cheddar or Parmesan when picturing "cheese danish" for the first time. What in the world, thought my pre-teen self? Who would eat those?? I loved breakfast pastries, but these sounded a bit strange!
Well, I was pleasantly surprised when I finally tasted these cream cheese filled danish after my mom purchased a case for the freezer. I was smitten after that initial nibble! These danish twists with cream cheese filling are reminiscent of those pastries I first tasted in the 1970's!
Cheese Danish Recipe Tips
From that moment on, I adored a cream cheese filling—whether in a Bundt Cake, Tea Roll or these danishes, it pushes a recipe over the top! My tip for filling these rolls is to scrape it into Ziploc bag, snip off one corner, and pipe it into the centers. The result will be neater than if you use a spoon. You can use a fork to criss cross the drizzle over the finished cheese danishes, but you can also utilize another Ziploc bag and snip off a smaller corner to attractively ice these rolls.
Bill, AKA the picky hubby, eyed these after a long day at work. "Are these up for grabs?" he inquired. "Why yes, but let's freeze most of them, to keep them fresh," was my practical reply. Day after day, he started his day with one of these marvelous cheese danishes and loved every bite. I think you will, too!
More Breakfast Pastry Recipes You'll Love:

Brunch Week and Giveaway!!
Welcome to #BrunchWeek 2018 hosted by Love and Confections and A Kitchen Hoor's Adventures! This year is even bigger and better than ever! Thirty eight bloggers from around the country are showcasing their best brunch dishes. We have so many delicious recipes for you to enjoy throughout the week (over 150!!) including cocktails, appetizers, pastries, tarts, main courses, and plenty of desserts! Our BrunchWeek Sponsors are helping us give away some great prizes. Thank you so much, Sponsors, for your generosity. We have an incredible giveaway below and we'd love if you would take a moment to read about it and what you can win!
Prize #1 Dixie Crystals is giving one winner a 6-Quart Instant Pot 7-in-1 Multi-Use Programmable Pressure Cooker, Slow Cooker, Rice Cooker, Steamer, Sauté, Yogurt Maker and Warmer and a case of Dixie Crystals Extra Fine Granulated Sugar
Since 1917, Dixie Crystals® has been the South's choice for high-quality sugar and sweeteners. For generations, Dixie Crystals has been at the heart of family traditions and celebrations. Our pure cane, non-GMO sugar products guarantee that treasured family recipes will turn out right every time. Bake with love and Dixie Crystals.
Prize #2 Cabot Creamery Co-operative is giving one winner a Cheese Board Set, including a slate cheese board, Boska cheese knife, Legacy Collection Cabot Cheddars, Founders 1919 Collection Cheddars, Waxed Private Stock, Waxed Vintage Choice, and 3 Year Artisan cheeses.
Cabot Creamery Co-operative, makers of naturally aged, award-winning cheeses and dairy products is owned by 1,000 dairy farm families in New England and New York.
Prize #3 LorAnn Oils and Flavors is giving one winner A Baking and Candy Making Prize package. The package includes: ceramic serving platter, a collection of 5 LorAnn Bakery Emulsions, one each of LorAnn Madagascar vanilla extract and Madagascar vanilla bean paste, Lollipop cookbook along with re-usable candy mold, candy packaging accessories, candy thermometer, and a pack of 3 LorAnn super-strength candy oils.
Our flavors. Your creations. For over 50 years, LorAnn Oils has been supplying professionals and home chefs with the finest quality candy and baking flavors, essential oils, and specialty ingredients. Visit us at www.LorAnnOils.com to shop, learn, and discover new recipe ideas.
Prize #4 Cal-Organic Farms is giving one winner a Cal-Organic prize package complete with kitchen supplies, a portable cooler bag and branded apparel—everything you need to take your delicious #BrunchWeek recipes on-the-go! The package includes a custom-made Tilit apron, cooler bag, kitchen knife, vegetable peeler, t-shirt, hat, notepad and pen.Cal-Organic Farms is the largest organic vegetable producer in the United States. Supplying more than 65 year-round and seasonal varieties, we are proud to grow 100% of our produce on family-owned acreage in California.
Prize #5 Michigan Asparagus is giving one winner $100 cash gift card.Michigan Asparagus is known for its hand snapped fresh asparagus. It is available May – June and grown mostly in Oceana County along the shores of Lake Michigan. Remember to buy U.S. for the freshest of the fresh.
Prize #6 Eggland's Best is giving one winner an Eggland's Best Kitchen Essential Prize Package that included 1 month of free Eggland's Best Eggs along with Hard-Cooked Peeled Egg coupons, a freezer bag to carry your groceries, kitchen essentials, (whisk, spatula, pot holders, cutting board, frying pan), Eggland's Best brand new cookbook, and a plush Eggland's Best egg.
Eggland's Best eggs have more of the delicious, farm fresh taste you and your family love – anyway you cook them. Plus, Eggland's Best provides superior nutrition such as 6x more vitamin D, 10x more vitamin E, and double the omega 3s compared to ordinary eggs so why settle for less?
Prize #7 Cento Fine Foods is giving one winner a Cento Classico gift basket, which contains imported products from Cento and their family of brands.Cento Fine Foods, the premier Italian food distributor, importer and producer in the United States, presents a distinctive line of more than 1,000 authentic Italian style products produced from only the finest ingredients. A family owned and operated company spanning three generations, Cento continues to provide premium quality, exceptional products at the best consumer value. Taste the difference quality makes and see why you can "Trust Your Family With Our Family Ò".
Take a look at what the #BrunchWeek Bloggers are creating today!
BrunchWeek Beverages:
Cà Phê Trứng (Vietnamese Egg Coffee) from Tara's Multicultural Table.
Cold Brew with Hazelnut Simple Syrup from The Barbee Housewife.
Hazelnut Milk Punch from Culinary Adventures with Camilla.
Irish Coffee from My Catholic Kitchen.
Strawberry Frosé from Love and Confections.
BrunchWeek Appetizers:
Everything Bagel Dip from Rants From My Crazy Kitchen.
BrunchWeek Egg Dishes:
Bacon, Asparagus and Spinach Frittata from Eat Move Make.
Cauliflower Waffles from Caroline's Cooking.
Cheesy Hashbrown Casserole from Karen's Kitchen Stories.
Deviled Eggs with Capers, Cucumber and Red Onion from Family Around the Table.
Farmers Casserole from A Day in the Life on the Farm.
Ham & Artichoke Strata from The Chef Next Door.
Ham, Asparagus and Gruyere Quiche from The Redhead Baker.
Hash Brown Waffles with Bacon & Eggs from Amy's Cooking Adventures.
Mom's Egg Salad Sandwich from Girl Abroad.
Spicy Pimento Cheese Omelet from For the Love of Food.
BrunchWeek Breads, Grains, and Pastries:
Bacon and Cheese Twists from Big Bear's Wife.
Caramel Apple Dutch Baby from The Bitter Side of Sweet.
Carrot Cake Muffins from A Kitchen Hoor's Adventures.
Chocolate Chip Pecan Cinnamon Rolls from Pass the Sushi.
Coconut Cream Pie Donuts from 4 Sons 'R' Us.
Coconut Raspberry Skillet Pancake from Books n' Cooks.
Danish Twists with Cream Cheese Filling from That Skinny Chick Can Bake.
Fench Toast Muffin Bites from Daily Dish Recipes.
Make Ahead Mocha Granola from Wholistic Woman.
Snickerdoodle Pancakes from Mildly Meandering.
Toasted Coconut Granola from Cooking With Carlee.
BrunchWeek Main Dishes:
Antipasto Pizza from Strawberry Blondie Kitchen
Asparagus & Crab Cake Benedict from The Crumby Kitchen
Breakfast Pizza from Hezzi-D's Books and Cooks.
Corned Beef Hash Benedict from Sweet Beginnings.
Mini Breakfast Pot Pies from Forking Up.
BrunchWeek Fruits, Vegetables and Sides:
I Dream of Hawaii Smoothie Bowl from Brunch-n-Bites.
Prosciutto-Wrapped Pineapple Spears from Kudos Kitchen by Renee.
Refrigerator Pickled Asparagus from Shockingly Delicious
BrunchWeek Desserts:
Breakfast Oatmeal Thumbprint Cookies from The Spiffy Cookie.
Brown Sugar Cinnamon Coffeecake from It Bakes Me Happy.
Chocolate Coffee Maple Cupcakes from The PinterTest Kitchen.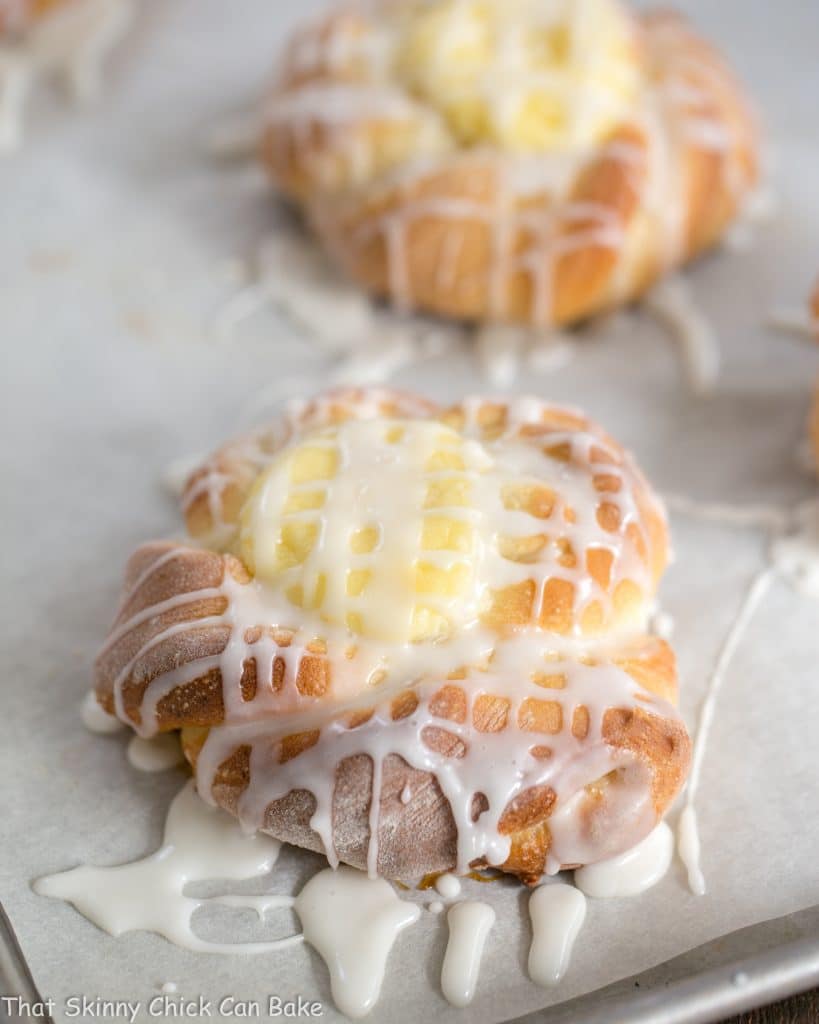 Used to Make these Danish Twists:
Dixie Crystals Sugar
Eggland's Best Eggs
LorAnn's  Butter Vanilla Bakery Emulsion
Print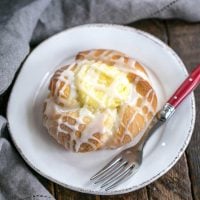 Danish Twists with Cream Cheese Filling
Sweet yeast bread twists with cream cheese filling!
Author:
Prep Time: 30 minutes
Cook Time: 10 minutes
Total Time: 40 minutes
Yield: 12 1x
Category: Bread, Breakfast, Brunch
Ingredients
Dough:
3 cups bread flour
4 1/2 tablespoons Dixie Crystals sugar, divided
3/4 teaspoon of salt
2 1/4 teaspoons instant yeast
1 egg, at room temperature
2 tablespoons butter, melted and cooled
1 cup warm milk, about 120 degrees
Cream Cheese Filling:
8 ounces cream cheese, at room temperature
1/4 cup sugar
1 Eggland's Best egg yolk
1/2 teaspoon LorAnn's  Butter Vanilla Bakery Emulsion
Glaze:
1 1/4 cup Dixie Crystals powdered sugar
2 tablespoons milk (or enough to make a good drizzling consistency)
Instructions
In a stand mixer fit with the paddle attachment, mix together 2 cups of the flour, 3 tablespoons of the sugar, salt, and yeast. Add the egg, butter, and milk. Continue mixing, then add in remaining cup flour.
Replace paddle attachment with dough hook and knead for 5 minutes, until dough is soft and pulls away from the sides of the bowl.
Transfer the dough to a large greased bowl. Turn the dough around in the bowl to apply a light coating of oil. Cover with a tea towel and let rise in a warm spot until doubled in size, about 45 minutes.
Make the filling while dough is proofing. In a medium bowl, beat together the cream cheese and sugar, then mix in the egg and vanilla until smooth. Set aside.
When dough has doubled, punch it down in the bowl, then place on a lightly floured work surface.. Roll out into an approximate 12 x 10-inch rectangle. Sprinkle with the remaining 1 1/2 tablespoons of sugar.
Line two baking sheets with parchment paper and set aside.
Gently fold dough in half width wise to make a 12 x 5-inch rectangle. Cut dough into 12 1-inch wide strips. Twist each strip and shape twist into a spiral and place on the baking sheet. Press the dough down in the center to create a well for the filling.
Place twists on a baking sheet lined with parchment paper or a baking mat. Cover with a tea towel and allow to rise for 20 minutes in a warm spot or until puffed. Use the tips of your fingers to make a center well for the filling in each twist.
Preheat oven to 375 degrees.
Divide the filling between the danishes. Bake for 8-10 minutes or until twists are a golden brown. Remove to a wire rack to cool.
Make glaze by whisking together the powdered sugar and enough milk to make a drizzling consistence. Drizzle over twists when cool.
Nutrition
Calories: 314kcal
Sugar: 23g
Sodium: 231mg
Fat: 10g
Saturated Fat: 6g
Carbohydrates: 48g
Fiber: 1g
Protein: 7g
Cholesterol: 54mg
Dixie Crystals, Cabot Creamery Cooperative, LorAnn Oils and Flavors, Michigan Asparagus, Eggland's Best and Cento Fine Foods are providing the prizes free of charge.
Note: This post may contain affiliate links; view
my Disclosure Policy
for details. I earn a small percentage from any purchase you make by clicking on these links at no extra cost to you.