Hot Fudge Pudding Cake
This Hot Fudge Pudding Cake is a self-saucing fudgy dessert that's a cross between brownies and pudding making it a memorable dessert. Warm from the oven, with a scoop of vanilla ice cream, this gooey cake is a chocolate lover's dream!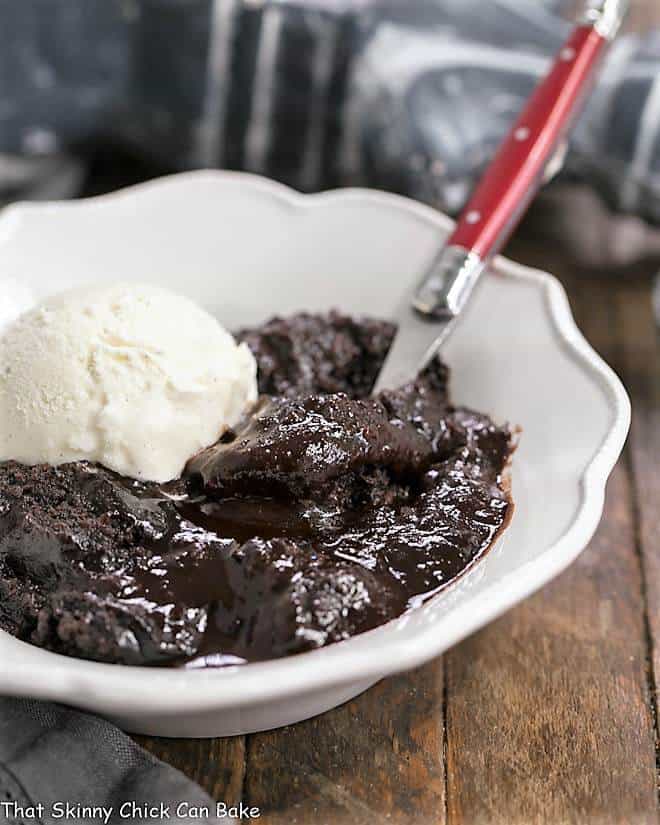 Why You Must Make
I asked the dear hubby what came to mind when hearing the phrase "comfort foods," chocolate was his answer. Then orange rolls (he's been bugging me to make these for the past week. So, stay tuned; I'm sure he'll wear me down).
This unassuming chocolate dessert creates a fudgy, gooey dessert.
It's a cross between brownies and a warm chocolate pudding.
Served with a scoop of vanilla ice cream, it's nirvana!!
Ingredient Notes
Instant coffee – Mixed with water, it enhances the chocolate flavor
Dutch Process Cocoa and Semisweet Chocolate – A double dose of chocolate flavor!
Baking Powder – It's key to make sure this isn't expired. Most of us don't use much baking powder and it often loses its potency before you use it all. Add a spoonful to boiling water and if it doesn't bubble vigorously, buy a new can.
Vanilla Extract – Never buy artificially flavored vanilla.
Kahlua – Alcohol enhances the flavor of recipes. It will evaporate as the pudding cooks.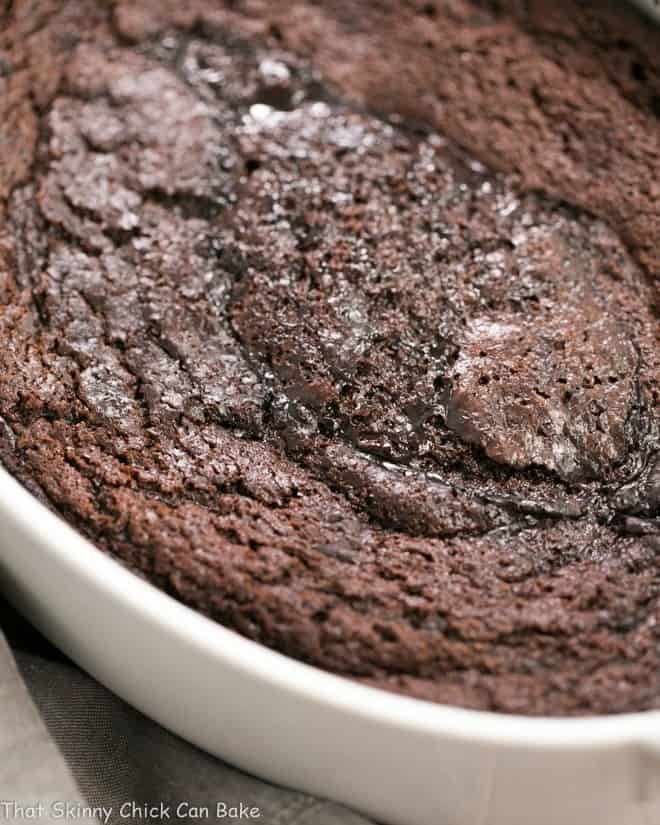 A Self Saucing Chocolate Cake
This unassuming dessert is more than meets the eye. When it comes out of the oven, looking like it does in the above photo, it looks like an undercooked mess of a dessert. But after letting this hot fudge pudding cake cool for about a half-hour, then spooning out a large scoop and flipping it into a bowl, so that the fudge sauce is front and center, you'll change your mind!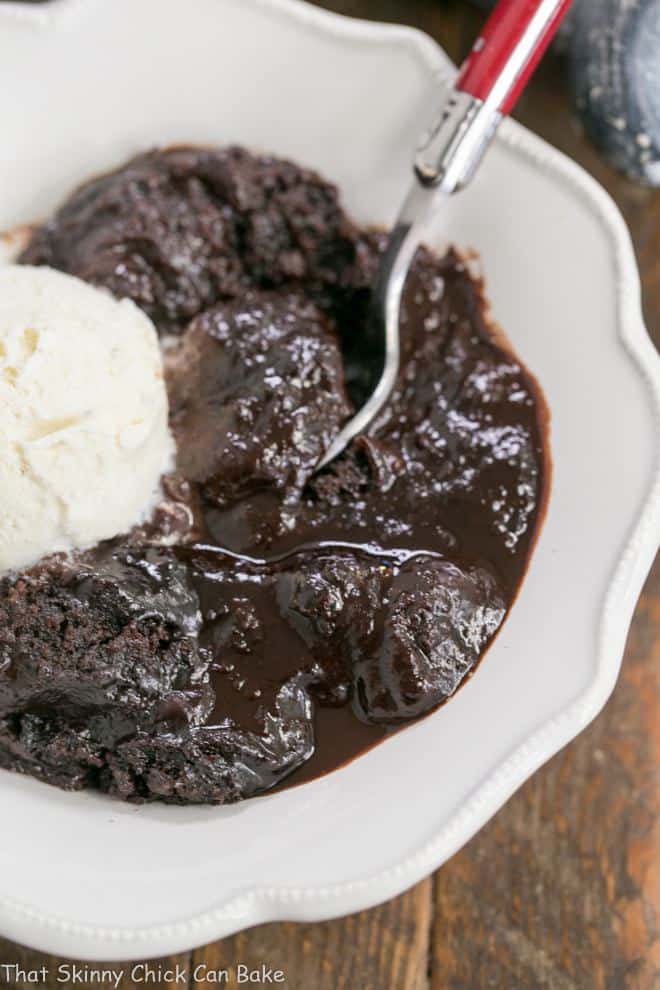 Expert Tips
This isn't a hard recipe, but there are three different components, the dry mix, the batter, and the coffee. The layering technique is unusual, but it works.
First, you must layer the different mixtures in order. Even though there was a little sloshing since I took the below photos in my sunroom then transported the dish to the kitchen, it still turned out!
PRO-Tip: Do not overbake. The middle will look undercooked when you pull it out of the oven, but this is OK. The underlying sauce will thicken as the cake cools.
Coffee is a terrific way to enhance the flavor of chocolate.
If you do not like a "mocha" taste, subtle as it is in this dessert, use water instead of coffee and omit the Kahlua.
You must wait for about a half-hour before digging in. This will allow for the sauce to cool and thicken.
Serve warm with a scoop of vanilla ice cream. The contrast of the hot fudgy sauce and cake with the cool melting ice cream is wonderful!
PRO-Tip: If your oven runs hot or cool, you may need to adjust the baking time. If you have a newer oven, you can adjust the temperature using an oven thermometer and your oven manual.
#1 The Cake Batter — #2 The Cocoa Sugar Mixture added — #3 The Coffee Added
Frequently Asked Questions
Can I Reheat Leftovers?
Yes, you can reheat servings of this pudding cake gently in the microwave. Note that some of the sauce and soft cake may solidify, but it will still taste delicious. The chocoholics in my house swoon when I serve this pudding cake!
Do I Have to Add Kahlua?
No, leaving out the one tablespoon will not affect the recipe's outcome. Alcohol is a flavor enhancer, and as I mentioned above, coffee flavors also intensify the flavor of chocolate. Kahlua is a coffee liqueur and most of the alcohol will evaporate and bake off as this dessert cooks. It is safe to serve this dessert to children. Note that vanilla extract also contains alcohol.
You May Also Like
Stay in touch through social media @ Instagram, Facebook, and Pinterest. Don't forget to tag me when you try one of my recipes! And if you love the results, please give it a 5-star rating in the recipe card. Note: As an Amazon Associate, I earn from qualifying purchases. Visit my Amazon Store for my favorite products.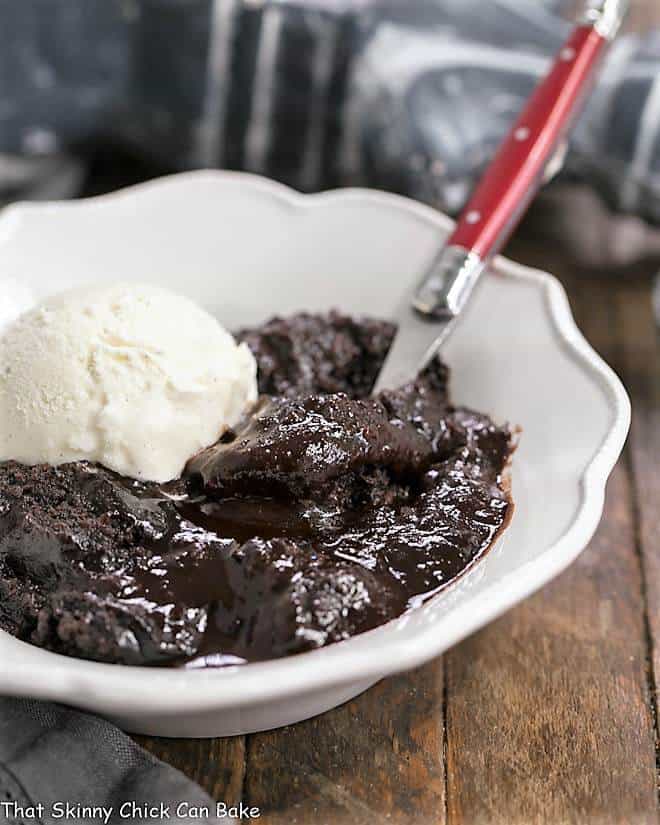 The Recipe:
Hot Fudge Pudding Cake Recipe
Prep Time 30 minutes
Cook Time 45 minutes
Total Time 1 hour 15 minutes
Yield 6 servings
A self saucing chocolate cake!
Ingredients
2 teaspoons instant coffee
1 ½ cup water
⅔ cup Dutch process cocoa, divided
⅓ cup brown sugar
1 cup sugar, divided
6 tablespoons butter
2 ounces semisweet chocolate, chopped
¾ cup flour
2 teaspoons baking powder
1 tablespoon vanilla
1 tablespoon Kahlua
⅓ cup milk
¼ teaspoon salt
1 egg yolk
Instructions
Preheat the oven to 325º. Spray an 8 x 8-inch baking dish or equivalent-sized dish with non-stick cooking spray. Set aside
Stir instant coffee into water and set aside.
Whisk together ⅓ cup of cocoa, brown sugar, and ⅓ cup of the sugar. Set aside to put on top of the batter before baking.
Gently melt the butter and semisweet chocolate in the microwave, then add the remaining ⅓ cup of cocoa. Whisk until smooth and set aside to cool slightly.
Whisk together the remaining ⅔ cup sugar, vanilla, milk, Kahlua, and salt in a medium bowl. Mix in egg yolk. Sift in flour and baking powder and whisk to combine. Add chocolate mixture and mix until combined.
Pour batter into prepared dish and spread to all corners.
Sprinkle the cocoa/sugar mixture evenly over the batter.
Pour the coffee mixture over the cocoa mixture.
Bake until cake is puffed and bubbling, and edges are pulling away from the sides, about 45 minutes. Do not overbake.
Cool about 25 minutes before serving.
Notes
Make sure your baking powder is fresh as it often expires before you use it up. Test it by putting a spoonful in a cup of boiling water. Active baking powder will bubble vigorously.
Recommended Products
As an Amazon Associate and member of other affiliate programs, I earn from qualifying purchases.
Nutrition Information:
Yield:
6
Serving Size:
1
Amount Per Serving:
Calories: 440
Total Fat: 16g
Saturated Fat: 9g
Trans Fat: 0g
Unsaturated Fat: 5g
Cholesterol: 62mg
Sodium: 358mg
Carbohydrates: 69g
Fiber: 3g
Sugar: 49g
Protein: 5g
Note: This post may contain affiliate links; view
my Disclosure Policy
for details. I earn a small percentage from any purchase you make by clicking on these links at no extra cost to you.