Homemade Orange Rolls
Homemade Orange Rolls are a twist on sweet rolls filled and glazed with a tasty orange zest-infused frosting! These yeast rolls are guaranteed to please!
One way to treat your family is with a comforting breakfast treat. There's nothing as enticing as the aroma of yeast bread coming from the oven, especially when it's made from scratch. Let me walk you through the procedure to make these Orange Sweet Rolls.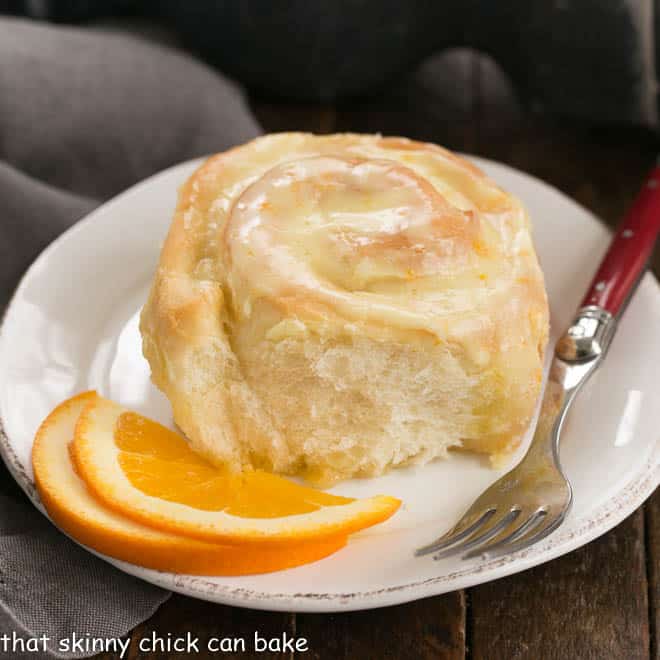 Why You Must Make
A freshly baked batch of orange rolls and some hot coffee is the perfect offering for a new neighbor, friends with a new baby, or just a delicious treat for your own family. The hubby has been begging me to make these orange rolls for months now. These reminded him of Maxson Manor's rolls he and his family used to enjoy.
They're a delicious change of pace from cinnamon rolls.
The dough is sweet and tender, and there's just enough orange flavor to make you swoon.
This orange rolls recipe makes TWO pans of breakfast rolls, one for you and one to share. Or bake them all up in a 9 x 13 if feeding a hungry family.
Reader Endorsement:
Jamie via Pinterest: These sure were a labor of love…but worth every bit of it! So fluffy and orangetastic! Really impressive.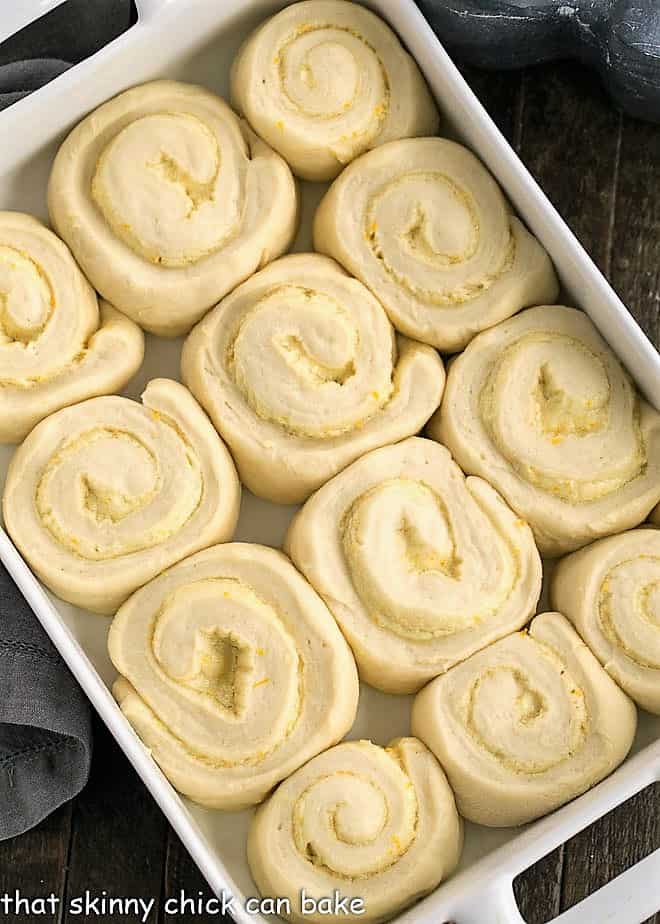 Expert Tips
Working with yeast can be daunting if you don't have a few basic tips. Once you get the hang of it, you'll love both the process and the results.
Note that yeast is a living organism and can be killed if not treated properly.
PRO-Tip: This is why you should not add liquid any hotter than 120º if you want your bread to rise!
Check the expiration date of your yeast on the packet. Using old yeast could be a disaster!
Kneading is a very important part of the bread-making process, too, as it helps activate the gluten in the flour, which gives bread its structure.
Done by hand or with a bread hook in a stand mixer, the dough will become smooth and springy. Don't be tempted to add more flour unless necessary as too much flour can negatively affect the texture of your bread.
When rolling up your yeast rolls, don't roll them too tight. This will cause the middle sections to pop up higher than the rest of the rolls. They'll still be tasty but not as attractive.
Let your dough rise in a warm, moist environment.
PRO-Tip: Do not force your dough to rise by putting it in a hot location. Somewhere around 80 degrees (and up to 90) is perfect. The ideal humidity is 75%.
My new oven has a "proof" setting which sets the oven at 85 degrees.
PRO-Tip: Use unflavored dental floss to cut these orange rolls into slices. Lightly score roll at 1 1/2-inch intervals. Slip a 12-inch strand of floss under the roll and bring the ends up and over the roll of dough and cross over one of the marks. Pull ends sharply to cut through the dough. It's a slick way to cut the dough into slices without the top-to-bottom pressure that comes from using a knife.
Frequently Asked Questions
What is an Orange Roll?
Made like cinnamon rolls, orange rolls are filled with a sweet orange filling instead of cinnamon and sugar.
Does Orange Juice Kill Yeast?
The low pH of orange juice shouldn't kill yeast, but even if it did, the orange juice is in the filling and frosting, not the dough.
How Do You Store Frosted Yeast Rolls?
Store in an airtight container at room temperature for 2-3 days. After that, move them to the refrigerator for up to 3 more days. You can also freeze them for up to 3 months.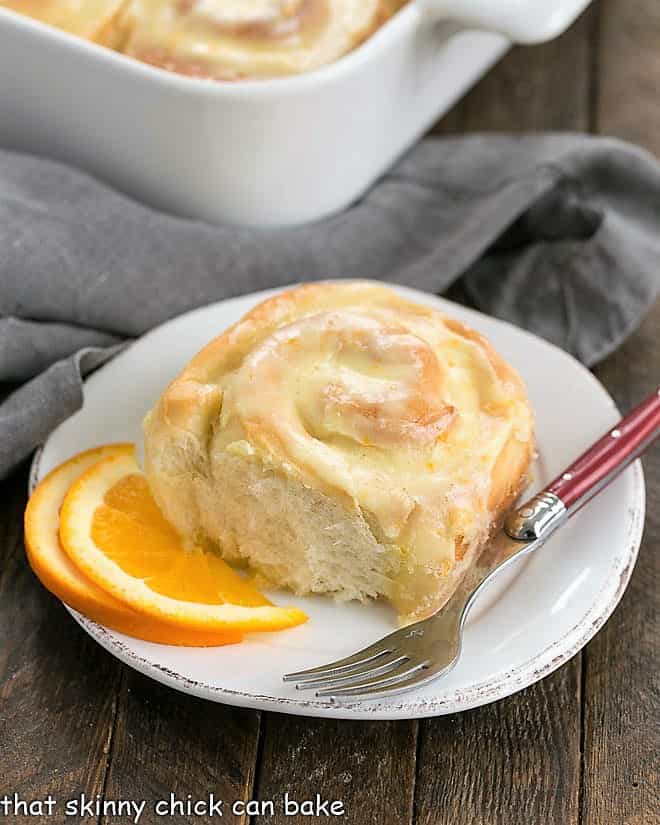 You May Also Like:
Stay in touch through social media @ Instagram, Facebook, and Pinterest. Don't forget to tag me when you try one of my recipes! And if you love the results, please give it a 5-star rating in the recipe card. Note: As an Amazon Associate, I earn from qualifying purchases. Visit my Amazon Store for my favorite products.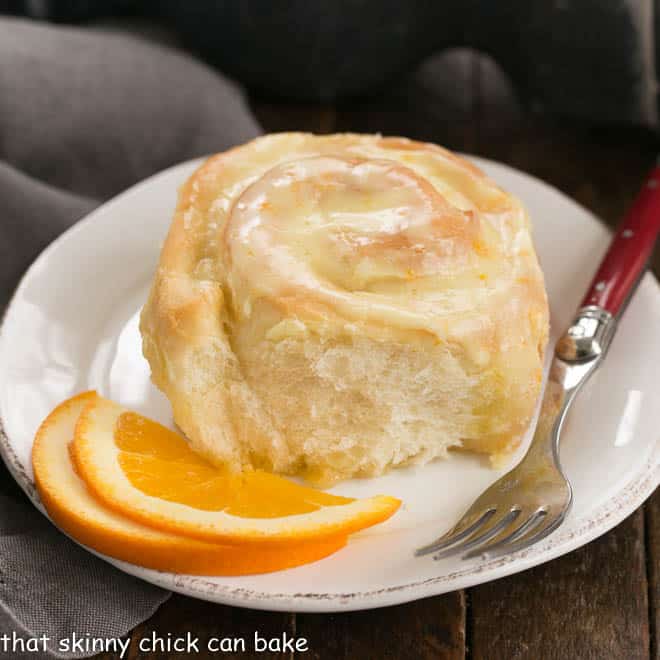 The Recipe:
Homemade Orange Rolls
Prep Time 45 minutes
Cook Time 25 minutes
Total Time 1 hour 10 minutes
Yield 12 rolls
These orange rolls are adapted from Betty Crocker's Baking Classics (this recipe dates back to the 1920's when Betty Crocker established a test kitchen)
Ingredients
Sweet Dough:
1 package active dry yeast (2 ¼ teaspoons)
½ cup warm water (105-115º)
½ cup scalded milk, cooled to lukewarm (should be no hotter than 115º)
⅓ cup sugar
⅓ cup butter, at room temperature
1 teaspoon salt
1 egg
3 ½ cups flour (may add up to a ½ cup more if needed)
Filling and Frosting:
3 cups powdered sugar
6 tablespoons of butter, at room temperature
2 tablespoons finely grated orange peel
4 tablespoons orange juice
1 teaspoon vanilla
Heavy cream, to thin frosting, if needed
Instructions
Dissolve yeast in warm water.
Stir in milk, sugar, butter, salt, egg, and 2 cups flour. Using a stand mixer and paddle attachment, mix until smooth.
Switch the attachment to the dough hook and add about 1 ½ cups more flour. Knead for about 5 minutes, adding up to a ½ cup more flour if the dough is sticky.
Place dough in a greased bowl, then flip it over. Cover and let rise in a warm place till doubled in size, about 1½ hours. Make filling while the dough rises.
To make the filling, beat all ingredients till creamy. Set aside.
Punch down dough. Remove the dough and roll it into an 18 x 12-inch rectangle on a lightly floured surface. Spread with half the orange filling.
Roll up the dough beginning at the wider side. Pinch to seal the seam. Using dental floss (or knife) cut the roll into 1 ½-inch slices (12 rolls).
Place into a greased 9 x 13-inch baking pan. Cover and let rise till doubled, about 40 minutes.
Preheat oven to 375º.
Bake till golden, about 20-25 minutes. Frost with remaining filling while warm.
Notes
Total time does not include the two proofing times.
Recommended Products
As an Amazon Associate and member of other affiliate programs, I earn from qualifying purchases.
Nutrition Information:
Yield:
12
Serving Size:
1
Amount Per Serving:
Calories: 395
Total Fat: 13g
Saturated Fat: 8g
Trans Fat: 0g
Unsaturated Fat: 4g
Cholesterol: 48mg
Sodium: 282mg
Carbohydrates: 65g
Fiber: 1g
Sugar: 35g
Protein: 5g
Note: This post may contain affiliate links; view
my Disclosure Policy
for details. I earn a small percentage from any purchase you make by clicking on these links at no extra cost to you.