A simple country bread with a hearty crust and marvelous crumb. A warm slice with a pat of cold butter was heavenly! This delicious loaf will have you in love.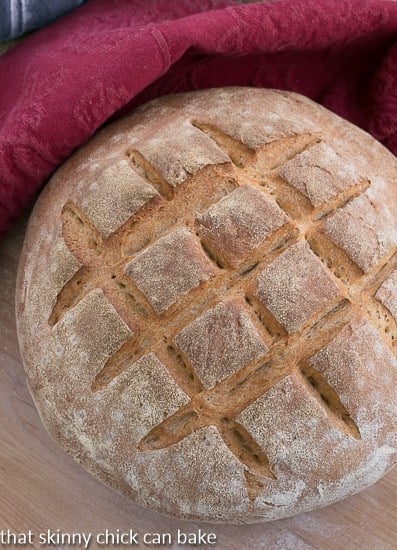 Country Bread
Our first assignment for Tuesdays with Dorie this year was a hearty Country Bread. This large heavy loaf, with a thick crust, was from contributing baker, Joe Ortiz. I elected not to do any fancy schmancy decorating…an outer braid with wheat stalk motif or star or grape cluster…mainly because I couldn't visualize the process without step by step photos. This simple crosshatch was more my speed.


Making a "Sponge"
I baked this up on one of our snow days last week. We were warned to stay indoors due to unbelievable sub-zero wind chills. I was happy to comply. The night before I made a sponge, which was basically a mixture of yeast, white, rye and whole wheat flours and water. This was parked in the fridge overnight to ferment…and the slow process provided an extra "kick" of sourdough flavor.
The next morning, my handy-dandy KitchenAid mixer did most of the work with a 10 minute kneading period. This dough was simple…yeast, water, flour, salt and the yeasted sponge. With plenty of time on my hands, the second and third rises were a  leisurely process.
And I learned a new term, banneton, which is a round proofing basket called for in this recipe. But never fear if you don't own one of these specialized items. I used my colander lined with a floured linen towel…and it worked like a charm. A few razor slashes across the top of the loaf, some ice cubes tossed into the over for some steam and a hot baking stone awaiting in the oven helped create a picture perfect Country Loaf.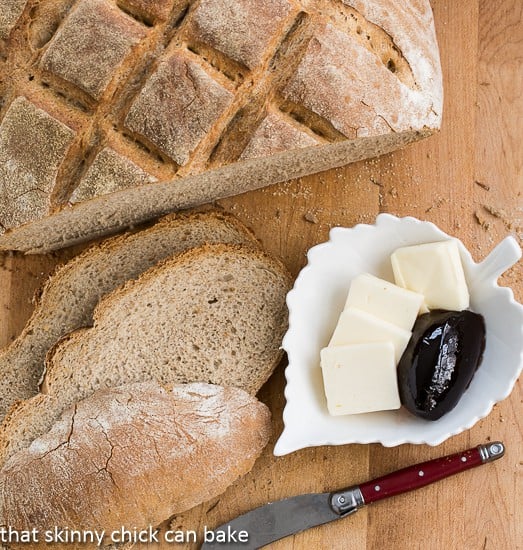 The Verdict
Bill and Nick were chomping at the bit for their first slices…the incomparable aroma of bread baking was definitely enticing while this loaf spent an hour in the oven, and then there was the additional hour cool down period. They both had a thick slab for dinner and made plans to add it to their breakfast menu the next morning. To be honest, it wasn't my favorite loaf. No sugar, no butter, no eggs…and I missed them. But as far as a country style loaf goes…simple ingredients, lovely crumb, crusty crust…this fit the bill.
This Country Bread recipe from Joe Ortiz can be viewed here or found in the cookbook, Baking with Julia.
I used Red Star Yeast in both the sponge and bread dough.
You may need these supplies to make this country bread recipe:
Photo shared on Yeastspotting.
View all the other Country Bread posts via the Tuesdays with Dorie site.

Note: This post may contain affiliate links; view
my Disclosure Policy
for details. I earn a small percentage from any purchase you make by clicking on these links at no extra cost to you.