Whole Wheat Country Bread
A loaf of simple Whole Wheat Country Bread with a hearty crust and marvelous crumb was a comforting January treat. A warm slice of this rustic whole wheat bread with a pat of cold butter was heavenly! This delicious loaf will have you in love after your first bite.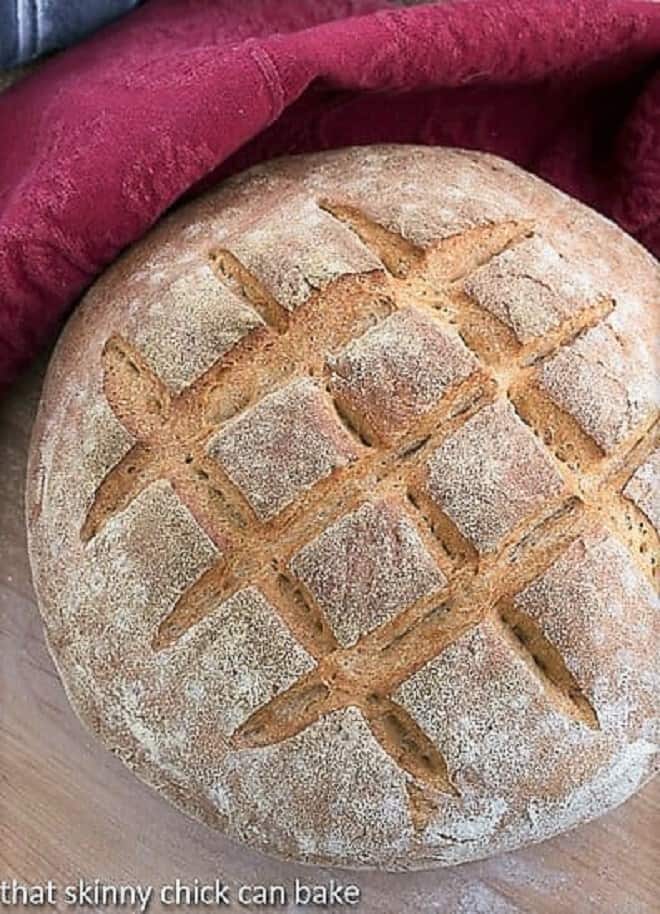 Country Bread Recipe
Our first assignment for Tuesdays with Dorie this year was a hearty Country Bread. This large heavy loaf, with a thick crust, was from contributing baker, Joe Ortiz. I elected not to do any fancy-schmancy decorating…an outer braid with wheat stalk motif or star or grape cluster…mainly because I couldn't visualize the process without step-by-step photos. This simple crosshatch was more my speed.
How to Make a Sponge
I baked this up on one of our snow days last week. We were warned to stay indoors due to unbelievable sub-zero wind chills. I was happy to comply. The night before I made a sponge, which was basically a mixture of yeast, white, rye, and whole wheat flours and water. This was parked in the fridge overnight to ferment…and the slow process provided an extra "kick" of sourdough flavor.
The next morning, my handy-dandy KitchenAid mixer did most of the work with a 10 minute kneading period. This dough was simple…yeast, water, flour, salt, and the yeasted sponge. With plenty of time on my hands, the second and third rises were a leisurely process.
And I learned a new term, banneton, which is a round proofing basket called for in this recipe. But never fear if you don't own one of these specialized items. I used my colander lined with a floured linen towel…and it worked like a charm. A few razor slashes across the top of the loaf, some ice cubes tossed into the oven for some steam and a hot baking stone awaiting in the oven helped create a picture-perfect whole wheat Country Bread.
Whole Wheat Bread Recipe
Bill and Nick were chomping at the bit for their first slices…the incomparable aroma of bread baking was definitely enticing while this loaf spent an hour in the oven, and then there was the additional hour cool-down period. They both had a thick slab for dinner and made plans to add it to their breakfast menu the next morning.
To be honest, it wasn't my favorite loaf. No sugar, no butter, no eggs…and I missed them. But as far as a country-style loaf goes…simple ingredients, lovely crumb, crusty crust…this fit the bill.
This Country Bread recipe from Joe Ortiz can be viewed here or found in the cookbook, Baking with Julia (affiliate link).
I used Red Star Yeast (affiliate link)in both the sponge and bread dough.
Helpful Tools:
Photo shared on Yeastspotting.
View all the other Country Bread posts via the Tuesdays with Dorie site.
You May Also Like: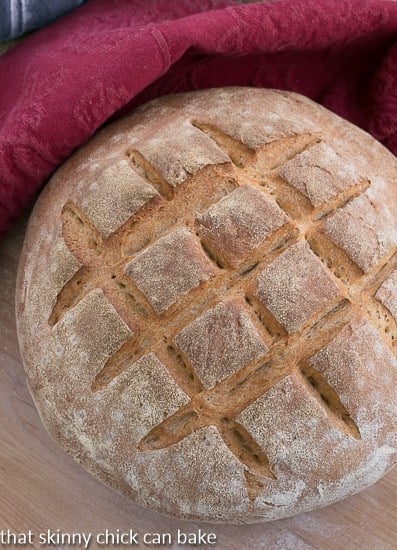 The Recipe:
Country Bread
Prep Time 1 hour 15 minutes
Cook Time 1 hour 10 minutes
Total Time 2 hours 25 minutes
Yield 1 large loaf
A crusty whole wheat bread with a delicious nutty flavor
Ingredients
Sponge
1 ½ cups water (105 to 115 degrees F) plus more to warm the mixing bowl
2 ½ teaspoons active dry yeast (1 full packet)
1 cup all-purpose unbleached flour
1 cup rye flour
Dough
1 teaspoon dry active yeast
1 cup water (105 to 115 degrees F)
The sponge
3 ½ to 4 ½ cups unbleached, all-purpose flour
1 cup whole wheat flour
1 tablespoon coarse Kosher salt
Instructions
Put additional warm water - into the mixer's bowl, and let it warm up the surfaces. Pour out.
Add approximately 1/2 cup of the warm water (listed for the sponge) into the bowl.
Sprinkle the yeast over the water. Stir to mix. Allow the yeast to turn creamy, before adding the rest of the water.
Meanwhile, in a separate bowl combine the two flours. Mix them together.
Add the remaining water to the yeast/water. Add the combined flours mixing together with a heavy spoon. Should be like pancake batter.
Cover the bowl. Let sponge set at room temperature for 6 to 8 hours. Or put in the refrigerator overnight. Pull it out of the refrigerator for at least one hour before using.
Combine the 3 ½ cups of regular flour with whole wheat and salt together in a separate bowl.
Prepare the mixer with the dough hook. Place the mixer bowl with the sponge on the machine.
Dissolve the yeast in ½ cup warm water.
Turn machine on low/medium speed. Pour the other ½ cup water into the sponge.
Gradually add 2 cups of the mixed flour to the sponge. Mix for about 3 minutes.
Add the yeast mixture and beat to incorporate. Work in the remaining flour. If needed, add additional flour. The dough should clean the sides of the bowl.
Mix for about 10 minutes. The dough should be moist and satiny, but sticky.
Oil a large bowl. Turn the dough into the bowl and cover it with plastic wrap.
Let proof at room temperature for at least 2 to 3 hours, if not overnight.
Final Rise and Bake
Prepare a resting spot for the dough. Rub flour into the liner of a basket and set it aside.
Turn dough on to floured work surface. Pat into a flat round with fingers and palms.
Fold the edge in and press down with the heel of your hand. Form dough into a tight ball. Repeat this process up to four more times.
Turn the loaf over and lay in smooth side down into the lined basket or colander.
Let rise for 2 to 3 hours until double in size.
About 30 minutes before baking, put a baking stone on the bottom third of the oven. Preheat to 425 F.
Put nonstick foil or cornmeal on the baking sheet. Carefully invert loaf onto sheet - be careful not to compress it.
Slash 3 long slashes about ½ inch into the loaf (or a crosshatch pattern).
Mix one egg with 2 tablespoons of water. Brush over bread.
Slide bread into the oven. Reduce heat to 400 F.
If one large loaf, bake for 60 to 70 minutes. The instant thermometer should read 200 F.
Remove loaf from the oven. Let sit on the rack for 10 to 20 minutes. Serve and watch it be devoured.
Nutrition Information:
Yield:
12
Serving Size:
2 slices
Amount Per Serving:
Calories: 766
Total Fat: 7g
Saturated Fat: 2g
Trans Fat: 0g
Unsaturated Fat: 4g
Cholesterol: 0mg
Sodium: 612mg
Carbohydrates: 152g
Fiber: 8g
Sugar: 1g
Protein: 21g
Note: This post may contain affiliate links; view
my Disclosure Policy
for details. I earn a small percentage from any purchase you make by clicking on these links at no extra cost to you.