Classic Oatmeal Bread
This Classic Oatmeal Bread reminds me of my childhood. We'd eat my mom's version hot out of the oven, covered with cold pats of butter. This recipe will make your inner child come alive!
This Oat Bread is soft, tender, and absolutely delicious! And who can resist the aroma of a freshly baked yeast bread recipe! It's incredibly comforting.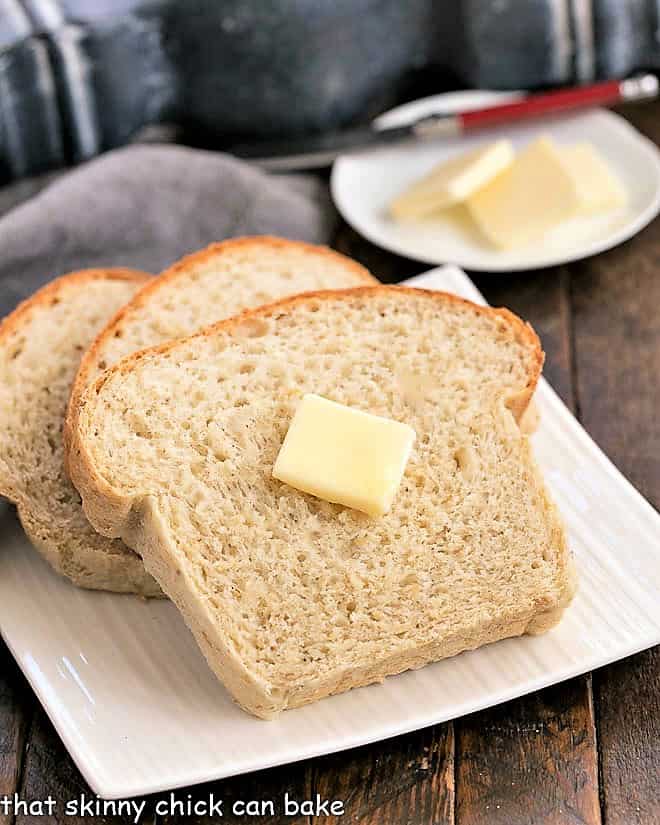 Why You Must Make
This recipe comes from one of my favorite bakers, Nick Malgieri.
There is nothing better than sharing a good loaf of homemade bread with your family! Especially when it's still warm from the oven.
Slightly sweet from the addition of brown sugar, this is one terrific homemade yeast bread recipe.
One of my favorite loaves since childhood was my mom's oatmeal bread. I'm not sure the secret of her recipe, but I do recall eating it hot from the oven with lots of cool, creamy butter smeared on the slices. Hot bread? Cold butter? Maybe that was the secret…I still love that combo. I turned to a baking guru, Nick Malgieri, for some inspiration for this challenge.
His How to Bake (affiliate link) cookbook has been the source for my favorite cheesecake, apple pie, and now oatmeal bread. Nick's attention to detail was priceless when, as a novice baker, I needed very detailed tips and instructions. I've tried a few oatmeal bread recipes over the years, but this has got to be my favorite. Soft, sweet, tender. Truly the ultimate oat bread.
Ingredient Notes
This Classic Oatmeal Bread Recipe is a delicious, basic bread recipe made with dry active yeast.
Rolled Oats – Old Fashioned Oatmeal not Quick Oats.
Active Dry Yeast – 1 envelope. I recommend Red Star Yeast brand.
All-purpose, Unbleached flour – I use King Arthur brand.
Table Salt – Never omit the salt in the recipe as it's a flavor enhancer. Your bread will taste flat without salt.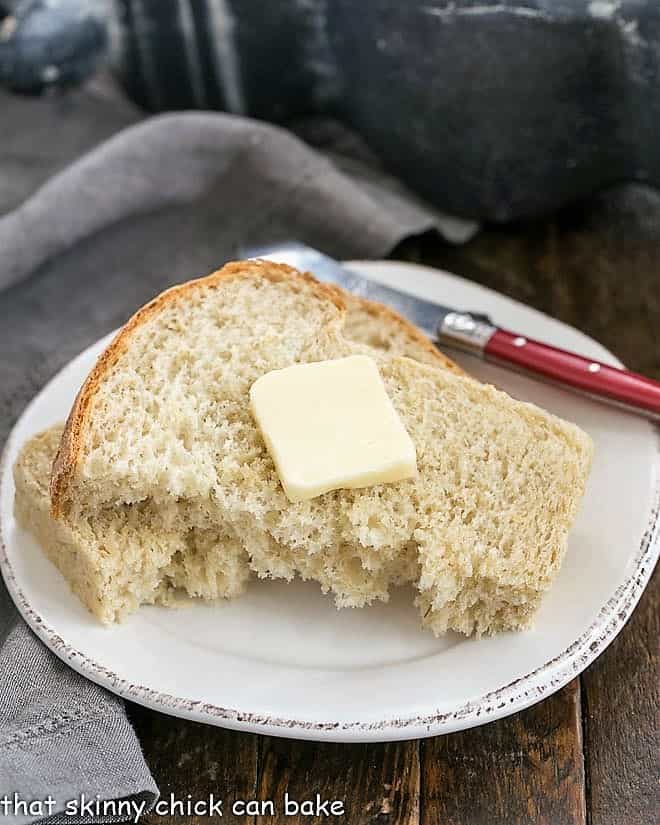 Expert Tips
PRO-Tip: Remember that yeast is a living organism and if you add water that is too hot, you can kill the yeast. Use a kitchen thermometer to make sure your warm water is around 110º and no hotter than 120º.
Check the expiration date on your yeast. If it has expired, purchase a fresh batch.
A stand mixer fit with a dough hook is a terrific way to knead bread. Just make sure your mixer does not overheat by monitoring it during the kneading process.
If the mixer feels very hot, turn it off and let it cool down before continuing. You may need to finish kneading by hand if necessary.
Letting the dough rise, or proofing the dough, works best in a warm location. Cover the bowl of kneaded bread with greased plastic wrap.
PRO-Tip: An ideal location is about 80-85º. Forcing the dough to rise in a too hot environment will compromise the texture.
Shape the loaf by flattening the dough into a rectangle, folding in half, and rolling to make a nice-shaped cylinder. If it doesn't adhere to itself when rolling, a small amount of water can be used to moisten the dough.
You can expand upon this recipe by adding raisins or other dried fruit or by sprinkling with cinnamon and sugar before rolling and shaping the dough into a loaf to make a cinnamon oatmeal bread.
I prefer mine plain and simple, except for that generous smear of salted butter.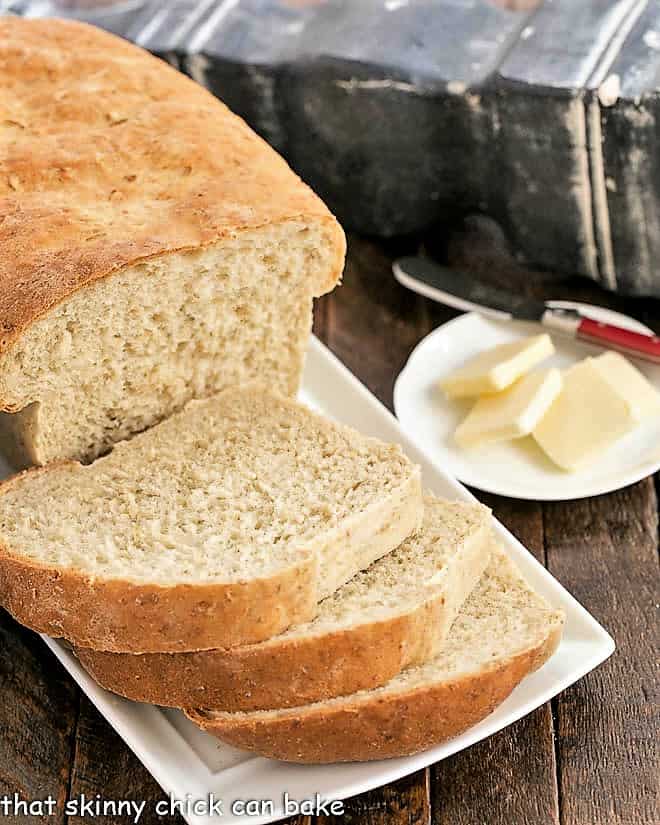 Frequently Asked Questions
How Healthy is Oatmeal Bread?
The oatmeal adds some nutritional value that's not in white bread. Oats contribute fiber and contain magnesium, Vitamin B1, iron, and zinc. It's healthier than white bread, but not a healthy food per se.
How Do You Get Oats to Stick to the Top of Your Loaf?
If your dough is sticky enough, the oats will adhere to the top of the bread. If not, you can brush a very light coat of water or milk over the surface, then sprinkle with oats. Milk will darken the crust a bit due to its sugar content.
Can You Taste the Oatmeal?
Oatmeal adds a mild nutty flavor to the bread.
How Do You Store Oatmeal Bread?
Keep your oatmeal bread at room temperature in a plastic bag for up to 2 days. For longer storage, wrap well and keep in the freezer for up to 2-3 months. Before freezing, make sure it's cooled to room temperature or frost will develop.
You May Also Like: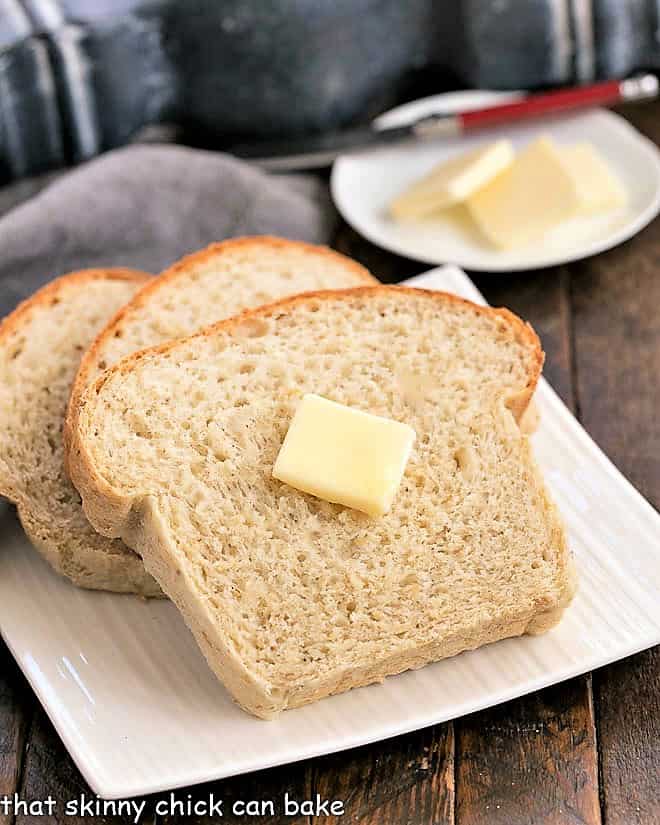 The Recipe:
Classic Oatmeal Bread
Prep Time 20 minutes
Cook Time 40 minutes
Total Time 1 hour
Yield 16 servings
A marvelous oatmeal bread adapted from Nick Magieri's How to Bake
Ingredients
1 cup oatmeal (regular, not quick oats)
1 cup boiling water
1/2 cup warm water (about 110º)
2 1/4 teaspoons dry active yeast (1 envelope)
2 1/2 cups all-purpose flour
2 tablespoons brown sugar
1 teaspoon salt
2 tablespoons butter, cut into about 12 pieces, plus more for greasing the bowl and pan
Instructions
Grease 8 1/2 x 4 1/4 inch loaf pan with butter and set aside.
Pour boiling water over oats in a bowl. Stir and set aside till cooled to room temperature.
Put warm water in a small bowl and add yeast. Stir and set aside.
In the bowl of a stand mixer, combine flour, brown sugar, and salt and stir to combine.
Fit mixer with the dough hook and add oatmeal, yeast mixture, and butter pieces. Knead dough on low for about 5 minutes till smooth and elastic.
Place dough in a greased bowl, flip a couple of times to coat all sides with butter, and cover with greased plastic wrap. Let rise till dough doubles in bulk, about one hour.
Remove dough from bowl and place on a lightly floured work surface. Deflate the dough with the palm of your hand.
Form dough into a rectangle, slightly longer than pan length. Fold sides in so that dough is slightly less in length than the pan, then roll to form a tight cylinder. The dough should stick to itself, but if it doesn't you may dab a bit of water on the surface to increase adherence.
Place cylinder, seam side down, into prepared pan. Cover with greased plastic wrap and let rise till doubled, about an hour.
Preheat oven to 375º.
Remove plastic from risen dough and place pan in the oven. Immediately decrease oven temperature to 350º and bake for 30-40 minutes or till the loaf is brown and sounds hollow when tapped and/or internal temperature reaches 210º.
Remove from pan to cooling rack. Slice when cooled.
Recommended Products
As an Amazon Associate and member of other affiliate programs, I earn from qualifying purchases.
Nutrition Information:
Yield:
16
Serving Size:
1
Amount Per Serving:
Calories: 101
Total Fat: 2g
Saturated Fat: 1g
Trans Fat: 0g
Unsaturated Fat: 1g
Cholesterol: 4mg
Sodium: 146mg
Carbohydrates: 18g
Fiber: 1g
Sugar: 1g
Protein: 3g
Note: This post may contain affiliate links; view
my Disclosure Policy
for details. I earn a small percentage from any purchase you make by clicking on these links at no extra cost to you.