Cinnamon Twist Bread
Cinnamon Twists are full of nooks and crannies which hold delectable ribbons of cinnamon roll filling. A perfect breakfast for company, and since the batch makes two, you can hide one away in your freezer for later! 
When I asked the hubby what breakfast treats he'd like me to bake, he came up with his usual answer, cinnamon rolls. Sigh. I racked my brain to come up with an unusual twist that would meet his high standards, and literally came up with a twist on Cinnamon Bread!
Why You Must Make
It's a delicious "twist" on cinnamon rolls! Same great flavors, but a different shape!
This cinnamon bread recipe makes TWO twists. One for now, and one to freeze for a special breakfast or brunch in the future.
Bread freezes well, so wrap one well so it's airtight and pop the spare in the freezer. Don't give it a chance to get stale!!
Ingredient Notes:
Kitchen Staples – All-purpose Flour, Sugar, Salt, Milk, Butter, Cinnamon, Egg
Dried Potato Flakes or Buds – Potatoes up the starch content, helping the dough retain more water. This makes for a softer, more tender bread.
Instant Yeast – I like to use Red Star Yeast.
Vanilla Extract – Always purchase real vanilla extract, not imitation.
Powdered Sugar – Sift for the smoothest icing.
Heavy Cream – 36% butterfat. Adds creaminess to the frosting.
Recipe Tips
You'll want the dough to seal on itself when you roll it up, so use minimal flour on your work surface. When the logs are cut in half, they will try to separate, so do your best to cup them in your hands while completing the twist maneuver.
No worries if your twist isn't perfect, it will still taste wonderful. Also, make sure to seal the two ends together before tucking your cinnamon swirl bread somewhere warm to proof.
PRO-Tip: 85° is the ideal temperature to proof yeast bread. My oven has a proof setting, but most do not.
We ate one of these twists immediately, then tucked the other in the freezer for when our kitchen is demo'd. Which is now. Sigh. Bill was delighted to have a break from the "gourmet" buttered toast that's been starting his days of late!!
Frequently Asked Questions
Why Didn't My Dough Rise?
There are two main reasons why yeast bread dough does not rise properly. First, the yeast could be expired. Check the date on your packaging before using it.

You can also check by putting a small amount of your yeast into warm water (no hotter than 115 degrees) with a little sugar. It should bubble if the yeast is active/alive.

Also, if your liquids are too hot, they can kill the yeast. When adding the yeast directly into warm water, it should be between 110 and 115 degrees.

What Temperature is Best for Proofing the Dough?
85 degrees is ideal, but above or below by a few degrees is fine. If yeast dough is forced to rise where it's too hot (over 115 degrees), the gluten formation/structure will not be able to keep up with the air bubbles/fermentation.
How Should You Store Cinnamon Bread?
It will stay fresh at room temperature for up to 3 days if kept airtight. After that, freeze, well wrapped, for up to 3 months.
Why Is This Dough Proofed in the Refrigerator?
Slow proofing allows for better taste and structure. It's a more stable rise which also provides more time for flavor development.
You May Also Like:
To round out your brunch menu, try some of these recipes: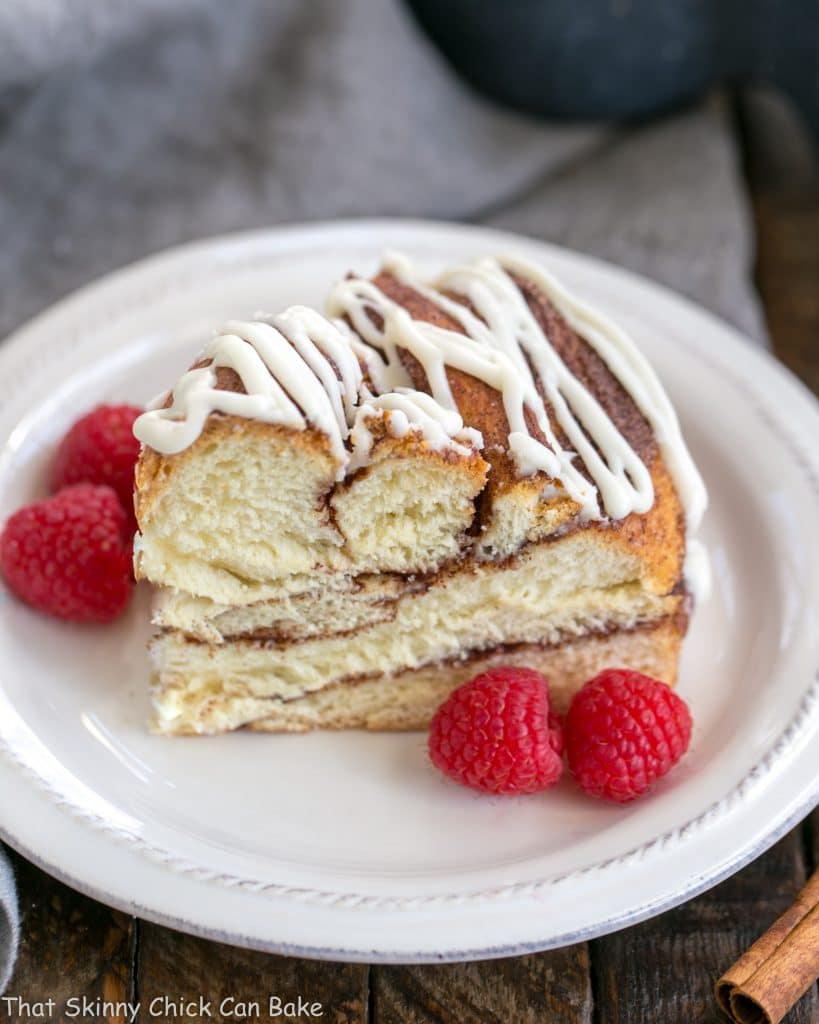 The Recipe:
Cinnamon Bread Twist
Prep Time 30 minutes
Cook Time 30 minutes
Total Time 1 hour
Yield 2 loaves
A delicious breakfast bread that tastes like a gourmet cinnamon roll!
Ingredients
Dough:
3 ¼ cups all-purpose flour
¼ cup dried potato flakes or buds
¼ cup sugar
1 ½ teaspoons instant yeast
1 ¼ teaspoon salt
3 tablespoons butter plus extra for buttering the bowl, at room temperature
1 teaspoon vanilla extract
1 egg
1 cup milk
Filling:
¼ cup plus 2 tablespoons sugar
4 ½ teaspoons cinnamon
2 tablespoons melted butter
Glaze:
1 cup powdered sugar, sifted
¼ cup heavy cream
1 teaspoon vanilla
Instructions
Mix all dry ingredients in a bowl of a large stand mixer (you can also mix and knead by hand). Make sure potato flakes are well dispersed.
Add the butter, vanilla, egg, and milk. Mix with a dough hook until a shaggy dough forms.
Let rest for 30 minutes.
Knead the dough with a dough hook or by hand for 10 minutes, then place the dough in a greased bowl, turning to coat the top of the dough with butter, then cover and refrigerate the dough overnight.
The next morning, bring the dough out and allow it to sit out on the counter for 3 hours.
Make the filling by combining sugar, and cinnamon. Set aside.
To assemble, deflate the dough and divide it in half.
On a lightly floured surface, roll out one dough half into a 10 x 12-inch rectangle.
Brush the dough with half the melted butter, then sprinkle with half the cinnamon mixture over the surface stopping within about ½-inch of one longer edge. Roll up jelly-roll style starting at the long edge with the cinnamon, making a log. Press the seam together to lightly seal.
Cut the log in half lengthwise with a sharp knife. Turn each half so that the filling and cut edges face upward.
Seal two of the short edges together, then cross one side over the other repeatedly to make a twist.
Carefully place the twist in a greased 8-inch cake pan forming a ring. Repeat with the second piece of dough.
Cover lightly and let rise at room temperature for about 1 hour.
Preheat the oven to 350 degrees.
Bake for about 30 minutes.
Cool for a few minutes, then remove from pan to rack to finish cooling.
Make the glaze by combining all ingredients. Place into a quart ziplock bag, seal, and clip off the corner with scissors. Squeeze the bag to drizzle icing over the cooled twists.
Notes
This cinnamon bread recipe was adapted from King Arthur Flour.
Makes 2 8-inch cinnamon twists.
When rolling out the dough into a rectangle, don't use too much flour on your rolling surface or you won't be able to seal your dough.
Nutrition Information:
Yield:
12
Serving Size:
1 slice
Amount Per Serving:
Calories: 284
Total Fat: 8g
Saturated Fat: 5g
Trans Fat: 0g
Unsaturated Fat: 3g
Cholesterol: 36mg
Sodium: 281mg
Carbohydrates: 45g
Fiber: 2g
Sugar: 16g
Protein: 5g
Note: This post may contain affiliate links; view
my Disclosure Policy
for details. I earn a small percentage from any purchase you make by clicking on these links at no extra cost to you.