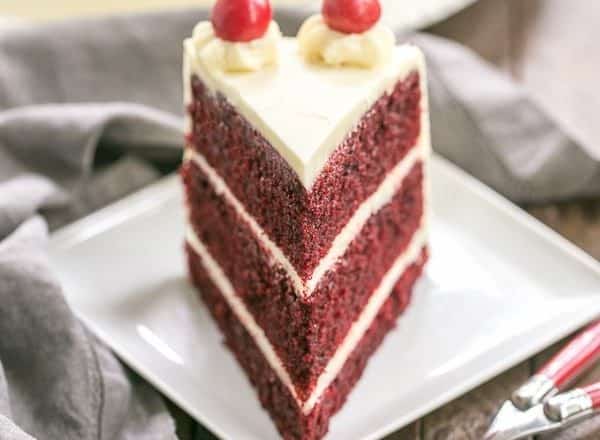 Three layers of Red Velvet Cake with White Chocolate Cream Cheese Frosting will wow your guests!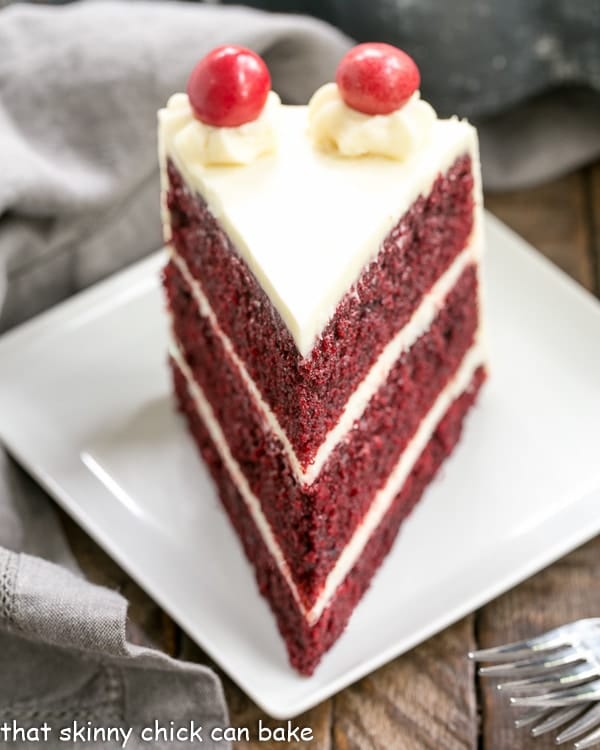 Red Velvet Cake with White Chocolate Cream Cheese Frosting
Another birthday has come and gone. Katie is pretty predictable when it comes to her birthday cake. It has always been one of three selections: Red Velvet, Tres Leches or Cheesecake. This was a red velvet year…and a three layer cake is a must for a 25th birthday celebration.
The subtle chocolate flavor from a bit of cocoa powder in the typical red velvet cake is enough for my girl…and the addition of white chocolate to the frosting provides the "chocolate" that both of us prefer. This is how the Red Velvet Cake with White Chocolate Cream Cheese was born.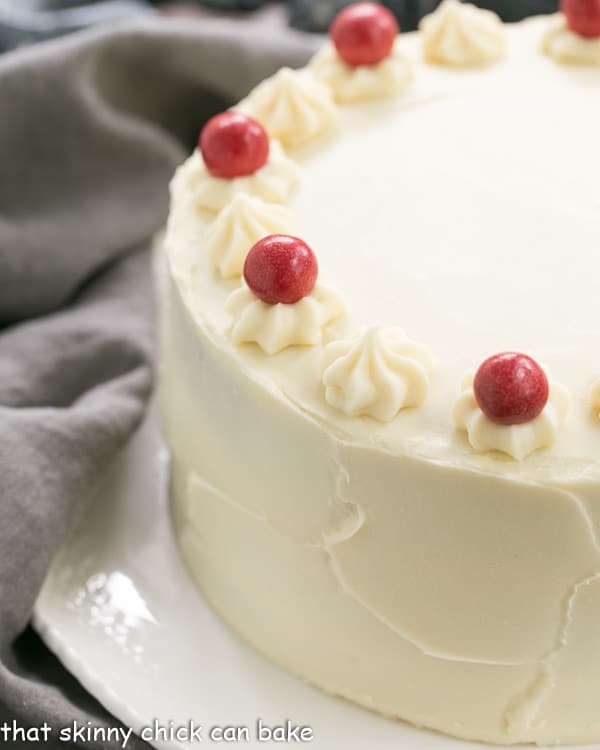 The Ultimate Red Velvet Recipe
This is the ultimate red velvet cake recipe…I've made numerous cakes and cupcakes and have had oodles of recipe requests. In fact, here in Indianapolis, this recipe actually saved a basement from devastating flood damage. You may wonder, "How can that be???" Well, my jet-setting friends are often out of the country (or at least the state) on lecture tours. They're the couple we ran into in Venice. I think the hubby needs to look into this talk circuit thing…but I digress.
Anyhow, their daughter just adores red velvet cupcakes, and my friend often has a stash in her basement freezer. So Julie popped over to her parents' house, hoping to find a frozen treat waiting for her. Well, she found more than that. The hot water heater had sprung a leak and major damage was averted due to this discovery. See, red velvet cake can be very useful, as well as extremely tasty. Everyone needs a stash…you won't regret it.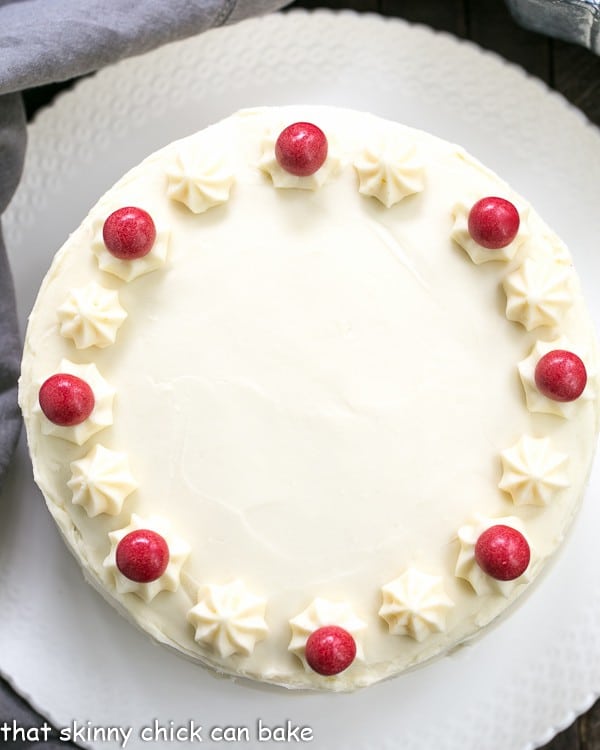 Improv Challenge
This cake is my contribution to this month's Improv Challenge. The two required ingredients this month are Cake and Frosting. Thanks to Kristen of Frugal Antics of a Harried Homemaker for leading us through these challenges month after month! Scroll down to see all the wonderful sweet, and maybe even savory, entries this month.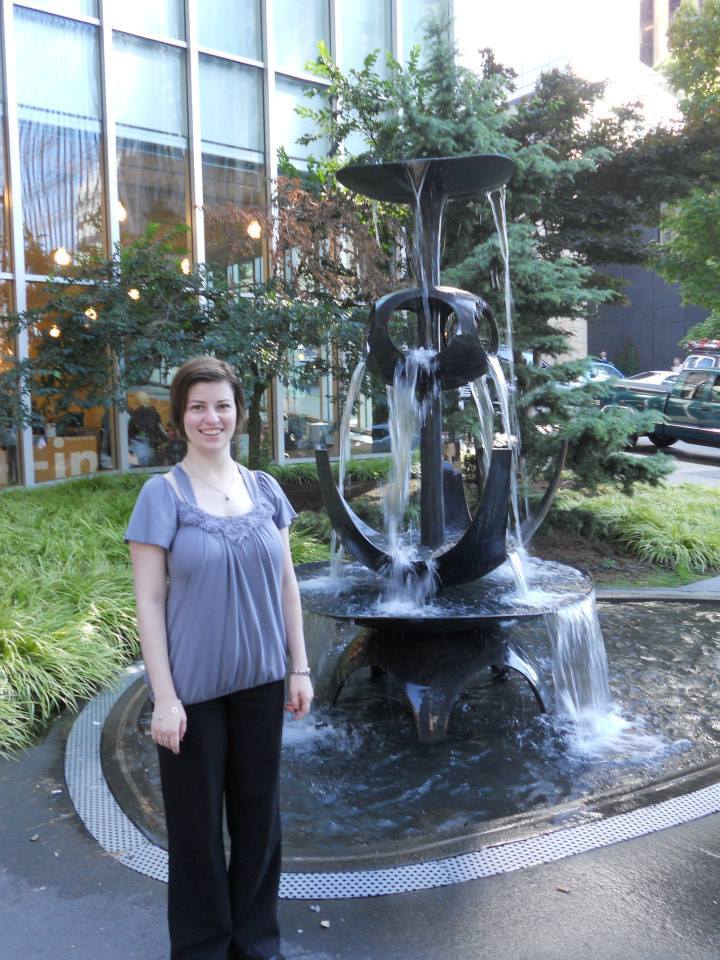 The birthday girl in Seattle
More Red Velvet Recipes You'll Love:
Print
Red Velvet Cake with White Chocolate Cream Cheese Frosting
The PERFECT Red Velvet Cake adapted from The Confetti Cookbook
Author:
Prep Time: 40 mins
Cook Time: 45 mins
Total Time: 1 hour 25 mins
Yield: 12-16 servings
Category: Dessert, Cake
Cuisine: American
Ingredients
Cake:
3 1/2 cups cake flour
1/2 cup unsweetened cocoa powder
1 1/2 teaspoon salt
2 cups canola oil
2 1/4 cups sugar
3 eggs
3 ounces red food coloring
1 1/2 teaspoons vanilla
1 1/4 cups buttermilk
2 teaspoons baking soda
2 1/2 teaspoons white vinegar
Frosting:
16 ounces cream cheese, cold
12 tablespoons butter, at room temperature
1 tablespoon plus 1 teaspoon vanilla
8 ounces white chocolate, melted gently in microwave and cooled slightly
6 cups powdered sugar, sifted
Instructions
Preheat oven to 350º. Grease three 9-inch cake pans with butter and line the bottoms with parchment. Grease the top of the parchment. Set aside.
Whisk flour, cocoa and salt together in bowl.
Beat oil and sugar in an electric mixer on medium till well blended. Beat in eggs, one at a time. Lower mixer speed to low, and carefully add the red food coloring. Add vanilla, then alternate flour with buttermilk, starting with half the flour, then half the buttermilk, the rest of the flour, then ending with buttermilk. Scrape down the bowl, then mix just briefly till combined.
Place baking soda and vinegar in a dish and stir to combine. Add to batter with mixer running. Beat for just 10 seconds.
Divide batter between the 3 pans. Bake 40-45 minutes or till cake tester comes out clean. Let cool for about 10-20 minutes, then remove from pan and peel off parchment. Cool completely before icing.
For frosting, beat cream cheese, butter and vanilla just till blended. Mix in white chocolate. Add powdered sugar slowly (2 cups at a time) and beat till frosting is smooth and at your desired consistency.
Frost and garnish as desired.
Linked to:
Weekend Potluck
'); // ]]>
Note: This post may contain affiliate links; view
my Disclosure Policy
for details. I earn a small percentage from any purchase you make by clicking on these links at no extra cost to you.