Red Velvet Cake with White Chocolate Cream Cheese Frosting
Three layers of Red Velvet Cake with White Chocolate Cream Cheese Frosting will wow your guests! It's impressive and irresistible!

This Best Red Velvet Cake recipe is tender, moist with 3 layers separated by the dreamiest frosting! Perfect for birthdays, Valentine's Day, Christmas, or anytime you're craving red velvet.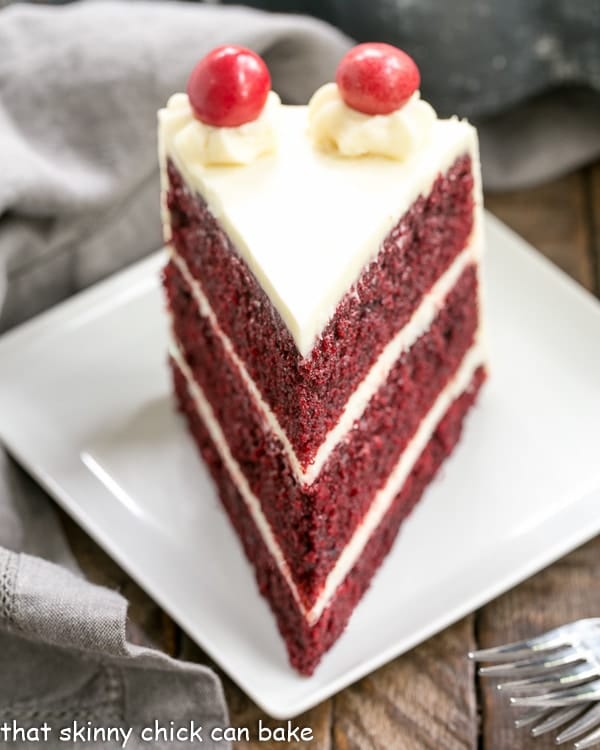 Red Velvet Cake with White Chocolate Cream Cheese Frosting
Another birthday has come and gone. Katie is pretty predictable when it comes to her birthday cake. It has always been predictable: Red Velvet, Tres Leches, Funfetti Cake, or Cheesecake. This was a red velvet year…and a three-layer cake is a must for a 25th birthday celebration.
The subtle chocolate flavor from a bit of cocoa powder in the typical red velvet cake is enough for my girl…and the addition of white chocolate to the frosting provides the "chocolate" that both of us prefer. This is how the Red Velvet Cake with White Chocolate Cream Cheese was born.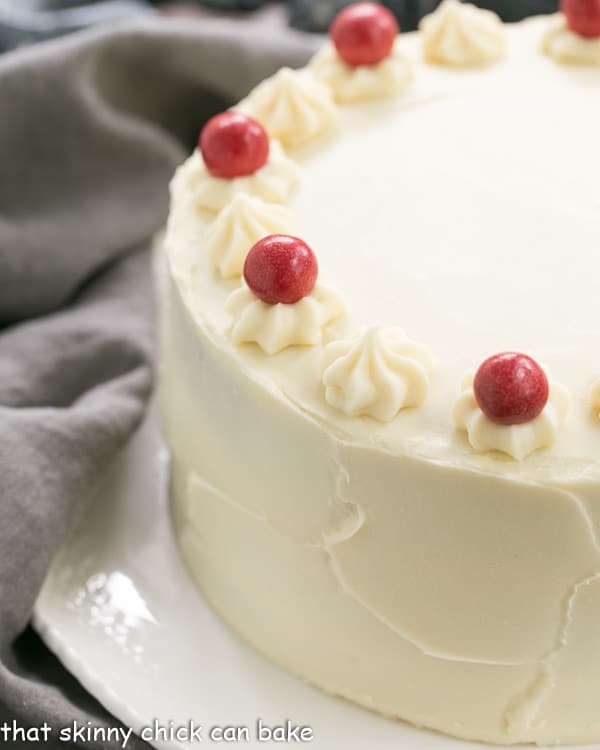 The BEST Red Velvet Cake Recipe
This is the ultimate red velvet cake recipe…I've made numerous cakes and cupcakes and have had oodles of recipe requests. In fact, here in Indianapolis, this recipe actually saved a basement from devastating flood damage. You may wonder, "How can that be???" Well, my jet-setting friends are often out of the country (or at least the state) on lecture tours. They're the couple we ran into in Venice. I think the hubby needs to look into this talk circuit thing…but I digress.
Anyhow, their daughter just adores red velvet cupcakes, and my friend often has a stash in her basement freezer. So Julie popped over to her parent's house, hoping to find a frozen treat waiting for her. Well, she found more than that. The hot water heater had sprung a leak and major damage was averted due to this discovery. See, red velvet cake can be very useful, as well as extremely tasty. Everyone needs a stash…you won't regret it.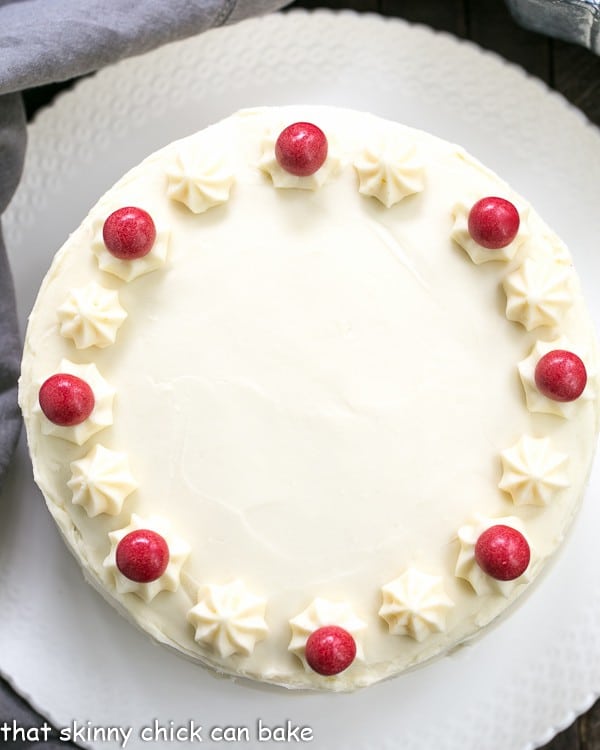 How to Make a Red Velvet Cake
There are 4 crucial ingredients to make an official red velvet cake: cocoa, some sort of red food coloring, vinegar, and buttermilk. As my husband, a true chocoholic will attest, a red velvet cake is not a chocolate cake. There is some cocoa powder in a red velvet cake, but nowhere as much cocoa or chocolate as in a chocolate cake. Rich and moist with a fine texture, it traditionally is iced with cream cheese frosting.
To make a perfect red velvet cake, take note of these tips:
PRO-Tip: Have all your ingredients at room temperature. Set out your eggs and buttermilk 1-2 hours before baking to get the chill off.
Atypically, the cream cheese frosting recipe doesn't call for room-temperature cream cheese.
Mix in eggs one at a time. This gives the batter time to thicken and emulsify.
PRO-Tip: Alternate adding wet and dry ingredients. Adding all the wet ingredients at once could saturate the creamed sugar and butter mixture which could lead to separation.
Adding all the dry ingredients at once could create a very thick batter which would need to be beaten longer. Excessive beating can result in a tough cake.
If you want perfectly even cake layers, you can weigh your cake pans and divvy up the batter so that all pans weigh the same. Alternatively, you can use toothpicks to compare the depth of the batter of each pan or just eyeball each pan.
When the cake is almost finished baking, you will smell the delicious, sweet aroma of baked cake. Peek through the oven door to see if it's time to test the cake for doneness.
To test your cake, use a toothpick and insert it into the middle of the cake. When a cake is done, the toothpick will come out clean or with just a few moist crumbs. There will be no batter on the toothpick.
I also like to use my forefinger to tap near the center of the cake. If the cake springs back up, it's done baking. If an indentation is left, add a few more minutes to the baking time, then repeat.
Cool your baked cakes on cooling racks for 10-20 minutes before inverting them out of the pans. Remove the parchment and allow them to cool completely on the racks before icing.
If you frost while the cakes are warm, the frosting will melt into the cake.
If you'd prefer to save the cakes to frost later, wrap well in plastic and freeze. Defrost the layers in the refrigerator before frosting.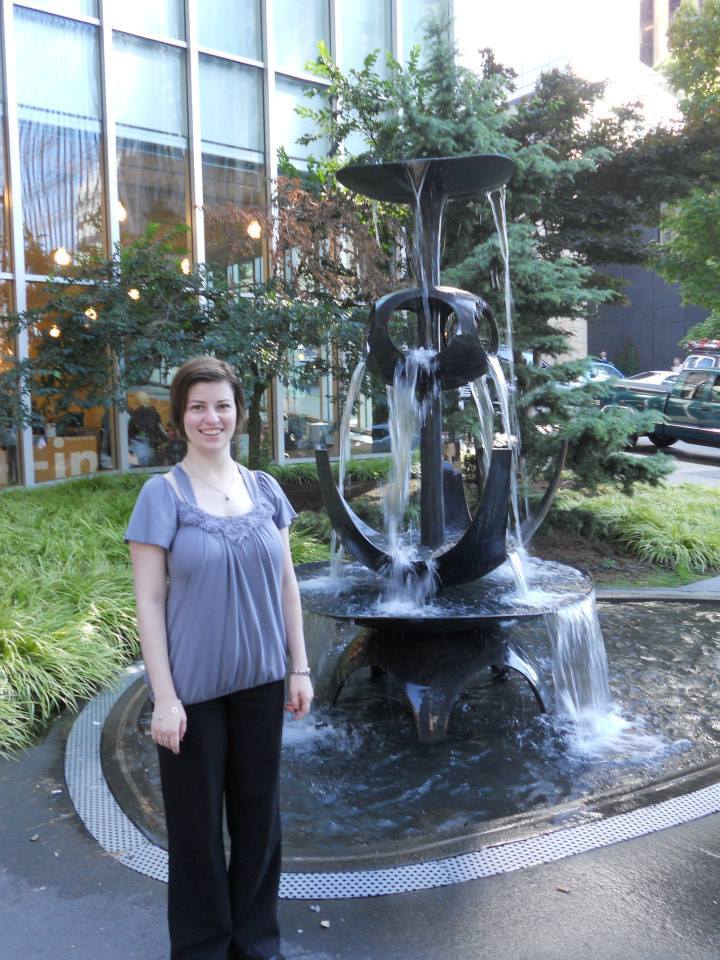 The birthday girl in Seattle
More Red Velvet Recipes You'll Love:
The Recipe:
Red Velvet Cake with White Chocolate Cream Cheese Frosting
Prep Time 40 minutes
Cook Time 45 minutes
Total Time 1 hour 25 minutes
Yield 16 servings
The PERFECT Red Velvet Cake adapted from The Confetti Cookbook
Ingredients
Cake:
3 1/2 cups cake flour
1/2 cup unsweetened cocoa powder
1 1/2 teaspoon salt
2 cups canola oil
2 1/4 cups sugar
3 eggs
3 ounces red food coloring
1 1/2 teaspoons vanilla
1 1/4 cups buttermilk
2 teaspoons baking soda
2 1/2 teaspoons white vinegar
Frosting:
16 ounces cream cheese, cold
12 tablespoons butter, at room temperature
1 tablespoon plus 1 teaspoon vanilla
8 ounces white chocolate, melted gently in microwave and cooled slightly
6 cups powdered sugar, sifted
Instructions
Preheat oven to 350º. Grease three 9-inch cake pans with butter and line the bottoms with parchment. Grease the top of the parchment. Set aside.
Whisk flour, cocoa and salt together in bowl.
Beat oil and sugar in an electric mixer on medium till well blended. Beat in eggs, one at a time. Lower mixer speed to low, and carefully add the red food coloring. Add vanilla, then alternate flour with buttermilk, starting with half the flour, then half the buttermilk, the rest of the flour, then ending with buttermilk. Scrape down the bowl, then mix just briefly till combined.
Place baking soda and vinegar in a dish and stir to combine. Add to batter with mixer running. Beat for just 10 seconds.
Divide batter between the 3 pans. Bake 40-45 minutes or till cake tester comes out clean. Let cool for about 10-20 minutes, then remove from pan and peel off parchment. Cool completely before icing.
For frosting, beat cream cheese, butter and vanilla just till blended. Mix in white chocolate. Add powdered sugar slowly (2 cups at a time) and beat till frosting is smooth and at your desired consistency.
Frost and garnish as desired.
Nutrition Information:
Yield:
16
Serving Size:
1 slice
Amount Per Serving:
Calories: 904
Total Fat: 52g
Saturated Fat: 16g
Trans Fat: 0g
Unsaturated Fat: 33g
Cholesterol: 90mg
Sodium: 577mg
Carbohydrates: 105g
Fiber: 1g
Sugar: 79g
Protein: 7g
Note: This post may contain affiliate links; view
my Disclosure Policy
for details. I earn a small percentage from any purchase you make by clicking on these links at no extra cost to you.