Red Velvet Checkerboard Cake
Katie combs Pinterest all year long for the perfect birthday cake. This year was a challenge. She selected a Red Velvet Checkerboard Cake to celebrate her special day. I was hoping for something easy!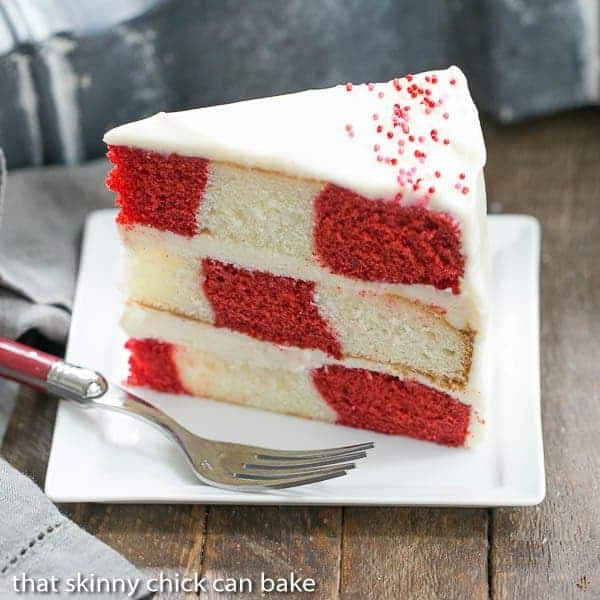 Red Velvet Checkerboard Cake
We were in Jo-Ann Fabrics for some reason or another, and Katie spotted a Wilton Checkerboard Cake Pan Set. I needed all the help I could muster, so it was added to our shopping cart.
This was my first (and maybe only!) attempt at this sort of cake. Though not perfect, I was pleased that this red velvet checkerboard cake wasn't a complete disaster. The birthday girl was thrilled and that's what counts!
Tips for Making a Checkerboard Cake:
Put each of your batters (don't overfill) in either a large piping bag or a gallon or two-gallon zip-top bag. Clip off the end and use it to fill the sections of the plastic divider ring. Fill pans only 2/3 full.
After adding the batter, pull the divider straight up so that the blocks of cake will be square instead of wavy. I need some practice with this step! There's no way to correct the batter after this step, so just do your best.
Wash and dry the divider before filling the second pan, then again before filling the 3rd pan.
Your cakes may be slightly rounded after they're baked. You can slice a bit off the top to even out the cakes, but to make them perfectly flat, you might end up with very thin layers.
You are welcome to use two different flavored box mixes to make the process easier. Use any excess batter to bake cupcakes.
Make two of your layers the same: dark outer ring, light middle ring, dark center ring. Make one of your layers opposite: light outer ring, dark middle ring, light center ring.
The layers that are the same will be the top and bottom layers while the different patterned layer will be in the middle.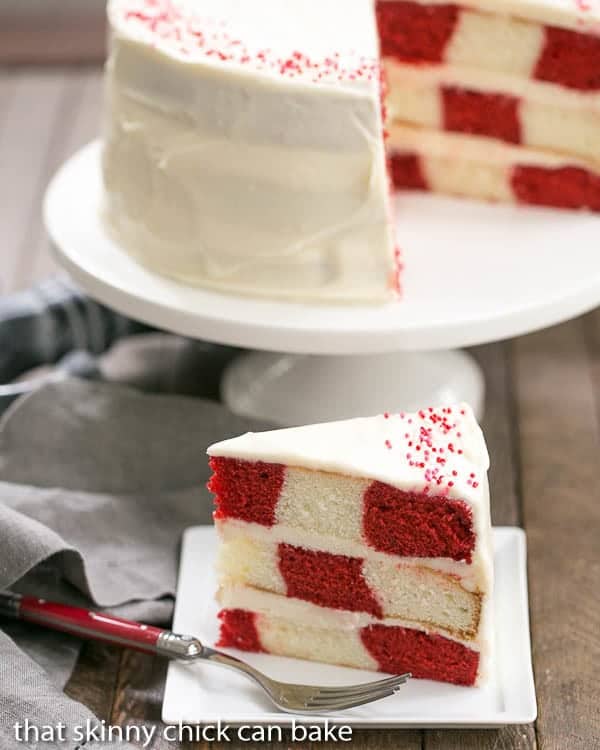 More Red Velvet Recipes You'll Love:
You Might Need:
Now that I own the equipment, I may have to try another checkerboard cake. But it will take a while for me to recover from the disaster zone I created in my kitchen with this project!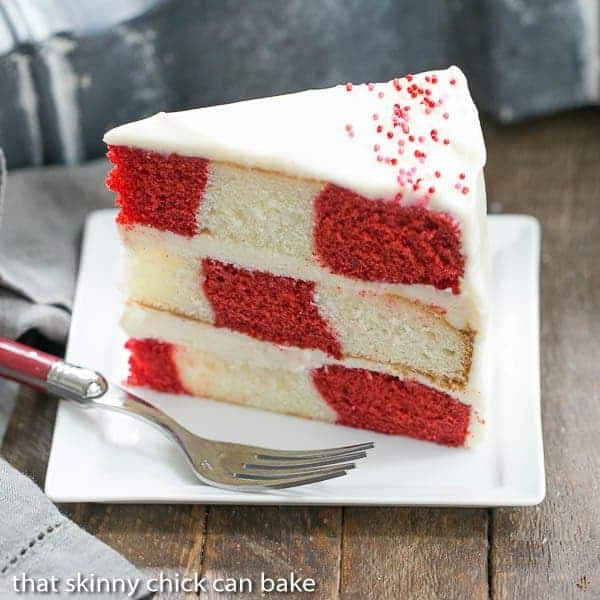 The Recipe:
Red Velvet Checkerboard Cake Recipe
Prep Time 1 hour
Cook Time 28 minutes
Total Time 1 hour 28 minutes
Yield 16 servings
With the right equipment and a few tips, you can make this impressive Red Velvet Checkerboard Cake at home!
Ingredients
Red Velvet Cake:
3 cups cake flour
2 tablespoon unsweetened cocoa
1 teaspoon baking soda
1 teaspoon baking powder
1/2 teaspoon salt
1-2/3 cups sugar
1/2 cup butter (4 ounces), at room temperature
4 egg whites
2 cups buttermilk
1 (1 oz) bottle red food coloring
1 tsp vanilla
White Cake:
2-1/4 cups cake flour
2 teaspoons baking powder
1/2 teaspoon baking soda
1/4 teaspoon salt
1/4 cup whole milk
1/2 teaspoon vanilla bean paste
1/2 cup buttermilk
1 tablespoon fresh lemon juice
1-3/4 sticks butter (7 ounces), at room temperature
1-1/2 cups sugar
4 egg whites, lightly beaten
Cream Cheese Frosting:
16 ounces cream cheese, cold
12 tablespoons butter, at room temperature
4 teaspoons vanilla
6 cups powdered sugar
Instructions
Preheat the oven to 350º. Grease 3 9-inch cake pans (I used the ones in the checkerboard cake kit). Line bottoms with parchment and grease the top of the parchment. Set aside
Make red velvet cake.
Combine the flour, cocoa, baking soda, baking powder, and salt in a medium bowl. Whisk to combine thoroughly. Set aside.
- In the bowl of a stand mixer fitted with the paddle attachment, beat granulated sugar and butter at medium speed for 4 minutes or until well blended.
Add egg whites to sugar mixture; beat at medium speed 5 minutes or until fluffy.
Combine buttermilk, food coloring, and vanilla in a small bowl. Stir well with a whisk.
With the mixer on medium, add a third of the flour mixture, then half of the buttermilk mixture, another third of the flour mixture, then the rest of the buttermilk mixture. Add the remaining flour mixture and mix just until moistened.
Spoon batter into a gallon-size zip-top bag or pastry bag. Seal. When you're ready to pipe the batter, cut off about ½-inch from one corner.
Wash your mixer bowl and beater.
Make the white cake.
Whisk together the flour, baking powder, baking soda, and salt in a medium bowl. Set aside
Mix together the whole milk, vanilla bean paste, buttermilk, and lemon juice. Set aside.
In the bowl of a stand mixer fitted with the paddle attachment, beat the butter on medium speed until it lightens in color, about a minute.
Add the sugar in a steady stream, stopping to scrape down the sides of the bowl after all is added. Continue to beat on medium speed until the mixture is very light in color and fluffy, 3 to 4 minutes.
With the mixer on medium speed, add the egg whites, about a tablespoon at a time, beating after each addition until incorporated before adding more. If the batter ever looks watery, stop adding the egg whites, increase mixer speed and beat till the batter looks smooth again. Continue to beat, scraping down the sides and bottom of the bowl once or twice, until all of the egg whites are added and the mixture is fluffy.
With the mixer on low speed, add the flour mixture in three additions, alternating with the buttermilk mixture in two additions, beginning and ending with the flour mixture. Stop the mixer after each addition to scrape down the sides of the bowl.
Transfer enough batter to fill a pastry bag about halfway full.
To make the frosting, beat together cream cheese and butter just until blended. Add the vanilla and mix till combined. Mix in the powdered sugar, 2 cups at a time. Beat until smooth.
To make cakes, place the divider in one cake pan. Start with the red batter and pipe in the outside and middle ring, filling only ⅔ full.
Pipe the white cake batter into the middle ring. Pull the divider straight up, then wash and dry it and repeat with the second cake pan.
Remove the divider, wash and dry it then pipe the white batter in the outside and middle ring and then the red in the middle ring. Remove the divider.
Use extra batter for cupcakes (bake about 20 minutes).
Bake the layers for about 28 minutes or until a toothpick inserted in the middle comes out clean. Cool for 10 minutes, then remove to wire racks to finish cooling.
To assemble, place one of the two matching layers on a cake plate (level by cutting off rounded top if needed).
Spread layer with frosting then top with the non-matching layer.
Spread top with frosting, then top with the last layer.
Frost top and sides of cake. Garnish with sprinkles if desired.
Store in the refrigerator.
Nutrition Information:
Yield:
16
Serving Size:
1 slice
Amount Per Serving:
Calories: 1227
Total Fat: 48g
Saturated Fat: 30g
Trans Fat: 2g
Unsaturated Fat: 14g
Cholesterol: 129mg
Sodium: 798mg
Carbohydrates: 193g
Fiber: 1g
Sugar: 144g
Protein: 10g
Note: This post may contain affiliate links; view
my Disclosure Policy
for details. I earn a small percentage from any purchase you make by clicking on these links at no extra cost to you.