Cheesecake Filled Red Velvet Cake
Special days deserve an impressive homemade cheesecake dessert. Whether for a dinner party, special birthday or Valentine's Day, this Cheesecake Filled Red Velvet Cake will make for a spectacular dessert!
If you love cheesecake and red velvet cake, you can have both in every single bite!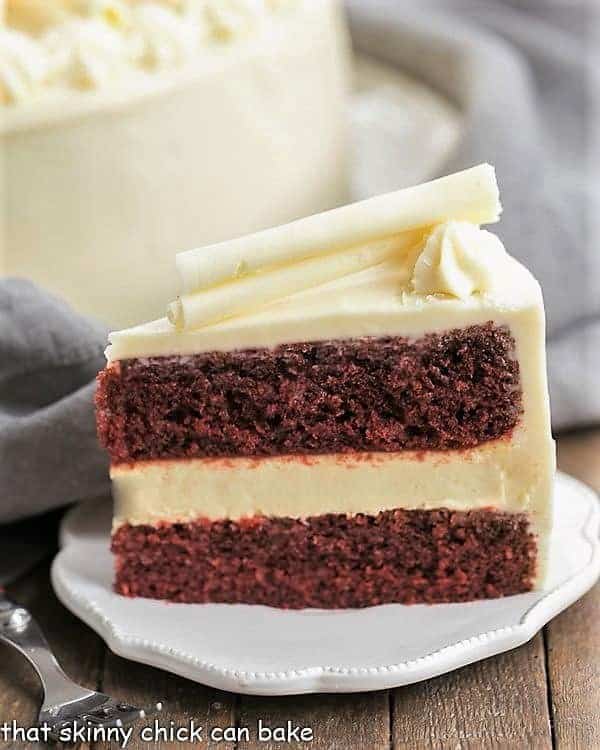 Cheesecake Filled Red Velvet Cake
With Valentine's Day approaching, it's time to pull out all the stops. I love making a classic red velvet cake since the color is perfect for the holiday. But in this delectable recipe, tender red velvet cake sandwiches an exquisite vanilla cheesecake, and then is iced with cream cheese frosting. Lots of steps, lots of ingredients, lots of swooning when the forks meet the mouths. I took this gem of a cake to a dinner party and despite our full bellies, we all were able to finish a slice.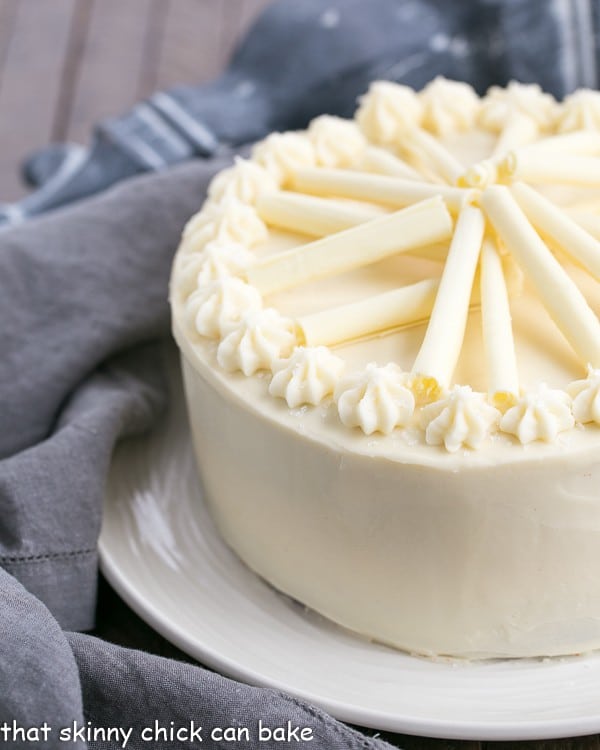 Can You Make This Dessert Ahead of Time?
Yes! Both cheesecake and layer cakes freeze well. You can easily make both ahead of time, wrap well and keep in the freezer until you need to assemble. To defrost, place in the refrigerator overnight. The next day, frost as desired. It's much less daunting if you don't dirty up every bowl and measuring cup in your kitchen in one afternoon! I just know you'll love this cheesecake filled red velvet cake.
Note that Danielle's recipe below has you freeze each component. You can definitely assemble after you bake, but I'd recommend chilling the cheesecake overnight to let it firm up.
Tips for Making this Cheesecake Filled Red Velvet Cake
Since you can freeze both the cheesecake layer and the red velvet layers, you can easily make this in steps and finish assembly on the day or the day before serving.
When you make the components, have all your refrigerated items at room temperature. This is especially necessary for the eggs and cream cheese for the cheesecake.

To make a cheesecake with the best texture, use a stand mixer with the paddle attachment. The whisk adds extra air into the batter and the resulting cheesecake won't be as dense and creamy. But if you don't have a stand mixer you can still make this delicious dessert.
With the cheesecake, mix in the eggs one at a time, waiting until the last is incorporated before adding the next.

I usually recommend baking a cheesecake in a water bath, or bain marie, to prevent cracking. Since this cheesecake will be covered by a red velvet layer, it's not necessary.
You can decorate the top of the cake or just leave it with a smooth layer of frosting. I piped stars and made chocolate curls with white chocolate. You could easily shave a white chocolate bar with a vegetable peeler and top slices with the smaller curls/shavings as you serve the cake.
Two Sweetie Pies
Thanks again to my lovely friend, Danielle, for another magnificent recipe! She is my go-to blogger for decadent treats. I promise you will love whatever you try from her blog!!! We share a recipe from each other's sites every second Monday of the month.
Stop by her blog to see Danielle's take on her Red Velvet Cake and Cheesecake with Cream Cheese Frosting as well as her social media sites! Make sure to check out which of my recipes she made this month, too.
Hugs & Cookies XOXO – Facebook – Pinterest – Twitter – Instagram
More Cheesecake Recipes You'll Love:
If you love caramel desserts, don't miss this Caramel Cheesecake. This White Chocolate Raspberry Swirl Cheesecake is another dreamy cheesecake or if you want an easier recipe, try these Red Velvet Cheesecake Swirl Brownies.
A few recipes I've had my eye on include this Traditional Lemon Cheesecake Recipe from Pint Sized Baker, this New York Style Cheesecake from Brown Eyed Baker as well as this Crème Brûlée Cheesecake from The Food Charlatan
Used in This Recipe: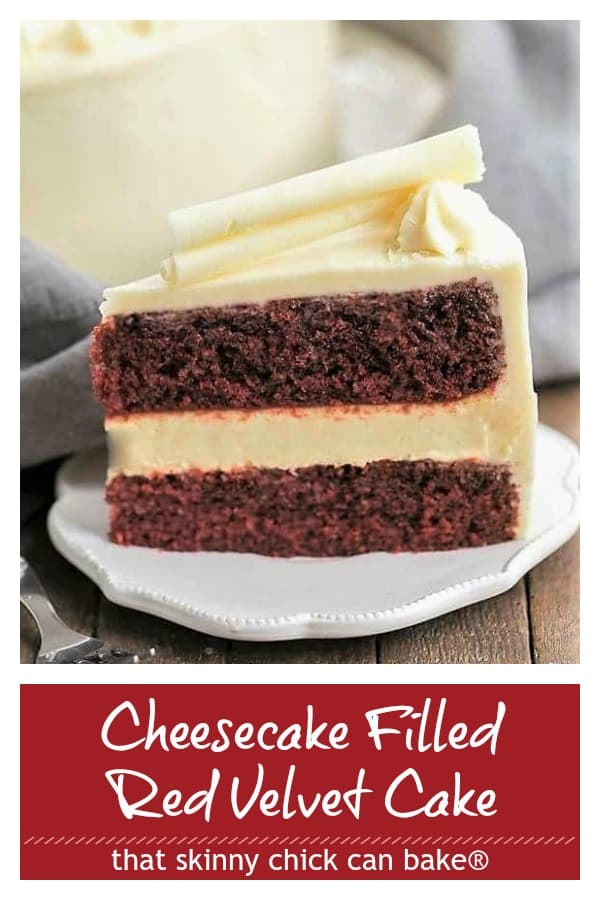 The Recipe:
Cheesecake Filled Red Velvet Cake
Prep Time 40 minutes
Cook Time 1 hour 15 minutes
Total Time 1 hour 55 minutes
Yield 16 servings
A glorious combination of the classic red velvet cake, vanilla cheesecake and cream cheese frosting!
Ingredients
Cheesecake:
16 ounces cream cheese, at room temperature
2/3 cup sugar
1/8 tsp salt
2 eggs, at room temperature
1/3 cup sour cream
1/3 cup heavy cream
1 teaspoon vanilla extract
Red Velvet Cake:
2 1/2 cups flour
1 1/2 cups sugar
3 tablespoons cocoa powder
1 1/2 teaspoons baking soda
1 teaspoon salt
2 eggs
1 1/2 cups canola oil
1 cup buttermilk
1/2 bottle red gel food coloring
2 teaspoons vanilla
2 teaspoons white vinegar
Cream Cheese Frosting:
2 1/2 cups powdered sugar, sifted
16 ounces cream cheese, at room temperature
8 tablespoons salted butter
1 tablespoon vanilla
Chocolate curls:
4 ounces white chocolate (I used Ghirardelli)
1 1/2 teaspoons shortening
Instructions
To make cheesecake, preheat oven to 325 degrees F.
Spray 9-inch springform with nonstick cooking spray and line with parchment circle. Set aside.
Using the paddle attachment of your stand mixer, beat cream cheese smooth. Add sugar and salt and mix until combined.
Add eggs, one at a time, scraping down the sides as needed. Add sour cream, cream and vanilla and mix until smooth.
Pour in pan and bake 45 minutes. Cool and then freeze in pan.*
To make cake, preheat oven to 350 degrees.
Grease/flour 2 9-inch cake pans (I use Baker's Joy spray).
In mixer, whisk flour, sugar, cocoa powder, baking soda and salt.
Add eggs, oil, buttermilk, food coloring, vanilla and vinegar. Beat until smooth and pour into 2 pans.
Bake about 30 minutes or until a toothpick inserted into middle of cakes comes out clean.
Let cool in pan for about 10 minutes and then invert onto cooling rack. Once cool, can wrap in plastic wrap and freeze.*
To make frosting, beat powdered sugar, cream cheese, butter and vanilla until smooth.
Place one cake layer on cake stand, top with cheesecake (remove parchment) and top with next cake.
Spread thin layer of frosting all over the cake (a crumb coat) and chill for 30 minutes. Frost the rest of the cake.
Use any leftover frosting to pipe roses or stars around the perimeter of the cake.
Melt Ghirardelli white chocolate and shortening in microwave gently.
Spread thinly on cookie sheet.
Chill until set and push with spatula to form curls. If they break, let chocolate soften a few moments.
Notes
Recipe adapted from Recipe Girl via Hugs and Cookies XOXO.
These directions are to make the cake and/or the cheesecake ahead of time. Just wrap well in plastic wrap and a layer of foil when cool (keep the cheesecake in the pan). Freeze until needed. Defrost in the refrigerator overnight.
*You can also assemble after baking the components. I'd recommend letting the cheesecake chill overnight to allow it to firm up before proceeding with the recipe.
Nutrition Information:
Yield:
16
Serving Size:
1 slice
Amount Per Serving:
Calories: 773
Total Fat: 53g
Saturated Fat: 20g
Trans Fat: 0g
Unsaturated Fat: 29g
Cholesterol: 130mg
Sodium: 548mg
Carbohydrates: 68g
Fiber: 1g
Sugar: 52g
Protein: 9g
Note: This post may contain affiliate links; view
my Disclosure Policy
for details. I earn a small percentage from any purchase you make by clicking on these links at no extra cost to you.