Mushroom Topped Pepper Steak for Two
Does your Valentine love beef? Then this simple, elegant recipe for Mushroom Topped Pepper Steak for Two is the perfect entree for your Valentine's Day celebration.
Steak and chocolate is always a sure bet on Valentine's Day, and this Filet Mignon for Two is a winner!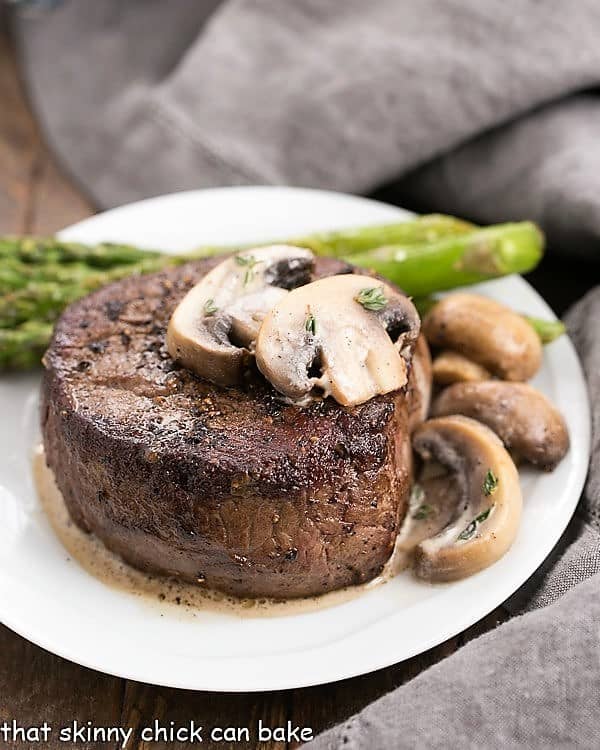 Why You Must Make:
This recipe for two is perfect for date night or Valentine's Day.
Dorie Greenspan's stovetop method was perfect when the grill isn't an option.
The results are restaurant-worthy. Or phenomenal as my husband commented.
Recipe Tips:
Two steaks coated with coarsely ground peppercorns, sauteed in a cast-iron skillet, then topped with mushrooms and a creamy Cognac sauce made for a fabulous celebratory entree.
Dry brine the steaks by sprinkling them with kosher salt then parking them in the refrigerator, uncovered, overnight.
This process helps infuse some salt into the meat for deeper seasoning, tenderized and helped dry the surface for better browning. It's definitely worth the couple minutes it takes to do this extra step.
Add some sauteed mushrooms to the mix. Mushrooms and beef provide the savory taste, umami due to the glutamates in each ingredient. Meaty mushrooms, tender steak and a luscious cream sauce make for one unforgettable dinner!
PRO-Tip: Use a meat thermometer to cook your steaks to the perfect temperature for your taste buds. Nothing worse than an overcooked, expensive piece of top notch beef!
Cooking Tips for Beef:
Different cuts and thicknesses of beef and different cooking methods need different cooking times. Some seasoned chefs can tell by using a finger to press down on the beef if it's rare, medium, etc. I like to rely on an instant read thermometer.
Insert your thermometer into the center of the steak, away from any bone.
PRO-Tip: You will want to pull your steak off the heat when it's 5 degrees below your desired temperature as it will continue to have some carryover cooking time.
PRO-Tip: Cover the meat with foil as it rests for about 10 minutes before serving. This allows the juices to reincorporate and the beef temperature to rise another 5 degrees.
Rare beef should be cooked to 125 degrees (pull off at 120º) for a cool red center, medium rare cooked to 135º for a warm red center, medium to 145º for a warm pink center, medium well to 150º for a slightly pink center and well to 160º with little to no pink center.*
You May Also Like:
With Valentine's Day just around the corner, it's the perfect time to start planning a romantic dinner for two. An intimate dinner at home is much more appealing than a crowded, overpriced restaurant. If beef is what your man loves, this Filet Mignon for Two is perfect.
Chicken Marsala for Two is an elegant alternative to beef as is this tasty Balsamic Glazed Salmon. Consider serving this Kahlua Tiramisu for Two for dessert or this Classic Creme Brulee.
*Cooking temperatures courtesy of Certified Angus Beef
The Recipe:
Mushroom Topped Pepper Steak for Two
Prep Time 20 minutes
Cook Time 20 minutes
Total Time 40 minutes
Yield 2 servings
Perfectly made pepper steak cooked on the stove top and served with sauteed mushrooms and a Cognac cream sauce!
Ingredients
2 filet mignon steaks (beef tenderloin), 2 inches thick*
Kosher salt
Mushrooms::
8 ounces mushrooms, sliced or cut in half
2 tablespoons butter
1/4 teaspoon salt, or to taste
1/8 teaspoon finely ground black pepper
1/4 teaspoon fresh thyme leaves
2 tablespoons white wine
To make steaks::
1 tablespoon vegetable oil
1/2 tablespoon butter
1/4 cup Cognac
1/2 cup cream
Kosher salt, to taste (I used a pinch)
1 1/2 teaspoons coarsely ground black pepper
Instructions
The night before, season the filets with kosher salt and leave them uncovered in the refrigerator.
An hour before cooking, remove the meat from the refrigerator and allow to come to room temperature. Make the mushrooms. Melt the butter in a skillet, add mushrooms, then season with salt, pepper and thyme. Cook until soft, then add white wine and cook until the wine evaporates. Remove from pan and set aside.
To make steaks, add oil and butter to the saucepan (I use a cast iron pan).Heat pan to medium-high. Sprinkle steaks with coarse pepper and gently press into meat. Add steaks and cook 3 minutes or more per side until internal temperature reaches desired doneness (I remove at 120º for very rare). Remove from pan and cover loosely with foil.
To make sauce, pour off excess oil, add Cognac to pan and allow to reduce over medium heat. Add cream and cook for a couple minutes. Taste the sauce and add a pinch of salt if desired.
To serve, place a steak on each plate, mound with mushrooms and drizzle with the Cognac cream sauce.
Notes
There is enough sauce to serve 4 if you'd like to serve more guests.
*I recommend Certified Angus Beef tenderloin.
Nutrition Information:
Yield:
2
Serving Size:
1
Amount Per Serving:
Calories: 715
Total Fat: 58g
Saturated Fat: 29g
Trans Fat: 1g
Unsaturated Fat: 23g
Cholesterol: 188mg
Sodium: 1025mg
Carbohydrates: 9g
Fiber: 3g
Sugar: 5g
Protein: 27g
Note: This post may contain affiliate links; view
my Disclosure Policy
for details. I earn a small percentage from any purchase you make by clicking on these links at no extra cost to you.